Do you take your time selecting the perfect peach while at the grocery store or farmers market only to discover that it is nowhere near ready to eat when you get it home? You impatiently wait for it to ripen and miss the right opportunity of sweetness. We'll show you how to tell if peaches are ripe and the best ways to store them.
There is nothing tastier than a ripe peach. These fruits are so sweet and juicy that it's no wonder they are a favorite for eating fresh at their peak ripeness.
Not only that, but these fruits are heavenly on ice cream, in peach cobbler, and other peach recipes and they even inspire unique dinner ideas.
Peaches are a stone fruit and similar to nectarines; however, nectarines have a smooth surface while peach skin is fuzzy. Peaches are finicky when it comes to the ideal ripeness, and waiting for ripening peaches often takes a little patience.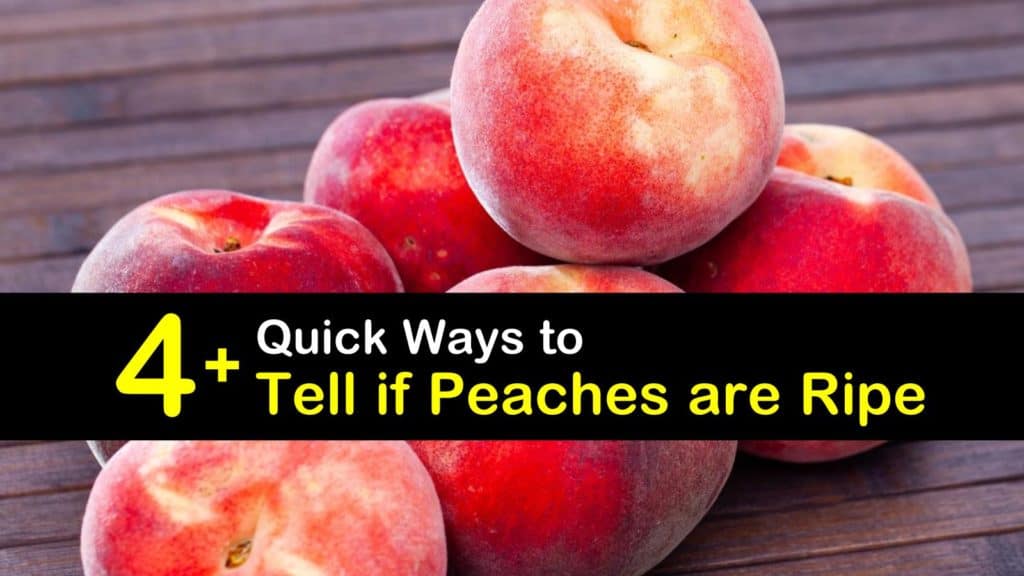 Picking the Perfect Peaches and Ways to Store Them
Biting into an overly crunchy or mushy and soft peach is not a fun experience. Learn how to pick ripe peaches from the store and garden, how to speed up the ripening process, and ways to store your fruits for optimal freshness.
When are Peaches Ripe for the Picking?
Peach growers often harvest from late June into August, but the exact time depends on the cultivator. So, when are peaches ripe, and when is it time to pick peaches? Here is how to determine exactly when they are ripe for picking, whether you are harvesting from a dwarf peach tree on your patio or from an orchard.
Picking Ripe Fruit
Knowing when to pick peaches from the tree is no problem if you use your senses. These fruits are more than likely ripe if you approach your tree and smell a sugary aroma.
Inspect them for color. A ripe peach has no green undertones, and if there is any greenish tint, they need a few more days on the tree.
Before plucking them, wrap your hand around each peach. Give it a gentle squeeze. If they are still hard, they require a little time, but they are ready for picking if they give slightly.
It's much easier to tell when a peach is ripe over when an avocado is ripe.
How to Tell if Peaches are Bad from the Grocery Store
Many people have their tricks when determining how to tell if peaches are bad or good, but how accurate are they? We show you how to choose your peaches wisely for the perfect ripeness.
Grocery Store Peaches
Don't be afraid to pick up various peaches from the bin and hold them in your hand. This is a vital way to choose peaches that are ready to eat right away.
Check the color and look for golden yellow fruits that have rosy red spots. Unripe peaches have a light yellow color with tinges of green at the stem end, while overripe peaches have dark coloring and spots.
Smell them and check that they have a sweet, floral scent. If the peaches are odorless, they are not ready to eat.
Gently squeeze them in your hand. If they feel like a baseball, they are unripe. If they feel more like a tennis ball, they are ready to take home and eat within a day or two.
How to Tell if Peaches are Ripe and Where to Store Them
After picking up your fresh fruits from the market, it's important to know how to tell if peaches are good to eat or if they are unripe, and you still have a while to wait before enjoying their tastiness.
A fresh peach ready for eating right away has no green tinges on it, and when you press your finger into the skin, it leaves a slight dent without bruising.
If you have hard peaches that are not completely ripe yet, place them in a fruit bowl and store them at room temperature near sunshine, but not direct sun, to help them ripen faster.
To slow the ripening process, place almost-ripe peaches in the refrigerator for up to one week. Do not let them refrigerate longer than that to prevent wrinkly and mealy fruit.
How to Get Peaches to Ripen
When are peaches ripe, and can I ripen them faster? Ripe peaches are like a bit of heaven on earth; however, biting into a hard, tasteless fruit is an unpleasant experience. This kitchen hack turns those rock hard peaches into the ideal ripeness.
Place the unripe peaches into a paper bag, add either an apple or a banana, and place it on the kitchen counter.
Many fruits release ethylene gas, and keeping them together with a fuzzy peach helps them ripen faster. The peaches ripen in about a day or two when stored in this manner.
How to Freeze Ripe Peaches for Long Term Storage
Figuring out how to tell if peaches are bad is only the first step to enjoying these fruits. It's also vital to know the different ways to store them for optimal taste. The freezer is a great place to keep peaches long term, and they last up to three months.
Fill a bowl or container with ice cubes and cold water, and place it to the side. Use a knife to make an x-shape on the bottom of each peach and then set them into a pot of boiling water.
Let them boil for 30 seconds and transfer the peaches to the ice water bath to stop the cooking process. Gently rub the peels off the peaches, remove the pits, and cut them into half-inch slices.
Sprinkle them with lemon juice and then place them in a single layer on a parchment-lined baking sheet. Flash freeze the fruits by setting them into the freezer for about four hours.
Move the frozen slices into freezer bags, write the date and contents on the top, and then set them back into the freezer.
Understanding which fruits are good and which ones are bad is key to enjoying an utterly sweet and juicy peach, whether you buy peaches from the store or grow your own peach tree.
Knowing the best ways to store them and encourage fast ripening means that you choose when to eat them.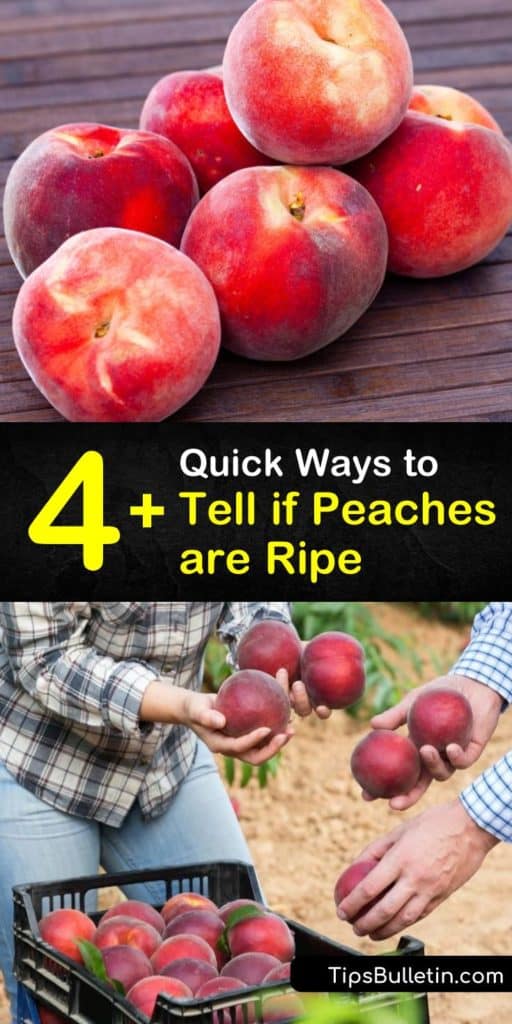 We're glad that you had the chance to learn how to tell if peaches are ripe, and we'd love it if you'd share our peach picking and storage guide with your fruit-loving friends and family on Pinterest and Facebook.