If your plants are drooping with tiny webs on their leaves, you need to learn how to treat spider mites. Prevalent garden pests called spider mites feast on and harm plants. Fortunately, there are numerous do-it-yourself methods for treating spider mites.
Spider mites (Tetranychus urticae) belong to the Arachnida class and feed on various plant species; they are common in gardens. Spider mites are smaller than a millimeter, making them hard to see, even when they swarm in hives. Spider mites come in a several colors, including dark red, dark green, yellow, and brown.
Two of the most prevalent mite varieties on indoor plants and in gardens are the two-spotted mite and the red spider mite. They hatch in three days when the circumstances are ideal and grow and reproduce rapidly afterward. If you notice signs of this insect, use a straightforward mite treatment to get spider mites out of the house naturally and save your plants from these nasty critters.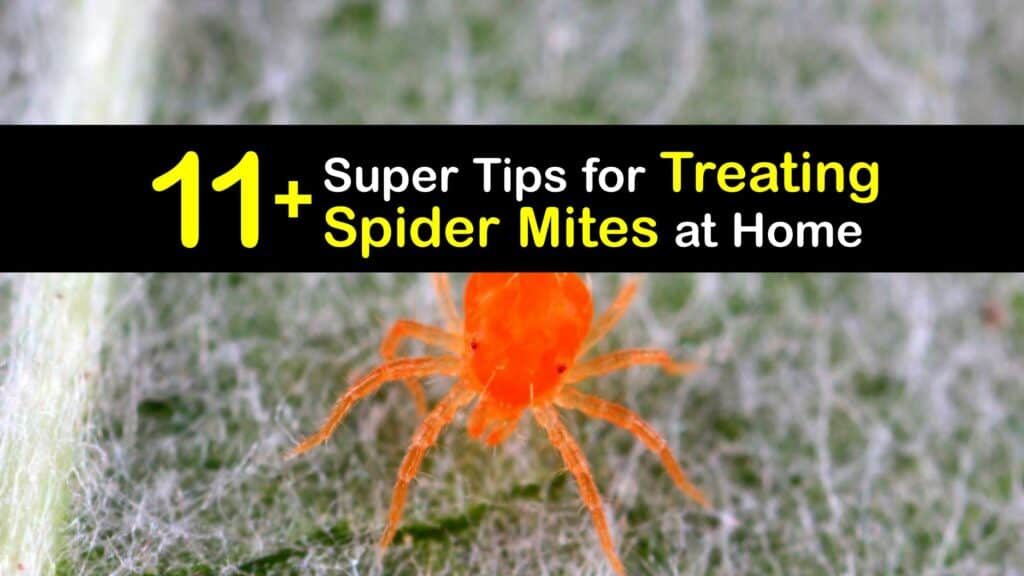 DIY Spider Mite Treatment Techniques
Do you know how to treat spider mites? These tiny bugs are extremely harmful to plants and can ruin your garden in days. Identify them by their web structures on leaves and degrading plant health. Learn how to effectively protect your plants from these insect pests by treating spider mites with simple remedies.
What Is a Spider Mite?
There are different varieties of spider mites. Since they are related to spiders, ticks, and scorpions, spider mites are classified as an arachnid rather than actual bugs. Adults are very small, oval-shaped, and reddish brown or pale.
Mites dwell in colonies on the underside of leaves and feed by penetrating leaf tissue and suckling up plant juices. Light spots resembling feeding marks appear on the leaves, which may become yellow while feeding continues. Eventually, they dry out and fall off.
Spider mites are most prevalent in hot, dry climates, mainly where insecticides have eliminated their natural enemies. They are also exceedingly prolific, explaining why severe infestations frequently develop undetected until plants exhibit harm.
Indicators of Spider Mite Infestation
Being vigilant for spider mite damage on your indoor and outdoor plants allows you to save an infested plant before it's too late. Small yellow or brown patches on the plant leaf are the first sign of a spider mite problem.
When a host plant is severely infected, its health may deteriorate, its leaves might turn entirely yellow, and it could even cease growing. The telltale webbing of a spider mite population on the plant is another symptom of spider mite damage, indicating that pest control is necessary.
Spider mites not only make a plant look ugly but can also kill the plant. To keep a plant looking its finest and healthiest, apply a spider mite treatment promptly.
How to Treat Spider Mites With Insecticidal Soap
Combining insecticidal soap and water is an inexpensive method to eliminate invasive spider mites on your house plant. The soap sticks to the mites and suffocates them.
Blend the liquid insecticidal soap and warm water, put it into a spray bottle, and shake. Spray the soap on the underside of the leaves regularly until the mites are gone.
Treating Spider Mites With Rubbing Alcohol
Eliminate spider mites using rubbing alcohol as a pesticide. Hold the leaf of an affected plant taut while wiping a napkin or cotton ball dampened with rubbing alcohol over it gently. Spider mites dehydrate and die. Wash the dead mites off a few hours later.
Dilute the rubbing alcohol if your house plant is sensitive. Spray the infected plants with a solution made of rubbing alcohol and water in a ratio of one part to three.
Neem Oil is an Organic Spider Mite Remedy
Neem oil functions as a natural pesticide, yet it is not harmful to people, animals, or beneficial insects. Neem oil repels spider mites and other pests in your home without harming anything that might come into contact with it.
Spider mites and spider mite eggs suffocate and die with this natural extract. Use this homemade mite spray for plants to eradicate spider mites on your houseplants.
After shaking the bottle, spray the afflicted foliage and the entire plant with a tablespoon of neem oil and water. Avoid getting neem oil on your clothing or furniture during application.
Organic Treatment for Spider Mites
The predatory mite or Phytoseiulus persimilis is a predatory insect targeting spruce spider mites, the two spotted spider mite, and other species. Predatory mites and spider mites are natural enemies, making them an ideal way to control spider mites and keep your home free from pests.
Predatory mites are killers who can't go without meals for very long, so they devour most of the spider mite infestation. If spider mite habitats and webbing are available, the minuscule female predator mites lays eggs there.
The predatory mite offspring emerge as tiny larvae and grow into nymphal forms before maturing into adults. They are also ferocious predators that eat spider mites, spider mite eggs, and young.
Dish Soap Spider Mite Treatment for Indoor Plants
Nobody wants to use toxic chemicals on their houseplants. Eradicate spider mites from your indoor plant with liquid dish soap. Mix the soap into a spray with water and suffocate spider mites on contact.
Shake the soap and water until blended and spray over all plant surfaces. Spritz the undersides of the leaves thoroughly. Repeat daily until no signs of spider mites persist.
Horticultural Oil Eradicates Spider Mites
Horticultural oil solutions offer many advantages when used correctly. They are safe around people, animals, and even beneficial insects like bees. A horticultural oil barely has a scent or no smell at all. These affordably priced, highly concentrated solutions do a lot to protect your plants from spider mite assault.
Oils made from plants, common minerals, or petroleum with an emulsifier are known as horticultural oils. They are effective against tiny, soft-bodied pests such as spider mites and aphids.
Protect an infected leaf from future damage by eliminating an insect female before she can lay spider mite eggs. Visit your neighborhood garden center to find a horticultural oil and use it as directed.
Deter Spider Mites Naturally With Rosemary Oil
The mite can be eliminated naturally and safely with rosemary oil, saving your infected plant. Rosemary oil is naturally occurring and safe for use in organic gardens. It carries a pleasant aroma and quickly takes care of spider mites without harming your plant.
Shake the ingredients and spray all over the plant to get rid of pests. This rosemary oil spray is excellent for preventing spider mites when applied regularly.
Tree Service Keeps a Spider Mite Population Down
Spider mites affect more than just indoor plants. Trees often fall prey to spider mites in their canopy. Leaf patches or leaves that curl up and drop off are early indicators of spider mites. The severity of the damage to your trees determines the best strategy to take for your spider mite infestation.
An excellent first step to oust the spider mites is to spray the tree foliage with a hose. Use high-pressure water to knock the spider mites off so they fall to the ground and drown.
Prune branches with severe spider mite issues. To prevent the spider mites from spreading to other branches, prune past any webbing or visible plant damage. After trimming, place the branch in a trash bag. Maintain adequate irrigation for your trees, as drought and plant stress often lead to an infestation of spider mites and other bugs.
Trust Integrated Pest Management
Integrated pest management is a method for treating and managing pests that relies on sound judgment and practical approaches. Rather than attacking a spider mite invasion using one way alone, increase your odds of success by using several pest control techniques at once.
The philosophy of integrated pest management is diversifying your approach to destroy more spider mites in a shorter time and halt the infestation quickly. Though it sounds like a big commitment, integrated pest management isn't hard. Select a treatment like a spray or powder, and combine it with a trap.
Commercial Treatments for Spider Mite Control
If you don't want to use a DIY remedy, head to the hardware store for an appropriate chemical pesticide. There is an extensive range of treatments for spider mites, from soil drenches to sprays. Choose a suitable product for the plants or trees you're treating. Use the commercial insecticide per the directions and follow safety guidelines.
Spider mites are a threat, but they don't have to mean the loss of your favorite plant or tree. Stay vigilant for signs of this pest, and begin treatment promptly. Explore your options for DIY spider mite treatment.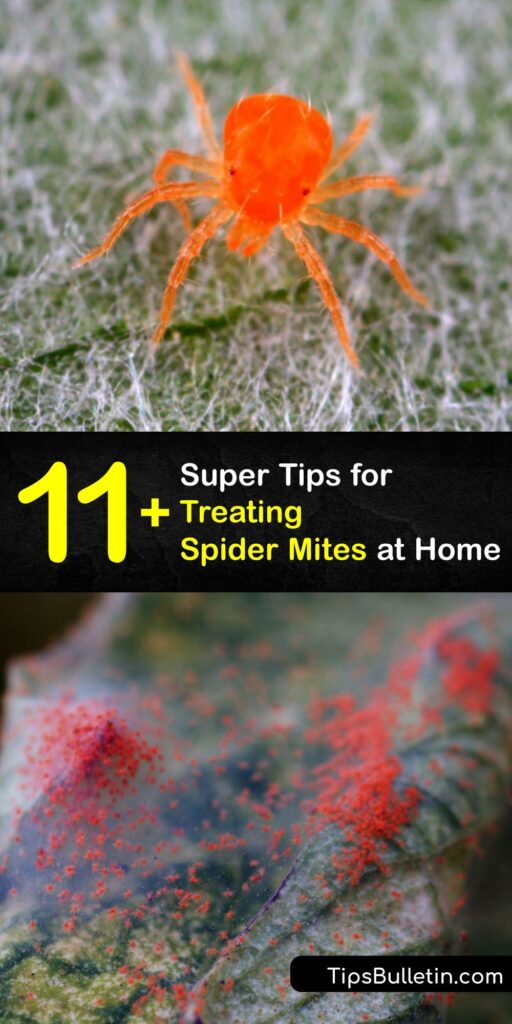 If you loved this comprehensive article on how to treat spider mites, please share this knowledge with your friends and family who are treating spider mites on Pinterest and Facebook.