A clogged toilet can ruin our day. Over time, mineral build-up, toilet paper, and other debris can restrict or block drainage, and the result can be both a mess and a pain to fix. It's tough to decide how to unclog a toilet with a minimum of fuss or exposure to dangerous products.
When unclogging a toilet, we should always aim to use the least-powerful method that still resolves the issue. This approach minimizes our chances of damaging pipes or coming in contact with caustic agents. With this in mind, we have created the ultimate guide to unclogging a toilet drain.
This guide provides natural solutions for your clogged toilet woes. And, if our natural remedies don't take care of your stopped drain, we show you how to unclog a toilet using typical household or commercial equipment. If you need to step up your attack, we also offer valuable advice on using chemical cleaning agents.
Cleaning a clogged toilet is never fun, but if you follow our guidelines, you will be well prepared to tackle the issue, should it arise. Be well-prepared with our ultimate guide on how to unclog a toilet!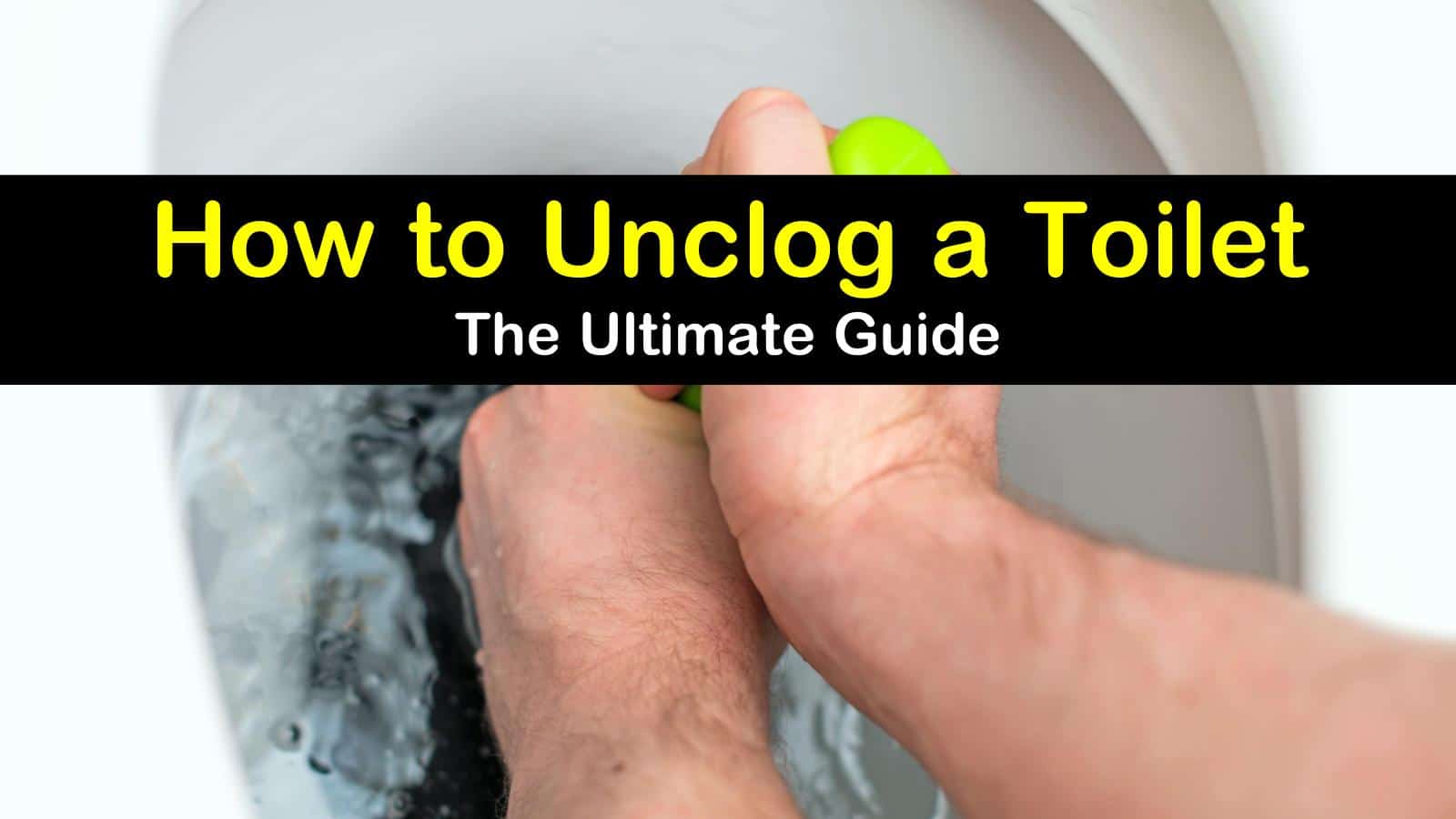 Natural Remedies to Unclog a Toilet
It's best to use a natural method to unclog toilet drains whenever possible. Home remedies to fix a clogged toilet are much safer than industrial chemicals and gear – they reduce the risks to your health and your drain pipes.
You can make a dynamite DIY drain cleaner using everyday household products that you likely already have beneath your kitchen sink or even in your pantry. The solutions in this section are the first step when faced with a clogged toilet.
Before you jump to the commercial options, give these safe and natural options a try. While you are eliminating the blockage, you will probably take care of the unpleasant drain smells that often accompany this problem, as well.
Fix a Clogged Toilet with Boiling Water
If you have a blockage but are not dealing with standing water, the best first option is plain old boiling water. The hot water loosens debris and might shift the toilet clogs.
Because boiling water can loosen PVC pipe joints, be sure to check whether your pipes are metal or PVC before trying this cleaning method.
To reduce your burn risk, be sure to don the protective clothing and gloves, and check that you can lift the boiling water without difficulty before trying to pour it. Place the rags or paper towels around the toilet bowl to catch any spills.
Aim at the bottom of the toilet, and pour the water in a slow and steady stream. If the water backs up, stop pouring until the water level drops, and then begin pouring again. Use as much water as needed to clear the clog.
Learn How to Unclog a Toilet with Vinegar and Baking Soda
Vinegar and baking soda are a household-cleaning power couple. You can use these common ingredients for unclogging a kitchen sink, cleaning the toilet tank, and many other home remedies – they are an effective and natural way to unclog toilet drains.
Vinegar is mildly acidic and eats away at any build-up and debris. It disinfects as it cleans, as well, which makes it an exceptional choice for bathroom duty. Its cleaning properties are well known – a Harvard study even acknowledges vinegar's ability to act as a "green cleaner" (..).
When combined with baking soda, vinegar gets even stronger. You can use this solution to remove the most stubborn toilet clogs.
Pour the water into the toilet bowl to clear as much debris as possible. Allow the water level to drop, and pour the baking soda into the toilet. Let it sit for thirty minutes or so, then pour the vinegar into the bowl.
Let the vinegar and baking soda to work for another 30 minutes, and then pour hot water into the toilet. Don't bring the water to a boil this time, though, as boiling water reacts with the vinegar and baking soda mixture.
Vinegar and baking soda also make the perfect combination for regular toilet cleaning. Mix up a batch and spray all your bathroom surfaces to remove stains, get rid of unpleasant odors, and leave the toilet fresh and shining. To mask the vinegar smell, you can add a few drops of your favorite essential oil to the solution.
Try Unclogging a Toilet with Liquid Dish Soap
Dishwashing liquid isn't just for dishes. You can use it for cleaning toilet bowls or as a wasp killer, and it works on stubborn clogs, too.
The soap acts as a lubricant to make clogs slippery. This method is non-toxic and natural. It's well worth trying dishwashing liquid on a blocked toilet before moving on to more involved solutions.
Pour the dish soap into the toilet drain, and let it sit for at least twenty minutes. Then, carefully pour the water into the toilet bowl. If the water backs up, wait until the water level recedes before continuing. Repeating the process several times may be necessary to clear the blockage.
Clear Your Blocked Toilet with Coca-Cola®
Don't you wish you had a drain-cleaning agent that tastes great, too? Look no further than your refrigerator! Coca-Cola® eats right through stubborn clogs and mineral deposits. Like vinegar, Coke® is acidic, and that makes it a top-notch toilet drain cleaner.
Don the gloves, and pour the entire bottle of Coke® into the drain. Let it sit overnight. The next morning, pour the water into the toilet bowl. Flush the toilet.
Repeat if needed. Make sure to send the water through at the end to avoid pipe corrosion.
Unclog a Toilet Using Water and Ammonia
This option is a step up from pure water or vinegar and baking soda solutions, but it is still much safer to use than commercial products. Ammonia works well with boiling water – the combination erodes clogs and rinses it away.
Because ammonia produces fumes, be sure the room has adequate ventilation before proceeding.
Don the protective gear, including the respirator if the room does not have adequate ventilation. Combine the ammonia and water, and pour it into the toilet. Allow it to stand for at least a half an hour, and then pour another gallon of boiling water into the drain to clean it out.
Fix a Clogged Toilet with DIY Organic Enzyme Drain Cleaner
When you have a clog that won't go away, an organic enzyme drain cleaner is an excellent go-to option. Before trying a commercial version, though, try our all-natural solution. It's reliable, effective, and much safer than store-bought organic enzyme cleaners.
Organic enzyme drain cleaners contain particular bacteria and enzymes that love to eat organic matter. These products are expensive, however. Before buying the store brand, try growing your own clog-eating bacteria solution with our homemade enzyme cleaner recipe.
Pour the vinegar into the Mason jar, add the citrus peels, and close the lid. Place the container in a cool, dark place, and let it sit for two weeks.
When you're ready to use the cleaner, pour the baking soda down the toilet. Then, strain the peels out of the vinegar, and pour the vinegar in the drain. Wait for at least twenty minutes, and rinse the toilet with boiling water.
Homemade and Commercial Clog-Cleaning Equipment
DIY toilet drain cleaners do a fantastic job, but they work best when the toilet clog is not so bad that the drain is completely backed up. Backed-up toilets can be a dirty business.
It's also important to know how to unclog a toilet with poop in it – toilets clogged with standing water and human waste often don't respond to liquid products and may require more physical methods. This section examines solutions that involve removing toilet clogs with homemade or store-bought plumbing gear.
Unclog a Toilet with a Homemade Cling-Wrap Plunger
Sometimes, you need to know how to unclog a toilet without a plunger. You can build a makeshift plunger out of everyday plastic cling wrap such as Saran Wrap.
A plunger works by creating a vacuum, and you can replicate its action with enough cling wrap. You'll need to use a healthy amount of cling wrap for this method to work, but it's far preferable to trekking to find a plunger in the middle of the night or during a storm.
Wearing the gloves, stretch sheet after sheet of cling wrap across the top of the toilet bowl. Completely cover the top of the bowl – there must be a good seal for the plastic wrap to work correctly.
Press down sharply on the cling wrap over the center of the bowl with enough force to push air downward but not so much as to tear the plastic. Repeat the motion until the clog dislodges.
Make a DIY Toilet Drain Snake from a Wire Hanger
A toilet snake is an invaluable tool for fixing a clogged toilet. If done correctly, you can use a snake to gently dislodge and remove clogs without damaging the toilet or pipes.
Not everyone has a commercially-sold drain snake on hand. You just need a little ingenuity to make a snake from household items, though – here's how to unclog a toilet with a snake made from a wire hanger.
Use the pliers to untwist the wire hanger, and twist one end of the wire into a loop to serve as a handle. Wrap the rag around the other end, and secure it with duct tape. Wearing the gloves, carefully manipulate the snake's rag end down the toilet drain.
Twist the wire, and exert steady pressure. Pull the snake out every once in a while, and remove and discard any debris from the end. Continue until the clog dislodges.
Fix a Toilet Clog with a Commercial Plunger
A standard plunger is the classic, tried-and-true way to unclog a toilet. Most of us have a plunger standing by, ready to push a clog out of the pipe. Find out how to unclog a toilet with a plunger with our tips.
Plungers work best when the toilet has a water backup because it helps the plunger form a seal. Make sure to use a flange or accordion-style plunger; it is challenging to create a vacuum in the toilet drain when using a plunger with a cup plunger.
Don the rubber gloves, and place the towels or rags around the toilet in case of spills. Place the plunger head into the toilet drain, and slowly push downward with steady pressure to create a vacuum seal.
To plunge a toilet, push the plunger up and down with a straight up-and-down motion. Do not force the plunger at an angle – doing so will break the seal. Repeat until you dislodge the blockage.
Unclog the Toilet with a Wet/Dry Vacuum
If a toilet plunger works by creating a vacuum, it stands to reason that a more powerful vacuum would be effective against tough clogs, too. And, many of us have the perfect tool sitting in our garage or shop!
A shop vac, or wet/dry vacuum, can handle water and debris and it is tough enough to take care of obstructions in a flash. Before using a wet/dry vacuum to remove clogs, be sure to verify that it is entirely waterproof.
Connect the vacuum's flexible hose attachment and use it to remove any toilet water in the bowl. Snake the hose end a few inches into the toilet drain and pack wet rags around the tube to create a seal.
When you have a good seal, turn on the vacuum. You should be able to feel any debris moving through the vacuum hose.
How to Unclog a Toilet with a Snake
A plunger, homemade snake, or shop vac won't resolve every clog alone, unfortunately. If the clog sticks in the pipe, you might need to use a store-bought snake to get your toilet back to working order.
A professional toilet drain snake, also called a toilet auger or water closet auger, is long enough and flexible to maneuver through tight corners, and it is designed to snag and break loose any clogs it encounters.
Place the towels or rags on the bathroom floor in case of spills. Wearing the gloves, insert the snake end into the toilet drain. Turn the crank while you feed the snake into the pipe.
When you encounter the obstruction, twist the snake until the clog breaks free. Never use excessive force when using a snake to avoid damaging the toilet or pipes.
Commercial Liquid Unclogging Agents
From time to time, you might run across a clog that no home remedy or piece of plumping gear can shake loose. When you encounter stubborn clogs, your best option short of calling a plumber might be to use a commercial drain cleaner.
In this section, we provide the tips you need to help you use powerful commercial agents safely and effectively. With adequate precautions, you can use these products to get your toilet working in a jiffy!
Unplug with a Retail Organic Enzyme Drain Cleaner
If you want to go with a less-toxic solution but haven't had any luck with your homemade organic enzyme drain cleaner, consider a name-brand enzyme cleaner. The commercial enzyme cleaners are full of custom-designed bacteria that are fantastic at eating organic material.
Always wear safety gear when handling the cleaning product. Pour the amount specified in the product literature down the drain, and allow it to sit.
Organic enzyme cleaners won't corrode metal, so you are safe to let it work on the clog as long as is needed to break it up.
Clear your Toilet Drain with a Chemical Drain Cleaner
Professional drain cleaning products are caustic and require safety precautions, but they work wonders on persistent blockages. If you have tried other products and solutions but have come up short, select a good commercial product to cut right through your clogs.
Always make sure to ventilate your bathroom before using a chemical drain cleaner. Open windows and turn on fans, and if needed, wear a respirator.
Wearing all safety gear (including a respirator, if needed), consult the product's instructions to determine the required quantity, and pour it in the toilet drain. Let it sit and eat the clogged material.
Follow the instructions on the product label – if you use too much of the cleaner or let it sit for too long, you might damage your pipes.
Thank you for reading this guide to unclogging a toilet. Dealing with toilet clogs is a part of life, but it doesn't have to be a miserable experience. With our help, you can beat the clog and get on with your life!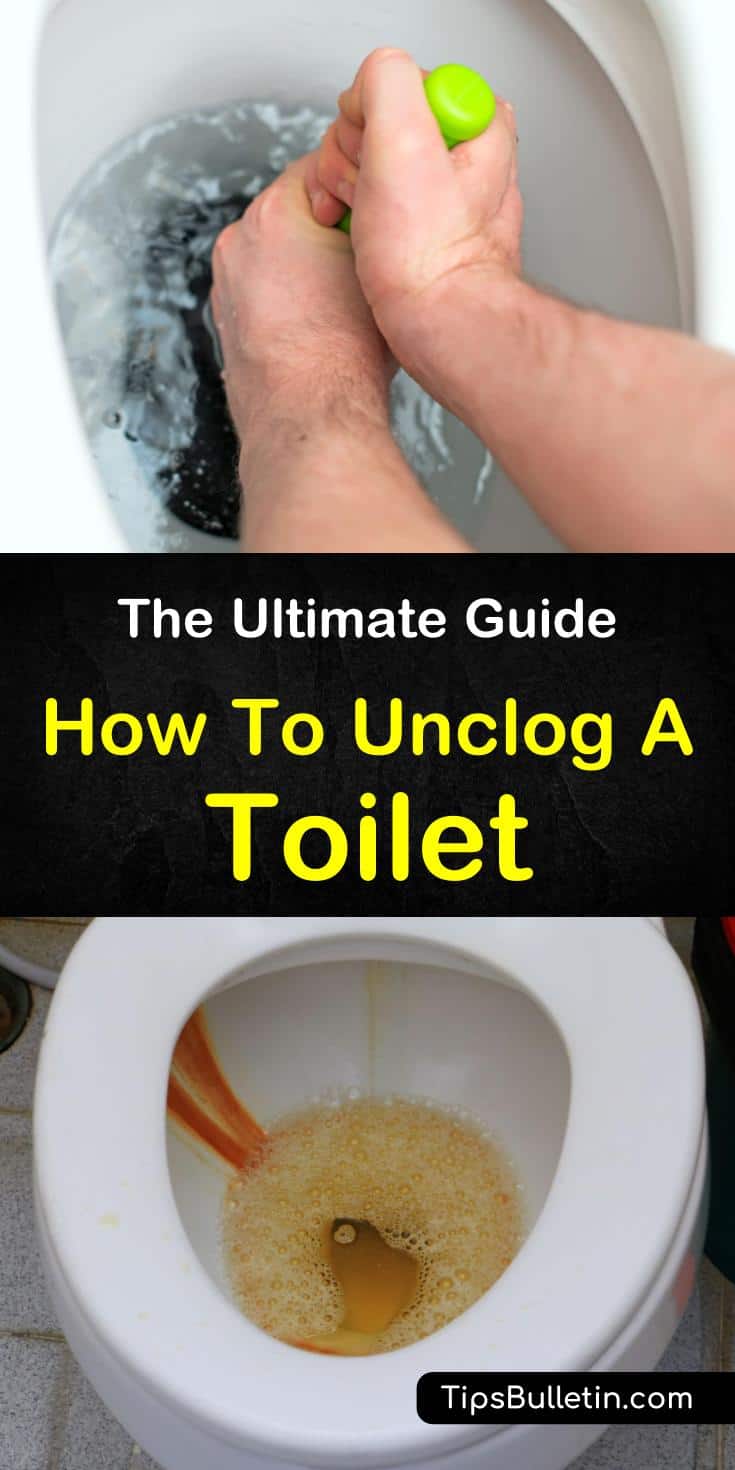 We hope you enjoyed these tips on how to unclog a toilet. If you found this drain-cleaning guide helpful, please share it with your friends and family on Pinterest and Facebook.