You toss a new article of clothing into the washer and dryer and discover while folding laundry that something went terribly wrong. Your new favorite t-shirt is now the perfect size for a young child! Before you donate that shirt to a five-year-old, we'll show you how to unshrink cotton using some surprisingly simple techniques.
Shrunken clothing, whether it is cashmere, rayon, denim, or a wool sweater, is an unpleasant surprise, especially if it's your favorite sweater. Many types of clothes shrink during the washing and drying process, and this is especially true for items made of cotton.
Cotton is a versatile and breathable fabric that tends to shrink easier than other materials. Tension is applied to this natural cloth during its construction. Washing and drying the material with heat causes it to shrink back to its natural size. Fortunately, there are simple ways to reverse this shrinkage.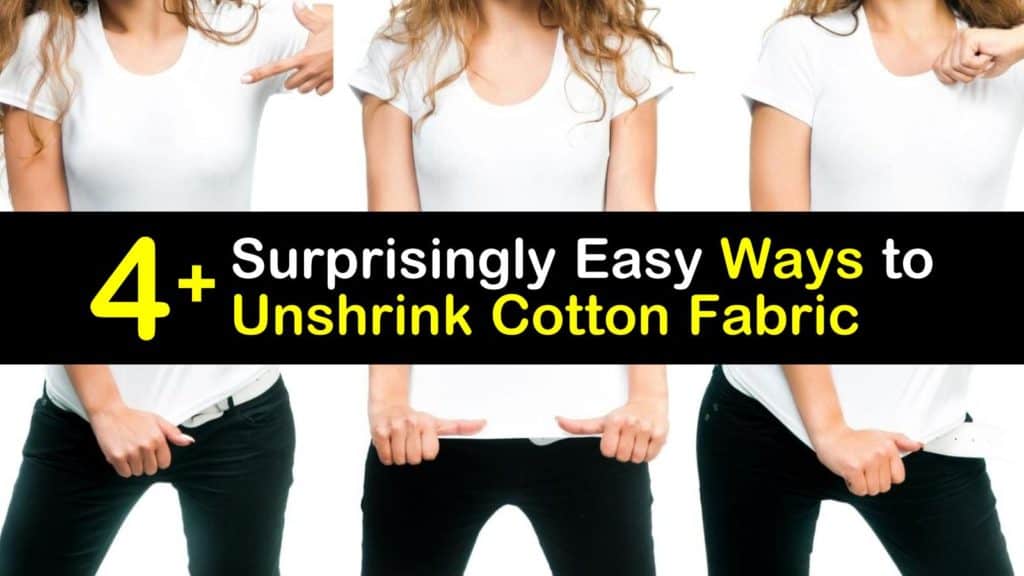 Unshrink Cotton Back to its Original Shape
Almost every fabric can shrink – and unshrink. Cotton is notorious for shrinking but can rayon shrink? What about a poly/cotton blend? All these fabrics can shrivel up and we have some ideas on how to remedy the situation.
Cotton is soft, comfortable, and pleasing to the skin, that is unless it shrinks to an unbearable size. We have several quick and simple solutions for getting your clothing piece back to its original size.
From your favorite t-shirt to your best pair of jeans to how to fix a shrunken dress, we have the answers you need.
If you're looking for the opposite solution, an old stretched out t-shirt or pair of pants that need to be shrunk, follow our guide to shrink 65 polyester 35 cotton. Most clothing today has this ratio of materials, so you can fix any ruined clothing.
Gentle Ways to Unshrink Cotton
It's easy to understand that you are hesitant to stretch your favorite cotton shirt in fear that it gets damaged, but not to worry. One of the gentlest ways to unshrink cotton is to use a mild baby shampoo or hair conditioning solution.
Add enough warm water to your bathtub or sink to cover the clothing and add a capful of baby shampoo or hair conditioner. Agitate the water to mix and soak the cotton item in the water for 30-minutes.
Place a dry towel on a flat surface. Remove your wet clothing from the water and gently wring excess water from the fabric. Lay the clothes on top of the towel, roll it up around your cotton, and gently squeeze the material so that it is damp rather than wet.
Unroll the towel, remove the damp cotton, and lay it out on another dry towel. Gently pull and position the fabric to stretch it to its preshrunk size and shape, and let it air dry. This is a great way to make a shirt larger or even a sweater.
How to Stretch Cotton with Fabric Softener
Another great way to stretch clothing is with liquid fabric softener. This solution loosens the cotton fibers for gentle and easy stretching. Here is how to stretch cotton using water and fabric softener.
Fill a bottle with warm water, add a capful of liquid fabric softener, and shake well to mix. Lay the cotton item on a flat surface and spray the entire piece, front and back, with the softening spray.
Use your hands to gently pull the material until it reaches the desired shape and hang it on a hanger to air dry.
To stretch the waist on your jeans, you can pull on it or place a hanger in the waistband and let it air dry or try both methods if you need some extra room.
How to Unshrink Cotton using Borax
Borax is an ideal ingredient for unshrinking clothes made of either cotton or cashmere. This method stretches the material back to shape, and it is an excellent stain remover as well.
Pour warm water into a sink or large container and add one tablespoon of Borax for each quart of water. Agitate the water to mix and place your cotton material into the solution.
Allow it to soak for about half an hour while carefully stretching the material. Squeeze the water solution out of the fabric and lay it on an absorbent towel.
Roll the towel around the cotton, pressing as you go to remove excess water. Remove the cloth from the towel, and hang it on a hanger to air dry during the stretching process.
Unshrinking Cotton Clothes with Vinegar
If you do not have mild soap or Borax, try using white vinegar to unshrink clothes. This liquid works to gently stretch clothing made of cotton and restore them to a comfortable shape.
Pour white vinegar into a bucket and use a sponge to soak up the liquid. Lay your cotton item out on a flat surface and dab the wet sponge across the entire surface until it is damp. Flip the cloth over and repeat on the opposite side.
Place the cotton piece into an airtight container and secure the lid in place. Set the container in a warm spot, such as near a heating vent, to activate the vinegar.
Wait half an hour and then place the clothing into the washing machine with detergent to remove the vinegar smell. Dry the clothes on low heat or hang on a hanger to air dry.
How to Prevent Cotton Clothes from Shrinking
One of the best ways to keep your cotton clothing in tip-top shape and reduce accidental shrinkage is to wash and dry them using the right techniques. Follow a few simple guidelines to keep your clothes fitting you perfectly.
Preventing Cotton Shrinkage
Always check the care tag on your clothing before washing and drying to prevent them from damage. Avoid hot water to prevent your clothing from shrinking in the first place.
Use the cold water setting and delicate cycle when washing your clothes. If you prefer to hand wash your items, use warm water and laundry detergent to clean them, and rinse thoroughly before drying.
Never dry cotton with high heat. The high temperatures of the dryer shrinks clothes, and using a low temperature or tumble dry setting is vital to prevent shrinkage. The best way to prevent clothing from shrinking is to hang them on a hanger or clothes rack to air dry.
Accidentally washing and drying your clothes on high heat is the main culprit for shrinking clothes, making them impossible to wear.
Not to worry, though, as this mishap happens to the best of us, and there are a few simple ways to relax cotton materials and stretch them back to the original shape you desire.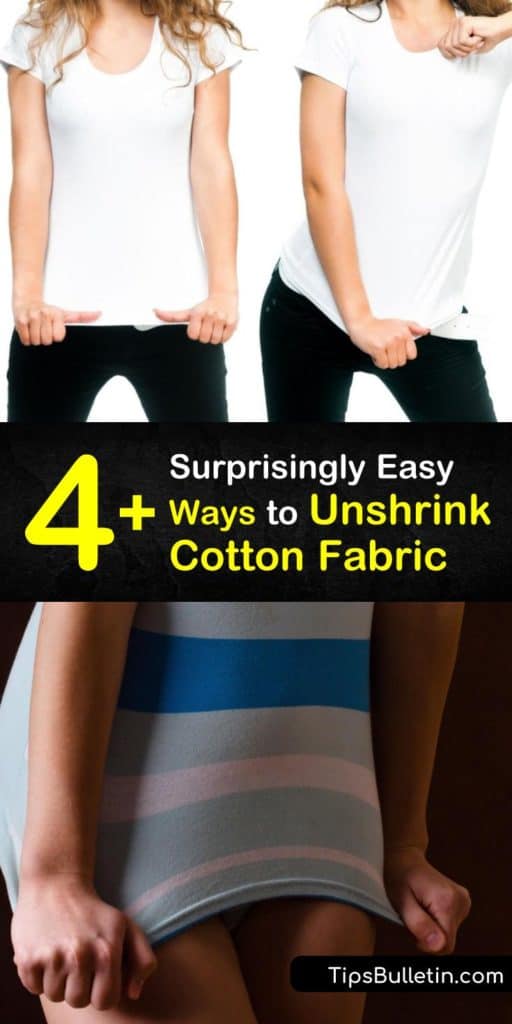 Knowing how to unshrink cotton means that you get to continue enjoying your favorite piece of clothing in style, so why not share our cotton stretching tips with your friends and family on Facebook and Pinterest?