Slipping on your favorite piece of clothing and discovering it no longer fits is disappointing. Rayon materials shrink quickly if not washed by hand or taken to the dry cleaner. We'll show you how to unshrink rayon fabrics to their original size.
Rayon is a versatile fabric that mimics the look and feel of silk, cotton, wool, and linen. This manufactured fiber is popular in clothing and requires specific cleaning techniques to prevent shrinking. Rayon holds its original shape when washed in cold water and air-dried.
Accidentally washing and drying your rayon garment with a regular load of laundry may cause you alarm due to potential shrinkage, but not to worry. This type of mishap is common, and luckily, there are many ways to unshrink rayon fabric.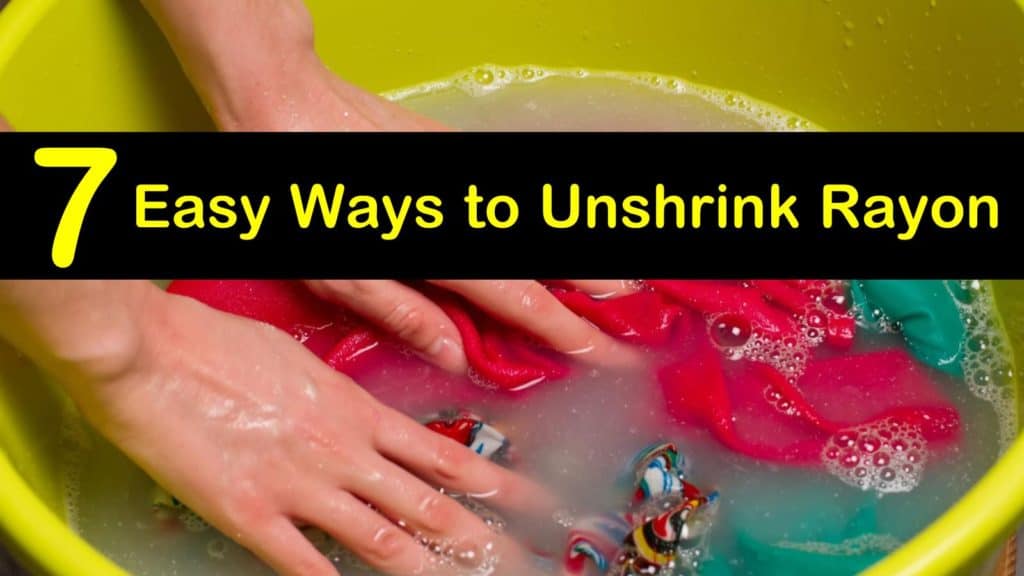 Best Ways to Unshrink Rayon
Before you donate your shrunken rayon clothes to the local charity, there are a few things to try to get them back to the perfect fit. We have compiled a variety of favorite clothing hacks to help you unshrink rayon clothing and fabric. We've also included tips on how to care for rayon fabric without dry cleaning.
How to Unshrink Rayon by Soaking
Rayon is easily pliable when subjected to warm water because the solution relaxes the fibers of the material. This simple method of handwashing is one of the best ways to unshrink rayon using warm water and soap.
Pour the warm water into a bucket and add the mild baby shampoo. Agitate the liquid to form a soapy solution. Place the rayon item into the bucket and submerge it for a few minutes. Hold the cloth under cold running water to rinse away soapy residue.
Wring as much water as possible by rolling it in a towel and then lay it out on a flat surface. Pull the top and sides of the cloth outward to stretch it. Continue spreading the fabric periodically as it dries until you get the desired size.
Use this simple remedy for a shrunk dress or a beautiful top that was originally just a little too big and you'll find it fits you better and looks great at the same time.
How to Stretch Rayon Using Hair Conditioner
If you do not have any baby shampoo, hair conditioner works just as well to help rayon fibers relax enough for stretching. Here is how to stretch rayon using a simple solution of water and conditioner. This technique is also a great way to unshrink jeans.
To stretch fabric enough so that it makes a difference, fill a large bucket with lukewarm water and add one capful of hair conditioner. Agitate the solution and place the material into the soapy water. Massage the cloth in the water until all of the fibers are saturated.
Rinse the material under cold water to clean away conditioning residue, and press as much of the liquid out as possible. Lay the rayon cloth out on a dry towel and gently pull the sides and bottom outward to stretch the fabric. As the fabric dries, flip it over and spread the material outward again to stretch it back to its original size.
If you are trying to stretch fabric shoes at home, you can also use this technique. However, the best way to stretch the shoes out is to put them on and wear them after soaking. The shoes will conform to your feet. After wearing for 30 minutes or so, take the shoes off and let them air dry.
Unshrinking Rayon with a Clothes Steamer
If using a traditional soak doesn't unshrink the rayon material quite enough, try using a clothes steamer to further the process. The heat and steam help you stretch the cloth even further without causing damage.
Fill a large tub or bucket with warm water and add a capful of hair conditioner. If the rayon material is unusually large, use a bathtub instead. Massage the cloth in the water for a few minutes to loosen the fibers. Rinse the cloth under warm water to rinse away residue.
Lay a large towel on a clean surface, and place the fabric on the top. Pat the material to remove excess water. Roll the towel up around it to get as much of the water out as possible.
Place the fabric out on a dry towel and pull the top and bottom of the material outward to unshrink it. Allow it to air-dry for a bit before flipping it over and stretching it out again.
While the material is still damp, hang it up on a clothes hanger and use a clothes steamer to apply warm moisture to the fabric. Use one hand to maneuver the clothes steamer and the other to stretch out the cloth. Continue doing this until you stretch the material out to its original shape.
You can also try this solution for how to stretch tight jeans, too. You may find that, after this process, they fit you better than they ever have before.
Unshrink Rayon by Steam Ironing
If you'd prefer not soaking and handwashing your rayon to unshrink it, try using a clothing iron and some water to stretch out the material. While this isn't as effective as soaking, it does unshrink rayon slightly.
Fill a bottle sprayer with warm water. Turn the rayon material inside out and lay it flat on an ironing board. Spritz the entire surface of the cloth with warm water. Iron the material gently using the lowest heat setting. Use steam from the clothes iron as you move along the fabric to prevent it from drying.
Set the iron aside and use your hands to pull the cloth on the sides, top, and bottom to stretch the material. If further stretching is needed, repeat the process; otherwise, lay the fabric on a flat surface to air dry.
Unshrinking a Rayon Sweater
Using mild soap and warm water for stretching material is one of our favorite laundry hacks, and this technique is ideal for use on a rayon sweater. The mild shampoo acts as a gentle softener that loosens fibers for easier stretching. Here's how to unshrink your favorite sweater to the perfect fit.
For one of the best ways to unshrink a sweater, first, fill a bathtub with just enough warm water to cover your sweater. Add a capful of gentle baby shampoo or hair conditioner and place the sweater into the water. Massage the cloth into the soapy water to relax the rayon fibers.
Rinse the garment under cold water to completely flush out soapy residue, and pat the material over the tub to remove excess water. To prevent damaging the rayon material by wringing it, lay it out on a large towel and roll the towel into a tube to absorb excess water.
Use additional towels if needed. Hang the sweater on a sturdy clothes hanger (not a metal one) and allow it to air dry. The weight of the sweater stretches out the material while it dries.
How to Stretch out Rayon with Clothespins
For particularly stubborn rayon material that refuses to unshrink, try using clothespins or heavy objects to hold it in place while it dries.
Pour warm water into a large bucket and add a tablespoon of gentle baby shampoo. Dunk the rayon material into the soapy water and massage it to help the fibers relax. Once the cloth is soaked, rinse it thoroughly under warm water.
Shake as much of the water out of the fabric as possible without wringing it to prevent damage. Lay a towel out on a clean surface, place the material on top, and roll the towel around it to soak up excess water.
Place another dry towel on top of an ironing board. Lay the rayon fabric on the towel and use your hands to pull the material outward. Use clothespins to secure each section gently to the edge of the board as you move around the fabric. Allow the cloth to air-dry.
Preventing Future Rayon Shrinking
Once you unshrink your rayon material, there are steps to take to avoid future shrinkage. Follow these tips for new rayon materials as well.
Since rayon is a delicate material that shrinks quickly, the best way to avoid shrinkage is to take it to a dry cleaner, especially if the care label says, "dry cleaning only."
For washing the rayon item at home, use the gentle cycle with cold water in your washing machine. Using warm or hot water causes the material to shrink. Air drying is the best way to dry rayon material. Drape it on a flat surface such as an ironing board while it dries to avoid shrinking.
If you do plan on using a clothes dryer to dry the rayon fabric, place the material in a mesh bag and dry it on a half cycle on low heat before laying it out to air dry. Never dry rayon entirely in the dryer.
Learning how to unshrink clothes, whether they are cashmere sweaters, denim jeans, or rayon shirts, is a money saver after a laundry mishap. It's as easy as using baby shampoo, warm water, and other DIY fashion hacks. Now you can slip into your favorite rayon t-shirt or other rayon item and go about your day in comfort and style.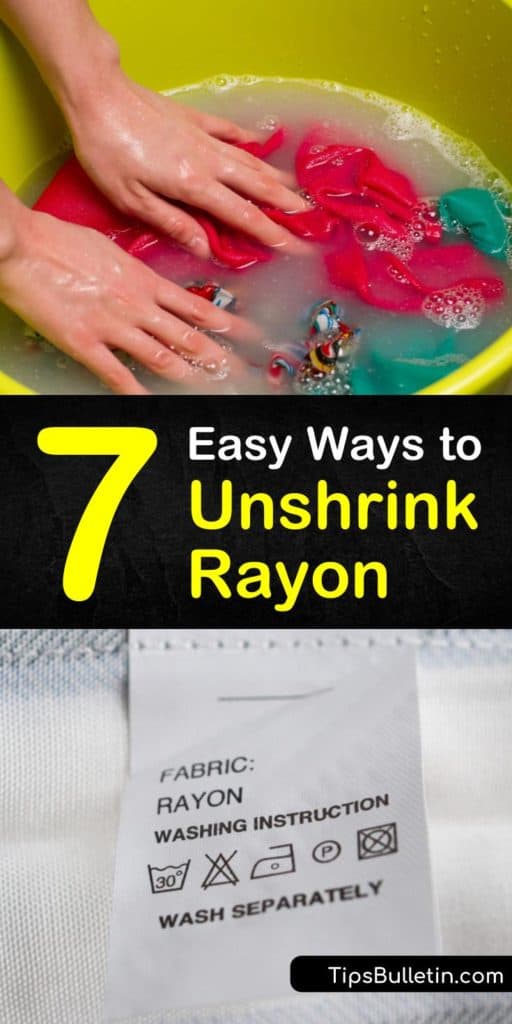 Now that you know how to unshrink rayon so that your clothing fits you comfortably once again, why not share our rayon fabric shrinking tips with your family and friends on Pinterest and Facebook?