When we want to bake delicious loaves of bread and pizzas, a pizza stone is one of the best kitchen tools you can find. A clay pizza stone also called a baking stone, allows you to make Italian-style pizzas and bread with crispy crusts and flavor good enough to have come from a commercial pizza oven. The best cooking stones provide even heat across the entire oven and make any baking experience a better one.
It's essential to know how to use a pizza stone if you want to make delicious pizza crusts and move on to the baking big leagues. But what is a baking stone, and how do we use it to cook pizza? We will answer those questions and help you get the best use out of your pizza stone.
We go over the top tips for baking stone care, and we show you how to use a baking stone to produce tasty and gorgeous baked goods. Your family will love your pizzas and bread when you master your pizza stone, and we're here to get you there!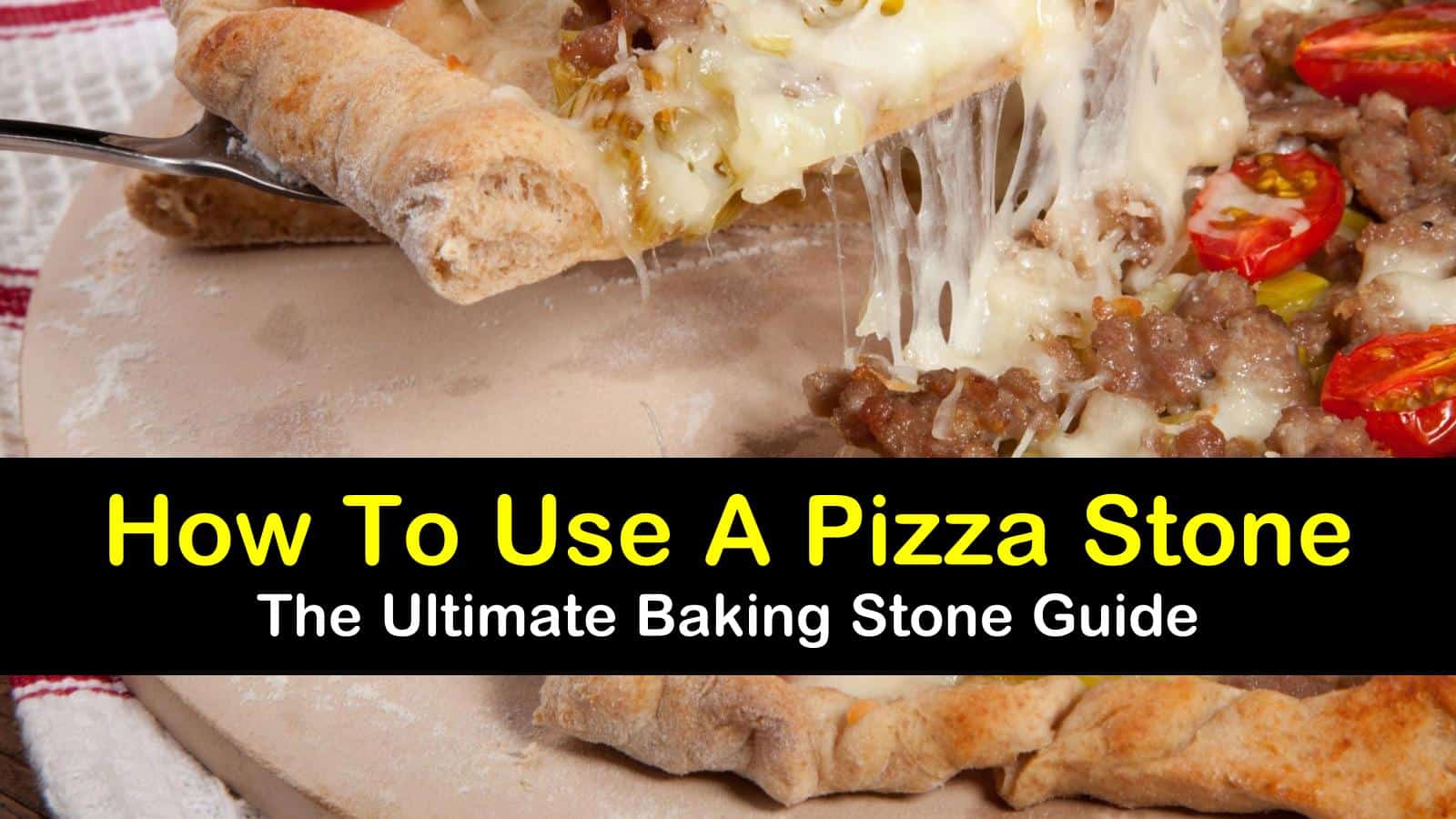 Using a Pizza Stone in the Oven
Using a baking stone is simple, but you need to make sure to care for it properly. Because pizza stones are made from porous clay and are heat sensitive, be careful not to damage your baking stone during the heating process, and you should take care to use the correct gear when adding and removing food items.
In this section, we look at pizza stone instructions for proper use in the oven, including during the preheat and throughout the baking process. We take a look at your baking stone's ideal temperature range, and we examine the perfect tools for handling food around your stone.
Preheat
When you work with baking stones for cooking pizzas, it's not enough to know the answer to the question, "What is a pizza stone?" You need to know how to treat your stone to avoid damaging it and to get the most out of it. That includes the preheat, which is crucial to keeping your stones useful and healthy.
Pizza stones work best in hot temperatures. If you plan to place food items directly on your stone, make sure that the stone is at least 450°F, and an oven temperature of 500° or higher is ideal.
Always heat the stone in a cold oven, as placing a cold pizza stone in a hot oven can cause thermal shock and break your pizza stone into pieces. When making a deep dish pizza, be sure to heat a cast iron pan on top of the baking stone.
Baking with a Pizza Stone
When you bake with a pizza stone, use the proper kitchen tools to avoid damaging the stone and the food. Using the wrong gear can scratch your baking stone or result in poorly cooked food. Fortunately, many foods commonly baked on a pizza stone have specialized equipment for the task.
While it doesn't happen often, sometimes your pizza sauce may leak off your pizza and the stone onto the floor of the oven. If this happens, you can take care of cleaning an oven without baking soda and use another solution after the oven cools.
Wearing the gloves, slide the pizza peel or spatula under the bread or pizza dough, or remove the heated cast iron pan and place the dough in it. Open the oven door, and slide the spatula, peel or cast iron pan onto the stone.
If you're using a peel or spatula, use a quick tossing motion to move the food item onto the stone, and remove the tool from the oven. Repeat the process to remove the baked item. Practice will improve your technique.
Pizza Stone Cleaning and Storage
Now that you've used your baking stone and gotten it all dirty, it's time to clean it up to get it ready for the next go-round. Knowing the best way to clean a pizza stone is a vital skill to have and can mean the difference between damaging your gear and long-term regular use.
In this section, we give you recommendations on how to clean your baking stone while making sure not to cause damage. We look at the best way to clean off baked-on cheese and other stubborn spots, and we offer drying and storage suggestions as well as showing you how to use baking soda, which works as both a pizza stone cleaner and an organic oven cleaner.
Cooling and Scraping
After your pizza stone has finished its baking duties for the day, give it a good cleaning. However, be sure to allow your baking stone to cool to room temperature before starting the cleaning process. Doing so will prevent thermal shock and will also let you avoid burns on your hands!
Open your oven door, and wait at least a half hour or more before removing the stone. It's best to err on the side of caution, so you should wear gloves in case the stone is still hot. Remove the stone, and use the spatula to gently scrape away any baked-on food.
Cleaning a Baking Stone
When it's time to clean your stone, remember that it's made of clay and will drink up any water or other liquids with which it comes in contact. With that in mind, never use dish soap to clean a baking stone. Use only water or baking soda, and take care not to scrub your stone with steel wool or other hard, abrasive cleaning tools.
Need to know how to clean countertops? This baking soda solution will work for that task and other cleaning situations throughout the home, too!
To deep clean a pizza stone, get the stone wet with the water, but don't soak it. Sprinkle the baking soda on tough stains, and use the stone brush to scrub the entire pizza baking stone. Pay particular attention to areas with baked-on stains. Rinse with clean water, and repeat if needed.
Drying and Storage
Now that you've cleaned your pizza stone correctly make sure that you allow it to dry properly and store it safely. These steps might not seem as valuable as some of the earlier ones, but proper drying and storage will extend your pizza stone's life indefinitely.
Allow your pizza stone to air dry completely before using it again. Never dry your baking stone in the oven, as sudden heating can turn the water inside your stone to steam and shatter your beautiful pizza stone. Store the stone in a clean, well-ventilated area, or on the bottom rack in the oven.
Dos and Don'ts
If you store your stone in the oven between uses, you'll find that it provides excellent and even heat distribution. However, do not place baking sheets directly on the stone.
Most of us know that it is crucial to know how to season a cast iron pan if you have one. You can really damage the cast iron if it is not seasoned and your food won't taste the same. However, it is equally important to never try seasoning a pizza stone as you would cast iron. Instead of helping the stone, the olive oil and other vegetable oils will soak into the stone and produce smoke during cooking, so avoid using them on the stone.
Never place frozen pizzas on a hot stone to prevent thermal shock – cook frozen pizzas on pizza pans. Do not use a pizza cutter on the stone; remove the pizza before cutting it.
We hope you enjoyed the information on how to use a pizza stone. A good pizza stone will make your life easier and let you cook brick oven style pizzas, so knowing how to use a baking stone, or even what is a baking stone, is an important skill to acquire. With our help, your bread will be tastier, your pizzas will be crispier, and your family will be happier!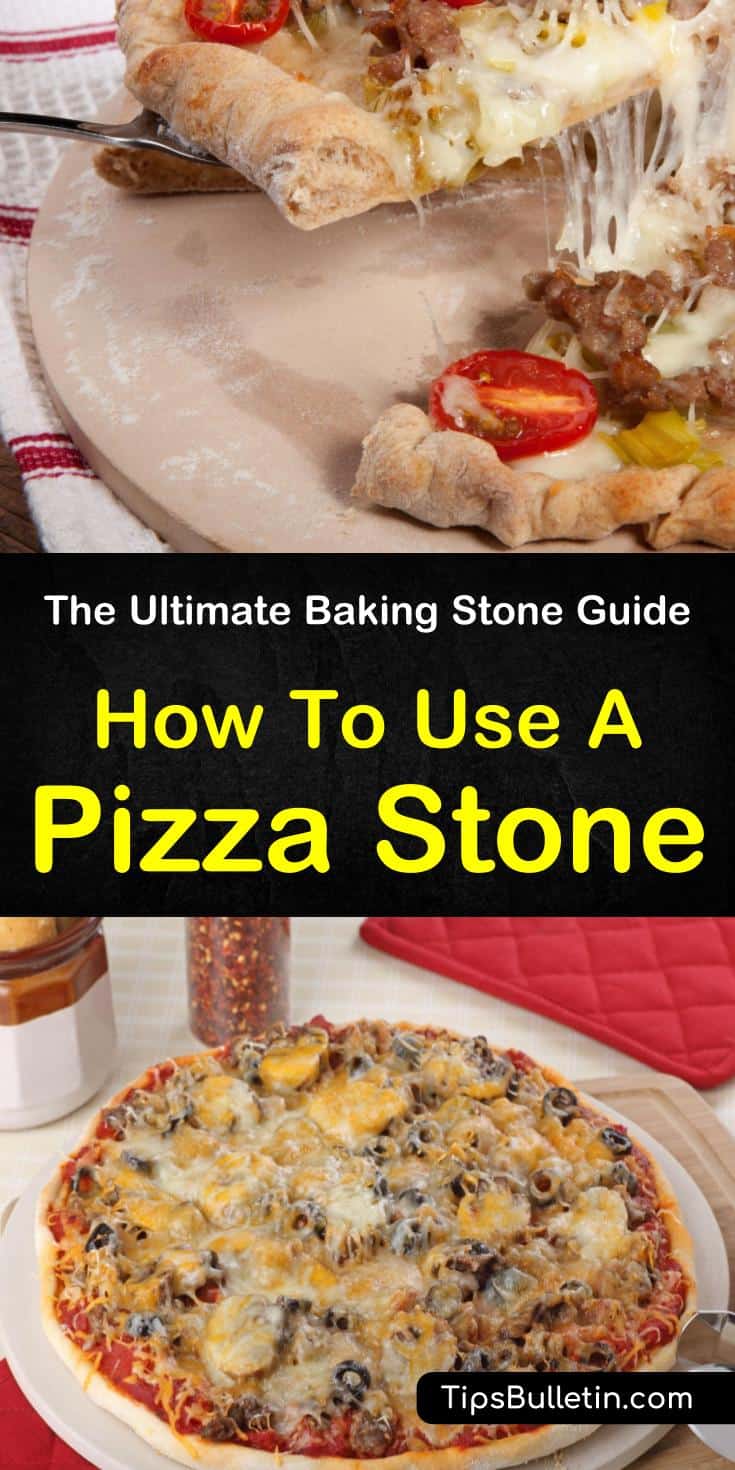 Thank you for reading our guide on using a baking stone. If you thought our tips on how to use a pizza stone were helpful, we'd appreciate it if you would share this pizza stone care guide with your friends and family on Facebook and Pinterest.