Essential oils have quickly gained massive popularity as they continue to prove useful for many different tasks. From treating anxiety to repelling bed bugs, essential oils like eucalyptus and cedarwood are quite diverse. Learning how to use cedarwood oil for bed bugs is an effective way to eliminate bed bugs that infest your mattress or couch.
Throughout this article, we show you the best all-natural methods to utilize the best essential oils to treat a bed bug problem. If you need to kill bed bugs, essential oils allow you to treat the problem without using harsh pesticides and insecticides.
The chemicals in insecticides can be harmful if they are inhaled by small children or pets, making an essential oil spray the perfect bed bugs solution to get rid of bed bugs.
We also demonstrate how to use a cedarwood essential oil to treat bed bug bites safely. Natural remedies are an excellent and safe way to eliminate bed bugs that are infesting soft surfaces like your mattress or couch.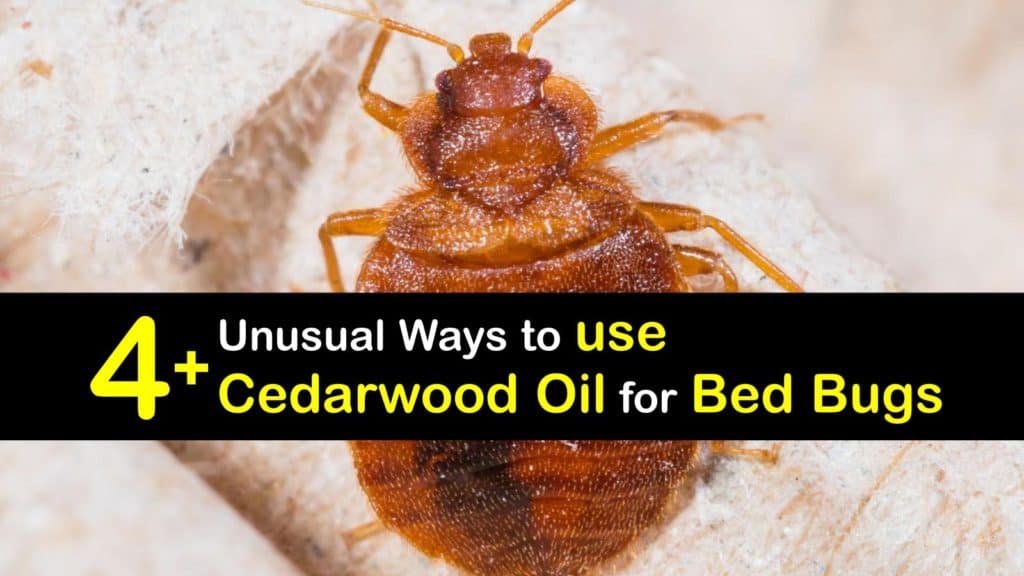 Are Essential Oils Safe to Use?
Before answering the questions, "Does cedar oil repel bed bugs?" or "Does cedar oil kill bed bugs?" we need to address safety concerns. All-natural essential oils are safe to use on most human skin.
Some people are allergic to essential oils when they come in direct contact with their skin or are emitted into the air through a diffuser. We suggest slowly introducing your body to any essential oil you choose before using it in larger areas.
Correctly Identifying a Bed Bug Infestation
Before you discover how to make a natural bed bug deterrent out of essential oils, correctly identify bed bug infestation. There are many ways to tell if you have bed bugs in your mattress.
Some of the common signs include dark red stains on your sheets, yellow skins leftover by larvae, and observing a live bed bug about the size of an apple seed.
Another way to know if you have to create an insect repellent is the presence of bed bug bites. Bites from bed bugs are often found on the exposed skin as you sleep, like hands, neck, legs, and arms.
Bed bugs bite in a pattern, usually in a straight line or in a zigzag pattern. After a bed bug bites you, it creates an itchy raised welt. Now that you know how to tell if you have bed bugs, you are ready to understand how to use cedarwood oil for bed bugs.
Does Cedar Oil Kill Bed Bugs Fast?
Pest control products are often expensive and have only a single-use. A cedar essential oil spray, on the other hand, carries several other benefits. Cedarwood oil kills bed bugs in every area of your bed. It can also prove beneficial as a natural silverfish repellent and eliminate problems with spiders and other unwanted bugs.
Additionally, the scent of cedar oil deters bed bugs from coming back to your mattress. Learning how to create a DIY cedarwood oil spray for bed bugs is simple and only demands two ingredients.
After pouring the essential oil and water into your spray bottle, shake it to allow the oil to absorb into the water, for the way to make a homemade bed bug spray. Spray a generous amount of the essential oil spray on your mattress, headboard, and other areas bed bugs reside.
If you are not a fan of cedarwood oil, you may wonder about other essential oils. Do bed bugs hate lavender oil? They definitely don't like it. You can even try lavender and cedarwood together. Using neem oil for a bed bug infestation can also be helpful.
How to Use Cedarwood Oil for Bed Bugs and Their Bites
Another advantage to using cedarwood oil is that it acts as an insect repellent and helps treat bed bug bites. The ingredients in cedar oil act as a natural anti-inflammatory and also contain bacteria-killing agents.
The intense healing power cedar oil contains is an excellent treatment against itchy bed bug bites. Before adding cedar oil to treat the bite marks on your skin, make sure you are not allergic to the essential oil first.
In a small, shallow dish, pour five teaspoons of water and three drops of cedarwood oil. With a cotton swab, apply the oil to the affected areas on your skin. Continue to apply cedar oil to your bed bug bites until they completely heal.
Does Cedar Oil Repel Bed Bugs?
Because bed bugs hate the scent of cedar oil, they avoid locations that contain the smell. As you learn the most effective way to get rid of bed bugs, you must know where bed bugs hide. A bed bug spray only works when it is applied directly to the critters.
Because bed bugs require human or pet flesh to survive, they become active while you sleep.
Places bed bugs hide while not searching for a food source include near piping, the seams of your mattress and box spring, and the crevices on your bed frame and headboard.
Check for bed bugs in your mattress with a credit card. Slide it in the cracks and crevices while you shine a flashlight to make it easier to see. When you know where bed bugs like to skulk, it makes bed bug treatments far more efficient.
Using Different Essential Oils for Bed Bugs
Does cedar oil repel bed bugs? Does cedar oil kill bed bugs? Yes, cedar oil works well to kill and repel bed bugs. However, many other essential oils repel bed bugs, larvae, and cockroaches, too.
Create a bed bug repellent with these essential oils the same way you would make a bed bug spray with cedarwood oil. It is important to note that these essential oils only repel bed bugs and do not kill them.
Combine different bed bug control methods like diatomaceous earth and bed bug traps with essential oils' repelling power.
If you have bed bugs, it is not something you have to deal with forever, and you do not have to use harsh chemicals to treat and repel bed bugs from your mattress.
Essential oils are a fantastic way to deter bed bugs from your mattress while refraining from the use of chemicals.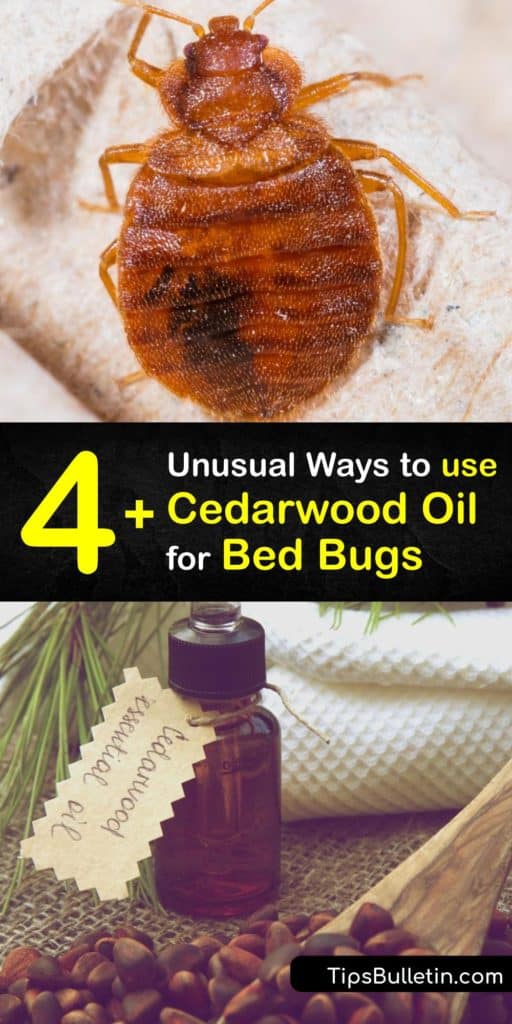 If you learned how to use cedarwood oil for bed bugs, share this article with all-natural bed bugs repellents on Facebook or Pinterest with your friends and roommates.