I easily turn my morning coffee routine into a plant care ritual.
I collect my leftover coffee grounds after brewing.
I let the grounds dry out or use them wet for immediate application.
I sprinkle the grounds directly onto the soil or mix them into the potting mix.
I use a liquid coffee leftover mix as a foliar spray to nourish the leaves.
I combine coffee grounds with eggshells for a cheap, nutrient-rich houseplant fertilizer.
To put these tips into action, I save the coffee grounds from my morning coffee instead of throwing them away. I spread a thin layer of the grounds onto the soil of my acid-loving plants like African violets or Philodendrons. If I want to get more out of the grounds, I can mix them with water and use the solution to spray the plant leaves, giving them a gentle nutrient boost.
Sometimes, I mix in some crushed eggshells to add calcium to the blend, enhancing the nutritional benefits. This combo works wonders and is incredibly cost-effective. Best of all, it's a simple and fast way to repurpose what would otherwise be waste into something beneficial for my green friends.
Who doesn't love a steaming cup of creamy or black coffee in the morning? Believe it or not, plants enjoy a good brew just as much as we do, and there is a better use for all those leftover coffee grounds you toss each day. Learn how to use coffee grounds for houseplants to keep your indoor plants looking healthy and vibrant.
Are coffee grounds good for plants? You bet. There is more to brewed coffee than just caffeine. It packs a punch of antioxidants, and fresh or old coffee grounds contain nutrients beneficial to a potted plant.
This natural fertilizer not only gives a plant what it needs but also deters fungus gnats and other pests and prevents fungal growth. Instead of heading to your local coffee house for your next cup of joe, brew your own pot of coffee at home and save the spent grounds to fertilize your plants and create a garden oasis.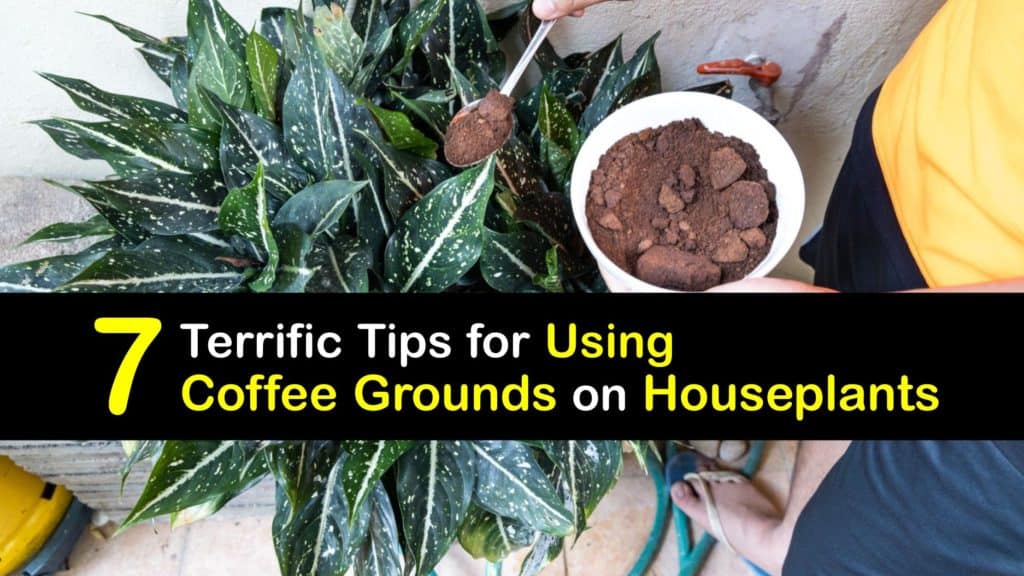 Using Coffee Grounds for Houseplants
Instead of tossing those leftover coffee grounds in the garbage, add them to the compost pile or use them to make a liquid fertilizer or soil amendment. Discover how to fertilize houseplants with coffee and prevent common plant diseases to encourage strong plant growth.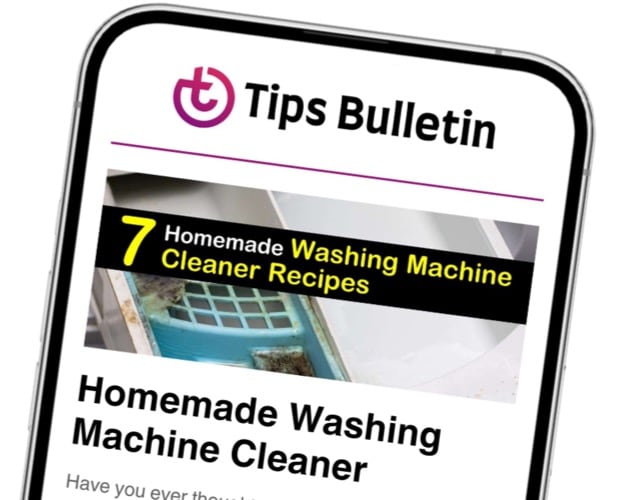 Finally, an email that Transforms Your Home.
Get the latest home and garden tips from our experts, delivered straight to your inbox.
Are Coffee Grounds Good for Houseplants?
Is it safe to feed plants with coffee grounds? Not only does using coffee grounds for indoor plants benefit your plants, but it's also an excellent way to recycle food and prevent waste. This natural plant food also leaves your home smelling aromatic.
Using food waste as fertilizer is not a new concept. Use eggshells for indoor plants as well as banana peels for lush growth.
Coffee Grounds Fertilizer
While coffee grounds are a natural fertilizer for an acid loving plant, they benefit other plants as well. This rich organic material has a high nitrogen content and micronutrients that plants crave. In addition, it is helpful as a mulch, fertilizer, compost, or pesticide and has high-water retention.
What Houseplants Like Coffee Grounds?
While coffee grounds help feed many houseplants, some plants are better off with a different fertilizer than coffee. So, what houseplants like coffee grounds? Explore which plants benefit from regular doses of coffee and which ones to avoid.
Plants that get the most from fresh coffee grounds enjoy growing in soil with a low pH, like the African violet, English ivy, Boston fern, peace lily, philodendron, and cactus plant. However, not all plants like acidic soil, and it's best to avoid fertilizing clover, clematis, lilac, and lavender with a coffee fertilizer.
How to Use Coffee Grounds for Houseplants
There are many ways to use coffee to feed a house plant; some methods are easier than others. Discover the different ways to use coffee as fertilizer for indoor plants to help you pick the best one for your plant.
There are many ways to use coffee grounds, and the most common are soil amendments, foliar sprays, and compost teas. Work the coffee grounds into the potting mix, spray your plants with a coffee bean tea, add it to the organic matter in the compost pile, or combine with other ingredients to make a balanced fertilizer or pest control treatment.
Making a Foliar Spray with Coffee Grounds for Indoor Plants
One of our favorite ways to feed plants is to spray them with a liquid fertilizer, or in this case, liquid coffee. Use coffee grounds for indoor plants by making a foliar spray.
Place the spent coffee grounds in a container and cover them with water. Let them steep for a few hours and strain the liquid into a spray bottle or watering can. Apply the foliar spray to your plant's leaves or pour the liquid into the soil around the plant's base.
If you prefer, leave the spent grounds in the coffee maker, and run water through another brew cycle. Let the diluted coffee cool completely before watering your plant. Feed your plants with this fertilizer once every seven to ten days to prevent over-fertilization.
Amending Houseplant Soil with Coffee Grounds
Soil amendments work by correcting the soil pH and providing nutrients to the plant's root system. Amend the houseplant potting soil with coffee grounds to promote healthy root development.
Mix a small portion of old coffee grounds into the potting mix before transplanting your indoor plant, or sprinkle some spent grounds over the top of the soil and water your plant like usual. The ground coffee breaks down and leaches into the dirt, fixing nitrogen in the soil.
Know what houseplants like coffee grounds before adding the grounds to the dirt. Orchids, impatiens, and African violets are great candidates for a coffee ground fertilizer.
Making a Houseplant Fertilizer with Coffee Grounds and Eggshells
Coffee is not the only ingredient that works well to feed indoor plants. For example, eggshells provide the plant with calcium and prevent blossom end rot, and combining these two ingredients creates a natural plant fertilizer.
Wash the eggshells and set the old coffee grounds and shells aside to air dry. Smash the dried shells into a powder or very small pieces and mix them with the grounds, then sprinkle the coffee-egg fertilizer into the soil of the potted plant and give it a drink of water.
To make liquid fertilizer, soak the crushed shells and coffee grounds in water for several hours, and water your plants with this liquid to give them extra nitrogen and calcium.
Using Coffee Grounds and Essential Oils to Treat Houseplants
Consider combining diluted coffee with essential oils if your plants suffer from spider mites or other pests. This homemade plant food pest repellent is simple to prepare and safe to use on houseplants.
Place your leftover coffee grounds in a container and fill it with water. Let it steep for a few hours and strain the liquid into a spray bottle or watering can. Add 15 to 20 drops of a favorite essential oil, shake the container well, and apply it to your plant or the soil to get rid of white aphids on houseplants or to tackle fungus gnats.
Essential oils that are safe for plants are rosemary, peppermint, lemongrass, cedarwood, eucalyptus, lavender, and citrus oils. They repel common houseplant pests, prevent fungus growth, and may even keep a naughty cat from using your plants as a litter box.
Coffee grounds have uses outside as well. Add coffee grounds to garden plants. Coffee grounds are great for your lawn to enhance the soil and repel insects. Don't toss your coffee grounds after making your morning brew. Reuse and recycle.
Coffee grounds are a natural fertilizer, adding nitrogen to the soil for a healthy root system. In addition, they contain small amounts of potassium, magnesium, phosphorus, and other nutrients and are perfect for giving your indoor plant the boost it needs.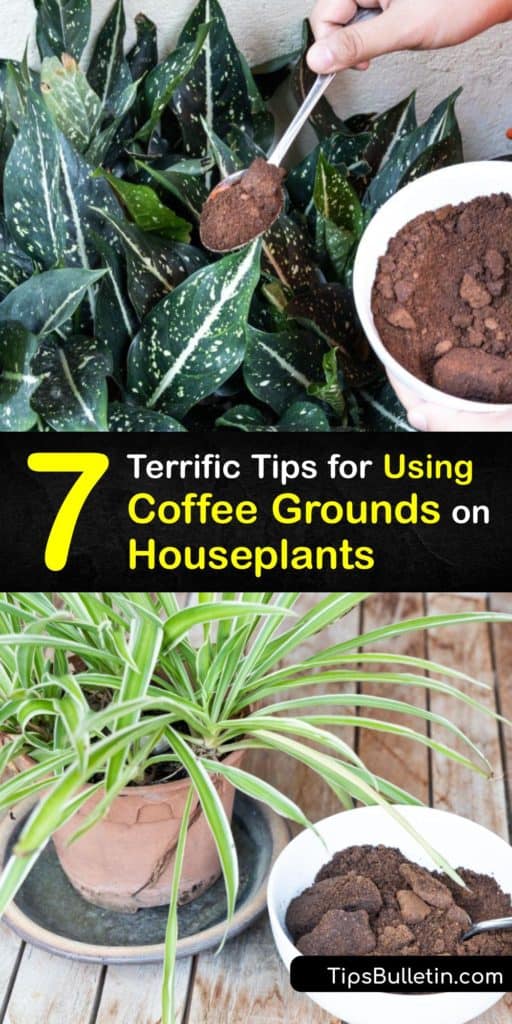 We hope that learning how to use coffee grounds for houseplants keeps your indoor plants looking vibrant, and we'd love it if you'd share our coffee ground fertilizer guide with your family and friends on Facebook and Pinterest.