The beautiful blueberry thrives with two ingredients; acidic soil and an abundance of nitrogen. Discover how to use coffee grounds to fertilize blueberry bushes and encourage hearty berry production all season. Recycling coffee grounds back into your garden is a wonderful way to help your blueberry bush achieve and maintain the perfect conditions for vigorous growth.
Blueberry bushes are native to North America and have been enjoyed by native peoples for thousands of years. Often called the "star berry" for its five-pointed blossom end, this incredibly healthy fruit was considered a gift from the gods.
Native Americans used every part of the blueberry for tea and cough medicine and preserved them for nutrients in the winter months. The best season to plant blueberries is in early spring, although late fall is another option.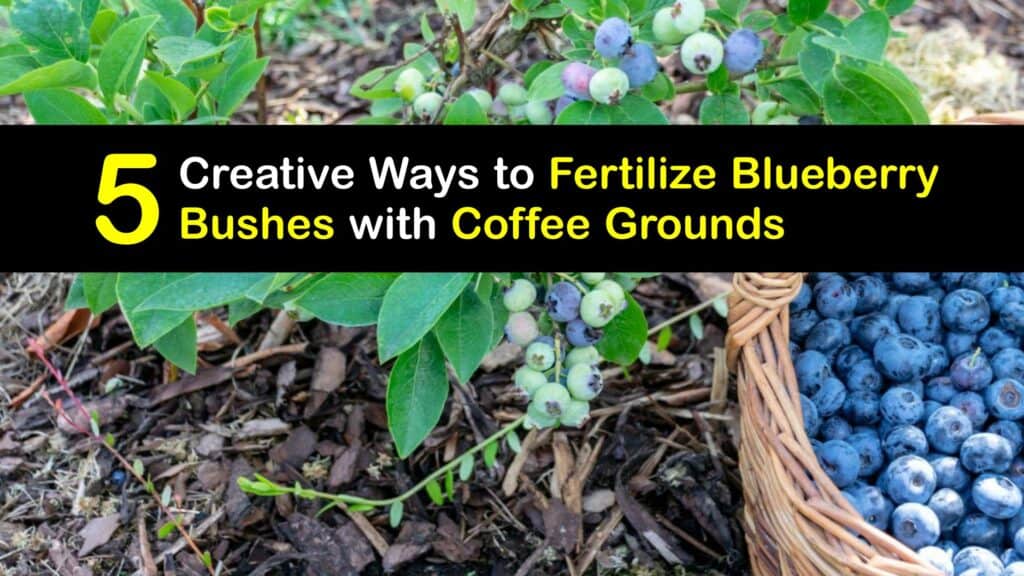 Are Coffee Grounds Good for Blueberries?
Historically, the blueberry has been tricky to cultivate for home gardeners because it prefers acidity levels that are inhospitable for most plants. Soil pH accurately measures how alkaline or acidic your garden soil is. The more hydrogen ions in the soil, the higher the acidity, and more hydroxyl ions mean a more alkaline soil. A soil pH of 7 is neutral; blueberries prefer a pH of 4.5 to 5.5.
Keep chemicals out of your fruit and vegetable garden by learning to recycle kitchen waste, like coffee grounds, back into the soil. Organic matter like compost and mulch are marvelous additions to any garden, especially when boosted with coffee grounds.
Try coffee grounds for blueberry bushes, tomato plants, and other acid-loving plants this growing season. They make great DIY fertilizer for blueberry bushes and other garden favorites. Watch your plants grow tall and produce vigorously, all while keeping spent coffee grounds out of the landfill.
How to Use Coffee Grounds to Fertilize Blueberries
Coffee grounds provide helpful nutrients like nitrogen, phosphorus, and potassium, plus trace amounts of secondary nutrients like magnesium, copper, and calcium. After you find a great place to plant blueberry bushes, you need to keep them happy.
Spent coffee grounds are slightly less acidic than fresh grounds, with a pH of 5.5 to 6.8, mildly acidic. Try an even application of coffee grounds as a slight soil acidifier to encourage robust plant growth.
Use coffee grounds for blueberries and watch them flourish. Gather four or five cups of spent coffee grounds, and let them dry out in the sun. Rake the coffee grounds into the top two inches of soil around the blueberry plant.
Make sure there are no clumps and that everything distributes evenly. Repeat biweekly or monthly, as required. Many gardeners report trouble using straight coffee grounds on and around seedlings; save the coffee grind for an established berry bush.
Coffee Grounds for Blueberries in Containers
The Northern Highbush blueberry is the most widely cultivated blueberry plant in the world, but there are other varieties, like the Southern Highbush, Rabbiteye, and Lowbush. Farmers have even developed blueberries suitable for container growing, such as dwarf blueberry bushes.
Are coffee grounds good for blueberries in containers? Absolutely – they're pretty simple to apply, too! Add a light sprinkling of dried or fresh coffee grounds around the base of the plant every two weeks, and water thoroughly.
Growing blueberries is easy under the right conditions, as long as you're vigilant and watch the blueberry plant for signs of distress or nutrient deficiency.
Water Your Blueberry Bushes With Coffee
Blueberries are slow-growing, long-lasting plants. While blueberry bushes may produce fruit after the first few seasons, they don't reach maturity until they're about ten years old. The average berry plant yields fruit for 50 years, so having a balanced blueberry fertilizer will be an ongoing concern.
Blueberry bushes are a real investment in the future. These acid loving plants do best with a bit of special care. Discover how to use coffee grounds to fertilize blueberry bushes for lifelong berry production and continued plant health.
Mix two cups of old, dry coffee grounds with a gallon of warm water. Use your most convenient watering can for application, and water around the base of the plants. This method is excellent for young bushes just starting to establish themselves. It works best when applied in early spring when they're just beginning to bud.
Add Coffee Grounds to Your Compost
Are coffee grounds good for blueberries when mixed into the compost pile? You bet; put those leftover grounds to use with your other organic matter and make an effective amendment for your garden soil.
Rich homemade compost is almost as good as peat moss for moisture retention and soil structure. Coffee grounds can be composted; a little spent coffee ground is also helpful for your compost pile. When added as part of a healthy balance of brown and green materials, coffee grounds encourage beneficial microbes to grow and support the soil.
Use organic material left over from vegetables, crushed eggshells, and yard waste to start a simple hot compost pile for your home garden. While adding acidic ingredients like pine needles or pine bark is possible, the resin often interferes with the natural decomposition process. Add acidic ingredients in moderation to preserve the balance of your compost pile.
Use Coffee Grounds as Mulch for Your Blueberry Bushes
If you're planting blueberries this year, don't use a thick blanket of wet coffee grounds. Instead, mix a few handfuls of dry coffee grounds with your preferred mulch, such as pine needles or wood chips, and apply it around the base of your bushes.
Use mulch mixed with coffee grounds for blueberries and other acid-loving vegetation like azaleas, tomato plants, and rhododendrons. If you have a large patch to cover, many coffee shops like Starbucks recycle used coffee grounds to customers for free.
We hope you enjoyed our tips for learning how to use coffee grounds to fertilize blueberry bushes and feel inspired to plant blueberries this year. While soil pH is a common concern with blueberries, they're otherwise relatively unfussy and provide a hefty bounty for minimal effort.
Plant blueberries in a sunny location with well-draining soil, and water them weekly. Plan your garden well; grow blueberries alongside other acid-loving plants, like peppers and tomato plants, for best results.
Use mulch to prevent weed growth, and don't be afraid to add a bit of compost to the topsoil. Blueberry care is easy and rewarding, and now you have the best tricks at your fingertips.
If you loved learning how to use coffee grounds to fertilize blueberry bushes, share this article with your fellow home gardeners on Pinterest or Facebook to help them get the best out of their blueberry harvest.