The world of organic gardening is constantly expanding and seeking new ways to reuse natural resources to improve gardening results. One discussion among gardeners surrounds using spent coffee grounds as a fertilizer for plants and vegetables. Are coffee grounds good for rose bushes? Our guide teaches you how to use coffee grounds to fertilize your roses.
How do you go about using old coffee grounds in the garden to benefit rose plants? Coffee is known for the caffeine it provides after drinking it, but coffee has antioxidants and is naturally acidic. The nutrients in coffee grinds and the acid in fresh grounds benefit rose gardens and plants that thrive in acidic soil.
As a fertilizer, leftover coffee grounds have essential nutrients that roses need for healthy plant growth. Composting coffee grounds adds green compost material to your pile, providing another way to use coffee grounds in your garden and giving your roses the nutrients required to grow.
Using Coffee Grounds for Roses
The next time you brew coffee, consider setting aside the used coffee filter with the grounds inside to add to your compost pile or collect the grounds for fertilizer. Coffee grounds help protect indoor potted plants from mites in potting soil while boosting the soil pH.
Are Coffee Grounds Good for Rose Bushes?
The concern with amending your garden soil with new organic material is that all the effort put into gathering supplies and implementing them in the garden fails. Luckily, roses are among a long list of acid loving plants, and they love coffee grounds.
Fresh coffee grounds are highly acidic and are a great source of nitrogen. Even after the coffee grounds soak in water to create your iced coffee, the remaining grounds retain these benefits for your roses. Many local coffee shops offer free bags of used coffee grounds to benefit local gardeners if you aren't a coffee drinker.
Using Coffee Grounds for Garden Roses
Acidic soil is any soil with a pH over seven, and the pH of your garden soil refers to the solubility of nutrients in the soil and your rose bushes' ability to absorb these nutrients. When nutrients like potassium leach out of the soil from overwatering, acidic soil results.
Using chemical fertilizers is another way to create acidity, but a natural solution is using coffee grounds.
Adding coffee grounds into the garden or potting soil for indoor plants allows the coffee grounds to slowly break down and amend the soil's pH. Coffee grounds possess nitrogen and other micronutrients plants enjoy. Using coffee grounds in the garden helps with soil structure and water retention. Coffee is also a natural slug repellent along with eggshells.
Adding Coffee Grounds to Your Garden Soil
Aside from the benefits coffee grounds provide for your roses, amending your garden soil with coffee grounds benefits your garden and adjacent plants. Including organic matter in the garden helps aerate the soil, and coffee grinds work well as a natural mulch.
Adding coffee grounds in the garden helps the ecosystem of organisms in the ground. Worms in the garden feed on coffee grounds and, in their wake, leave waste and nutrients that the root system of roses absorbs. Spreading coffee grounds in the garden also helps protect your garden from pests like slugs.
Save a portion of your coffee grounds as grass and lawn fertilizer, too. Sprinkle them over grassy areas and watch your lawn thrive.
How to Use Coffee Grounds to Fertilize Your Roses
Fertilizing your rose garden with coffee grounds corrects the soil pH, provides nutrients to your roses and promotes strong root development.
To use coffee grounds in the garden, save a few days' worth of coffee grounds in a plastic bag and sprinkle it evenly around your rose bushes. Use gardening tools to fully incorporate the grounds into your garden soil before watering your bushes.
If the leaves on your rose bushes show a magnesium deficiency, like yellow leaves with green veins, add Epsom salt to your coffee grounds. Epsom salt is good for flowers and roses. The addition of Epsom salt breaks down in the soil to fix low magnesium levels in the garden and promotes flower production.
Fertilizing Roses with Coffee Grounds and Eggshells
Not only do roses enjoy coffee grounds from the kitchen, roses like eggshells, too. Eggshells are a great source of calcium for roses, which helps strengthen cell walls and benefits plants by keeping them healthy and safe from pathogens.
To properly include eggshells in the garden, wash the eggshells to remove any remaining protein on the shells. Leave the eggshells to dry before placing them in a plastic bag and crushing them.
Grind the coffee beans and include the unwashed coffee grounds in the plastic bag with your crushed eggshells. Evenly sprinkle the mixture across the soil of your houseplants or outdoor roses. This mixture is best for roses in containers or for any plants that need a nutritional boost.
Composting Coffee Grounds
One option for maximizing the benefit of using coffee grounds for roses is adding used coffee grounds to your compost heap. Composting involves adding organic materials to a pile to create a balance between green and brown material, and coffee grounds are very good for your compost, as are many other kitchen scraps.
Brown materials like twigs and leaves add carbon to the compost pile, while green materials like coffee grounds provide nitrogen for decomposition. After you add coffee grounds to compost, maintain the compost by turning over the pile to help regulate the internal temperature and moisture of the pile.
Bacteria and microorganisms inside the compost pile break down the organic material in a few months to a year, and the materials become dark rich soil. Use gardening tools to mix finished compost with the top few inches of your soil.
How to Make Coffee Tea Fertilizer
An innovative way to use coffee grounds for roses is to make a cup of coffee for your rose bushes. Soaking coffee grounds in water creates a type of cold brew that becomes useful as a liquid fertilizer for rose plants.
Place a pillowcase around the edge of a bucket and dump in the spent coffee grounds. Fill the bucket with water before placing a lid on it and letting it steep overnight. Remove the pillow case and squeeze to strain out as much liquid as possible. Use the water in the bucket to water your rose bushes as liquid fertilizer nitrogen soak.
Using Coffee Grounds against Garden Pests
The caffeine in coffee doesn't exist solely for our benefit. Caffeine is a defense mechanism for plants. The smell of coffee is also a repellent for insects and helps protect your roses from common pests like aphids when combined with essential oils.
Soak spent grounds in a container filled with water for a day. Use a strainer or filter to add the coffee water into a spray bottle. Add half a dozen drops of essential oils like thyme, peppermint, and rosemary before shaking well. Spray your rose bush to ward off harmful insects while treating your roses to a caffeine spritz.
Roses are only one of the many plants that benefit from the nitrogen-based introduction of coffee grounds into their soil. Spread coffee grounds across lawns to help with drainage and aeration while warding off pests with the intense aroma of the coffee grounds.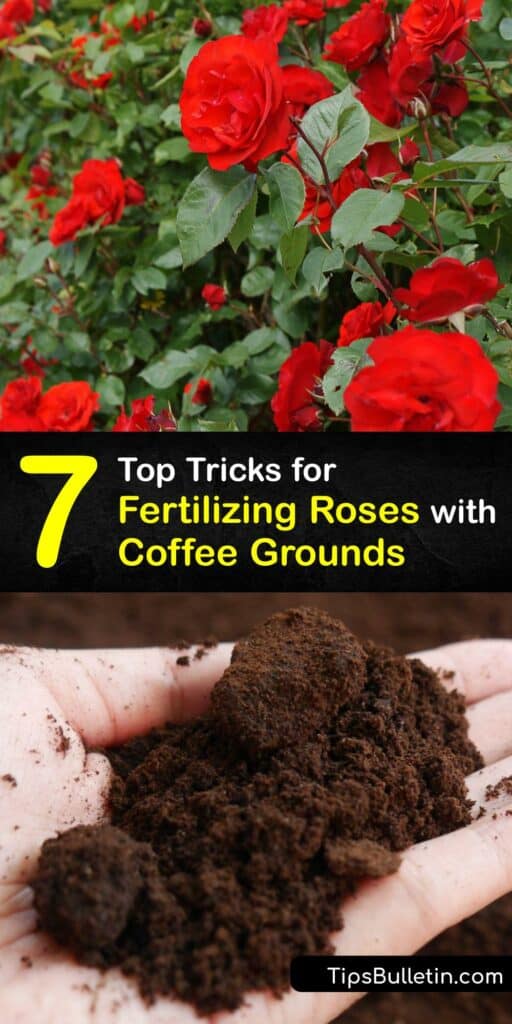 We hope learning how to use coffee grounds to fertilize your roses helps you grow beautiful roses and that you'll share our answer to the question, "Are coffee grounds good for rose bushes?" with your friends on Facebook and Pinterest.