More people are switching to less toxic insecticides and are interested in safer diatomaceous earth (DE) alternatives for managing insect pests such as the fungus gnat. Understanding how to use diatomaceous earth for fungus gnats opens the door to many possibilities for pest control without relying on harsh or dangerous chemicals.
It is safe and effective to use food grade diatomaceous earth for natural pest control to lower adult fungus gnat and fungus gnat larvae populations. If your home is infested with gnats, you'll see them around the drains, especially in the kitchen, near ripe fruit or rotting food. Many homeowners are interested in learning to use diatomaceous earth to kill fungus gnats.
Gnats gravitate to potted plants thanks to the moist soil surface, which creates favorable living conditions. Many indoor gardeners use diatomaceous earth for soil gnats in houseplants with good results. Adult fungus gnat or fruit flies, drain flies, or soil gnats, along with their larvae and eggs, are easy to get rid of using diatomaceous earth.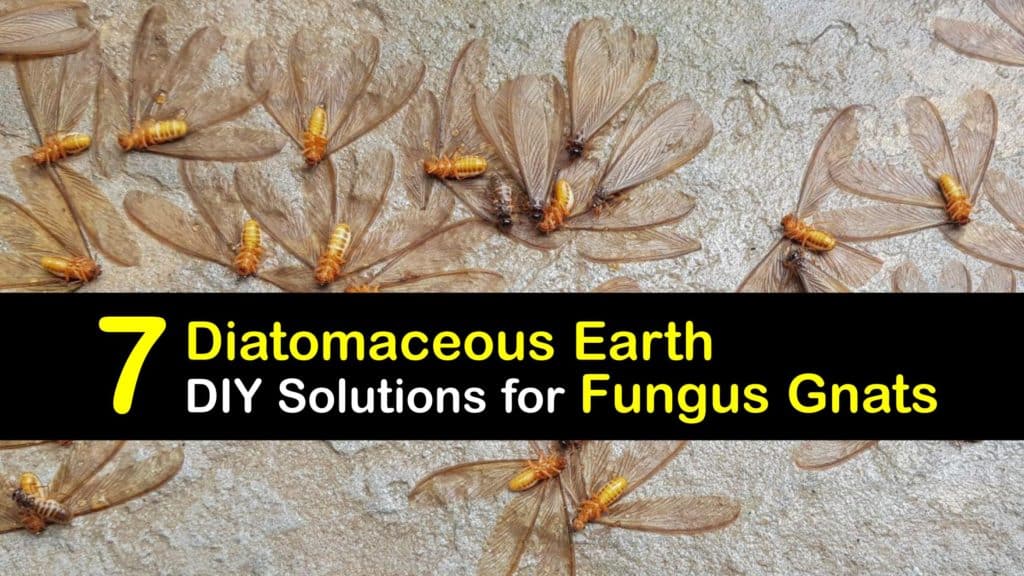 All About Using Diatomaceous Earth to Kill Fungus Gnats
Before worrying about how to use diatomaceous earth for fungus gnats, take away as much moisture as feasible from the affected areas. Consider temporarily relocating your houseplants or a decorative potted plant and cleaning up any rotting fruit or organic matter to eliminate the insect's feeding source.
Thanks to their potting soil, indoor plants are a common target for adult gnats. The plant soil and plant roots of an infested plant provide the perfect insect environment for these houseplant pests. Using diatomaceous earth to kill fungus gnats does not harm plant life.
There are many remedies for this unwelcome pest, including cinnamon and hydrogen peroxide for fungus gnats, but DE is a simple and effective solution, especially if you already have a bag for outdoor use.
Take a look at this post to find out the best ways of getting rid of fungus gnats as well as easy home ingredients to use in your home. You can also get rid of mold on plant soil with hydrogen peroxide for another super simple home solution.
Does Diatomaceous Earth Kill Fungus Gnats?
The insecticidal capabilities of diatomaceous earth are well recognized in the scientific community. Diatomaceous earth kills ticks and gnats and is a fantastic natural method used to keep fungus gnats at bay.
It is entirely safe for use directly on houseplants and potted plants and does not threaten pets or humans. Diatomaceous earth comprises siliceous diatom fossils and is used as a soil amendment to eliminate fungus gnats. It is a natural way to get rid of gnats in plants without resorting to chemical use.
The gnat's waxy coating strips away as they walk over the powder. Gnats lose water due to desiccation caused by diatomaceous earth, leading to death.
Suppliers offer food-grade diatomaceous earth and pool grade. For cleaning and pest control, the food-grade powder is necessary. Food grade diatomaceous earth is of greater quality and purity, making it safer and more effective.
How to Use Diatomaceous Earth for Fungus Gnats Outdoors
Diatomaceous earth, a non-toxic chemical, helps control plant pests such as the fungus gnat in the garden. It is effective against any insect pest that crawls on plants as contact with the powder is severely dehydrating. Diatomaceous earth will also kill chiggers and a variety of pests that tend to plague both humans and plants.
The ideal way to use diatomaceous earth for maggots and fungus gnats is to dust the plants with a light layer of powder after watering to make it easier for the DE to stick to plant surfaces. It's also the way to use diatomaceous earth for mealybugs. Water makes the powder temporarily ineffective since dehydration is the principal mechanism of action, but when the water evaporates, the powder resumes its active properties.
Although diatomaceous earth is an insecticide, beneficial insects such as bees are not impacted by it since they do not come into contact with it, provided the flowers are not treated.
Gardeners use food-grade diatomaceous earth topically on plants because it is non-toxic and readily washes away. Reducing moisture and cleaning up rotting organic matter also helps keep fungus gnats away from your garden.
Diatomaceous Earth for Soil Gnats in Houseplants
An organic sedimentary rock powder, DE will kill and repel a variety of indoor garden pests such as the fungus gnat, spider mite, aphid, and mealy bugs without chemicals. It increases the porosity of pots and deodorizes your plants while working as effective pest control.
The porosity of diatomaceous earth helps improve drainage and soften compacted potting soil, increasing the amount of oxygen available to the root zone. Houseplants develop an odor from time to time due to mold, standing water, or the usage of compost.
Diatomaceous earth is an organic deodorizer that can be applied directly to plants without harming them. It provides a natural remedy to any smell – use for potting soil gnats that tend to get out of hand. Use diatomaceous earth for spider mites or dust fungus gnat infested plants with a fine layer of DE powder, including the soil surface.
DE for Fungus Gnats – Soil Drench
In addition to dusting, apply diatomaceous earth as a soil drench to penetrate below the soil surface and destroy any eggs or gnat larvae lurking below.
Mix well and pour over the soil in place of regular watering to eliminate all stages of gnats. Repeat as needed until gnat infestation has cleared. Monitor your indoor plants and houseplants closely. Use the soil drench in addition to dusting with diatomaceous earth powder to maximize coverage for faster resolution.
Yellow Sticky Traps for a Fungus Gnat Infestation
Another natural solution, the yellow sticky trap is a widely offered commercial solution for fungus gnats. These traps catch the gnats when they land and trap them, and they're easy to make at home.
Cut up your index cards into smaller pieces, attach them to a section of the wooden stick, such as old skewers or chopsticks, and paint both sides of the card with honey.
Poke the stick into the soil of your houseplant. Fungus gnats are lured by the honey and get stuck upon landing. Check your traps daily and replace them as required. Use traps with DE for even more comprehensive bug control.
Bacillus Thuringiensis for Fruit Fly Pest Control
Bacillus thuringiensis israelensis (BTI) is a bacteria used to destroy fungus gnats naturally. Because fungus gnats and mosquitoes are closely related, both mosquito and fungus gnat larvae are successfully killed by BTI.
BTI is lethal to mosquito and fungus gnat larvae and non-toxic to all other living creatures. The bacterium is nature's way of reducing the number of fungus gnats and mosquitoes. BTI does not affect other beneficial insects such as bees or butterflies, and it does not harm animals, aquatic life, birds, plants, or people.
Mosquito Bits contain BTI, an active component certified for the management of fungus gnats. To kill fungus gnat larvae in houseplants, shake the Mosquito Bits granules onto the potting soil and water thoroughly. BTI is suitable for fruits, vegetables, herbs, flowering, and decorative plants.
Commercial Products Treat a Gnat Infestation
Most hardware and home stores have a wide array of commercial fungus gnat pest control options in addition to diatomaceous earth. When selecting a pest control product, always read the label and choose something appropriate and safe for your household.
Use your gnat control following the manufacturer's guidelines and follow any safety recommendations to achieve the best results. Fortunately, most homeowners only require a box of diatomaceous earth to eradicate fungus gnats, which is readily available.
Since diatomaceous earth works through contact, it is essential to scatter it widely in difficult-to-reach places to enhance coverage. Fungus gnats plague your indoor plants, kitchen, and even the yard. DE powder resolves a gnat infestation rapidly and efficiently.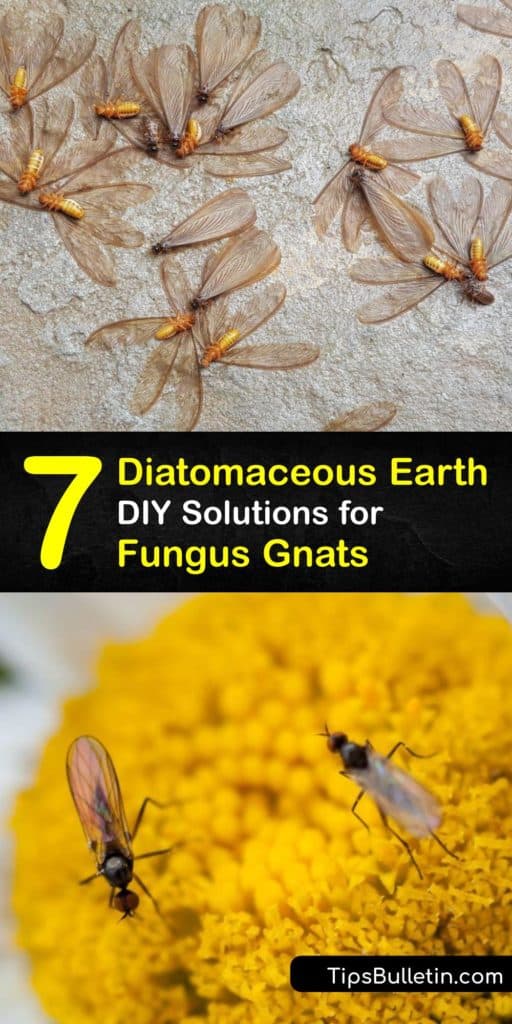 If you loved this article on how to use diatomaceous earth for fungus gnats, please share these clever tips for using diatomaceous earth for soil gnats in houseplants with your friends and family on Pinterest and Facebook.