Mealybugs are scale insects that thrive in warm environments. These soft-bodied bugs are known pests due to their habit of feeding on plants for their juices. Mealybugs also serve as vectors for various plant diseases so learning how to use diatomaceous earth for mealybugs is vital for the health of your plants.
Commonly associated with damage to greenhouse plants because of the moist conditions inside these gardening structures, mealy bugs cause problems for plants growing outdoors in gardens and houseplants. A few mealybugs do not cause severe damage to plants; however, a mealybug infestation feeding on plants causes leaf yellowing as the plant weakens.
Mealybugs are preyed on by beneficial insects like ladybugs in outdoor situations. If these houseplant pests are causing damage in your home or in a greenhouse where natural predators can't reach them, continue reading to discover how to control mealybugs without using commercial products like Bayer Tree and Shrub insecticides.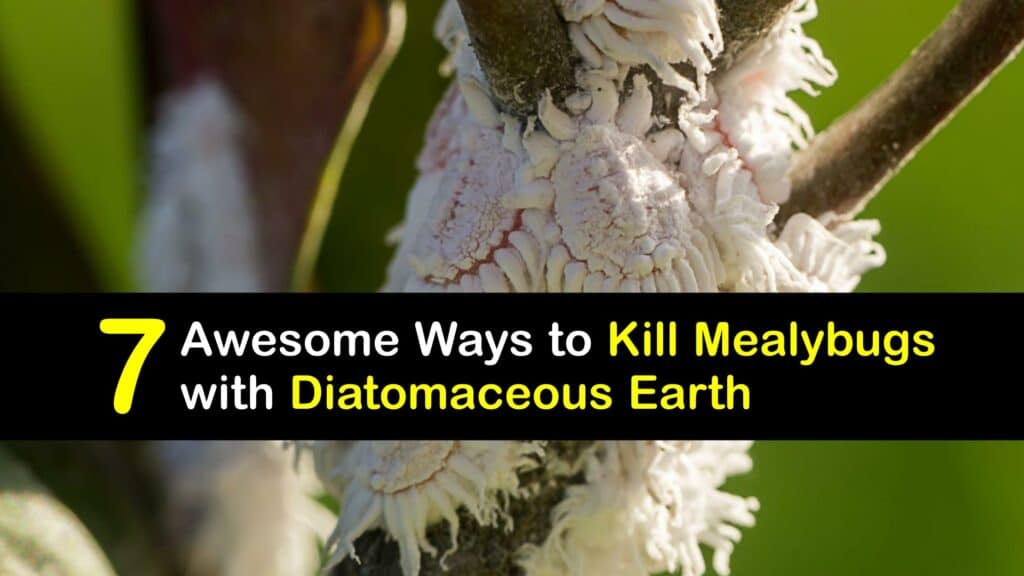 Mealybug Control with Diatomaceous Earth
Does diatomaceous earth kill mealybugs? Diatomaceous earth powder is a natural form of pest control made from the crystalline bodies of sea organisms known as diatoms.
When applied around plants, this powder cuts into insects' soft bodies and causes them to lose moisture. Over time, this loss of water in their bodies results in death. DE is the ideal way to get rid of aphids indoors or out and kill a variety of other harmful insects.
What Damage do Mealybugs Cause?
Mealybugs are oval-shaped insects covered in wax that feed in colonies on plant juices and leave honeydew behind in their feeding sites. Other insects feed on the honeydew, and the remaining honeydew left on plants develops into a sooty mold.
Plants with excessive mealybug damage suffer from a loss of vigor, and the resulting honeydew reduces the quality of fruit produced. When an infestation targets a plant, it can result in plant death.
Recognizing Types of Mealybugs
There are many types of mealybugs, and the host plants you find them on help determine which bugs target your plants. Mealybugs are commonly found above ground feeding on plant foliage, on the soil near the plant stem, or underground, feeding on plant roots.
Soil mealy bugs are white or gray and resemble rice grains against dark potting soil. This species feeds on various hosts and is common on potted plants like African violets.
Citrus bugs are gray insects with short filaments around the edge of their bodies. This species is common indoors, feeding on ornamental plants like succulents.
Root mealybugs live belowground most of the time, feeding on the roots of various plants, including fruits and ornamental trees.
Cypress bark mealybugs are a species that commonly infest trees such as cypress, cedar, and juniper trees. They hide under the loose bark of the trees they infest to feed and hide from predators like wasps.
When to Use Diatomaceous Earth Powder for Mealybugs
Once you spot mealybugs crawling around your plants, it's time to use food grade diatomaceous earth to address the issue. While you can make a bug spray for flowers and plants, using DE means you only have to worry about a single ingredient.
The longer mealybugs are left to feed and mate around your plants, the more likely you will have an infestation. After mating, mealybugs lay between 100 and 200 eggs in egg sacs in two weeks.
These egg sacks cling to plant leaves or directly on the fruit of plants. The eggs hatch in about ten days – a few mealybugs could lead to an infestation if left untreated.
How to Use Diatomaceous Earth for Mealybugs
Because diatomaceous earth requires contact with insects to be effective, it is the best form of natural pest control for crawling insects like spider mites, bed bugs, and mealybugs. Use DE for indoor plants and those outside. After finding mealybugs on the leaves of your plants, dust them with diatomaceous earth to kill woolly aphids and other pests.
Unlike liquid treatments for pests, diatomaceous earth does not dissipate. Reapply DE for mealybugs or spread diatomaceous earth for spider mites after the plants get wet. As mealybugs crawl through the DE dust on your plant leaves, the powder cuts into their bodies, causing them to lose moisture and die. Remove any dead bugs on indoor plants and treat sooty mold.
Using Diatomaceous Earth to Kill Mealybugs in the Soil
Soil and root mealybugs typically live on or under the soil, so spreading diatomaceous earth across the soil of your plants is an excellent way to kill these pests. Diatomaceous earth kills chiggers too. To effectively target soil and root mealybugs, use a garden rake to turn over the dirt. When getting rid of mealybugs, sprinkle diatomaceous earth around your plant. Using DE in the soil is also effective for other pests that infest soil, like fungus gnats.
If mealybugs are present in the soil as they move toward your plants, the DE cuts into their bodies. When caring for indoor plants, mix diatomaceous earth with the top layer of your potting soil to kill any mealybugs. When getting rid of mealybugs outdoors, sprinkle the powder on and around your plants. Re-apply after it rains.
Remove Sooty Mold Due to Mealybugs
Sap-sucking insects like aphids and mealybugs leave honeydew after they feed. The sugary liquid affects the plant's ability to photosynthesize. Sooty mold is difficult to remove, but it weathers off over time.
To help your plant take in sunlight, use insecticidal soap to soften the coating of mold. Treat indoor plants during the day, but outdoor plants are best treated during the evening to allow the soap spray to remain on the plant for as long as possible without the sun's heat drying the spray.
Combine liquid dish soap with water in a spray bottle and spray your plant leaves. Use a sponge to remove mold from the leaves as the mold loosens.
Note: Use horticultural oil as a substitute for water and dish soap.
The Downside to Using Diatomaceous Earth to Kill Mealybugs
Although gardeners consider diatomaceous earth a harmless insecticide, there are some takeaways from using diatomaceous earth to kill mealybugs. Because diatomaceous earth affects insects through contact, there is no way to protect beneficial insects from the effects of DE.
Insects like ladybugs, butterflies, parasitic wasps, and bees are susceptible to harm from diatomaceous earth when sprinkling this powder on your plants, especially flowers.
Another downside of mealybug control with diatomaceous earth is that DE loses its effectiveness once it becomes wet. Plants treated with DE require another treatment after rainfall; even soil moisture affects the diatomaceous earth's ability to harm insects.
Keep your plants safe, regardless of whether you are growing crops in the garden or have an assortment of ornamental plants in your home. Because using diatomaceous earth to kill mealybugs is safe around humans and pets, it's an excellent way to manage a mealybug infestation with this natural pest control method.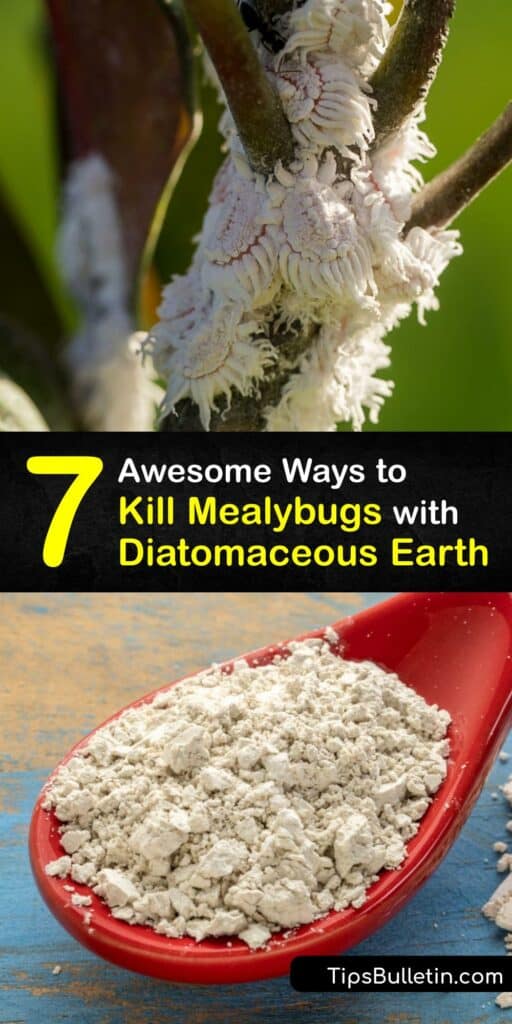 If this guide helped you learn how to use diatomaceous earth for mealybugs, please consider sharing our tips for mealybug control with diatomaceous earth on Facebook and Pinterest with your friends.