If you're a pet owner, you know how dogs and cats are magnets for ticks. While these parasitic insects are a necessary part of nature, they are carriers of diseases, and we don't want them feeding on our furry friends or ourselves. Learn how to use diatomaceous earth for ticks in your yard to keep you and your family safe.
Diatomaceous earth is a well-known secret among gardeners and homeowners. This naturally occurring powder comes from fossilized remains of diatoms, tiny aquatic organisms. Their skeletons contain silica, and over time, diatoms accumulate in streams, rivers, lakes, and oceans, and we mine the deposits from these areas.
There are various uses for food grade diatomaceous earth, or DE, from filtering water and food preservation to teeth whitening. It's one of the most effective natural solutions for eliminating parasites, ants, bed bugs, fleas, flea eggs, ticks, and other crawling insects.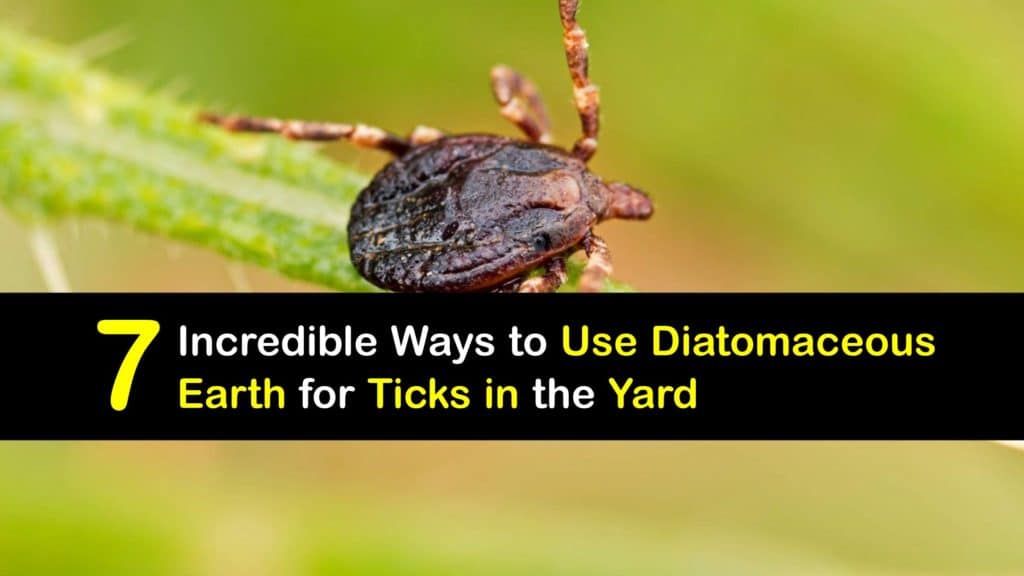 Ways to Eliminate Yard Ticks With Diatomaceous Earth
While we often use a flea comb, tick collar, flea collar, or flea and tick spray as forms of flea and tick control, there are other ways to keep ticks out of the yard and prevent them from getting on your pets. Tick control with neem oil is one option, but DE is another.
Discover how diatomaceous earth works to eliminate ticks and ways to use DE powder for flea control and tick prevention, as well as a way to use diatomaceous earth for pest control at home.
Why It's Important to Avoid Ticks
Why is it useful to use diatomaceous earth to kill ticks outside? Find out what these pests are and why it's necessary to keep them away from areas where you and your dogs spend your time.
The tick is a parasitic arachnid, and there are hundreds of species; however, only some spread diseases through bacteria, parasites, and viruses.
There are 90 types in the United States, and the wood tick, deer tick, brown dog tick, Gulf Coast tick, lone star tick, Rocky Mountain wood tick, and Western black-legged tick are the types that most often spread diseases like Lyme disease, and Rocky Mountain spotted fever.
Adult ticks spend their time in wooded areas, tall grass, shrubs, weeds, and leaf litter, and they latch onto animals, pets, and humans as they pass through the area. It's essential to take precautions while gardening, doing yard work, or spending your time relaxing outdoors.
Is It Safe to Use Diatomaceous Earth to Kill Ticks Outside?
Does diatomaceous earth kill ticks? Yes, this natural powder kills many insects, including DE for slugs and snails and ticks. Learn more about this substance and how it works to eliminate ticks, fleas, and other harmful bugs around your home.
Diatomaceous Earth
Diatomaceous earth is a natural white powder commonly used as an anti-caking agent in food industries. This powder is also an excellent insecticide as it penetrates an insect's body, piercing the exoskeleton and leading to dehydration and death.
Is diatomaceous earth safe to use around kids and pets? There are two types of diatomaceous earth. Garden grade DE is used in pools and is toxic, while food grade DE contains less than 1% crystalline silica and is safe for people and animals.
How Long Does It Take for Diatomaceous Earth to Kill Ticks?
While many insect sprays work quickly to kill various bugs, most of them contain harmful chemicals, and diatomaceous earth powder is a great alternative. However, it takes a little bit longer to get rid of ticks. So, how long does it take for diatomaceous earth to kill ticks?
DE Tick Treatment
Diatomaceous earth takes a few hours to a few days to kill insects, depending on the conditions and bug type. However, DE generally kills the insect 12 hours after it travels across the powder.
While a chemical treatment generally kills chiggers instantly, along with ticks and other pests, it can be harmful to the environment and your family. Treat the right areas of your yard with DE to ensure the ticks come into contact with the powder regularly and know that it is safe for you.
How to Use Diatomaceous Earth for Ticks in Your Yard
Using DE for ticks in your yard is a great way to prevent a tick infestation. It's as simple to use as an essential oil tick repellent, and it eliminates these pests without the need for harmful insecticides. Discover how to use diatomaceous earth to kill ticks outside naturally.
Fill an applicator with food-grade diatomaceous earth and spread a thin layer around the perimeter of your home. Apply it around trees, in grassy areas, and anywhere outside where you and your pet spend time. It's one of the natural ways to get rid of chiggers outside, too. Repeat the treatment each month or after heavy rainfall to kill ticks in the yard.
Does this treatment work quickly, and how long does it take for diatomaceous earth to kill ticks? With proper treatment, DE usually eliminates these pests in about 12 hours.
How to Remove a Tick with Diatomaceous Earth
Your yard is not the only place to use diatomaceous earth. If you find that your pet has a tick or there's one attached to your skin, DE powder is also helpful for removing the pest quickly and safely.
Sprinkle some food-grade diatomaceous earth onto the tick and let it sit for a minute or so. The powder usually causes the tick to back itself out of the skin. If this doesn't work, use a pair of tweezers to gently pull the tick straight out without breaking off the head.
Protect Yourself During Tick Season
Ticks are inevitable since they are a part of nature. However, there are ways to keep these insects off you and your pets while spending time outside. Here are some helpful tips for protecting you and your furry friends during tick season.
Always wear protective clothing, like pants, long sleeves, and hats, when walking in the woods, tall grass, or other areas where ticks congregate. Apply a tick repellent to your clothing before heading out.
It's easy to make a homemade spray by filling a glass spray bottle with water and adding 20 drops of lemongrass, peppermint, or cedar essential oils. It effectively deters ticks, mosquitoes, flies, and other annoying pests.
To protect your pets while they're outside, place a tick collar around their neck. There are many sizes for both cats and dogs, adults and puppies, and are available at pet stores and supermarkets. In addition, there are a variety of tick dips, powders, shampoos, and sprays that contain medicated treatments that deter ticks and kill them on contact. Make a homemade tick spray for dogs similar to the one for humans to use before taking a walk.
Ways to Prevent Ticks in Your Yard
While we love drawing beneficial insects to the yard, we prefer to keep ticks and other annoying and harmful pests away. It's nearly impossible to keep your outdoor space bug-free, but there are ways to prevent a tick or flea infestation.
Mow your lawn frequently, and clear away tall grass and weeds from around your home. Remove leaf litter, woodpiles, and lawn debris, keep hedges and shrubs tidy and spread a three-foot barrier of gravel or wood chips between your lawn and wooded areas.
Consider planting tick-repellent plants to keep these pests at bay. Sage, garlic, mint, lavender, marigolds, rosemary, and beautyberry are all good choices for pest control.
Ticks are more than just an annoying insect pest. Some of them spread diseases, and a tick bite is a cause for concern, especially if it's from a deer tick. Fortunately, diatomaceous earth keeps your outdoor living space tick-free without using harmful chemicals.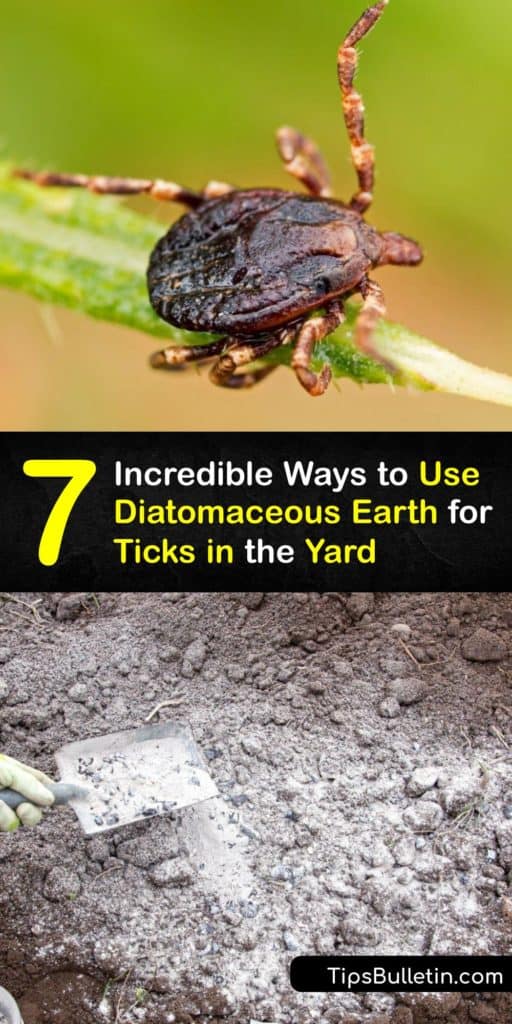 Now that you know how to use diatomaceous earth for ticks in your yard to keep your home safe for you and your pets, why not share our DE powder tick elimination tips with the nature lovers in your life on Pinterest and Facebook?