If you struggle with house plant pests, you've likely wondered how to use diatomaceous earth for houseplants. Using diatomaceous earth for potted plants has a wide range of benefits and improves the health and vitality of your indoor plants in several ways. Diatomaceous earth, or DE, is a fine grey-white powder made from ground sedentary rock fossils, which gives it unique and valuable properties in the indoor and outdoor garden.
Mixing the powder with the potting soil for your potted plant has been shown to raise soil quality, reduce compaction, and improve aeration for a healthier root and a thriving plant. Diatomaceous earth quickly destroys many pests, from fungus gnats to spider mites, mealy worms, etc.
Many plant owners want to know is DE safe for houseplants and how to use it for the best results without harming their plants. Learn more about how DE offers the perfect solution for indoor pest control, plant deodorizing, and soil enrichment.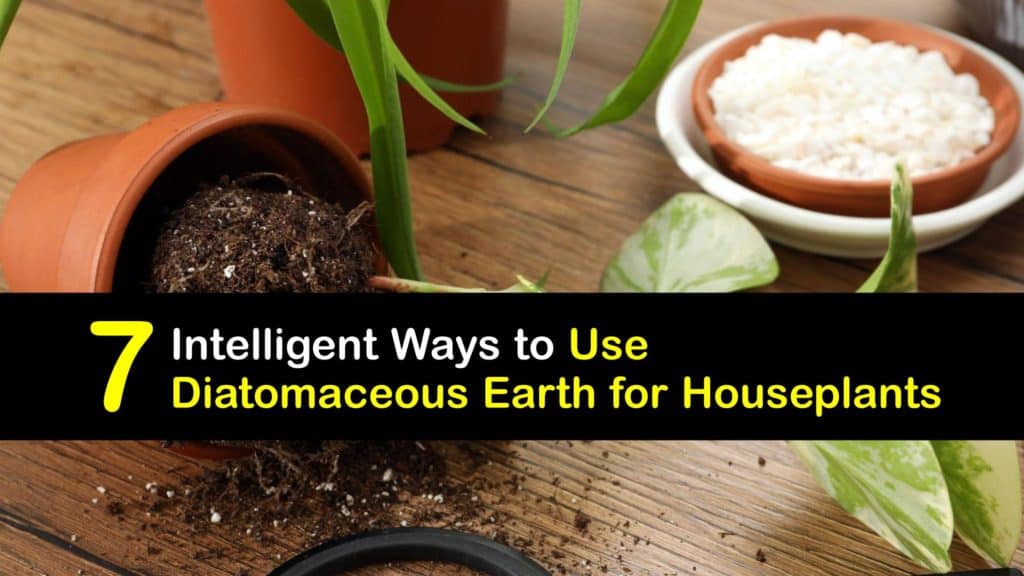 Innovative Ideas to Use Diatomaceous Earth for Potted Plants
Learning how to use diatomaceous earth for houseplants provides indoor gardeners with an organic and non-toxic option for pest control. Harsh chemicals risk burning plants, hurting pets, and leaving dangerous residue and odors in the home, making DE a superior choice.
When purchasing diatomaceous earth for potted plants or if you need food grade diatomaceous earth for bed bugs, always select the food-grade powder rather than pool-grade for optimum safety and best results. If you have questions like, is DE safe for houseplants, or which pests does diatomaceous earth destroy, this article covers the ins and outs of using DE powder for house plants and indoor gardens.
Is DE Safe for Houseplants?
Food-grade diatomaceous earth is safe to use directly on plants, whether you need to prevent squash bugs outside or fungus gnats inside, because it is non-toxic and washes away. The powder is organic sedimentary rock dust used to kill and repel pests in your indoor garden while boosting pot porosity and deodorizing your house plants.
DE improves the potting soil quality in potted plants when mixed in. Diatomaceous earth's porosity promotes drainage, loosens compressed potting soil, and provides more oxygen to the root zone to benefit the plant.
DE for Indoor Plants – What Type is Best?
Diatomaceous earth, or DE, is generally purchased as grey dust or powder. It is often sprinkled, dispersed, or applied where pests are bothersome or commonly observed to maximize the odds of the insects contacting the powder.
While DE powder is usually applied dry, users may blend it with water to make a spray solution. It makes a great homemade bug spray for vegetable plants in garden areas. Because diatomaceous earth works through contact, scatter it widely in problematic regions to enhance coverage.
There are two kinds of diatomaceous earth for purchase: food grade diatomaceous earth and pool grade. Most cleaning and DE as pest repellent applications require food-grade powder.
Food-grade diatomaceous earth is purer and of higher quality, safe, and more efficient. Check the package when buying diatomaceous earth to ensure the right type if you will use DE for chiggers, fleas, or houseplants.
How to Use Diatomaceous Earth for Houseplants
Diatomaceous earth powder eradicates your indoor plants' adult fungus gnats and fungus gnat larvae issues. Many enthusiasts want to know, what other insect pests does diatomaceous earth kill?
Whether you need insect control for mealybugs, the spider mite, or the fungus gnat, diatomaceous earth is efficient and safe. Diatomaceous earth kills aphids on houseplants and those outside.
In addition to enriching potting soil, DE is a safe and functional odor remover for indoor plants. Mold, saturated soils, or compost may cause houseplants to produce an odor.
Diatomaceous earth is a natural deodorizer safe to be applied directly to plants, providing a natural remedy to the problem and allowing houseplants to stay in the house while neutralizing odors.
Free Your Indoor Plant of the Fungus Gnat
Diatomaceous earth is a natural fungus gnat repellent to remove these pests from your potted plants. The insecticidal capabilities of diatomaceous earth are well-known. Use diatomaceous earth for soil gnats in houseplants directly on plants without harming pets or people.
Sprinkle diatomaceous earth powder, made from siliceous diatom fossils, on the potting soil of your potted plants to get rid of fungus gnats. The waxes on the gnat's body are removed when it crawls over the powder. When exposed to diatomaceous earth, gnats desiccate and die.
Insecticidal Soap Treats Pests on House Plants
Insecticidal soap is a diatomaceous earth alternative to remove houseplant pests. The solution won't damage your plant leaf, stem, or root system. Insecticidal soap works similarly to DE to quickly destroy unwanted pests.
The soap kills soft-bodied insects such as spider mites, mealybugs, aphids, and whiteflies, known for decimating potted plants. The oily soap suffocates the insects by penetrating their delicate outer cell membranes. It is non-toxic and typically comes in spray form.
Mosquito Bits are a DE Alternative for Treating Houseplant Soil
Bacillus thuringiensis israelensis (BTI) is a naturally occurring bacteria employed to kill fungus gnats. Since the fungus gnat and the mosquito are closely related, BTI destroys both.
BTI is poisonous to mosquito and fungus gnat larvae but not humans or other animals. The bacteria is a natural approach for fungus gnats and mosquitoes around your indoor plants, and does not affect beneficial insects like bees or butterflies.
Mosquito Bits contain BTI, an active ingredient approved for fungus gnat control. Shake Mosquito Bits granules into the potting soil and water well to destroy fungus gnat larvae in houseplants. Fruits, vegetables, herbs, blooming, and decorative plants all benefit from BTI.
DE Powder Provides Pest Control for Outdoor Plants, Too
Use non-toxic diatomaceous earth to control garden pests. It is effective against all insect pests crawling on plants because the powder is highly dehydrating. After watering, dust the plants using an applicator to help the powder stick to the plant surfaces.
Because dehydration is the principal mechanism of action, wetness renders the powder temporarily useless, but it resumes its function when the water evaporates. Although diatomaceous earth is an insecticide, flying beneficial insects like bees are unharmed because they do not come into contact with it. Do not spray flowers.
Apply DE in a circle around your anthuriums and cabbages to keep mollusks away. When their soft bodies move over the powder, the sharp particles produce tiny scratches on the skin, and they lose too much fluid. Food-grade diatomaceous earth washes away readily.
Indoor plants are beautiful – they add to the ambiance of the home, clean the air, and provide access to nature. One of the most significant downsides of potted plants is the houseplant pests that plague them.
Thankfully, diatomaceous earth offers a safe and easy pest control solution and poses no harm to humans, animals, or your plants themselves. In addition to addressing a broad range of plant and home pests, DE powder improves potting soil quality and provides more air to your plant's root system to increase its general health.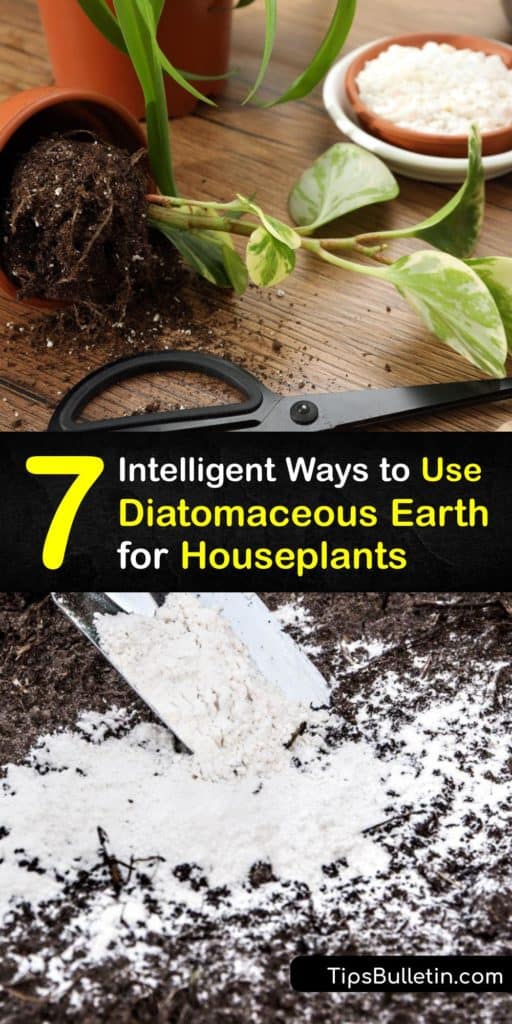 If you loved this article on how to use diatomaceous earth for houseplants, please share this brilliant information on diatomaceous earth for potted plants with your friends and family on Pinterest and Facebook.