As research develops, we find more and more reasons why essential oils are beneficial. It's already common knowledge that some essential oils have antibacterial, antifungal, and antiseptic properties. This pest-fighting article shows you how to use essential oils for bed bugs so that you can take back control of your home without having to hire pest control or use insecticides with harmful ingredients.
Using essential oils to repel bugs might not seem possible, but you'd be surprised at how effective they are. Figuring out how to use essential oils to kill bed bugs is imperative for ridding your home of these nasty critters and repelling them so that they never return.
Bed bugs hide in tiny crevices throughout our homes, and a bed bug infestation is devastating to everybody who lives there. Use this list to find the best essential oils to use around your home to make a homemade bed bug killer and keep bed bugs out for good.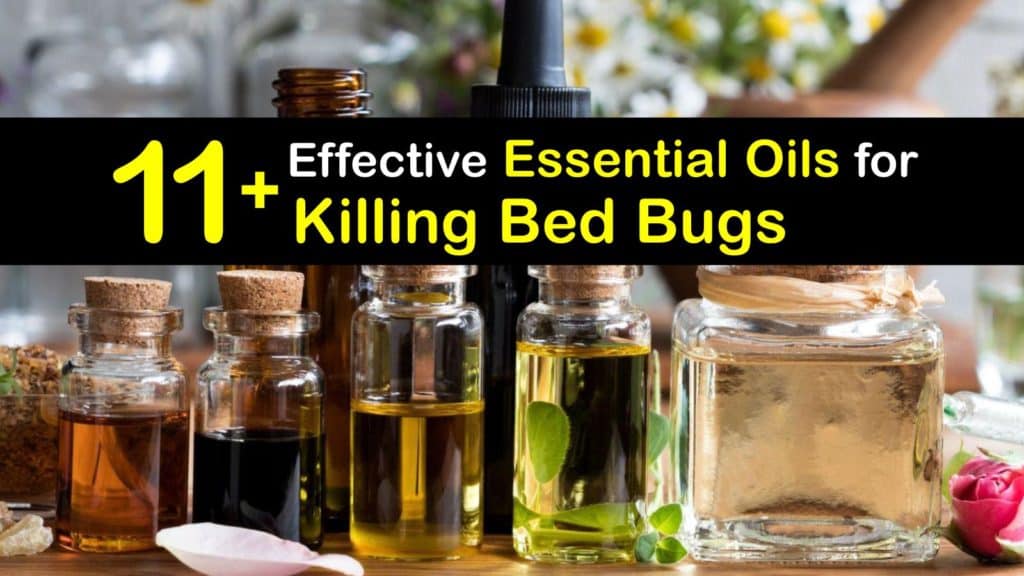 Things to Know about Bed Bugs
Before learning how to use essential oils for bed bugs, you must first understand what bed bugs are, how they made it into your house, and how they spread.
If an infestation gets too out of hand, you might have to call an exterminator. Take precautions against bed bugs ahead of time so you can save yourself headaches and money.
Bed bugs are called Climax lectularius, and they start their life cycle as small white eggs, which are laid in small nooks and crannies around our homes and are nearly impossible to spot because they are the size of a grain of salt.
The eggs hatch after two weeks and start feeding immediately. As they grow, the nymphs molt five times before reaching their mature size, and each molting process requires them to eat blood. After five weeks, the eggs are fully grown and feasting on us and our pets.
The life span of bed bugs varies. Some bugs only last a few months, while others last a year. It all depends on the environment they're living in.
Bed bugs spread by hitching rides on objects that we bring into our homes. They start to spread from room to room until the whole house is covered.
Look out for bed bugs during the nighttime when they're most active. If your body has red welts, it might be bed bug bites, and it's time to look into essential oils to repel bed bugs.
How to Use Essential Oils for Bed Bugs
An effective essential oil used for killing bed bugs always contains eugenol, which is found in some essential oils and is necessary for taking care of a bed bug problem. Without this component, keeping your home bug-free becomes a much harder challenge.
Essential Oils to Repel Bed Bugs
The best essential oils are ones with effective ingredients and a strong smell that the bugs don't like. Cedarwood is an excellent natural remedy for bed bugs. Why else would people use cedarwood closets to repel moths if it didn't work?
Cedarwood oil isn't only good for bed bugs, but it works well for ants, fleas, ticks, mites, and even lice.
Either repel the bed bugs by dropping a few drops of the oil into an oil diffuser or add a few small drops to cotton balls and set them around the areas in your home that are infested.
Having bed bugs also requires you to wash your bedding. Use this bed bug repellent hack when washing your clothing and bedding during an infestation.
Wash your bedding or other infested fabrics in hot water using regular laundry detergent and a few drops of cedarwood oil. To make a cedar oil spray for bed bugs, add the vodka and the remaining cedarwood oil drops to a spray bottle.
Fill the remaining space in the bottle with water, then mist the essential oil spray on your linens for natural bed bug control.
The Best Essential Oils to Kill Bed Bugs
Citronella and lemongrass oil are equally effective in getting rid of bed bugs. These essential oils work because of their strong, citrus scent that deters most bugs, including bed bugs. They also help to mask the odors that attract them in the first place.
Eucalyptus Oil to Repel Bed Bugs
Eucalyptus oil has been used for decades as a natural mosquito repellent. Its powerful properties keep bed bugs out of your home as well.
Essential oil blends that combine lemon and eucalyptus work even better, so either combine two oils or purchase one already blended.
To make this recipe for essential oil bed bug spray, mix all three listed ingredients in a glass spray bottle and spray the solution around areas of your home with suspicious activity. Apply the spray twice a day or as often as necessary.
How to Use Lavender Essential Oil on Bed Bugs
Lavender is a beloved bug repellent that people also love having in their homes. The intense floral scent is appealing to us while remaining revolting to small insects and pests.
Use lavender essential oil inside and outside your home. Diffusing lavender oil for bed bugs is one strategy, but if you need to keep them off your skin, create a lotion that works as a natural bed bug killer.
Add several large drops of lavender oil to a non-scented lotion and rub it on your skin before you go to bed to keep them from biting.
Bed Bugs and Peppermint Oils
If you know anything about bugs, it's that they hate peppermint. The strongest bed bug killer is made from peppermint oil. This oil gets rid of stink bugs, spiders, fleas, fruit flies, gnats, moths, wasps, and even cockroaches.
They can't stand the smell of mint; it drives them away and keeps them from returning.
Squirt a few drops of peppermint oil into a spray bottle with water. Spray peppermint essential oil that kill bed bugs all around your home, inside and out. Focus on areas where there might be larvae like baseboards, the windowsill, closets, and doors.
Antifungal Essential Oils
Tea tree oil comes from the stems and leaves of a plant that is native to Australia. It is antifungal, antimicrobial, and antibacterial. You can spray tea tree oil on the bed to kill mold and mildew, but it works even better when learning how to use essential oils for bed bugs.
Creating an all-natural spray that is safe to use on beds and linens is easy. Add a cup of vodka to a spray bottle with 20 drops of lavender, 20 drops of eucalyptus, and 20 drops of tea tree oil.
Shake the bottle well before spraying it on your bed and other fabric surfaces. Keep a small bottle with you when you travel to use on hotel beds and your suitcase.
Carrier Oil Body Rub
This method applies to most essential oils, but adding several drops to a carrier oil and applying it to your skin is an easy way to keep bed bugs off you at night.
If you don't like the smell of carrier oil, mix it with another oil on this list and use it as a body rub. Your skin will be soft and bug-free in the morning.
How to Use Thyme Oil
Thyme oil comes from the thyme plant. Although we eat thyme in a lot of our home cooking, you must use it with caution. Never use thyme oil around women or children.
It is a powerful oil with impressive insecticidal qualities. Mix the oil with some warm water and spray it around your home and bedrooms.
Preventing Bed Bugs with Clove Oil
Although essential oils to kill bed bugs don't include clove oil, it is perfect to use when in the preventative stage. If you have bed bugs confined to a single space, it keeps them spreading any further.
Place a few drops of clove oil or even a few whole pieces of dried clove around your home and entryways. Try mixing the cloves with cinnamon for an even more effective strategy.
Plants to Keep Bed Bugs off Your Property
If you want to keep bed bugs out of your home, consider planting certain species to keep them as far away as possible. Oregano, thyme, and peppermint are all excellent plants to keep in your garden.
They keep out bed bugs and many other common garden pests and add beauty and fresh fragrance to your home.
When in Doubt, Try Diatomaceous Earth
When tiny aquatic organisms called diatoms die and fossilize, they are made into a powder called diatomaceous earth. This product isn't an essential oil, but it is another natural way to send bed bugs to their death.
To use food grade diatomaceous earth to kill bed bugs, sprinkle the non-toxic powder around infected areas of your home. The critters will soon crawl away and die. Keep sprinkling the powder in your home for several weeks until all bed bug eggs hatch and die as well.
Calling Pest Control
Natural remedies like essential oil to repel bugs are great. They keep our families and homes safe and free from chemicals.
Unfortunately, if your bed bug problem doesn't go away, it is time to call pest control. They use more potent pesticides, but they are highly effective and get rid of the problem in a short period of time.
Using essential oils to kill bugs is something that anyone can do. Order a few of the essential ingredients from this list and start putting preventative measures into place as soon as possible.
The sooner you prepare for bed bugs, the less likely you'll have to deal with the disaster of an infestation.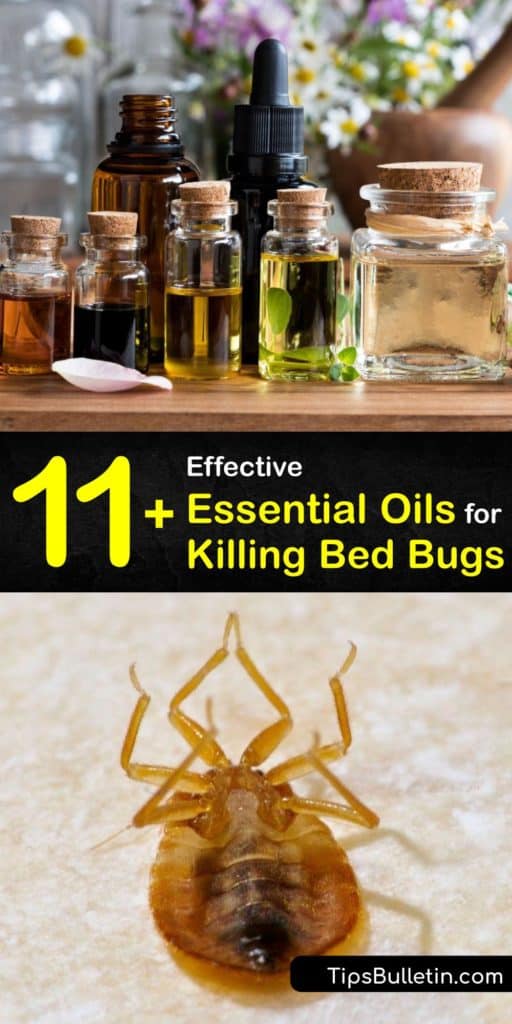 If learning how to use essential oils for bed bugs rids your home of an infestation, share these ways to use essential oils to repel bed bugs on Facebook and Pinterest.