Understanding how to use neem oil for fungus gnats offers a natural pest control method for these annoying insect invaders. Neem oil is an extract of the Azadirachta indica tree or neem tree. This well-known horticultural oil is produced by cold-pressing the fruit, leaf, seeds, and other tree components.
Gardeners and homeowners use neem oil to kill fungus gnats since it naturally contains several active insecticide compounds, including azadirachtin. Neem oil is a broad-range natural pesticide. Unlike chemical spray insecticides, neem oil contains no harmful ingredients making it perfect for natural or organic gardening and for those who want to keep dangerous chemicals out of their flowers and food.
Always test a tiny part of your plant before using it on the entire plant, as some species are more sensitive to it. Fungus gnat control with neem oil poses no risk to humans, pets, wildlife, and beneficial insects.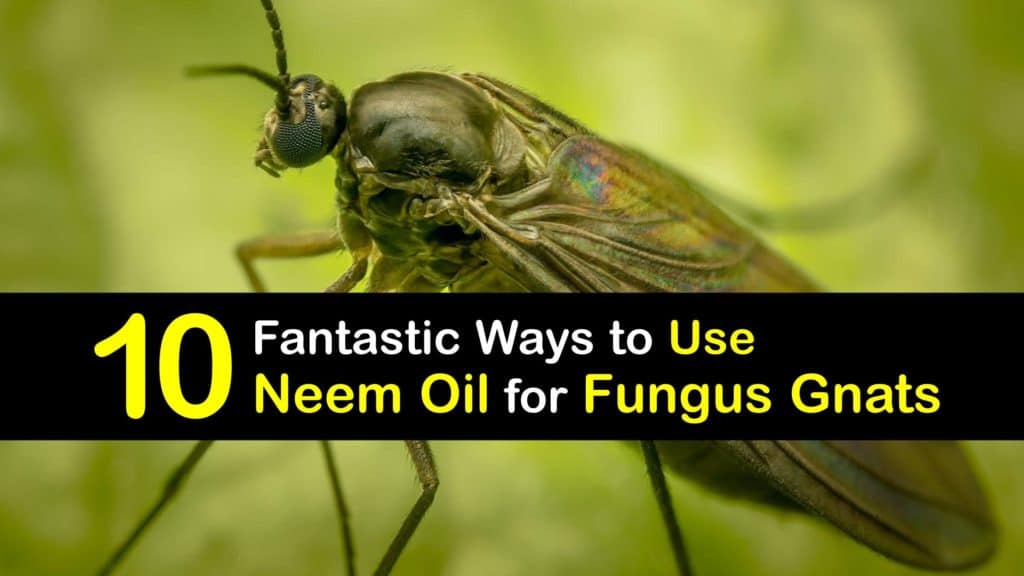 Brilliant Ideas to Use Neem Oil to Kill Fungus Gnats
Fungus gnat control with neem oil is as easy as using neem oil as an organic treatment for lawn fungus. Learning how to use neem oil for fungus gnats gives homeowners and gardeners a powerful tool to oust frustrating gnats without expensive and toxic chemicals. Using neem oil to kill fungus gnats is perfect for organic gardening or those with children and pets.
What are Fungus Gnats?
Fungus gnats are tiny insects that resemble mosquitoes, yet they can't fly well and won't attack people. Instead, they derive their name from their diet of fungus and decomposing organic debris, which explains why they find your houseplants so alluring.
Small and black in appearance, adult gnats frequently congregate in groups around damp soil or dirty drains. Once they become adults, fungus gnats only have a short lifespan of around a week. However, the issue isn't with the adults.
Up to 300 eggs may be laid by a single female. The eggs develop into voraciously hungry fungus gnat larvae after hatching. These bugs consume mulch, compost, and rotting food. It often seems challenging to get rid of fungus gnats since their food sources are either essential elements for your plants, such as wet soil, or unavoidable items, such as leftover food.
Does Neem Oil Kill Fungus Gnats?
Fungus flies inside the house, and those posing a problem in the yard are successfully addressed with a neem oil treatment. Neem oil is efficient in killing fungus gnats by controlling their populations. Since fungus gnat adults often live and lay their eggs in the moist soil of your plants, neem oil works when applied as a soil drench, spray, or as neem cakes.
Neem oil prevents fungus gnat larvae from growing into adult gnats, meaning they don't lay any more eggs; therefore, this insect pest's lifecycle breaks. Neem oil prevents adult gnat larvae from feeding, leading to a prompt demise. You can use neem oil on tomato plants and other veggies in the garden too.
How to Use Neem Oil for Fungus Gnats in a Soil Drench
Pure neem oil is best used as a soil drench since it may burn if applied undiluted to the plant's leaves due to its high concentration of potent active ingredients. Because the plant consumes the neem oil from a soil drench, it functions as a systemic insecticide.
Contrary to topical administrations, this method poses no danger of harming beneficial insects. Only pests piercing the plant's leaves are impacted. The solution soaks into the soil, where plant roots take it up. Feel free to add a few drops of hydrogen peroxide for fungus gnats to this recipe for even more effectiveness.
For fungus gnat control, the way to use neem oil for grubs, or to use neem oil to treat squash bugs, dispense two to three cups of the prepared neem oil soil drench on the soil beneath each plant. Use the technique once every two weeks to combat an ongoing infestation. Use it as a root aphids treatment at the same time.
Fungus Gnat Control with Neem Oil Cakes
Neem cakes are a convenient method of fungus gnat control. They provide your house or garden plants with essential nutrients to support their growth and development while preventing and treating pests like fungus gnats and mosquitos. The cakes are available at most garden centers or hardware stores.
Crumble up your neem oil cakes and add them to potting soil before use or carefully mix the crumbles into the top layer of a plant's existing soil. Mature fungus gnats and larvae consume the neem oil in this compost as they attempt to take in the nutrition it provides, leading to their destruction.
The plant may absorb some of the neem oil during waterings, giving it systemic protection for a two-fold approach to pest control. Neem oil does also kill spider mites the same way.
Insecticidal Soap and Neem Oil Insecticide
Neem oil and insecticidal soap work together to provide a safe, all-natural foliar spray to eliminate fungus gnats. Insecticidal soap contains no harsh chemicals.
Use a spray bottle to spray the entire plant with the mixture, including the leaves, apart from any flowers. If using this solution outdoors, spray at the beginning or end of the day to ensure it dries before any beneficial pollinators visit the garden.
Neem Oil and Rosemary Spray
Consider mixing up a batch of neem oil and rosemary spray to harness the power of essential oils and increase the potency of your neem oil mixture. Rosemary smells pleasant, is a natural pesticide, and acts on an adult gnat's nervous system.
Shake well and use a spray canister to mist over fungus gnat-infested places to remove insect pests without an unpleasant smell.
Diatomaceous Earth for Fungus Gnat Control
Diatomaceous earth is a cream-white powder made from tiny diatoms. These ancient aquatic lifeforms are ground down, and the particles of their silica skeletons have many uses.
Diatomaceous earth powder or DE powder is a natural pest control method that goes hand in hand with neem oil. To double your efforts, add DE powder to your insecticide regimen to speed up results. Sprinkle food-grade diatomaceous earth in areas of heavy gnat activity and treat with your preferred neem oil treatment.
When the gnats come into contact with the DE powder, the sharp particles stick to their body, damaging them and leading to death. Pairing diatomaceous earth with a neem treatment offers a comprehensive pest control approach.
Mosquito Bits also work well alongside neem oil to remove adult fungus gnat populations from your potting soil by preventing adult gnats from reproducing.
A Sticky Trap Monitors Fungus Gnats Removal
Sticky traps or fly paper are physical traps used to catch gnats. These traps help with pest control and are a perfect way to monitor your progress in beating your gnat infestation. Before you start treatment, your sticky traps will likely be full of unwanted flies.
As neem oil pest control progresses, you should see fewer gnats on your strips as the population decreases. When you set out sticky traps, and they're empty, you know the gnats are gone from the area. Either buy commercial sticky traps or make homemade flypaper. Hang your sticky traps in any regions of gnat activity.
Mix the maple syrup, white sugar, and brown sugar in a small mixing basin by stirring thoroughly. Snip the paper into strips, and coat it with the sticky paste. The sweet mixture draws the gnats, who fly onto the paper and are trapped.
Other Insects Affected by Neem Oil
Neem oil has many applications in pest control and is safe to spray on your entire plant (other than the flowers), plant roots, and soil surface. If you know your plant has pests and are unsure which bugs are the culprit, neem oil is an excellent broad-spectrum organic pesticide as it treats several insects.
Whether you're dealing with adult fungus gnats and fungus gnat larvae or a spider mite infestation, neem oil saves your indoor plant from houseplant pests without posing a risk to your family, pets, or beneficial insect visitors.
Environmental Changes to Support Neem Oil Gnat Control
Although neem oil is a potent natural insecticide, it works best when paired with environmental changes to support removing fungus gnats from your home.
Fungus gnats go where there is a supportive environment for them. A few simple cleaning procedures prevent your home from being a target by reducing the desirable things it offers to these insects and pests.
Spending time removing organic matter like food from the drain, relocating damp soil out of your house, and minimizing moisture boosts your neem oil treatment and ensures success in pest control.
Fungus gnats are an annoyance and make your home appear unclean. These troublesome bugs damage your plants and hang around the kitchen, making the space unwelcoming. Fortunately, fungus gnat control with neem oil is straightforward, safe, and effective in fast restoring your home to a gnat-free zone.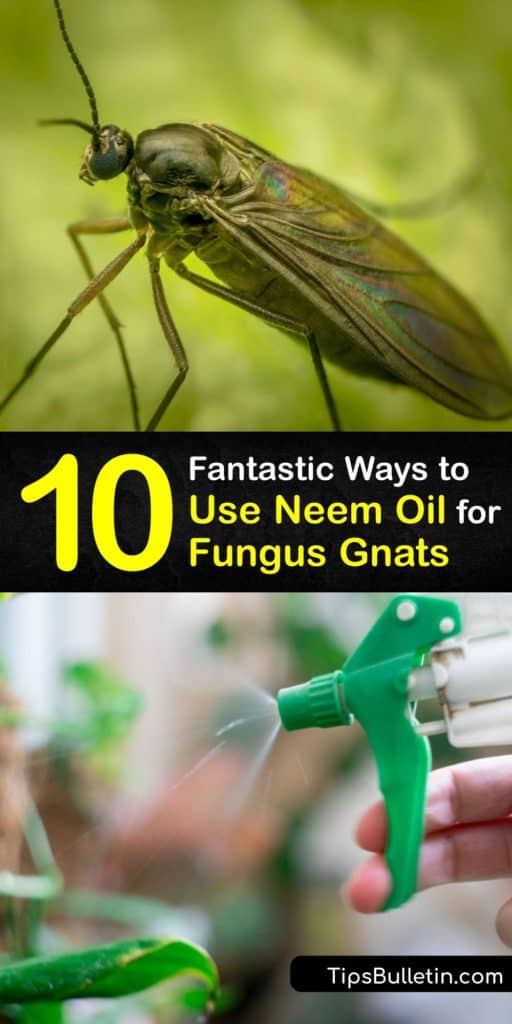 If you loved this article on how to use neem oil for fungus gnats, please share these brilliant tips for using neem oil to kill fungus gnats with your friends and family on Pinterest and Facebook.