You work hard to maintain a lush and beautiful green yard, watering and mowing it every week. It's normal to feel frustration when you find a large brown patch of grass that results from a fungal disease. Learn how to use Neem oil for lawn fungus to save your yard's grass and keep it healthy and vibrant.
Lawn fungus is unsightly and seems to appear out of nowhere, leaving the blades of grass discolored. You may even notice powdery mildew, circular areas of mushroom growth, or patches of slime, which wreak havoc on overall lawn health.
While your yard is a living entity and contains a variety of fungi spores that are usually manageable with regular lawn care, excessive rainfall, droughts, and other circumstances create prime conditions for fungal disease.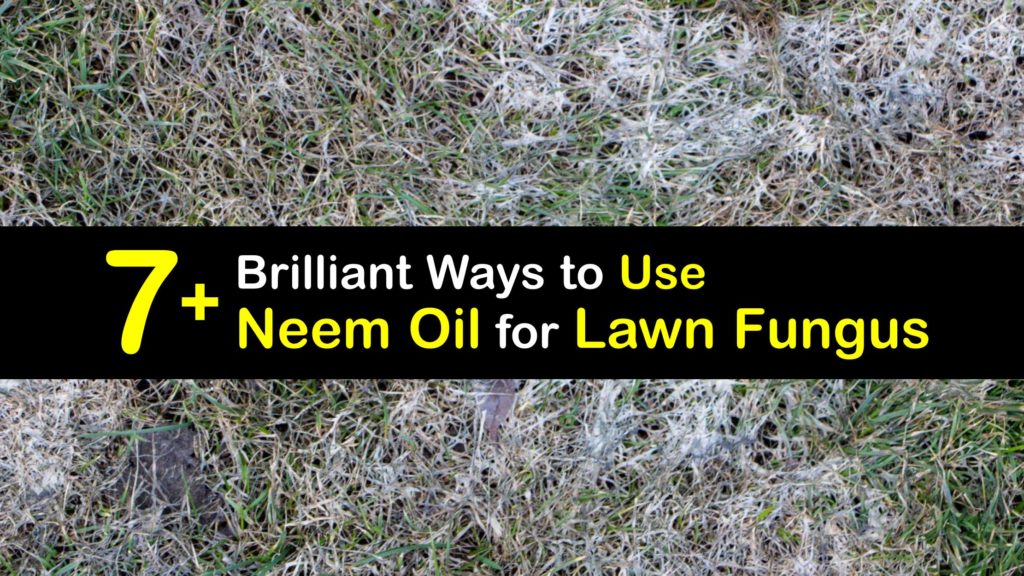 Eliminating Lawn Fungus with Neem Oil
If you enjoy organic gardening as a form of disease and pest control, you'll appreciate Neem oil. This natural pesticide eliminates lawn fungus and harmful insects like the Japanese beetle, mites, and fungus gnats without harming beneficial insects.
If left unchecked, a fungal infection causes the grass blades, plant leaves, and roots distress, causing the fungi to spread out of control. Implementing disease control methods is vital as soon as you discover a problem.
What is Lawn Fungus?
We often think of fungus as mushrooms or moldy growth. However, there are different types of fungus that affect the lawn. There are signs that you have fungus in your yard and what causes this disease to destroy lawns.
Several different types of lawn fungus exist, from gray leaf spot and brown patch to red thread and rust lawn disease. Circles of sunken or dead grass, powdery blotches, and grass blades with straw-yellow, red, or bleached spots indicate fungal growth.
Disease pathogens, susceptible grasses, and weather conditions play a role in fungal disease. For example, some grass varieties are more prone to disease, generally occurring during stressful times like heavy rainfalls, droughts, or unseasonably hot or cold weather.
How Does Neem Oil for Lawn Fungus Work?
Various horticultural oils for the yard control insect pests and diseases, and Neem seed oil is one of our favorites. Discover what Neem oil for lawn fungus is and how it works to keep yard grass healthy and strong.
Neem Oil
The Neem tree (Azadirachta indica) is indigenous to the Indian subcontinent, and it produces seeds that contain a yellow-brown, bitter-tasting oil. This oil is a natural pesticide that interrupts the life cycle of harmful insects and helps protect against fungal diseases and infections.
In addition, this active ingredient of Neem tree seeds has minimal environmental effects. It is non-toxic to humans and animals, making it the perfect home remedy for your plants, lawn, and garden.
When to Spray Neem Oil for Lawn Fungus
While it's tempting to grab a spray bottle and treat your outdoor plants right away to kill fungus, some times of the day are better for lawn treatment than others. Learn when to spray Neem oil for lawn fungus for the most effectiveness.
Lawn Treatment Times
It's always best to apply a Neem oil fungicide when you notice brown grass patches and other disease symptoms. However, when getting rid of white fungus on grass, it's better to treat the lawn at dusk or dawn while beneficial insects are less active.
Foliar sprays evaporate in an hour or less, while a soil soak absorbs into the root system, boosting the lawn's health for up to 22 days.
How to Use Neem Oil for Lawn Fungus
Before you prepare a Neem oil mix for lawn fungus, it's helpful to understand the different ways to use it in the yard. Explore the two most common Neem tree oil treatments to help you pick the most suitable one for your needs.
Foliar sprays and soil drenches may contain some of the same ingredients, but the application process differs. You apply a foliar spray to the leaf of the plant, and a soil soak goes directly into the ground, where it absorbs into the grass roots and slowly makes its way through the grass blades.
A foliar spray effectively eliminates the problem quickly, and more applications are often necessary to cure the disease. On the other hand, soaking the soil takes a bit longer and is excellent as a preventative. Use one method, or combine both, depending on the situation.
Making a Neem Oil Foliar Spray for Lawns
Foliar sprays work by directly applying the solution to the plant's leaves rather than the soil. The grass blades absorb the solution to eliminate pests and diseases. Although neem oil won't stop weeds from growing in gravel, it does take care of many funguses and eliminates bugs. Prepare a homemade yard fungus spray and find out when to spray Neem oil for lawn fungus.
Mix the Neem oil and Castile soap in a container and pour the solution into a spray bottle of water. Shake it gently to combine ingredients and spray the liquid over the affected areas of your lawn. Repeat the steps every couple of weeks until the fungal disease is gone.
Using Neem Oil as a Soil Drench for Lawns
A soil drench is when you combine Neem oil with water and pour it into the ground, where it floods the dirt and roots. The lawn absorbs the solution to combat fungal disease and harmful bugs. Make a Neem oil soil drench and apply it to the affected area.
Mix the Neem oil and liquid dish soap and pour the oils into a watering can of water. Make sure the ingredients are mixed well, and apply the drench to the affected areas of your lawn.
Pour one to three cups of the soil drench every two weeks to eliminate the fungus and once every three to four weeks to prevent it from returning. The Neem oil soaks into the dirt, absorbing into the grass roots, becoming a systemic pesticide.
Does Neem Oil Keep Pests Out of the Lawn?
Neem oil works wonders at getting rid of fungal diseases, but it is also an excellent choice for eliminating harmful pests, and combining it with essential oils increases its abilities. Make a DIY bug spray for your lawn with these natural ingredients.
Mix liquid soap, Neem oil, and a few drops of essential oils in a container. Citronella, peppermint, lemongrass, and eucalyptus essential oils are good choices for eliminating fungal diseases and deterring pests, whether you spray neem oil on tomato plants or areas of your lawn.
Fill a garden sprayer with water, add the oil solution, and shake it well to combine. Spray the liquid over your lawn where you notice fungus and harmful insect activity.
It's best to spray in early in the morning or at dusk to avoid harming beneficial insects that feed on flowers. Neem oil is safe for pollinators as long as you don't spray flowers directly.
Although neem oil is not one of the home remedies for moles in yard areas, it does reduce insect populations that moles eat so they may go elsewhere for an easier meal.
Ways to Prevent Lawn Fungus
While using Neem oil for lawn fungus is easy and effective, it's always better to prevent the problem before it occurs. Here are some tips to keep the yard disease-free and promote a lush lawn.
Lawns require about an inch of water weekly unless you experience excessive rainfalls. Water the grass in the early morning to ensure the yard has the entire day to dry before nightfall.
When mowing the lawn, cut no more than a third of the grass height to prevent stress, and keep the mower blades sharp to prevent the grass blades from tearing. Grass wants nutrients to thrive, and fertilization is an important step to a healthy lawn.
However, avoid over-fertilizing your lawn with compost tea or manure since too much food encourages fast growth with weak roots.
Dead grass builds up in the lawn over time, choking out healthy grass and leading to fungus. Remove old grass with a dethatching rake to keep the plants strong. Aerating the lawn is essential since condensed soil restricts plant growth while reducing drainage, and both issues cause fungal diseases.
Grass requires a soil pH level between 6 and 7. Test and amend the dirt as needed to ensure it has the correct pH, and use a copper fungicide, Neem oil foliar spray, or soil drench to prevent disease and pest insects like spider mites.
Nature isn't always cooperative, and too much rain or not enough causes plant and lawn stress, leading to disease. Fortunately, the natural world also provides us with Neem oil and using it around your yard as insecticidal soap and fungicide restores balance and health.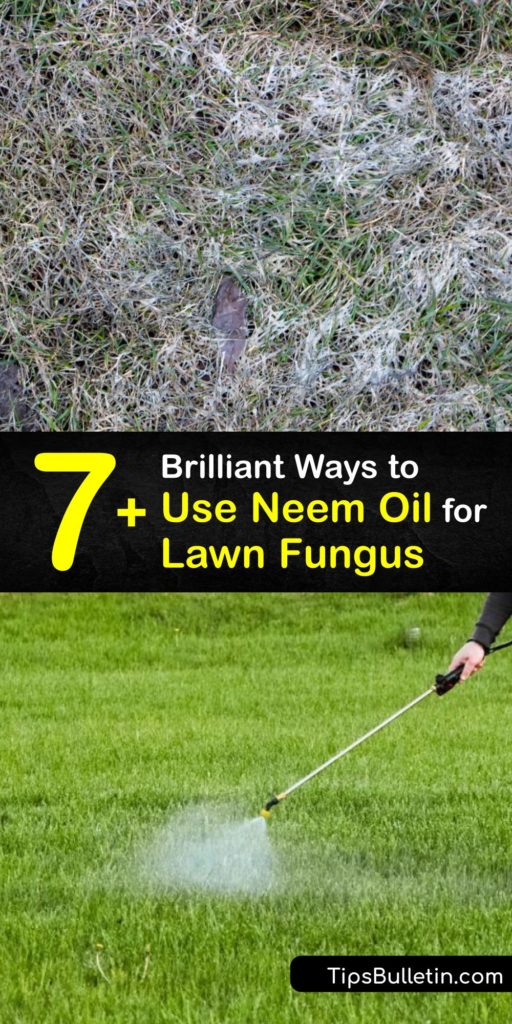 We hope that finding out how to use Neem oil for lawn fungus keeps your outdoor space looking its best, and we'd love it if you'd share our Neem oil lawn treatment guide with friends on Facebook and Pinterest.