Many gardeners are eager to explore how to use neem oil for mealybugs as the popularity of natural pesticides booms. Gardeners frequently use pure neem oil to fight mealybugs and the sooty mold they cause since it contains multiple active chemicals in its raw form, including azadirachtin. The neem tree, or Azadirachta indica, produces neem oil as a byproduct. The fruit, leaves, and other tree parts are cold-pressed to produce this well-known horticultural oil.
Does neem oil kill mealybugs? Neem oil eradicates mealybugs as the chemical compound shares characteristics with the hormones produced by the insect. As a result, it tricks the bug into thinking it is satisfied, causing it to starve gradually to death. Additionally, it disrupts the synthesis of growth factors, preventing mealybugs from moving on to the following stage of their life cycle.
Finally, it causes impotence in numerous insect species, including mealybugs, preventing the laying of eggs for the emergence of future generations. It's simple to get rid of mealybugs with neem oil.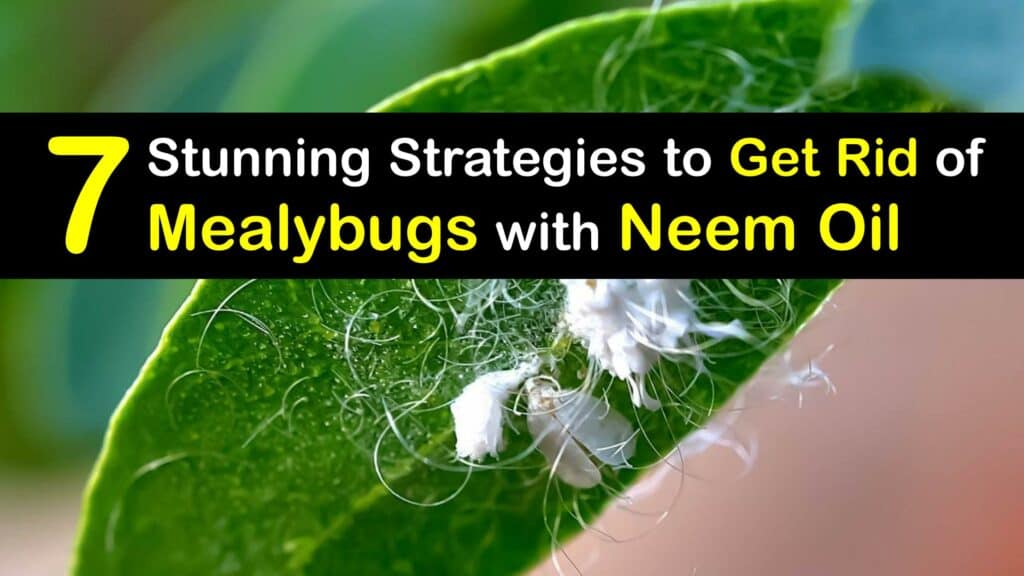 Tricks to Get Rid of Mealybugs With Neem Oil
Gardeners have long used neem oil to treat mealybugs. In addition to being used as a natural pesticide spray, it's used in the cosmetics and pharmaceutical industries. Since neem oil is completely safe, natural gardeners are eager to discover how to use neem oil for mealybugs.
Get rid of mealybugs with neem oil and prevent the sooty mold they cause from disturbing your plants. Neither people nor animals are harmed by neem oil since its insecticidal properties are concentrated towards certain pests affecting garden plants. It is even harmless to wildlife.
There are manufactured neem oil treatments, but given their lower dosages, they are often less effective than homemade options. Learn to use neem oil for mealybugs and take care of this garden pest almost effortlessly.
Does Neem Oil Kill Mealybugs?
Will neem oil kill mealybugs? Cold-pressed neem oil delivered to your plants as a soil soak or foliar spray efficiently eradicates a mealybug population and treats the sooty mold left behind.
Neem oil is valuable year round, regardless of the season, because it impacts insects at all growth phases. Apply a neem product early in the day or late at night when beneficial insects are sleeping and not feeding or fertilizing the plant.
How to Use Neem Oil for Mealybugs
Control the citrus mealybug and general garden pests by applying neem oil to the affected plant as a foliar spray on the leaves or as a soil soak delivered to the roots. Neem oil is a wise treatment choice whether you have mealybugs on an indoor plant or you need to kill mealy bugs on outdoor plants in your garden or yard.
It's crucial to address mealybugs promptly, as their honeydew secretions predispose your plants to develop a second infestation of sooty mold. These two pests lead to rapid degradation if not treated promptly.
Mealybug Neem Oil Foliar Spray With Castile Soap
Neem oil and Castile soap create a fantastic mealybug control spray. A foliar spray is distributed over the entire plant, covering every leaf. The plant leaves take in the neem oil quickly to control mealybugs. Neem oil will also kill fungus gnats and squash bugs and a variety of other unwanted insects. It functions as a natural pesticide, and the fatty acids in Castile soap swiftly disintegrate the mealybug.
Mix the neem oil solution well in a spray bottle. Spritz the liquid on the top and the bottom of all plant leaves while shaking regularly to kill mealybugs. It's a great way to attract and kill mealybugs with natural ingredients that are easy to obtain.
Insecticidal Soap and Neem Oil Spray for a Mealy Bug Infected Plant
Insecticidal soap is a liquid soap used to dispatch many types of plant pests. Insecticidal soap is environmentally friendly and doesn't leave harmful buildup on your flowers or food crops. Combined with neem oil, insecticidal soap makes a powerful mealybug destroyer for your garden or houseplants.
To get rid of bugs, mix your own neem oil aphid spray that also works on mealybugs and other pests. Spray the entire plant using a sprayer with the neem oil and insecticidal soap mixture. The plant leaves should be entirely covered, paying special attention to the undersides. Neem oil can be used for edible plants as well as ornamentals without worrying about safety.
Spray early in the day or late at night to guarantee the spray has time to distribute before any helpful pollinators visit. Avoid spraying the blossoms and flower buds when using neem oil on flowering plants like daisies.
Soil Drench for a Mealybug Infestation
Because pure neem oil contains highly intense active components, it potentially burns if applied directly to the leaves; it is best utilized as a soil drench. The liquid soaks into the soil, where it is absorbed by plant roots for pest control.
Soil soaks are much more practical than sprays for trees and tall bushes. The best news is that drenches are non-toxic and can stay in houseplants for up to 22 days without harming them.
Add two to three cups of the prepared neem soil drench to the soil around the stems of each plant. Repeat the technique every two weeks to attack an established mealybug infestation.
Other Insect Pests and Diseases Affected by Neem Application
Neem oil is a wise insecticide and fungicide choice for an indoor or outdoor plant. The active ingredient in neem oil eliminates a harmful insect pest population and fungal disease like powdery mildew.
If you're unsure which type of pest is bothering your plants or suspect multiple factors are at play, neem oil is a perfect broad-spectrum remedy. It naturally addresses several common insect and fungus pests. Manage thrip control with neem oil, as well as an aphid or fungus gnat infestation.
If scale insects, spider mites, or a fungus attack your plants, address it quickly and effectively with neem oil.
Precautions for Using Cold Pressed Neem Oil for Pest Infestation
Though neem oil is relatively safe and straightforward to apply, taking a few safety measures before treating your indoor or outdoor plants for mealybugs helps prevent accidents. On the day you intend to use it, prepare a small amount of neem spray.
Neem oil combinations thicken and clump with time, making them difficult to spray or pour if left to sit. When exposed to bright, intense sunlight for most of the day, plant leaves may burn if you use pure neem oil without dilution or add too much neem oil to your mealybug remedy. Neem may burn new seedlings; avoid spraying it on them.
Does neem oil kill mealybugs? Neem oil destroys mealybugs and other outdoor and houseplant pests without endangering your pets or family.
Mealybugs are particularly damaging to your garden as they ruin your plant's leaves and their secretions create the perfect environment for the growth of sooty mold. Trust neem oil to eliminate mealybugs from your plants without decimating beneficial insects.
If you loved this article about how to use neem oil for mealybugs, please share these brilliant techniques to get rid of mealybugs with neem oil with any of your friends or family who gardens on Pinterest and Facebook.