Neem oil is an effective and natural solution for combating spider mites.
Here's how to use neem oil effectively:
Mix 1 tsp of pure neem oil with 1 tsp of liquid dish soap and 1 quart of water for a soil drench.
Apply the mixture around the base of the plant to target spider mites without harming beneficial insects.
Use a neem oil and insecticidal soap spray with a ratio of 1/2 tsp neem oil, 1 tsp insecticidal soap, and 1-quart warm water to treat infested foliage.
Enhance the neem oil spray with a few drops of rosemary oil to increase its potency.
Combine neem oil with peppermint essential oil as a preventative measure to keep spider mites at bay.
To put this natural pesticide to use, start by preparing the neem oil soil drench. Combine the ingredients in a container, ensuring they are mixed well. Gently pour the mixture around the base of your plants, careful to avoid splashing the foliage directly. This method allows the plant to absorb neem oil into its system, protecting it from spider mites while preserving the health of beneficial insects.
For foliage treatment, prepare the spray with neem oil and insecticidal soap. Make sure to spray the plant evenly, particularly on the underside of the leaves where spider mites typically reside. If using the preventive solution with peppermint, mix it as before, but with a few drops of peppermint oil added. Spray it routinely to deter spider mites from settling on your plants.
Always conduct a patch test to ensure your plant tolerates neem oil. Apply to a small section and observe for 24 hours before full application. This natural pesticide provides an easy, cost-effective, and environmentally friendly way to control spider mites and keep your garden thriving.
Many growers are keen to learn how to use neem oil for spider mites as natural pesticides become more popular. The extract from the neem tree, Azadirachta indica, is known as neem oil. The fruit, seeds, and other tree parts are cold-pressed to make this popular gardening oil. Gardeners frequently use neem oil to fight spider mites because it includes multiple active chemicals in its raw state, including azadirachtin.
Using neem oil to kill spider mites is safe, but the toxin azadirachtin in neem oil is a systemic toxin and harms insects when swallowed. The chemical compound has properties similar to the insect's hormones. It fools the pest into thinking it's full, causing it to starve.
It prevents insects from moving to the next life stage by interfering with the generation of growth hormones. Finally, it causes infertility in many insect species, preventing future generations from hatching eggs. Organic spider mite control with neem oil is appropriate for house plants and outdoor plants.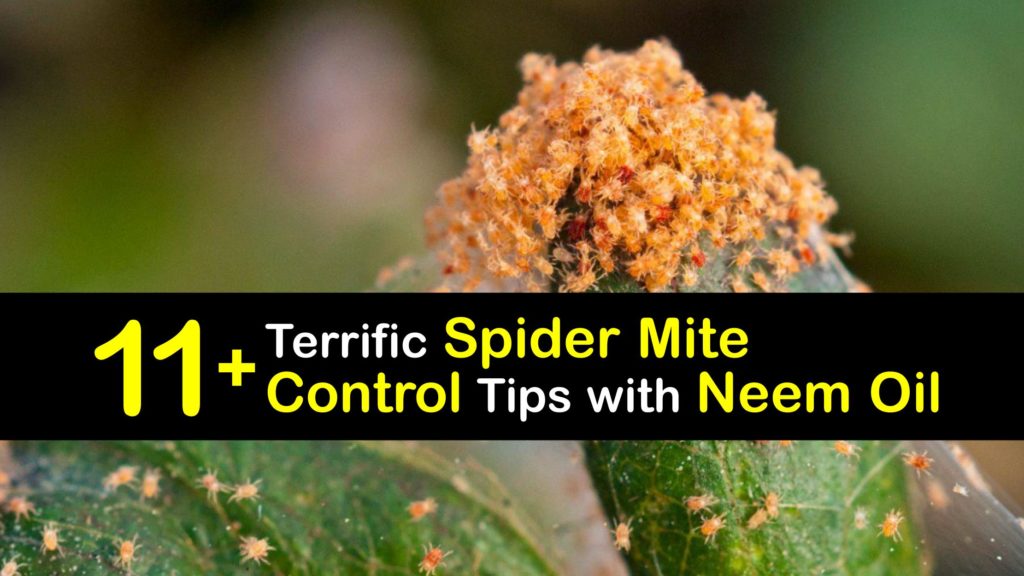 Innovative Ideas to Use Neem Oil to Kill Spider Mites
If spider mites, other insects, or fungi are bothering your plants, neem oil pesticide is typically the best solution. For many years, gardeners have used neem oil to kill spider mites. It's used in the cosmetics and pharmaceutical industries in addition to being an organic pesticide spray.
Neither humans nor animals are harmed by spider mite control with neem oil. Because its insecticidal qualities are specialized to specific pests, it is even innocuous to most wildlife. Since neem oil is entirely safe, many organic gardeners wonder how to use neem oil for spider mites.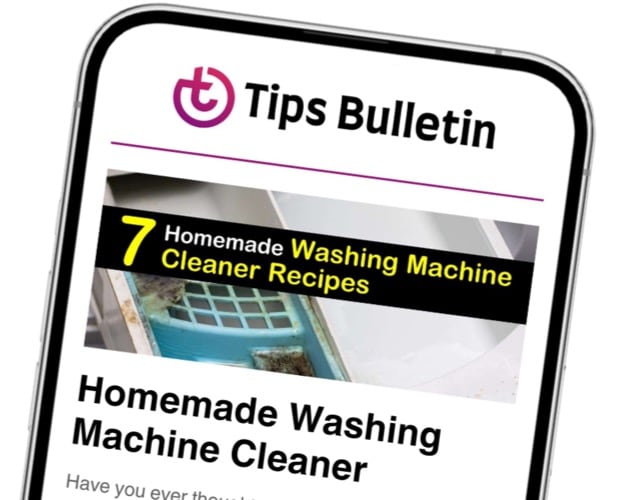 Finally, an email that Transforms Your Home.
Get the latest home and garden tips from our experts, delivered straight to your inbox.
Does Neem Oil Kill Spider Mites?
Neem oil is a highly potent spider mite insecticide and is straightforward to apply. Control spider mites populations with neem oil, a natural and organic pesticide that doesn't harm plants or beneficial insects.
The larvae and adult spider mite suffocate with neem oil, which adheres to the plant leaves. When spider mites encounter neem oil, the bioactive component reacts with the spider mite's digestive and reproductive systems, killing them.
How to use Neem Oil for Spider Mites – Soil Drench
Soil soaks, often known as neem oil soil drenches, are an efficient neem oil treatment method. Because of its high levels of powerful active components, pure neem oil is best administered as a soil drench, where it absorbs into the ground to be used by the roots of the plant.
When neem oil is directly applied to the delicate leaves of the plant it may cause burns, so a soil drench is optimal.
To use this effective natural mite killer for plants, pour two to three cups of neem oil soil drench around the base of your plants for spider mite control. Repeat every two weeks to target an existing infestation. Soil soaking saves time and effort as it's quicker and more convenient than spraying trees and tall bushes.
The drench absorbs into the ground, where plant roots receive it. Neem oil is a systemic pesticide because the plant ingests and disperses it throughout its system. As insects piercing the plant's leaves are the only creatures affected, a soil drench has no risk for beneficial insects coming into contact with it. It will not kill ladybugs, butterflies, or bees, as they are not interested in the leaves.
You'll find that this easy DIY remedy works on other bugs too. Neem oil works great to kill aphids, squash bugs, cucumber beetles, Japanese beetles, and a host of other unpleasant pests.
Insecticidal Soap and Neem Oil to Kill Spider Mites
Insecticidal soap is safe to treat a predatory mite problem in the garden or indoor houseplants because it leaves no toxic residue.
Whip up this fast and easy organic spray for spider mite control and dispense the solution with a sprayer or a spray bottle. To guarantee the mixture has diffused before any beneficial pollinators arrive in the garden, spray the entire plant at the start or end of the day.
Take care to cover the plant leaves, giving special attention to the leaves' underside and crevices. Avoid splashing the blossoms when using neem oil spray on flowers like roses.
Spider Mite Control with Neem Oil and Castile Soap
Spider mite control spray is made with liquid soap such as dish soap or Castile soap and neem oil. Castile soap's fatty acids penetrate the soft body of the adult spider mite and disintegrate it swiftly, while neem oil serves as a natural insecticide. This spray is a broad-spectrum insecticide to combat various common plant pests.
To kill spider mites, thoroughly mix the neem oil solution in a spray bottle and spray it on the top and bottom of all plant leaves. While spreading the mixture, give the canister a good shake often.
Neem and Rosemary Oil for Spider Mite Infestation
Because it affects the spider mites' nervous system, rosemary oil is highly effective on its own. Buy a rosemary-based insecticide or mix rosemary essential oil with water for a simple spider mite repellent spray. Rosemary will repel spider mites while being safe for the plant and helpful insects.
To boost the effectiveness of your neem oil spray, whether you used a Castile soap or insecticidal soap mix, add a few drops of rosemary oil before applying it to your garden.
Using Peppermint and Neem Oil to Repel Spider Mites
In addition to treating a spider mite infestation, neem oil is perfect for inclusion in a preventative spray to kill any pests or fungal disease and keep your plants healthy while repelling unwanted visitors.
Add a few drops of peppermint essential oil to your preferred neem oil application for easy pest control maintenance and to repel spider mites. Peppermint has a strong scent which most insect pests, including spider mites, hate. With the neem oil in the treatment, peppermint keeps your houseplants or garden safe from insect activity.
Does Applying Neem Oil to an Infested Plant Harm Beneficial Insects?
Unlike chemical pesticides, neem oil does not harm the best natural resources for your garden – bees, butterflies, birds, and other beneficial pollinators. Chemical control or conventional pest control often uses ingredients detrimental to all insects, animals, and even people.
Because neem oil is a naturally occurring product of the neem tree, gardeners may apply it to a single plant leaf or an entire plant and even use it in their home on houseplants, with no fear of it causing harm.
Foliar Spray Supports Plants after Spider Mite Damage
To recover from fungal disease or pest infestation, outdoor or indoor plants often require additional nutrients. Instead of distributing fertilizer in the soil, a foliar spray concentrates on applying it directly to the leaves of a deficient plant.
Depending on the location and how bad the spider mite problem is, try administering a foliar spray rich in nutrients your plant may lack after treating it with neem oil. A foliar spray aids plant recovery, which increases the likelihood of a significant harvest or full flowering of flowers.
Commercial Neem Oil Products
Commercially manufactured neem oil products to control spider mites come in many varieties. Always read the usage instructions and safety precautions before purchasing a spider mite treatment.
To get the best results, use all commercial neem oil pesticides according to the manufacturer's instructions. Before applying your commercial neem oil treatment to the entire plant, test it on a small section for safety.
Neem Oil Safety Tips
Though neem oil is safe and straightforward to use, there are a few things to keep in mind to avoid disasters. Plant leaves may burn if subjected to direct, bright sunlight for most of the day if you apply pure neem oil without dilution. Gardeners should not spray neem on early seedlings since it causes them to burn.
Make a small amount of neem spray the day you intend to use it. If left too long, neem oil combinations grow thick and clumpy, making them tough to spray or pour.
Horticultural Oil versus Neem Oil
In many cases, mineral oil is used to make horticultural oils. An emulsifier mixes the oils with water, and other insecticidal chemicals are occasionally added to boost the composition's efficacy.
Horticultural oils suffocate the insect by obstructing the bug's breathing holes and are best used before the growing season starts or when you first discover an infestation. Neem oil is ideal as a preventative strategy or to treat existing infestations.
Because some plants are more sensitive to a specific oil, there is no single oil to solve all problems. Gardeners are increasingly using neem and horticultural oils in their plant care routines, taking advantage of the qualities of both oils to address a broader spectrum of pest and disease issues.
Pests Affected by Neem Oil
If you don't know which insect pest is destroying your indoor plants or garden plants but need to start pest management right away, neem oil is a good option.
Neem oil insecticide is considered harmless for beneficial insects such as bees, butterflies, and birds because it operates only on insects when they consume plant leaf matter. Whether you have houseplant pests or suspect predatory mites in your garden, neem oil is the perfect solution.
Neem oil is a versatile and natural pesticide. Natural treatments like neem oil are increasingly used to treat pests like spider mites, powdery mildew fungus, and more as more gardeners become interested in keeping dangerous chemicals out of their flowers and food.
Always test neem oil mixtures on a tiny part of your plant, such as the underside of a leaf, before applying them to the entire plant. Some plants, such as fuchsia, spruces, hibiscus, and cedars, are sensitive to neem oil and do not tolerate it well.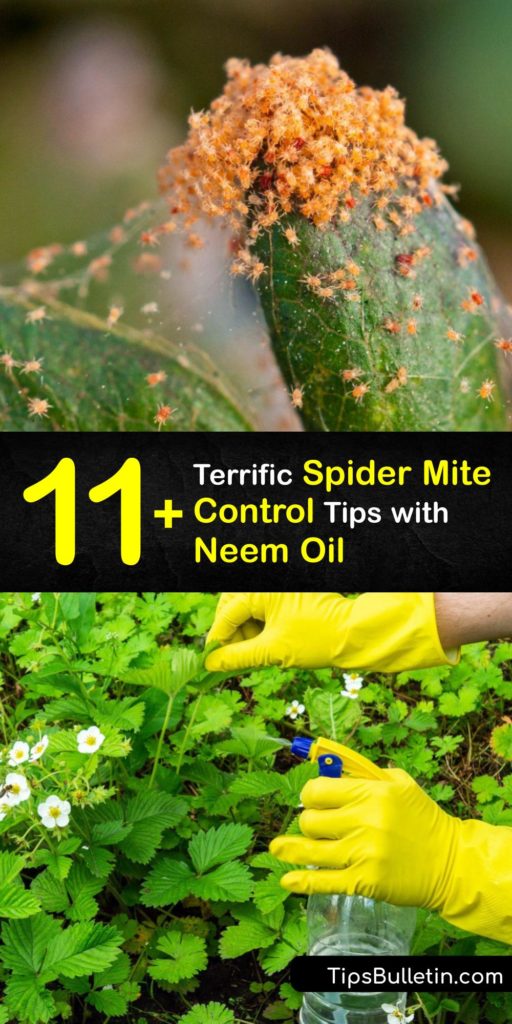 If you loved this article on how to use neem oil for spider mites, please share these brilliant tips on using neem oil to kill spider mites with your friends and family on Pinterest and Facebook.