Explore how to use neem oil for stink bugs and say goodbye to harmful chemical insecticides, as well as these odorous and destructive pests. Stink bugs have many names, but they are mostly known for their heinous smell. Some compare the odor these bugs release when hurt or threatened to rotten food, while others say it resembles skunk spray.
Regardless, removing stink bugs promptly is crucial when you see evidence of their residence. Fortunately, using neem oil to repel stink bugs is highly efficient. Neem oil is an organic extract of the neem tree (Azadirachta indica), and while it's all-natural, it offers an array of pest control benefits.
It is widely used in gardens and commercial greenhouses worldwide. Whether insects have infested your home to target your potted plants, are damaging your vegetable crops, or even wreaking havoc on a group of citrus trees, stink bug control with neem oil is the answer.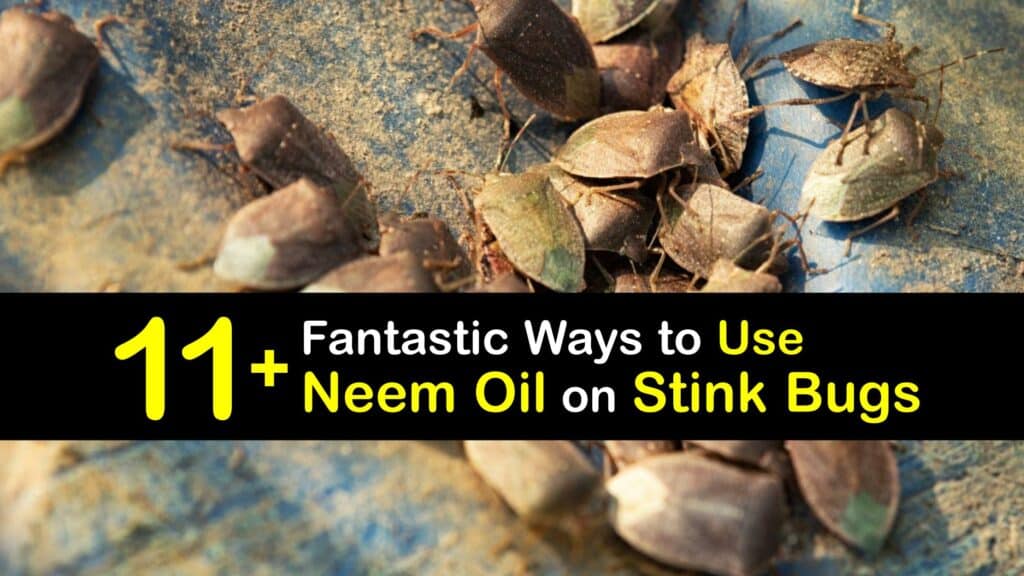 Using Neem Oil to Repel Stink Bugs
Learning how to use neem oil for stink bugs gives you a non-toxic method to remove these insect pests from your home and garden.
Using neem oil to repel stink bugs is straightforward and doesn't affect beneficial insects like pollinators. There are several methods of stink bug control with neem oil, so choose the one best suited to your specific issue.
What Are Stink Bugs?
The brown marmorated stink bug has many names and is native to Japan, China, Korea, and other regions of Asia. Known as harlequin bugs, Japanese beetles, or the kudzu bug, scientists first discovered these pests in the United States in 1998.
Named for the foul odors they produce when harmed or threatened, stink bugs use this stench to deter and escape from predators. In addition to smelling unpleasant, stink bugs feed on plants, causing severe damage in a short time if left untreated.
These insect pests are recognizable by their shield or oval-shaped flat bodies and are considered an invasive species.
Signs of a Stink Bug Infestation
One of the most telltale signs of stink bugs is their stink. Some say it smells like rotten food, while others compare it to a skunk-like odor. However you experience it, a foul smell may be the first sign of these unwelcome insects.
Stink bugs are likely to blame if your plant's health begins to suffer and you notice trails of excrement around them or in your home, particularly in warm sunny areas, or scarring on your fruits and vegetables. Seeing dead or living stink bugs is the simplest way to confirm a stinkbug infestation and requires immediate action.
Does Neem Oil Kill Stink Bugs?
Neem oil is a safe and efficient solution if you see stink bugs in your home or garden. Active ingredients in pure neem oil eradicate stink bugs quickly.
Azadirachtin causes the insect pest to starve and prevents them from moving through growth stages or laying eggs. When you're unsure if the bugs on your plants are stink bugs or something else, neem oil is an excellent solution as it destroys several problem insects.
Neem oil is a broad-spectrum insecticide suitable for resolving several pest invasions. As far as pest control goes, there is no difference between squash bugs, kissing bugs and stink bugs when using neem oil – the oil works on them all.
How to Use Neem Oil for Stink Bugs
Methods of neem oil pest control vary depending on the size of the problem area and the density of the insect pest population. One stink bug treatment may be more appropriate to kill stink bug infestations in a single indoor plant or group of houseplants, while another is better suited for spraying a large area like a copse of citrus trees.
The active compound in neem oil, Azadirachtin, works for about three weeks, so whichever method you choose, plan to reapply regularly.
Stink Bug Control With Neem Oil Spray
Make a cost-efficient stink bug spray using pure cold pressed neem oil. Mix 32 ounces of water with two teaspoons of neem oil. Load the resulting liquid into a spray bottle.
This neem oil spray is incredible to use directly on problem insects and safe to apply to indoor and outdoor plants. If stink bugs invade your home, spray this mixture around common entry points like door cracks and windowsills to deter more bugs from coming indoors. Use neem oil for cucumber beetles and aphids as well as spiders and squash bugs. Neem oil also works great for spider mites and whiteflies, too.
Rosemary and Neem Oil Spray
Rosemary oil is an ideal essential oil to combine with a neem oil spray to increase its effectiveness in killing and repelling stink bugs. Rosemary smells fantastic and gives your spray a pleasant aroma, making it perfect for using indoors to protect your houseplants.
Add the ingredients to a sprayer or spray bottle and shake vigorously to combine for this wonderful home remedy to get rid of stink bugs. Spray directly on plants without direct sunlight, or use it on walls and floors to treat stink bugs.
Neem Oil Stink Bug Soil Soak
A soil soak is a straightforward way to address a stink bug infestation on anything from tomato plants to a large tree. It's particularly beneficial for treating trees or large shrubs as applying a soil soak to the roots takes much less labor than trying to spray the entire plant surface.
Dissolve the dish soap into the water to lower the surface tension for more effortless blending, and add the neem oil. Depending on the size of the infested plant, pour two to four cups over the soil at the roots.
The plant or tree takes in the Azadirachtin, becoming a systemic insecticide and only affecting pests piercing the plant's leaves or stems. This solution is ideal to get rid of stink bugs on tomato plants and other vegetables in the garden. Neem oil helps with controlling fungus gnats, which are a particular problem on indoor plants.
Insecticidal Soap and Neem Oil Spray
A blend of insecticidal soap and pure neem oil makes a potent stink bug killer. Insecticidal soap is a non-toxic pesticide that works with neem oil to destroy an array of insect pests.
For heavy infestations, consider this combined treatment to achieve pest control faster. Insecticidal soap is available at most home and garden stores. Mix it according to label directions and add 1 tsp of cold pressed neem oil per 32 oz of the prepared solution for a heavy-duty stink bug spray.
Essential Oils to Try With Neem Oil Treatment
While using neem oil to treat stink bugs in your home or garden, essential oils provide a significant augmentation to help deter new pests from arriving, and they make your space smell great. Choose one of the essential oils stink bugs hate and boost your pest control.
Apply a dab of these oils to a cotton ball and set them out to keep the bugs away. When you don't have essential oils, try putting out dryer sheets instead.
Neem Oil and Soapy Water Bug Trap
Traps are more than just a way to reduce the stink bug population. Trapping creates a visual picture of the progress your pest control is making. When your traps have fewer bugs in them, it's an indication the infestation is resolving. Make a simple DIY stink bug trap to monitor the success of your pest control efforts.
Fill your bowl or a large basin with water and add dish soap and neem oil. Set your bowl in an area with high stink bug activity and turn on the light to shine onto the water's surface. Overnight, the brightness lures in stink bugs who fall into the water and drown.
Neem and White Vinegar Spray-On Insecticide
For areas with high stink bug traffic, a spray-on insecticide is used directly on the insects for quick knockdown.
Combine the ingredients, pour into a spray bottle, and use directly on stink bugs. Do not spray this mixture directly on your plants.
Is Neem Oil Safe for Beneficial Insects and Organic Gardening?
Neem oil is harmless to beneficial insects like pollinators and poses no threat to birds and butterflies. Neem oil is naturally occurring, so it's appropriate for use in an organic garden and won't harm you, your children, or your pets. Cold pressed neem oil is a safe alternative to conventional pesticides.
Stink bugs are an annoying inconvenience. These insect invaders have an awful stench and do widespread damage to everything from houseplants to an entire vegetable garden. If you spot pesky stink bugs in your house or garden, use neem oil instead of chemical pesticides and remove the bugs safely.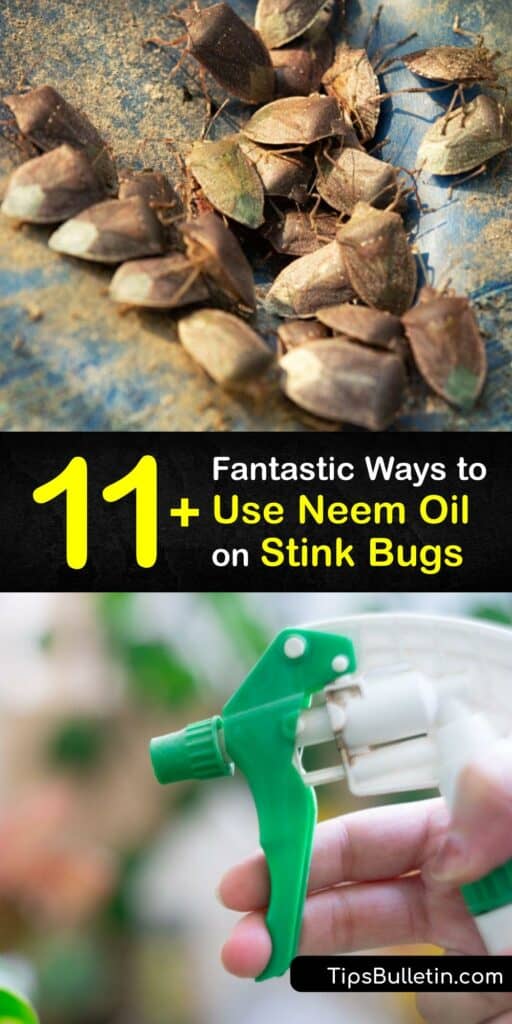 If you loved this article on how to use neem oil for stink bugs, please share these brilliant tips on using neem oil to repel stink bugs with your friends and family on Pinterest and Facebook.