If the foliage on your plants has tiny, discolored spots and a silvery appearance, you may be dealing with a thrip infestation. This common insect pest takes up residence in flowers and plant material, leading to failed fruit production. Learn how to use Neem oil for thrips as safe and natural pest control.
Thrips are barely noticeable to the naked eye. You probably don't even know that you have them until they've already damaged your crops. Like spider mites, they only measure 1/25 of an inch. They feed off plant sap, causing deformity, stunting growth, and destroying blooms.
While various pesticide products are on the market, many contain harmful chemicals you may not want around your home. Fortunately, Neem oil is a botanical insecticide that is safe for humans and pets, with low toxicity to beneficial insects, organisms, birds, and other helpful garden creatures.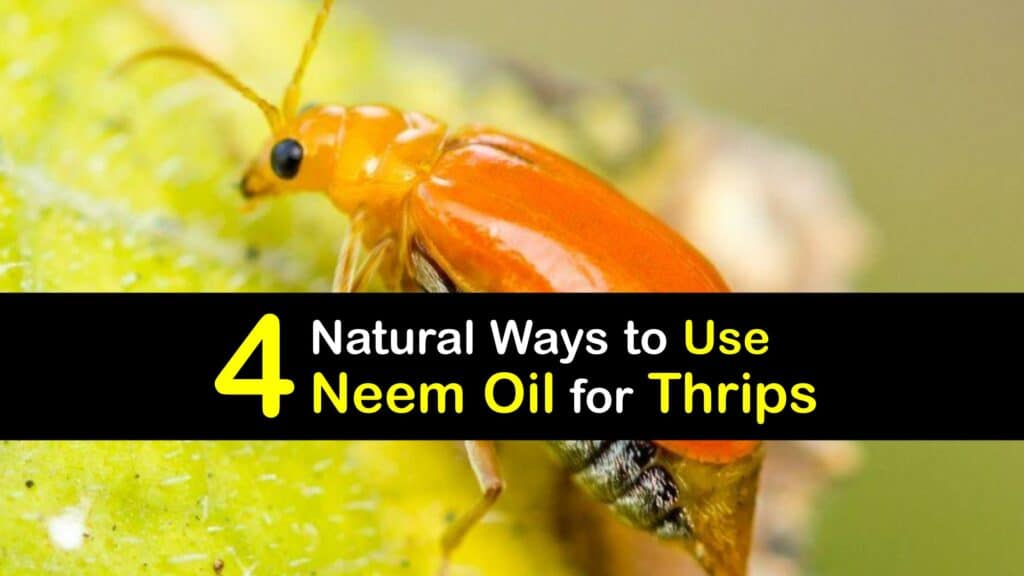 Ways to Use Neem Oil to Control Thrips
Learn ways to keep thrips under control and prevent an infestation with a Neem oil insecticide. In addition, find out how to make a Neem oil soil drench and foliar spray or combine Neem oil with other plant oils for extra plant protection. Neem oil kills fruit flies, aphids, various plant funguses, and more.
What Is Neem Oil?
Does Neem oil kill thrips? Yes, it does, and there are different ways to perform thrip control with Neem oil. Explore this horticultural oil and how it eliminates and controls thrips. Use Neem oil to kill ticks, bed bugs, aphids, and a host of other unwanted pests without harming the environment.
The Azadirachta indica tree, a South Asian and Indian plant, produces seeds with high levels of an insecticidal compound that is nearly non-toxic to birds, bees, and other wildlife. Yet, according to the National Pesticide Information Center, it causes thrips and other insects to stop feeding, and prevents larvae from maturing.
In some cases, it causes suffocation. Using Neem oil to kill thrips is a safe and natural alternative to commercial pesticides.
Make a Foliar Spray With Neem Oil to Kill Thrips
The best way to get rid of thrips is to eliminate them when they first begin attacking your plants rather than waiting until they become an infestation. Discover how to use Neem oil to kill thrips with a foliar spray.
Combine a half tablespoon of dish soap with a half gallon of water to make an emulsion. Add one tablespoon of 1% Neem oil for a mild infestation or 2% Neem oil for a heavy infestation. Pour the liquid into a bottle and spray the outdoor or indoor plant to eliminate the houseplant pests.
Keep a bottle of the mixture handy when you make a Neem oil spray for house plants to apply it whenever you find thrips or other bugs on indoor plants.
Thrip Control With Neem Oil Soil Soaking
Adult thrips and pupae overwinter in the plant material and dirt – using a soil drench is the simplest way to keep them from reinfesting your plants in the spring. Apply a Neem oil soil drench for fungus gnats and perform thrip control with Neem oil for plant soil.
Pour a gallon of distilled water into a container or watering can, add a tablespoon of Castile soap or another liquid soap to create an emulsion, and add two tablespoons of pure Neem oil. Pour two to three cups of the soil drench around the plant's base, ensuring you cover the root radius.
The plant absorbs the active ingredient, Azadirachtin, and becomes a systemic insecticide, only harming insects that pierce the plant. To use it as dormant oil, apply the liquid to the plants in the fall, winter, and early spring.
How to Use Neem Oil for Thrips
While Neem oil alone is usually enough to control thrips, creating an insecticidal soap with additional ingredients may be necessary. Combine the power of Neem oil with essential oils to keep your plants pest-free.
Fill a container with a gallon of water and add a teaspoon of liquid soap. Stir the soapy water and add Neem oil, rosemary oil, and cinnamon oil. Transfer the liquid to a glass bottle and spray the entire plant at dawn or dusk to prevent leaf burn. The essential oils repel thrips while the Neem oil kills the insect pest.
There are many benefits to using Neem products, from killing a fungal disease like powdery mildew to eliminating the Japanese beetle, thrips, mites, fungus gnats, and other plant pests. The best thing is it's safe to use in the garden without disrupting the activity of beneficial insects.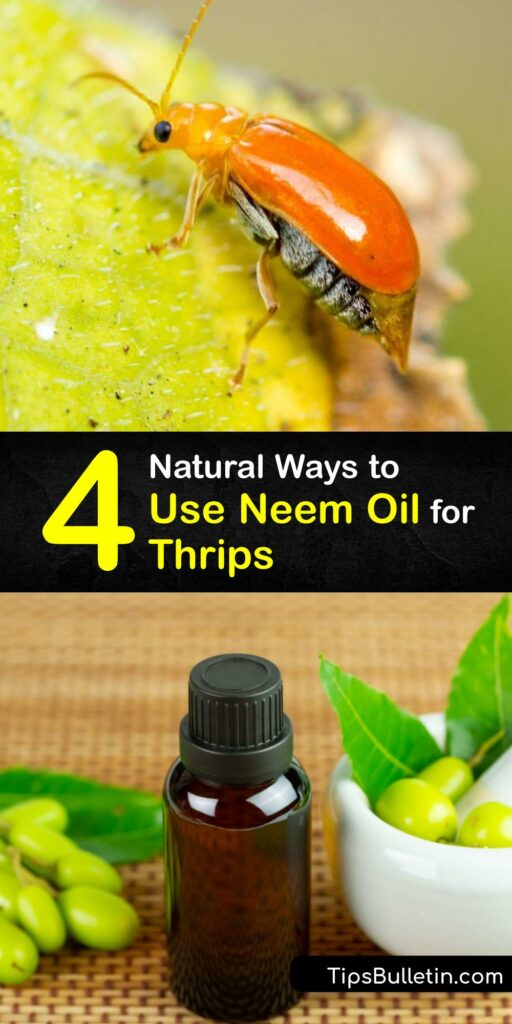 Now that you've learned how to use Neem oil for thrips, why not share our tips for using Neem oil to keep thrips out of the garden with your gardening friends and family on Pinterest and Facebook?