Ticks are external parasites like fleas that feed on the blood of their hosts. Ticks are active during the warm months and thrive in humid climates, where they wait on leaves to cling to the exposed skin of new hosts. To protect yourself from tick bites, learn how to use neem oil for ticks.
Ticks are parasitic arachnids that live by feeding on animal and human blood. Although commonly thought of as biting insects, ticks are closely related to scorpions and spiders. Because their diet consists solely of blood, ticks carry diseases, including Lyme disease, which causes a skin rash, among other symptoms like fever, headache, and fatigue.
Ticks belong to two families and have either hard or soft bodies. These ticks sense body heat, odors, moisture, and vibrations in their environment to find new hosts. Tick families are found worldwide, especially in warm climates, though their exact origin is unknown.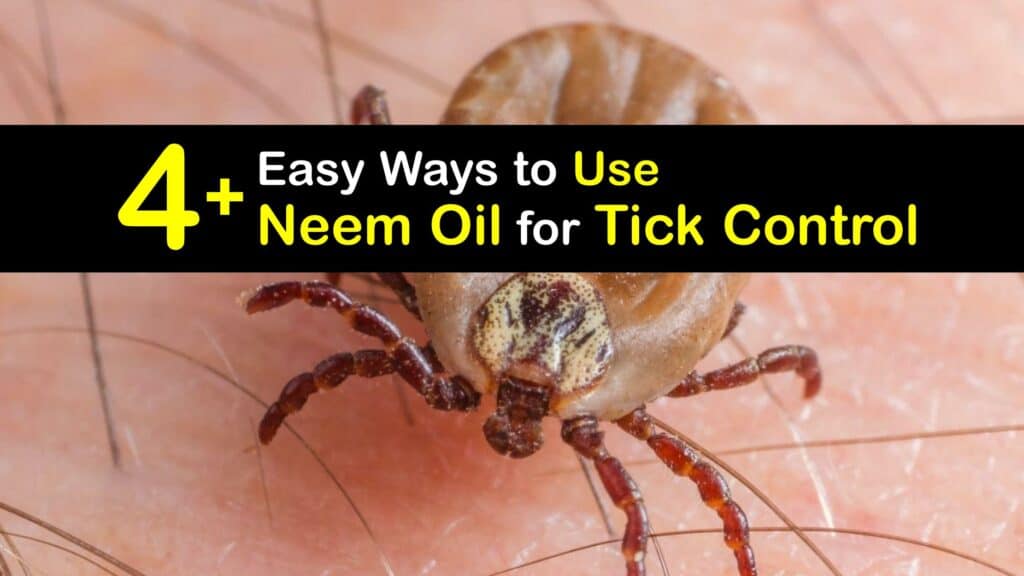 Tick Control With Neem Oil
You may find many unwanted insects in your home and yard and want to know how to eliminate them. You can mix neem oil for bed bugs, ticks, aphids, and spiders. You can even repel flies with neem oil. Ticks carry various pathogens, some infecting eggs inside a female tick's ovaries, making tick larvae infectious from birth.
For natural protection from tick-borne infections, many use insect repellents made from organic neem oil, but does neem oil kill ticks?
Is Neem Oil Fatal for Ticks?
When looking to control pests outside your home, you can use neem oil to kill ticks; however, tick control with neem oil is not an instant death for these biting pests. Neem oil affects pests through ingestion or topical treatment.
Creating sprays with neem oil is a common way to repel fleas and other pests outside or used on plants to help them recover from diseases like powdery mildew. When spraying plants or insects with neem oil, the smell of the oil causes bugs to stay away from treated areas.
Soft-bodied insects may suffocate after being sprayed with neem oil because it clogs their airways. Insects with rigid bodies are less affected by neem oil because it slides off them. When pests ingest this oil, it affects their nervous system. The insects starve, become infertile, or fail to progress into new life cycles.
How to Use Neem Oil for Ticks Outside
Neem oil, made from seeds of the Azadirachta indica tree, is an insecticide and natural tick repellent. If ticks on your property are a concern, spray your yard with a neem oil treatment to repel ticks.
Like many insects, ticks enjoy hiding in tall grass and questing. Ticks use their back legs to hold a blade of grass and grab a passing host with their first pair of legs.
Fill a sprayer with water and neem oil, and incorporate well. For tick control with neem oil after you mix your own DIY tick repellent, treat shaded areas in your yard and places with weeds and high grass.
Control Tick Infestations With Neem Oil Spray
The main ingredient in neem oil is azadirachtin, which disrupts the nervous system of ticks and insect pests when they contact it. The effect of neem oil on ticks results in a loss of appetite, stunted growth, and the inability to mate.
Although we think of ticks spending most of their time on their hosts, ticks prefer to lay eggs outside on the soil. To target ticks and newly hatched eggs, create a neem oil soak to spread across the ground.
Emulsify water by mixing in dish soap before adding neem oil. Use a few cups of the soak around your home, reapplying every two weeks. Using a neem oil soak in your garden allows plants to absorb the oil through their roots, creating a systemic insecticide safe for beneficial insects.
How to Use Neem Oil on Humans
When ticks find a host, they sink their mouthparts into the skin. The bite generally does not cause pain, and like other insect bites, you may overlook the bite when it happens.
While actively feeding, ticks burrow part of their body into the skin to feed on blood. If the tick feeds in a visible area on the body, they are easy to spot. However, ticks may feed on a host's head, making it difficult to find and remove without help. To use neem oil against ticks, mix pure neem oil with lotion or another oil and use on your body.
Neem oil is not stable when mixed with other ingredients, so only prepare a small amount to use each day. Mix drops of neem oil with your daily lotion, body oil, and essential oil to cover the smell of neem oil. Tea tree oil, peppermint oil, and eucalyptus oil are all pleasant smelling and work well to mask the odor of neem oil.
Using Neem Oil to Kill Ticks on Pets
Neem oil severely affects insects, but its impact on humans and pets is not as powerful. Neem oil is good for use on dogs after dilution. Cats have sensitive skin, but the biggest concern about neem oil is that cats frequently groom themselves. Cats may ingest neem oil residue and negatively react to the oil.
To make a safe shampoo for pets, mix one part neem oil with ten parts of a carrier oil like almond oil, coconut oil, or olive oil. Rinse your pet before applying the homemade neem oil shampoo on your pet's body, avoiding their face before thoroughly rinsing.
Neem oil is a powerful tool to use for pest control for pets. The tick repellent shampoo can also be used to control fleas with neem oil. Your pets will appreciate this natural and safe solution to get rid of ticks and fleas.
Note: To help repel fleas, include a few drops of cedar oil in pet shampoo.
The Effect of Neem Oil on Beneficial Insects
Because neem oil affects all insects, there is a slight risk of using it aimlessly around your garden. Some beneficial insects like ladybugs have hard bodies and are not affected if they become sprayed by neem oil.
Soft-bodied insects, like butterflies and bees, are at risk of neem oil affecting them if they are sprayed directly with neem oil. Another way these insects come in contact with neem oil is when visiting flowering plants treated with neem oil.
To avoid negatively impacting beneficial insects, focus on using neem oil early in the morning or dusk when these insects are least active.
The smell of neem oil is garlicky, and although unpleasant, the strong smell is part of the reason it's effective against insects. When using neem oil directly on your skin or your pet's body, safely dilute pure oil to avoid causing health issues through accidental consumption or contact with eyes.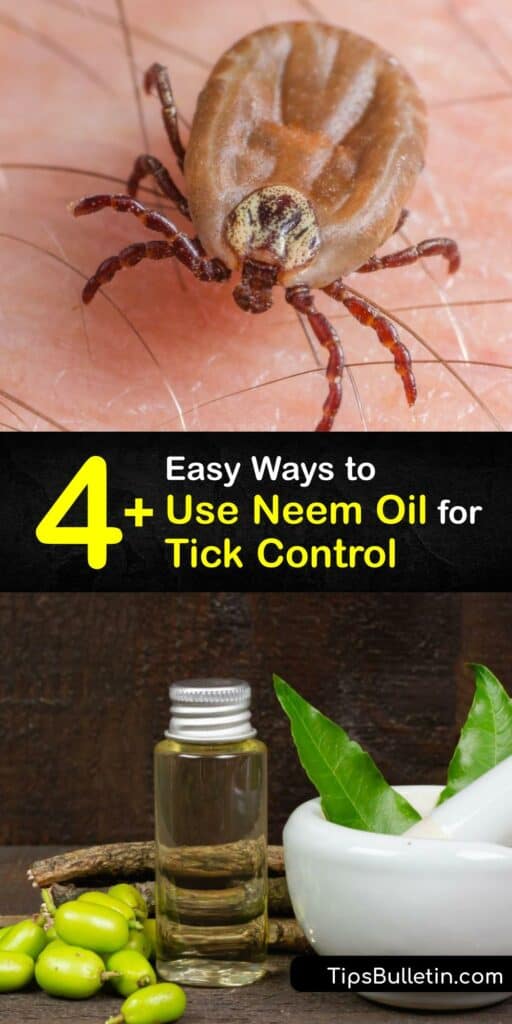 We hope your learned how to use neem oil for ticks with help from our guide and will share our advice on using neem oil to kill ticks with your friends and family members on social media like Facebook and Pinterest.