Many gardeners want to learn how to use neem oil on lemon trees as a natural pesticide. The neem tree, also known as Azadirachta indica, produces neem oil, an extract of the tree. Neem oil is cultivated by cold pressing the neem leaf, fruit, and seeds. Growers frequently use neem oil to kill citrus tree pests because it includes multiple active chemicals.
Citrus enthusiasts use neem oil for lemon trees due to Nimbu azadirachtin, a systemic toxin in the oil. This chemical is similar to those of the pest's hormones. It deceives the insect into thinking it is full, causing it to die from starvation over time.
In addition, it interferes with the generation of growth hormones, inhibiting insects from moving to the next life stage of their development cycle. Finally, it causes infertility in several insect species, preventing egg production. This article covers when to spray neem oil on lemon trees and how to use neem oil for effective citrus tree pest control.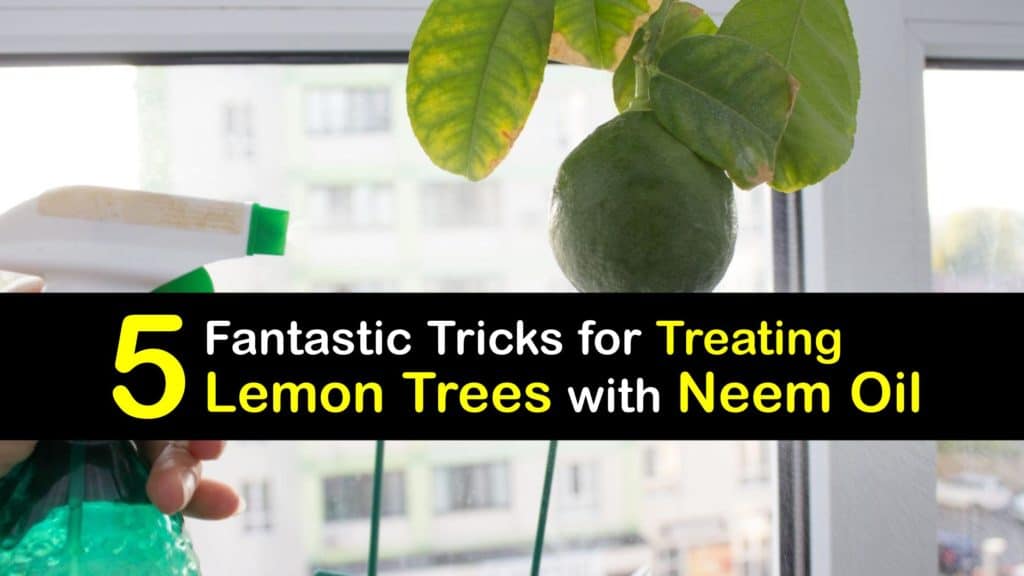 Incredible Tips I Use for Applying Neem Oil on My Lemon Trees
If you grow lemons, whether you grow a small lemon tree or have several in your yard, you've likely wondered how to use neem oil on lemon trees. A powerful natural pest control method, using neem oil for lemon trees is safe for humans, pets, and beneficial insects.
Learn when to spray neem oil on lemon trees to avoid affecting your harvest and target the pests this valuable oil combats.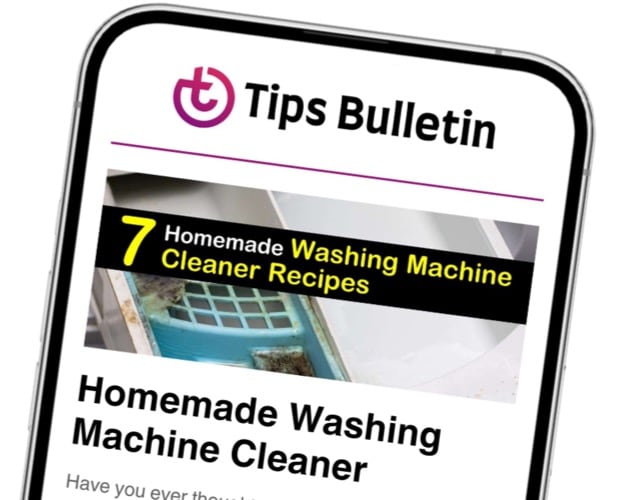 Finally, an email that Transforms Your Home.
Get the latest home and garden tips from our experts, delivered straight to your inbox.
When I Spray Neem Oil on My Lemon Trees
If possible, use neem oil first thing in the morning or last thing at night when beneficial insects are inactive and not feeding or pollinating the citrus plant. Because it affects insects at all phases of their development, neem oil is not a dormant spray and works on lemon tree pests at any time of the year, regardless of the season or weather.
Neem oil spray treatments or soil drenches are effective against a wide range of citrus tree insect pests. Whether you have a citrus leafminer or mite issue, neem oil is ideal pest control for an indoor plant or eradicating garden pests. Neem oil is very effective against aphids, whether you have just a few or an infestation.
How I Use Neem Oil on Lemon Trees as a Soil Drench
Because of the large quantities of highly active components in pure neem oil, it is better as a soil drench rather than directly on the citrus tree leaves. If sprayed directly on the foliage, it may cause burns. Neem oil works as an organic pesticide for tomato plants, too, as well as a host of other garden plants.
The drench soaks into the earth and is absorbed by lemon tree roots, so neem oil works as a systemic insecticide. There is zero risk of beneficial insects coming into proximity when employing a neem oil soil drench, unlike with topical applications. Neem oil is non-toxic to bees and can be used safely. The only species harmed are insects consuming the lemon tree leaves. It is also very effective to control squash bugs when used this way.
Pour the homemade neem soil drench around the soil over the tree's roots for leaf miner control with neem oil. If you have an established infestation of insects, continue the process every two weeks to keep it under control. Soil soaks are substantially more convenient for treating a larger tree when compared to spraying.
Pouring on a soak rather than trying to spray every individual leaf results in significant time and labor savings. Drenches remain in the tree for up to 22 days and are safe to use near harvest without negative consequences for your lemons.
My
Insecticidal Soap Neem Oil Mix for Lemon Trees
Insecticidal soap leaves no toxic residue, making it safe to use on lemon trees in the garden or on indoor citrus trees.
To effectively and safely use neem oil to kill fungus gnats, use a spray canister to distribute the solution evenly over all leaf surfaces to deter or treat lemon tree pests. To guarantee the solution is dispersed well before beneficial pollinators arrive in the garden, spray the plant thoroughly at the beginning or end of the day.
Neem and Horticultural Oil Mix for My Citrus Trees
Mineral oil is used to produce the majority of horticultural oil products. An emulsifier ensures the oils are adequately mixed with the water. Other insecticidal compounds are occasionally added to the formulation to boost its potency.
Horticultural oils obstruct the lemon tree pest insect's breathing holes, causing it to suffocate. It is preferable to use horticultural oil before the growing season or when you first discover a problem with an infestation on your tree.
Neem oil is more effective as a preventative strategy or therapy for existing infestations. Horticultural oil is more successful against fungus gnats, whiteflies, and other flying pests, but neem oil is more potent against adult scale insects and mites. You can use neem oil to kill whiteflies, but it may take several applications for complete success.
Mixing neem oil and horticultural oils is becoming increasingly popular in plant care regimens, as gardeners take advantage of the capabilities of both oils to handle a broader range of illnesses.
My
Foliar Spray after Neem Oil Mixture Treatment
An outdoor or indoor lemon tree frequently requires additional nutrients to recover from pest infestation or fungal disease. A foliar spray is a type of fertilizer applied directly to the leaves of your lemon tree rather than distributing it throughout the soil.
Following treatment with neem oil, and depending on the location and intensity of your problem, consider administering a foliar spray rich in any nourishment your tree may be lacking. A foliar spray aids in the recovery of trees, which increases the likelihood of having a huge crop of delicious lemons due to the quicker return to health.
As the desire for organic produce grows, gardeners turn to natural resources such as coconut oil and neem tree oil in place of harsh insecticides.
Lemon trees are beautiful and valuable, though insect pests and disease challenge their growth. Neem oil provides a natural and non-toxic option to resolve an array of insect and disease problems with your lemon tree.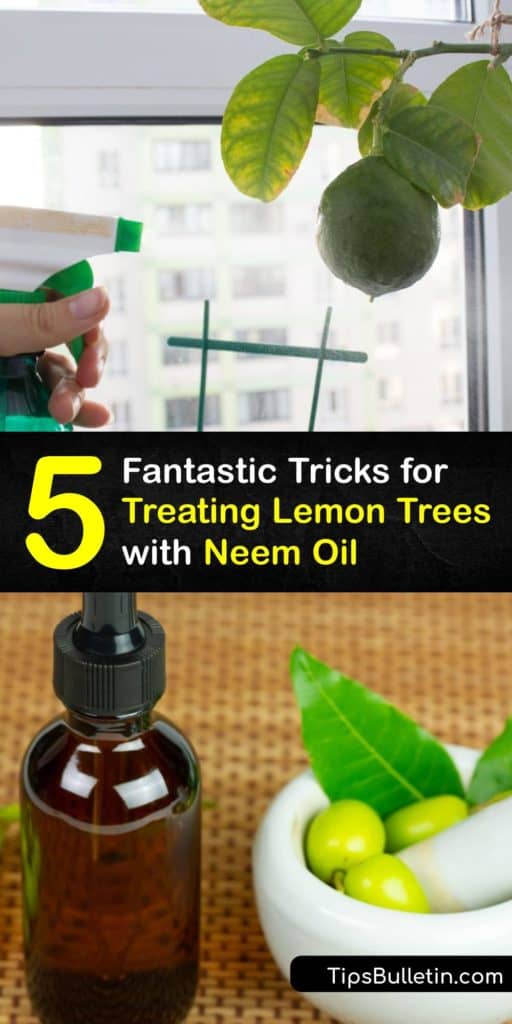 If you loved this article on how to use neem oil on lemon trees, please share these brilliant tips on using neem oil for lemon trees with your friends and family on Pinterest and Facebook.