Peppermint oil is one of the best beloved essential oils on the market because it's so versatile. It's instrumental in DIY pest control against a bed bug infestation as both a repellent and a contact insecticide. In this article, you'll learn how to use peppermint oil for bed bugs, both as a deterrent and as an ingredient in insecticidal bed bug sprays.
If you find a bed bug infestation in your home, you may be wondering, "Does peppermint oil repel bed bugs?" Peppermint essential oil contains a high level of menthol, lethal to many insects, including bed bugs and cockroaches.
Thanks to its strong scent, peppermint essential oil also works as an effective bed bug repellent. It's always distressing to discover creepy crawly critters in your home.
Rest assured that there are safe and efficient home remedies available to quickly get rid of a bed bug infestation. Numerous essential oils have powerful insecticidal, antibacterial, and antimicrobial properties that make them perfect ingredients in your DIY pest control solutions.
Avoid using harsh chemicals and pesticides around your home. Instead, try one of the simple and straightforward techniques listed here.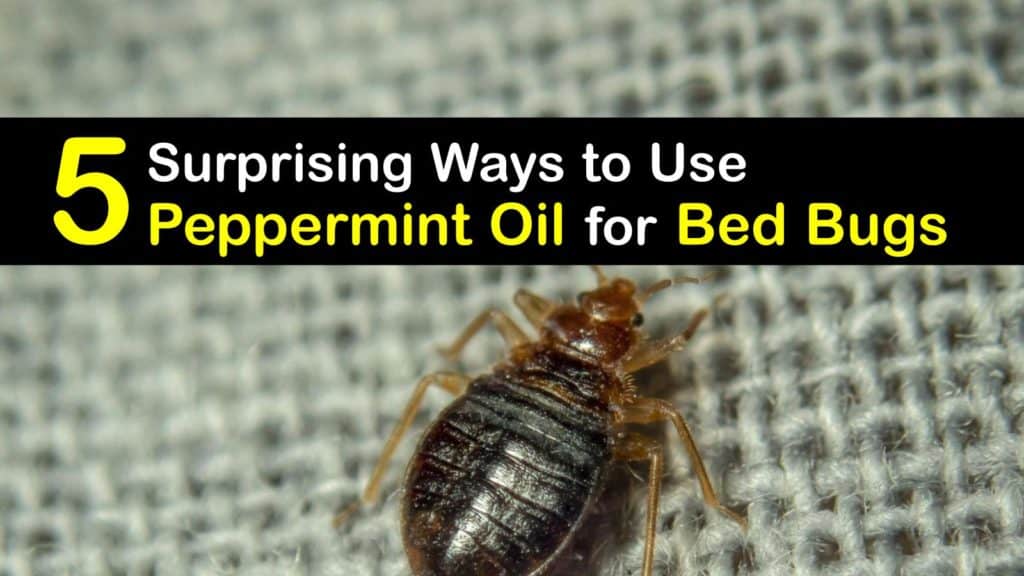 Does Peppermint Oil Repel Bed Bugs?
Peppermint oil is a safe and effective solution to kill bed bugs and for repelling them. Bed bugs are sometimes difficult to get rid of, so using a combination of pest control strategies tends to work best.
Heat treatment is the most efficient method of eradicating a bed bug infestation. High heat kills bed bugs at all of their life stages – eggs, nymphs, and adults.
However,eppermint oil only kills bed bugs on contact, either when used alone or in combination with other insecticidal essential oils.
However, this bed bug spray ingredient has a pungent odor that lingers and deters bed bugs and other insects for several hours after application. Use several other effective bed bug control tactics to eliminate your bed bug problem.
These strategies could include applying diatomaceous earth, using vinegar or rubbing alcohol-based bed bug sprays, and employing a steamer on affected furniture, home decor, and bedding. Before long, your home will once again be bed bug-free.
How to use Peppermint Oil for Bed Bugs
If you've ever had to combat a bed bug infestation and searched for a safe, natural solution, you may have asked yourself, "Does peppermint oil kill bed bugs?"
It's possible to use peppermint oil in several different ways to keep bed bugs away, as well as use peppermint oil to repel spiders. Peppermint essential oil alone makes a powerful insect repellent spray.
When combined with other essential oils like clove, eucalyptus, lavender, lemongrass, oregano, thyme, and tea tree oil, your bed bug killer spray becomes even more potent.
Many of these essential oils, like tea tree, eucalyptus, and lavender essential oil, also work to soothe bed bug bites. When applying essential oils topically, always make sure to dilute them with a carrier oil or lotion to avoid skin irritation.
Home Remedies for Bed Bug Repellent
Bed bugs are quite adept at hiding in cracks and crevices, which is why an infestation might be challenging to get rid of. After the initial heat treatment or fogger application, you'll need to remain on bed bug patrol for several months.
Frequent places for bed bugs to hide include baseboards and the bed frame. Be sure to continue spraying these areas and any other locations where you initially noticed significant bed bug activity.
To make this DIY peppermint oil spray for bed bugs, fill a clean spray bottle three-quarters full with tap water and add 20 drops of peppermint oil. Swirl the contents to blend.
Spray the liquid on any surface where you've noticed bed bug activity as a repellent. Additionally, this spray works as a contact insecticide to kill bed bugs.
If you have a problem with carpenter bees outside, use this peppermint oil spray to keep bees away from exposed wood. They don't like the scent either.
Does Peppermint Oil Kill Bed Bugs?
If you've ever had to combat a bed bug infestation and searched for a safe, natural solution, you may have asked yourself, "Does peppermint oil kill bed bugs?"
Yes, when applied in a high enough concentration, the menthol in peppermint essential oil does kill bed bugs. Use caution when spraying concentrated peppermint oil solutions.
The volatile compounds found in peppermint oil are potentially irritating to the skin. While peppermint oil works for killing bed bugs on contact, it's not advisable as a stand-alone treatment method.
It's best used as a supplemental strategy for bed bug control and as a follow-up practice.
Best Essential Oils for Bed Bug Control
Peppermint oil isn't the only essential oil for bed bugs that packs a punch when it comes to pest control. Essential oils are volatile chemical compounds derived from plants.
Many of their functions in human applications mimic their purpose in the plant: promoting overall health and well-being and deterring pests and diseases.
A few familiar essential oils known for their insecticidal properties include cold pressed neem oil to fight bed bugs, clove, cedarwood, cinnamon, citronella, eucalyptus, lemongrass, peppermint, rosemary, and tea tree.
You can also try using lavender oil for bed bugs by spritzing your linens or clothing with spray to repel them.
You can use cedarwood oil for bed bugs or another essential oil individually or in combination to repel and kill common household pests, including bed bugs, fleas, ticks, mosquitoes, and cockroaches.
Make Your Own Thieves Oil
Several common essential oils combine to create the powerful Thieves Oil blend. Thieves Oil has been used for many years to deter pests, fight common bacterial and viral infections, and cleanse household surfaces.
This potent essential oil blend is highly effective against bed bugs, both as a repellent and as a contact insecticide.
Mix the essential oils in a small glass bottle or bowl. For use as an insect repellent or bed bug killer spray, dilute at a rate of one teaspoon of oil blend per one cup of water.
Use caution when applying to bedding or clothing, and consider watering down the mixture for sensitive skin. For applying topically to soothe bed bug bites, combine three to five drops of oil blend with one ounce of a carrier oil like coconut, almond, jojoba, or olive oil.
Bed bugs are sometimes a frustrating issue for homeowners, renters, and travelers alike. Whether they invaded your home through secondhand furniture or clothing, or you happened to bring them home from a hotel, it's crucial to act fast to prevent them from spreading.
After an initial approach using traditional strategies like heat treatment, mattress encasements, and steaming, be diligent with your bed bug patrol efforts by utilizing the power of essential oils.
Use peppermint oil as a stand-alone bed bug repellent, or try making your own Thieves Oil blend that's effective as a repellent, insecticide, and bed bug bite remedy.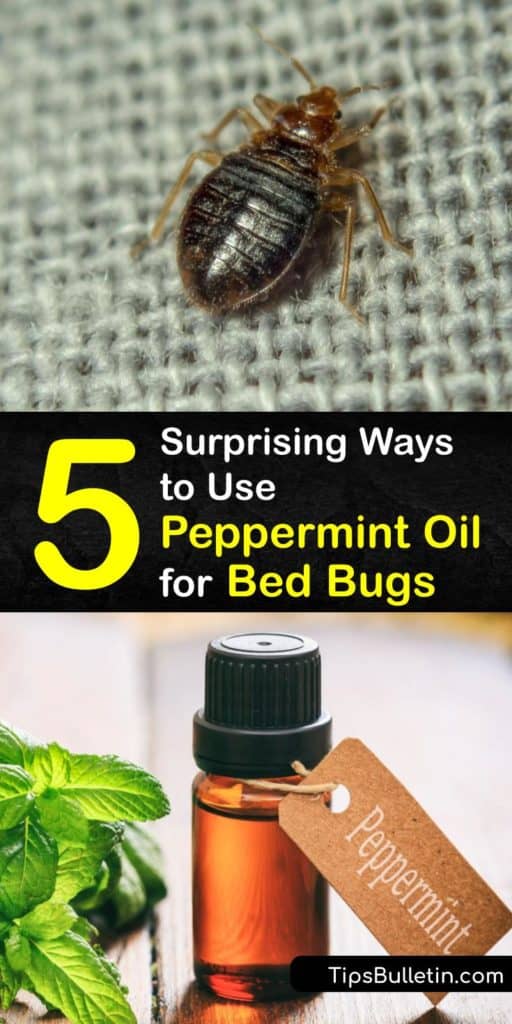 We hope that you found these tips and tricks for how to use peppermint oil for bed bugs helpful, and we'd appreciate you sharing this article on Facebook or Pinterest with your friends and family who may be wondering, "Does peppermint oil repel bed bugs?"