A quick search for "home remedies for bed bugs" pulls up numerous suggestions, from vacuuming to applying baking soda or tea tree oil. You may find yourself wondering, "Does tea tree oil repel bed bugs?" and, especially, "Does tea tree oil kill bed bugs?" Yes, it does—on both counts—so read on to find out how to use tea tree oil for bed bugs.
If you're not familiar with this clear or pale-yellow essential oil, it's formed by steaming the leaves from a tree called Melaleuca alternifolia. It has a sharp, camphor-like smell that some people—and bugs—find unpleasant.
You can buy small, dark-colored bottles of the stuff relatively cheaply at pharmacies and health food stores. People claim that this antibacterial and antifungal oil cures conditions ranging from acne to athlete's foot. Homeowners who follow a natural lifestyle enjoy using essential oils like tea tree oil to clean and repelling bugs, from ants to cockroaches and bed bugs.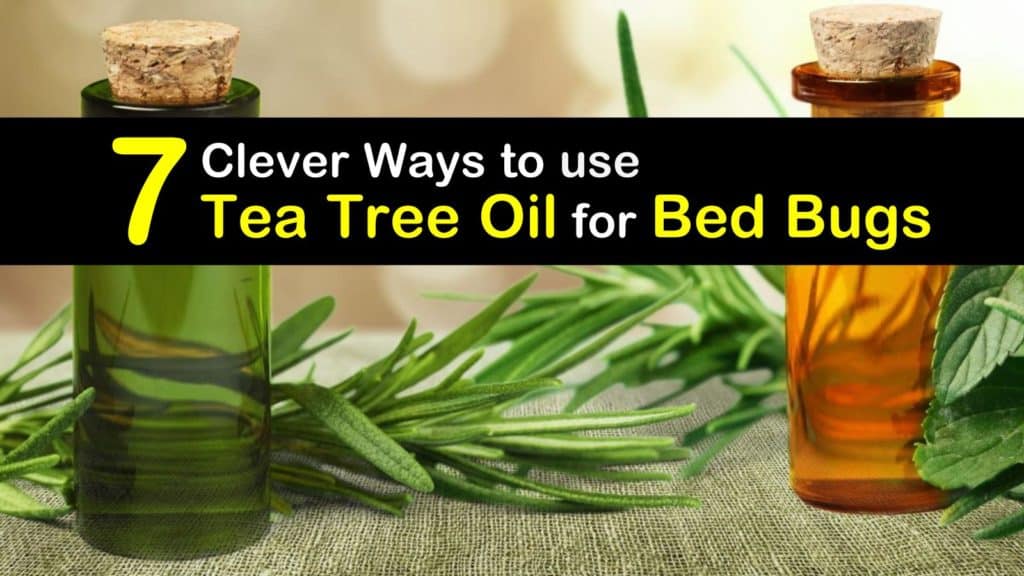 Does Tea Tree Oil Kill Bed Bugs?
While it's relatively easy to make a homemade bed bug trap, there are other ways to eliminate these unwanted pests that don't take much time or effort.
Tea tree oil is the perfect organic way to get rid of bed bugs as it masks the scent of carbon dioxide and human blood that attracts bed bugs to your bed. Direct contact with the liquid also kills the pests, likely by penetrating their exoskeleton and blocking their airways.
It's essential to educate yourself about how to use tea tree oil for bed bugs so that you can take advantage of this natural insecticide.
Kill Bed Bugs with Pure Tea Tree Oil
Undiluted tea tree oil is the most successful at killing the critters. In general, the more the oil is diluted, the less effective it becomes. Read the package carefully to ensure you buy pure tea tree oil.
To kill bed bugs fast, spray the oil on the affected bed, including the bed frame, bedding, and mattress, particularly around seams and buttons. Thoroughly spray furniture near the bed, inside closets, and cracks and crevices.
Spray tea tree oil at least once a week since it's unlikely to reach all the bugs at once, and it stops working once it dries.
Wear rubber or plastic gloves when handling pure tea tree oil since it sometimes irritates the skin. Do not swallow any of the liquid since it may be toxic when consumed.
Mixing Essential Oil Spray for Bed Bugs
In addition to tea tree oil, several other essential oils may repel bed bugs. Does cedar oil repel bed bugs? Yes, and additional options include lavender, cinnamon, lemongrass, and peppermint oil. As a bonus, use tea tree oil for better sleep, as well as these other essential oil varieties.
Essential oils are part of the best way to make a natural bed bug spray. It's worth giving one or two oils a try before resorting to a professional exterminator.
When diluting any essential oil with water, including when you use peppermint oil for bed bugs, it's necessary to add a few drops of another substance to prevent the oil from floating to the surface.
Liquid dish soap is an excellent choice. Drops of the soap cling to fat molecules on one end and water molecules on the other, holding the mixture together. Alternatives include pure alcohol and glycerine.
Does Tea Tree Oil Kill Bed Bugs if You Dilute It?
Although it's less powerful than pure oil, some sites advise diluting tea tree oil by at least 50% to reduce the potential for negative impacts on human health.
Combine equal parts tea tree oil and water in a spray bottle, then add one of the ingredients mentioned above for bonding the oil with the water.
If possible, purchase a new spray bottle so that the previous contents' scent does not diminish the tea tree oil's effectiveness. Squirt your homemade bed bug spray in the same locations as undiluted tea tree oil.
Make a Weaker Tea Tree Oil Spray
If you fear an allergic reaction to tea tree oil, it's possible to get results with a lower concentration. This solution is most successful against a relatively small bed bug infestation.
As far as home remedies for bed bugs in couch or other areas, you can shake the ingredients in a spray bottle and spray wherever bed bugs might be hiding. Store leftover bed bug repellent in a cool, dark spot. Shake the bottle to recombine the ingredients before using the mixture again.
Does Tea Tree Oil Kill Bed Bugs if You Add Lavender Oil?
Some people enjoy the smell of tea tree oil and put it in an oil diffuser to freshen the air. For many people, however, tea tree oil's scent is too strong to be pleasant.
Thankfully, it's possible to improve the smell of this liquid that you'll be spraying all around your bed by adding a few drops of lavender oil. That oil also repels bed bugs.
Tea tree and lavender essential oils can also be part of an effective bed and mattress disinfectant spray after you eliminate a bed bug problem.
Spray Clean Sheets with Tea Tree Oil
If you have a bed bug problem, run sheets, pillowcases, and any other washable bedding through the laundry regularly. Carry the bedding to the washing machine in a sealed plastic bag so that bed bugs don't spread to other parts of your house or apartment.
Be careful not to spill any bugs when dumping the fabric into the washer. Wash and dry the sheets on the highest possible setting. Heat kills bed bug eggs, nymphs, and adult bed bugs.
The answer to the question "Does tea tree oil repel bed bugs?" is yes. Before putting the bedding back on your bed, spray it with a little diluted tea tree oil to keep it bug-free. You can also quickly eliminate bed bugs with essential oils like peppermint and rosemary. These strong smells deter the bugs from burrowing further into your bedding.
How to use Tea Tree Oil for Bed Bugs: Treating Bed Bug Bites
Besides being a natural bed bug killer, tea tree oil provides relief for various insect bites, reducing pain, swelling, itching, and stinging. Use 5% tea tree oil to avoid causing skin irritation.
Note that pregnant or nursing individuals should not use this solution. Avoid it if you have broken skin around the bites.
If neither situation resonates, test the oil on a small area, such as the back of your wrist. If there's no reaction after 24 hours, apply a little tea tree oil to the itchy bites.
Does Tea Tree Oil Repel Bed Bugs?
Tea tree oil is an effective home remedy for bed bugs. However, it's not quite as powerful as commercial pesticides. It also has a few challenges that mean it's best to use it along with other bed bug control methods.
Due to bed bugs' rapid reproduction, it's necessary to kill every last bug. However, that's unlikely with tea tree oil because you need to spray every bug, including ones hiding in cracks.
Cautions about Using Tea Tree Oil for a Bed Bug Infestation
Unlike with some other products, bed bugs can walk safely across a surface that was sprayed with tea tree oil a few hours earlier. This means that you need to reapply tea tree oil at least once a week to have any hope of fighting an infestation.
Lingering tea tree oil does repel bed bugs—to another part of your house. Applying tea tree oil might make it seem like your infestation has gotten larger!
There are many reasons to try a DIY solution to your bed bug problem before contacting a pest control service. These methods are cheaper and less invasive and avoid harsh chemicals.
You also have many options available, from applying a product like rubbing alcohol or diatomaceous earth to washing clothes on high heat or installing a bed bug trap.
Of course, there are other options for treating bed bugs, in addition to using tea tree oil. Sprinkle diatomaceous earth on mattress, let it sit, and then vacuum. The DE ultimately dries out the bugs' exoskeletons and they die.
You now know all about how to use tea tree oil for bed bugs. You can confidently answer questions like "Does tea tree oil repel bed bugs?" and "How do you use tea tree oil to kill bed bugs?"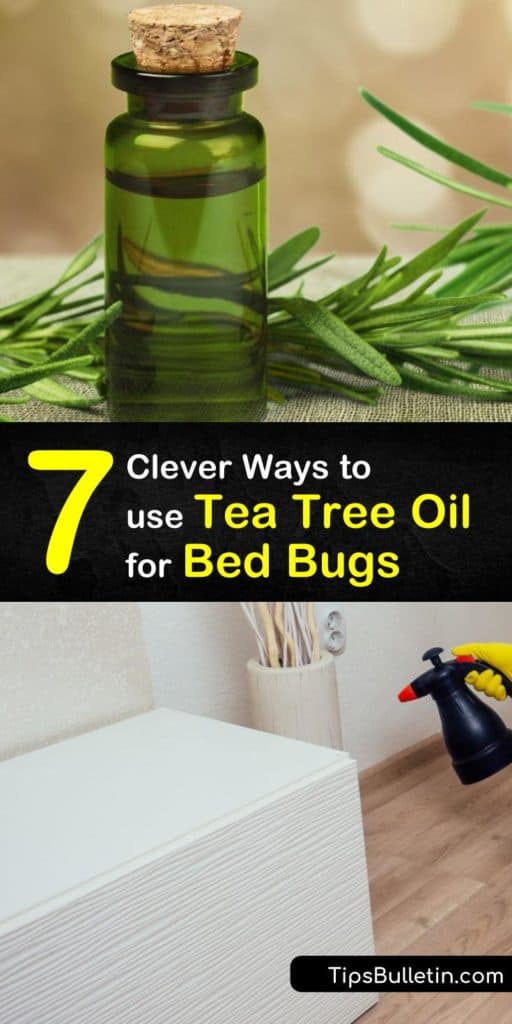 If you found these bed bug control tricks helpful, please share these tea tree oil tips with your friends on Facebook and Pinterest.