You probably invested a lot of time choosing the perfect duvet cover to match your bedding and style. Unlike bed sheets and pillowcases, a duvet requires special washing procedures to ensure that it gets clean while kept in the best condition. We'll show you how to wash a duvet cover as well as wash the duvet itself.
While you use a comforter or standard blanket as is, you use duvets in conjunction with a decorative cover. Duvet covers are often switched throughout the year as the seasons or decorating styles change. While the duvet doesn't require cleaning as often as its cover, there are times when both parts need cleaning.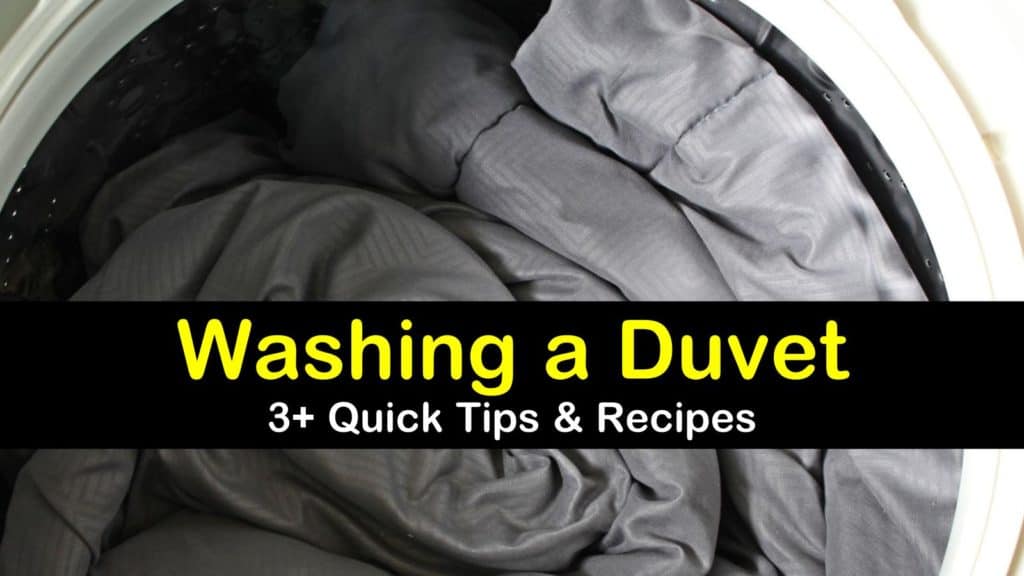 Washing and Caring for a Duvet Insert and Cover
A duvet adds a personal touch to the bedroom and is a great way to brighten the room with the changing seasons. While a standard blanket is easy to throw in the washer for cleaning, there are extra steps to take when cleaning a duvet. We'll show you the step-by-step process for cleaning both a duvet insert and duvet cover.
Can You Wash a Duvet Cover?
Can you wash a duvet cover? Fortunately, the answer is yes. Can you wash a feather duvet? The answer is also yes, but it isn't always easy to wash a feather duvet or other delicate duvet.
However, it's very easy to clean the cover. A duvet only requires cleaning once every five to ten years, and a duvet cover needs cleaning once every month.
Duvet Cover Preparation
Remove the cover from the duvet before cleaning. Check the care label to see if the cover requires dry cleaning. A cotton or cotton blend cover is generally machine washable. Check the seams for any loose stitching or open areas and sew up any tears.
How to Wash a Duvet Cover
A duvet cover is easy to machine wash by following a few simple steps. We recommend washing a down duvet or cleaning a down comforter separately from the cover to prevent damage.
To wash a duvet cover, remove the cover from the duvet and place it into your washing machine. Add a smaller amount of gentle detergent than you would typically for a regular load. Use the gentle wash and spin cycle to prevent damage to the delicate stitching.
Remove the clean cover from the washer and place it into your clothes dryer. Toss in a sheet of fabric softener and set the dryer to a low setting. Avoid drying the cover on high heat to prevent shrinkage.
Washing a Duvet
While a duvet requires minimal cleaning for many years, there comes a time when washing a duvet is necessary. Washing a mattress protector, large bed comforter, or duvet doesn't always work in a home-sized washing machine, so be prepared to get out your quarters.
Remove the duvet cover and check the care instructions on your duvet before washing and drying to ensure proper care. Place the duvet into a large capacity washer and add the laundry detergent and baking soda, which acts as a laundry booster.
Wash the duvet on a gentle setting and run the rinse cycle twice to remove trapped detergent from the thick matting. Place the clean duvet into a large capacity dryer and set it to the gentle cycle with a low heat setting for a more extended period.
Toss in dryer balls or clean tennis balls to prevent clumping of the stuffing. Remove the duvet from the dryer periodically to hand fluff the material.
This also gives you a chance to determine how much more time it requires to dry. After drying, place the duvet outside on a clothesline to air dry even if it feels dry to prevent mildew and dust mites.
Removing Stains from a Duvet Cover
While changing your bedding to deep clean a mattress, you discover that your duvet has a stain. It's easy to clean that stain away without heading to the laundromat for an afternoon of washing. Here is how to clean a duvet to remove stains between cleanings.
Lay the duvet cover across an ironing board. Mix a small amount of gentle soap with warm water and use a sponge to blot the stained area. Avoid using bleach or strong detergents to prevent damaging the material. After removing the stain, rinse the soap residue away with cold water and dry the area with a hairdryer.
If you need to disinfect your duvet or mattress because of user illness, create a mixture of hydrogen peroxide or vinegar with water and baking soda. Either add the solution to the washing machine or put it in a spray bottle to spritz the material for a mattress sanitizer and allow it to dry thoroughly.
There's nothing comfier than climbing into a bed filled with fresh and clean bedding, whether it is a down comforter or fashionable duvet.
Regular cleaning of your bedding not only removes the build-up of dirt, sweat, and mildew, but it keeps away dust mites and other bed-time pests. Most often, duvets do not require a dry cleaner and only need a little bit of your time and know-how to get them clean.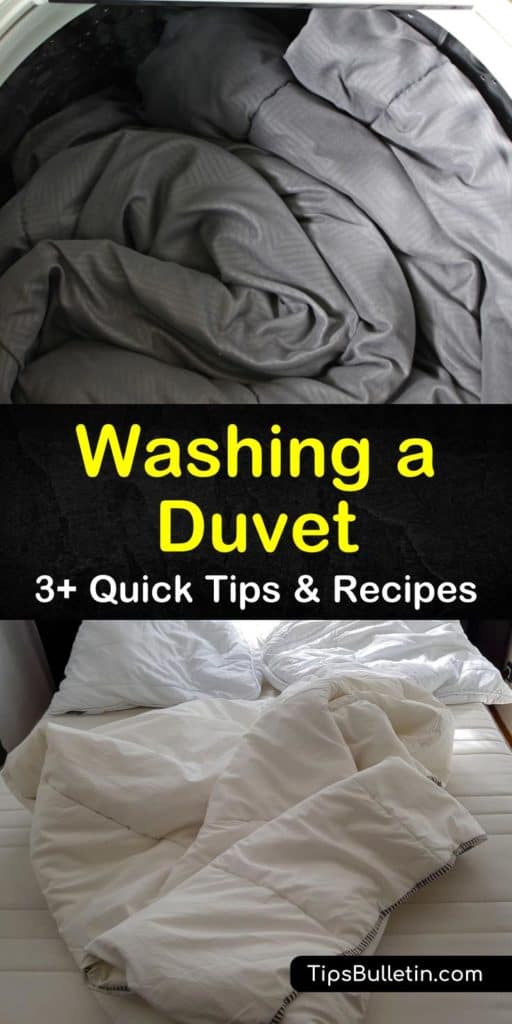 Now that we've shown you how to wash a duvet cover so that you get a good night's sleep while snuggling your clean bedding, why not share our duvet-cleaning tips with your family and friends on Facebook and Pinterest?