Your bed is one of the most used pieces of furniture in your entire home, and quite often it's also the most neglected. The large size can leave many people wondering how to clean a mattress and if it's even possible.
We are going to help you learn how to wash a mattress with plenty of  DIY tips and homemade recipes. Over time, your mattress can collect all types of unhealthy substances that can degrade your quality of sleep and even trigger allergies.
Dead skin, bed bugs, dust mites, bacteria, urine stains, blood stains, and other bodily fluids call it home. Before you throw out that old mattress, let us give you a few DIY tips for some homemade ways to keep it in good shape longer.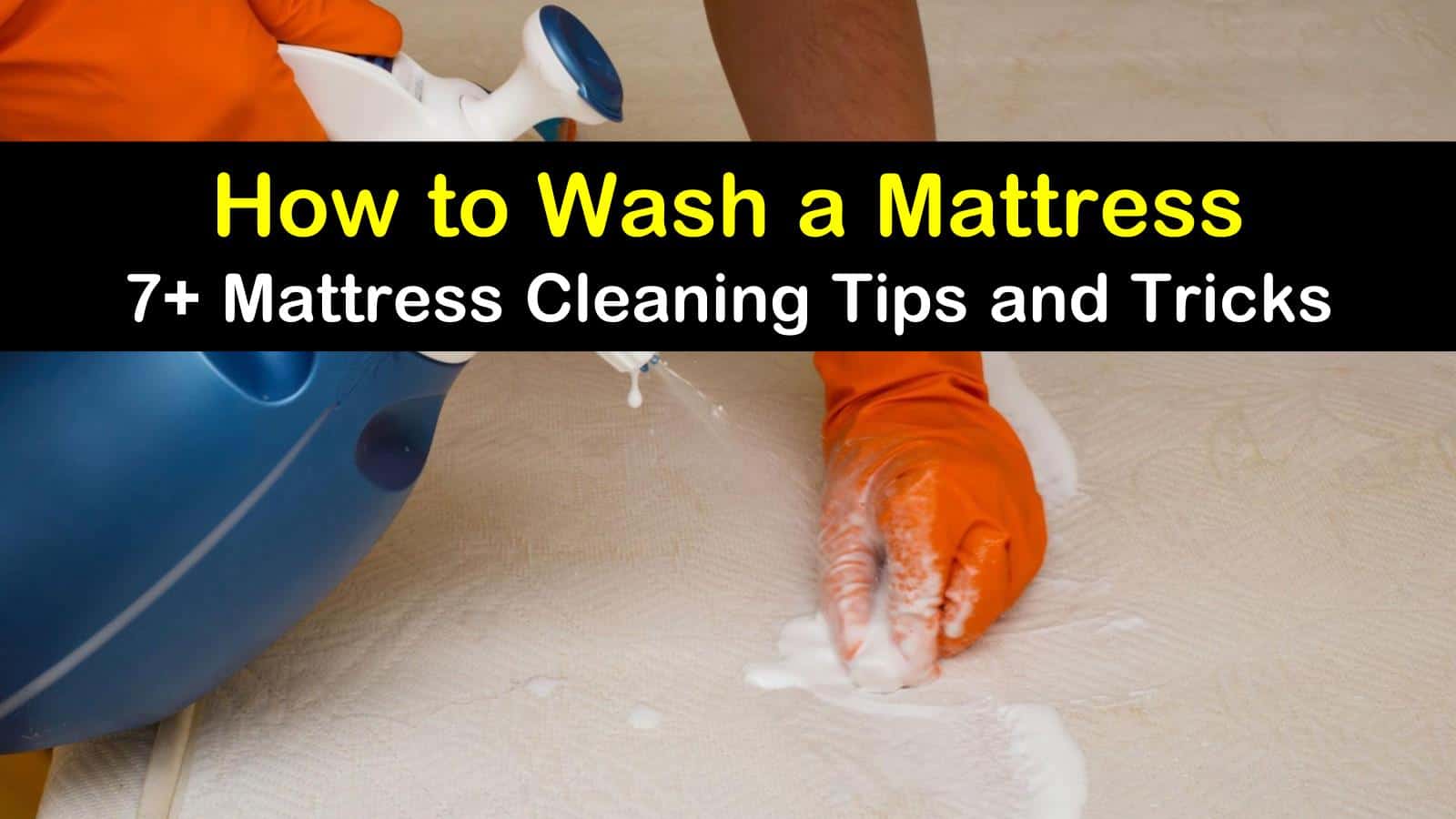 Getting Ready to Begin Cleaning Your Mattress
The tips and tricks that we are going to show you only require a few ingredients that you probably already have around the house. If not, a quick run to the local dollar store should get you everything you need.
These next few items should get you started when your learning how to wash a mattress. You can always get any odds and ends later if you determine that you need them. 
Shopping List

Baking soda
Hydrogen peroxide
White vinegar
Dawn dish soap
Enzyme cleaner
Laundry detergent
Prepare Your Bed
Before you worry about how to clean a mattress, you need to strip down the entire bed. Remove the bed sheets and pillowcases and put them in the washing machine. The washing machine is not how to wash feather pillows or blankets though, so set any of those aside.
If you have a mattress pad, mattress topper, mattress cover, or mattress protector, remove those, as well. You should be able to see the entire surface of the mattress and have access to all the nooks and crannies. Make sure that you have plenty of ventilation.
Even removing pillowcases and bedsheets can create a lot of dust that may trigger allergies, and many of these cleaning tips will cause the mattress to get damp.
You want your bed to dry as quickly as possible after cleaning it. Open windows and use ceiling or stand-alone fans to create as much air as possible once cleaning is complete.
Mattress Cleaning without Cleaning Products
These first couple of tips do not require any cleaning products at all. It's a good idea to start with these tips and move through the remaining tips as needed.
Vacuum Cleaner
With the linens removed, vacuum the entire surface of the mattress using the upholstery attachment to remove dust and other loose particles that may have accumulated. Pay special attention to folds or crevices. Press lightly into the surface to get a deep clean.
Once you vacuum the top of the mattress, flip it over and do the bottom. A pillow top mattress can collect extra dead skin and dust mites in the soft cushion, so use special care when vacuuming this type of bed to be thorough.
Fresh Air and Sunlight
We know what your thinking, how can you wash a mattress with fresh air and sunlight? The answer is pretty simple. If it's warm out and you have some help, drag the mattress outside. Few things will be as natural or freshen better than fresh air and sunlight. The warmer it is out, the better the cleaning. 
Dust mites, bed bugs, mildew, and mold hate the warm sunshine and run for the hills or die. A gentle breeze can penetrate deep inside the mattress and leave it smelling fresher than any chemical can. 
Place your mattress outside early and prop it up to expose it to air and sunlight. Use a large flat paddle to beat out any dust and rotate the bed several times to present all sides to sunlight. Bring it back in at the end of the day.
How to Wash a Mattress with Common Ingredients
Now we will begin to use some everyday household items to get our mattress clean.
How Can You Wash a Mattress with Baking Soda?
Baking soda works as a powerful deodorizer. It absorbs smells very well, and it can also be made into a paste to help remove stains.  To harness the power of baking soda, sprinkle a thin layer across the entire mattress and gently work it in with a scrub brush.
Don't damage the bed with the scrub brush, just penetrate the surface. Let the baking soda air dry for several hours to absorb foul odors and then use a vacuum cleaner to suck out all of the powder from the mattress.
Baking Soda Stain Lifter

5 tbsp. baking soda
1/4 cup hot water
Mix the baking soda and hot water to form a paste, using more baking soda as needed to get a very thick paste. Scrub the paste into the stain using an old toothbrush and let it dry for several hours. Gently scrape off the dried baking soda and vacuum anything left behind.
Dishwashing Soap
Concentrated liquid dish soap like Dawn can be beneficial to remove some stains, but be careful that you don't get your bed too wet or mildew can set in. To use this method, apply a few drops of Dawn dish soap directly to a stain and scrub in with an old toothbrush. Use a damp cloth to remove the dish soap and the stain.
Hydrogen Peroxide
Hydrogen peroxide is a fantastic way to disinfect your mattress and lift tough stains. It is a perfect way to remove blood, and for getting rid of urine smell from your bed. 
Hydrogen Peroxide Stain Lifter

1 tsp. Dawn dish soap
2 tbsp. baking soda
1 cup hydrogen peroxide
Mix the ingredients in a small bowl and try the cleaning solution out in an inconspicuous area to make sure it doesn't also remove any color or damage the bed. Spot clean the mattress, applying the solution directly to a stained area using a clean white cloth.
Work the solution in with the fabric to remove the stain. Do not use a colored cloth because the homemade stain lifter can pull out the color and use it to stain your mattress.
Reduce residual moisture by blotting the entire area with paper towels or a dry cloth. Once you have removed the stain, discard any remaining solution.
Bring Out the Big Guns to Deep Clean a Mattress
If none of the above tricks have been successful at getting the mattress as clean as you want it, you may need to know how to clean a mattress with one of the following solutions.
Enzymes
Enzymes are excellent cleaners and break down stains very well. You can find enzyme-based stain removers in the pet aisle that work, but there are many products available, and you can even make your own. Follow the directions on the product, which usually calls for you to dilute it in cold water.
Dab a tiny amount on a stubborn stain and allow it to sit for at least 30 minutes to do its work. Once the enzymes have a chance to break down the stain, gently scrub the area with a damp cloth soaked in warm water to remove it.
Shampoo a Mattress
You can shampoo a mattress using upholstery shampoo with a carpet cleaner like the  Bissell 3624 SpotClean Professional Carpet Cleaner to remove the most stubborn stains. These machines penetrate the mattress for deep cleaning, and they are capable of removing most of the water used. You will still need to allow plenty of extra drying time and plenty of ventilation to get the mattress dry as fast as possible.
More Tips and Tricks for Mattress Cleaning
Here are a few things you can do once you have cleaned the mattress stains to keep it smelling great longer and also some things to keep in mind while you work.
White Vinegar
White vinegar is a fantastic disinfectant and works almost as well as rubbing alcohol at killing germs. You can use white vinegar for stain removal, but it can cause your mattress to get too wet. If you put white vinegar in a spray bottle, use it to give your bed a very light spritz every few days to freshen it up and keep any bacteria to a minimum.
Essential Oils
If you don't have any pets, essential oils can be an excellent way to keep your bed smelling nice once you have cleaned it. Put several drops of your favorite smelling essential oils like tea tree or eucalyptus into a spray bottle filled with water and give your bed a very light spritz every few days.
Tee tree oil is what kills bed bugs naturally, and it is also a powerful tick repellant. Many essential oils kill bacteria as well as smell pleasant, which makes them very useful for keeping your mattress fresh, but many can be harmful to your pets especially if they get the oils on their skin. 
Don't Forget
No mattress is designed to get wet, but memory foam mattresses are especially susceptible to this problem. This type of bed can let fluids seep deep inside where they will be tough to remove, creating an environment perfect for bacteria and mold. Always apply as little liquid as is necessary for any of these cleaning tips and use towels, fans, etc., to make sure it dries quickly and thoroughly, especially when you deep clean a mattress.
Many of these mattress cleaning tips and tricks will also help when washing a mattress pad or mattress protector, and they can show you how you can clean upholstery yourself. Use these same tricks to clean a couch or recliner.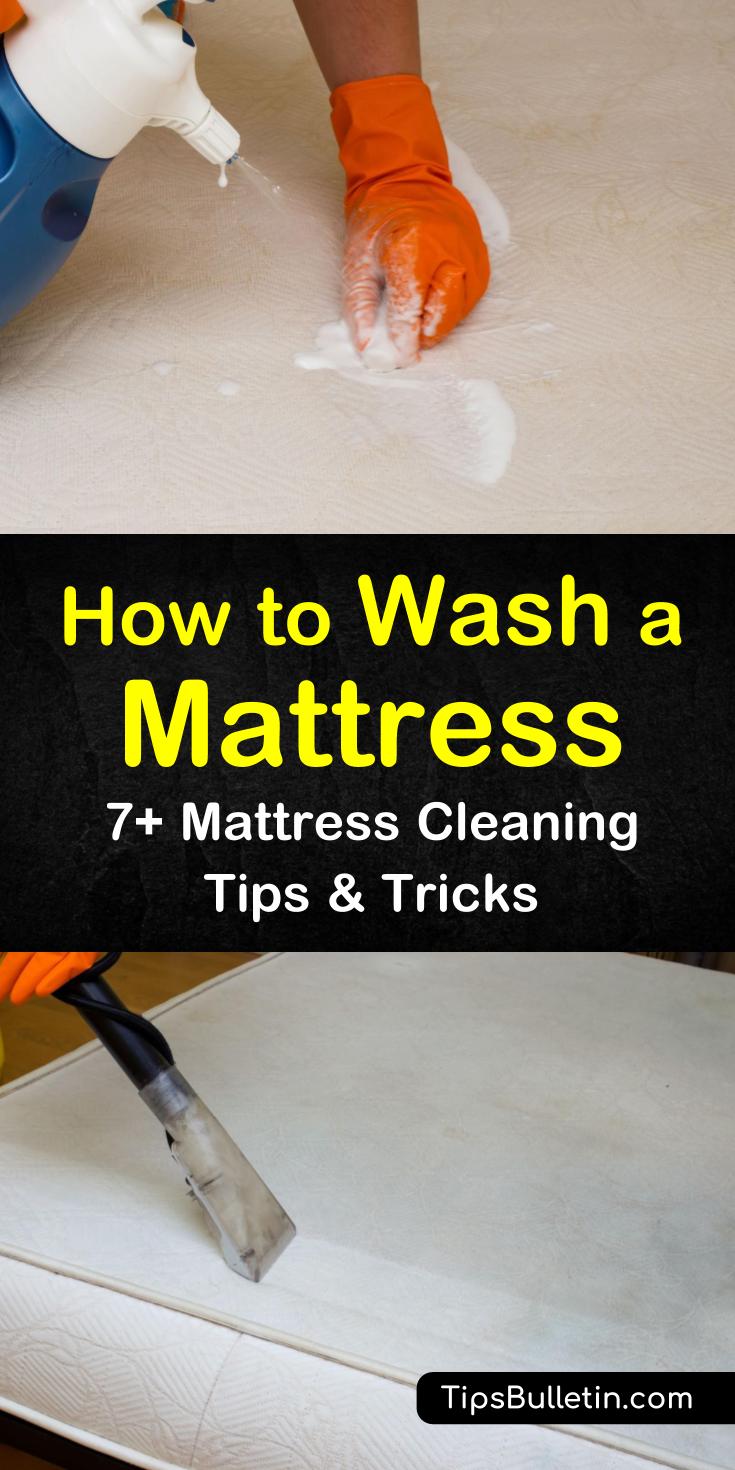 Hopefully, our tips and tricks have saved you from needing to buy a new mattress.  We're confident that following our suggestions in this guide will leave you with a clean bed that contains fewer allergens. If you learned some ideas for how to wash a mattress, please share this post on mattress cleaning on Pinterest and Facebook.