Our homes are full of blankets made from all sorts of fabrics, and they add beauty and appeal to every room they grace. But time and regular wear and tear take their toll on your blankets and comforters, and dirt and grime eventually spoil their appearance. Understanding how to wash blankets of all kinds along with the bed sheets and pillowcases helps you keep control over your home.
Having a tried-and-true approach for how to wash a fleece blanket or wool duvet cover adds a powerful tool to your cleaning kit. Our article gives you the goods on washing blankets and shows you the path to a cleaner home.
With our useful tips on how to wash a down blanket and other blanket types, you help your family sleep comfortably and under clean bedding. We point you toward the right approach for different fabrics and fillings and include suggestions for getting electric blankets and other tough-to-clean coverings looking beautiful again.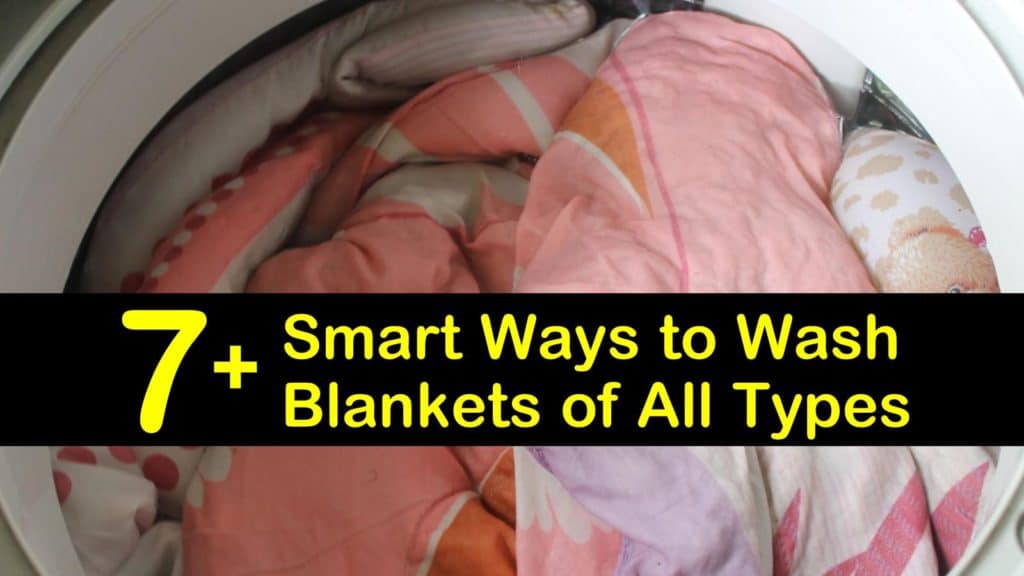 How to Wash a Fleece Blanket
When you clean up a mess on a bed and want to find out how to get mud or blood stain out of mattress surfaces and bedding, the first thing you check is the type of blanket you have.
Feather blankets have different treatment requirements than cotton covers, and not taking those needs into account results in damage to the quilt. To prepare for all situations, try to have a cleaning solution ready for any fabric you encounter.
How to Wash a Down Blanket and Other Fabrics
With the instructions here, you're ready for any blanket type you have. We include cleaning suggestions for getting wool and cotton blankets clean as well as the best way to wash a down comforter.
You learn which covers are perfect for the washing machine, and we show you how other types do best with delicate treatment and hand cleaning.
Send Your Down Blanket through the Wash
Nothing tops the comfort and luxury of a down blanket. Too much dust and dirt exact a high price on feather comforters, though.
Dust mites and other critters love to set up shop in unwashed covers. Before you reach for the organic dust mite spray, try our reliable plan for how to wash your blankets. You'll have a one-stop laundromat.
Can you wash a duvet or feather pillow? What about a quilt? Consult the care instructions on the tag before washing your blanket or washing a feather duvet. Wash the bedding on low heat on a gentle cycle that includes a rinse cycle, and only use a detergent that has no bleach included.
Add tennis balls or dryer balls to keep the down from clumping in the washing machine. You can also put tennis balls in the dryer with the material to ensure the material dries completely.
Air drying is best for the blanket, but sending it through a low heat cycle is acceptable, too. Include the balls in the dryer to act as an agitator and to fluff up the feathers in the blanket or comforter.
The balls let the down fluff up during the spin cycle. Increase the dryer to high heat if trying to kill bedbugs, as your dryer is one of the most useful household items that get rid of bed bugs.
Pretreat and Wash Fleece Blankets with Liquid Dish Soap
Plush blankets seem heaven-sent, especially to new parents who want fabrics that clean easily and stay soft. With the right attention, your fleece fabrics are ideal for daily machine washing.
A little attention from you and a few drops of dish soap ensure your fleece blankets a long and fulfilling life with your family.
Treat any stains with a drop of dish soap, and use a toothbrush or soft-bristled brush to work the detergent into the stain. Wash your fleece blankets alone on a delicate cycle to prevent them from rubbing against other fabrics.
You can tumble dry the cover on a low heat setting, but hanging it to air dry preserves its softness longer.
Machine-Wash Cotton Blankets
Cotton is a sturdy, natural fabric that takes plenty of abuse without showing signs of damage or wear, even if you have to follow the way to get slime out of a blanket. With proper attention from you, your cotton throw blankets are ready to endure years of constant use and misuse. Best of all, cotton doesn't melt in the face of heat or intense scrubbing.
Our process for cleaning cotton blankets comes down to regular trips through your washer and dryer. Use a mild detergent that won't harm the fabric, and never wash cotton blankets with bleach unless their tags specifically call for it.
Most cotton items get along with similar materials and do well in a full load, but always consult the manufacturer's cleaning instructions. Dry cotton on the clothesline or a medium-heat dry cycle.
Hand Wash Crocheted Blankets
We probably all have a few crocheted blankets that we don't know how to clean. The thought of exposing these delicate and attractive covers to the wrong heat or detergent and ruining them is too much to bear.
But, crocheted fabrics require routine cleaning, just like any other piece of bedding, and it's possible to clean them without causing harm.
Always check the tag to avoid damaging the fabric. Fill a basin with cold or warm water, add a teaspoon of soap, and stir to mix. Add the blanket by itself, and swish it in the soapy water.
Do not scrub or wring the fabric. After a few minutes, replace the soapy water with fresh water, and keep swishing. Continue to rinse the blanket in clean water until you remove all soap residue.
Brush off excess water, and lay the blanket flat on dry towels. When one side is dry, flip the blanket over and dry the other side.
Wash Acrylic Blankets in Cold Water
Acrylic takes wool's place in fabrics. This human-made material adds toughness and prevents allergic reactions, and it requires special attention to clean it properly. Hot water and harsh soaps damage acrylic.
Our acrylic blanket cleaning option keeps your covers made from synthetic fabrics smelling like new and looking fantastic, and you can use it whenever you encounter dirty bedding.
Treat stains with liquid dish soap, remove pet hair from blankets before washing, and add fabric softener to the load to improve the blanket's texture. Wash the bedding with similarly colored fabrics on a cold or cool water cycle. Dry the cover on the line or a low-heat dryer cycle with dryer sheets.
You can also take care of washing bed pillows this way as long as they are not made from memory foam. Wash two pillows at the same time to keep the washing machine balanced. Put them in the dryer afterward.
Get Wool Blankets Clean with a Special Detergent
We're all familiar with wool blankets and have experienced their warmth. Wool is a fantastic natural insulator and is ideal for keeping you and your loved ones cozy and warm on a freezing winter morning, but cleaning them is a challenge if you don't have a risk-free cleaning choice ready to go.
Our method for washing wool blankets ensures that they remain in good shape.
Brush any lint off the blanket, pretreat stains with a wool-specific soap such as Woolite, and add one tablespoon of detergent to the washing machine. Let the blanket soak in cold water in the machine for about half an hour, then run the blanket through a gentle wash cycle.
Hang the cover to air dry on the clothesline; expect a drying time of three to five hours. Store the clean blankets in a cool, dark spot with mothballs to keep them in top shape.
How to Wash Blankets
Some blankets aren't right for cleaning solutions meant for wool, cotton, or fleece fabrics. There are lots of comforters that include electric wiring for heating, and you might even own some blankets that require dry-cleaning only.
No worries, though. We have cleaning options that work for these exceptional cases and leave them in tip-top condition.
Washing Special Blankets
In this section, we provide you with tools and tips that help you master cleaning blankets that have special requirements. While caring for your blankets you may wonder are pillows washable, too?
Pillows are made from a variety of materials – some are suitable for cleaning in the washing machine while others may require additional care like dry clean only and electric blankets.
Our cleaning suggestions include processes that get your electric and dry clean only blankets back into rotation, and primed for more action. With these cleaning suggestions, your special comforters and blankets stay fresh and clean.
Hang Dry-Clean Blankets on the Line
Reading the blanket's manufacturer's instruction label gives you valuable information and keeps you from damaging your property. But do you have choices if you encounter a smelly blanket with a dry cleaner tag? You bet you do.
Before you haul the bedding into the car for dry cleaning and drop cash down, try airing it out on your clothesline. Hang the blanket in a spot where it catches a breeze or constant airflow.
The air movement pulls odors out of the blanket and dries out any moist spots that might cause new smells. Flip the cover after a few hours so that every area gets equal cleaning time.
Follow Your Electric Blanket's Care Instructions
You might feel daunted by the wiring running through your electric blanket and avoid cleaning it for fear of harming it. But over time, oil and dirt can turn the cover from a warm comfort to a disease and filth vector.
There's no need to throw a dirty electric blanket away, though. You can safely clean your electric bedding and use it for many years. Electric blankets pop up in all shapes and sizes, and they have lots of different care instructions.
Check the tag and any documentation. Usually, you clean electric blankets by disconnecting them, pre-soaking them in gentle detergent, and hand washing and rinsing them. Never use bleach on your electric blanket. Air dry the bedding.
We hope you had an educational experience inspecting our tips on how to wash a fleece blanket. We have blankets all over our homes, and they get dirty without our noticing.
We show you how to wash a down blanket and give you suggestions on washing other fabrics as well. Our blanket-cleaning methods elevate your cleaning game and help you keep your bedding clean and safe.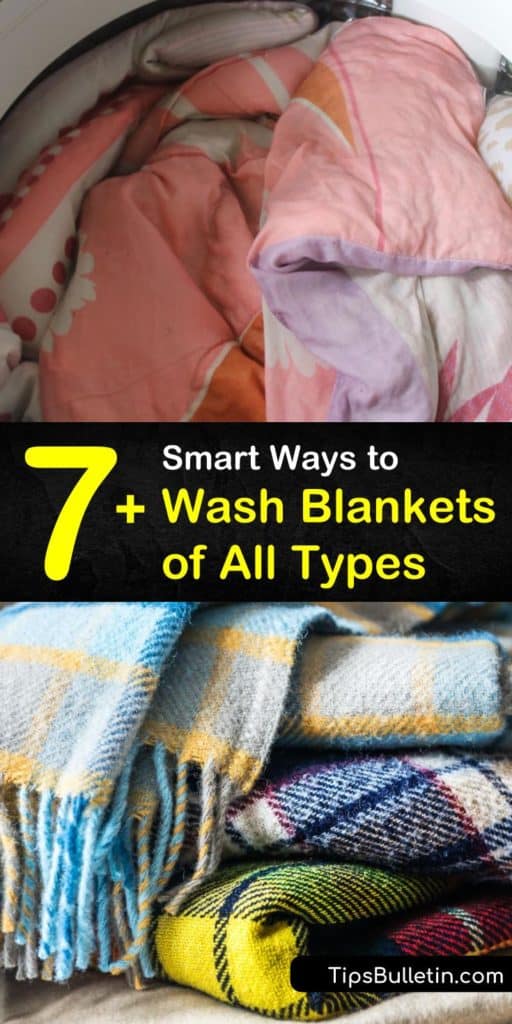 Thanks for reading our blanket-cleaning recommendations. Help others discover how to wash blankets by sharing our helpful article on washing blankets on social media platforms, including Pinterest and Facebook.