Canvas sneakers are versatile, comfy, and the ideal shoe for casual wear and workouts. While they are less challenging to clean than leather shoes or suede sneakers, white canvas sneakers are magnets for dirt and grass stains. Learn how to wash canvas shoes to remove everyday dirt and tough stains by hand and machine-washing with safe and effective cleaners.
Canvas is made from cotton and linen, and this breathable fabric is excellent for shoes, keeping your feet cool and moisture-free. However, canvas shoes tend to absorb stains quickly, especially if they are white sneakers, and it's essential to clean them promptly to keep them in tip-top shape.
Fortunately, many simple cleaners remove loose dirt, stubborn stains, and scuff marks and get white canvas shoes white again. Unlike leather and suede shoes that require special care to prevent damage, canvas is a forgiving material that is easy to clean.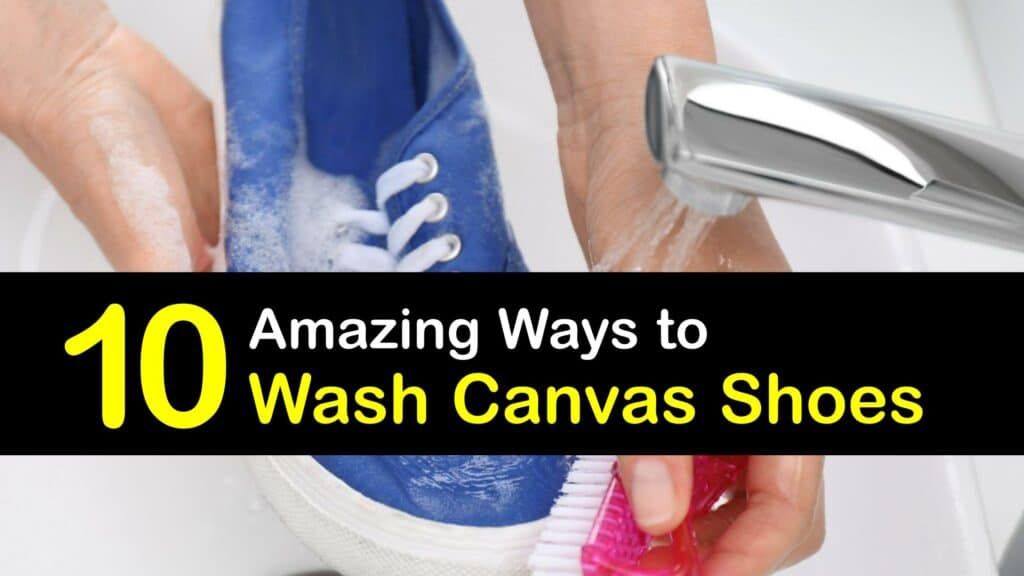 Cleaning Canvas Shoes
If you have a dirty pair of canvas shoes, they are the easiest shoe type to clean, whether you hand-wash them or put them in the washing machine. Follow these cleaning tips to help you turn your dirty tennis shoes or muddy sneakers into clean shoes.
The Best Way to Wash Canvas Shoes to Remove Everyday Dirt
The best way to wash canvas shoes if you don't want to clean them in the washing machine is to hand-wash them with mild detergent. Remove dirt from your sneakers by cleaning them with soapy water.
Take out the shoelaces, tap your shoes outside to remove bits of loose dirt and debris, and set your shoes on a flat surface. Fill a small container with warm water and add a squirt of mild laundry detergent. Place the shoelaces in the soapy water to soak, and use a clean rag to apply the soap solution to the dirty shoes.
Gently scrub the canvas material in small circles until the stains are gone. Finish by wiping the shoes with a damp cloth to remove residue. Rinse the laces under clean water.
Washing Canvas Shoes to Remove Stains
While washing canvas shoes with dish soap or detergent removes everyday dirt, it may not eliminate a stain. Look for a bottle of fingernail polish remover in your bathroom; this acetone liquid quickly eliminates stains.
Apply some nail polish remover to a pad, cotton ball, or Q-tip and rub it onto the shoe stain. Press and rub the cotton over the shoe surface in the same direction, using fresh cotton as needed until the dirt is gone, and wipe the surface dry with a paper towel.
How to Wash Canvas Shoes with White Vinegar
White vinegar has many uses – cleaning is one of them. Its acidic qualities help break up stains, and it's safe to use on canvas materials. Prepare a vinegar cleaning solution to wash canvas sneakers.
Pour two tablespoons of vinegar into a bowl and add a cup of water. Dip the head of an old toothbrush into the liquid and apply it to the stained areas of your shoe.
Brush the spot lightly with a circular motion and dip the brush into the cleaner each time you move on to another area. Once the sneaker is clean, wipe it with a damp cloth to remove the vinegar smell.
How to Wash White Canvas Shoes
You may feel intimidated about how to clean white shoes. However, the color is the only difference between colored and white canvas shoes. While stains are more noticeable on white shoes, they are relatively simple to clean.
Oxiclean is an excellent bleach alternative and helpful in cleaning white canvas shoes. Follow the instructions for diluting Oxiclean with water and apply it to your shoes with a scrub brush.
Another way to remove stains from white canvas sneakers is to use a Magic Eraser on mesh shoes and canvas. Dampen a corner of the eraser, wring out the excess water, and rub it in a circular motion over the dirty areas of your shoe. If you do not have either of these products, consider using non-gel toothpaste to remove canvas shoe stains.
Using Baking Soda to Clean Canvas Shoes
After washing canvas shoes, you may notice that the soles are dirty, leaving your sneakers with a clean top and filthy bottom. Here is how to use the gentle scrubbing power of baking soda to remove stains and grime from the bottom of your shoes.
Remove the shoe laces and place your shoes upside down on newspapers. Mix a half-cup of baking soda and a half-cup of warm water in a container and apply the mixture to the shoe soles with a soft brush.
Massage the paste into the crevices to loosen grime and dirt, using more cleaner as needed. Finish by rinsing the shoe bottoms with clean water and drying them with paper towels.
Removing Grass Stains from Canvas Shoes
The best way to wash canvas shoes with grass stains is to combine white vinegar and baking soda. These two ingredients create a strong bubbling cleaner to break up stains naturally.
Make a paste with cold water and baking soda, and use an old toothbrush to rub it over the grass stain. Combine white vinegar and a couple of drops of liquid detergent into a separate bowl, apply it to the baking soda paste on your shoe, and use a circular motion to clean the stain. Rinse the shoe with cool water and dry it with a towel.
Cleaning Canvas Shoes with Oxygen Bleach
Oxygen bleach, or percarbonate of soda, is a safe alternative to chlorine bleach. It removes tough stains, brightens white shoes, and is safe to use for cleaning canvas sneakers. Soak your canvas sneakers to remove dirt and debris.
Fill a plastic tub with a gallon of warm water and add one scoop of oxygen bleach. Swirl the liquid to dissolve the powder, and soak your shoes in the solution for an hour. Clean the canvas surface with a scrub brush, and rinse your sneakers beneath running water until it runs clear.
Is it Safe to Wash Canvas Shoes in the Washing Machine?
Most canvas shoes are safe to clean in the washing machine. However, some manufacturers vary – check the care tag on your sneakers to ensure you can machine wash canvas Vans®. Safely clean your canvas shoes in the washer with these tips.
Remove the insoles and shoelaces and place your shoes in the washing machine. Add half the amount of detergent you normally would, and use the gentle, cold water cycle to clean your shoes. Put them in a well-ventilated area to dry before replacing the insoles and laces.
Ways to Dry Canvas Shoes after Washing
It's always good to clean your canvas shoes now and then to keep them looking their best, but it's equally important to dry them correctly to prevent mildew growth and odor-causing bacteria.
The safest way to dry canvas shoes is to let them air-dry. Remove the laces, expand the shoes, and stuff newspapers inside to absorb excess moisture. Set your shoes on a shoe rack, away from direct sunlight, and replace the newspapers with dry ones as needed. Consider positioning a fan aimed at your shoes to speed the drying process.
Tips for Maintaining Canvas Shoes
As careful as you are to avoid mud puddles while wearing your favorite pair of shoes, they may not stand the test of time if you don't care for them properly. Here are some canvas shoe care tips to help you keep your sneakers looking new.
Canvas Shoe Care
If you accidentally get mud on your shoes, let them dry thoroughly and smack them against a hard surface to remove as much of the dry mud as possible. Try not to let stains set into the canvas material by blotting the stain with paper towels as soon as you notice it and cleaning it with a recommended shoe cleaner.
Never store damp shoes in the closet where they do not have air circulation. Instead, set them on a shoe rack or an area with airflow to dry out before storage. When storing canvas shoes long-term, consider using a shoe tree to help them keep their shape and prevent creases.
Canvas is the simplest material to maintain, and its versatility makes it ideal for footwear. While most canvas shoes are safe for machine washing, many gentle cleaners work wonders for removing tough stains and scuffs, from white vinegar to baking soda.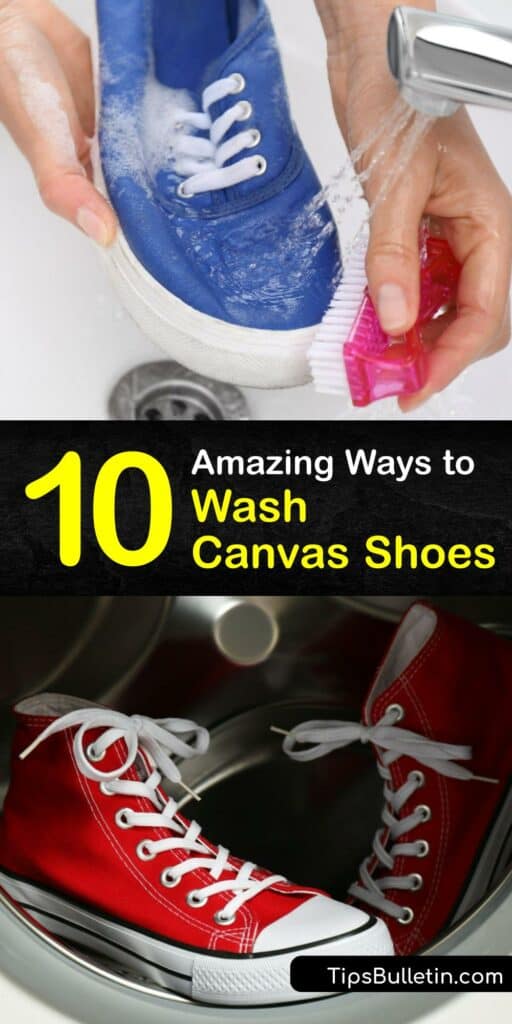 We hope that learning how to wash canvas shoes keeps your sneakers looking their best, and we'd love it if you'd share our canvas shoe cleaning tips with your family and friends on Facebook and Pinterest.