Washing clothes is a fun activity everyone should learn at one stage in their life or another. There is nothing fun in piling up dirty clothes because the laundry man isn't scheduled until days later. You can learn how to hand wash clothes or use a washing machine.
Different clothes require different washing procedures which are always stated on the care tag at the back of the shirt. It is important that you read the care tag before washing; some clothes need to be dry cleaned only, others must be hand washed.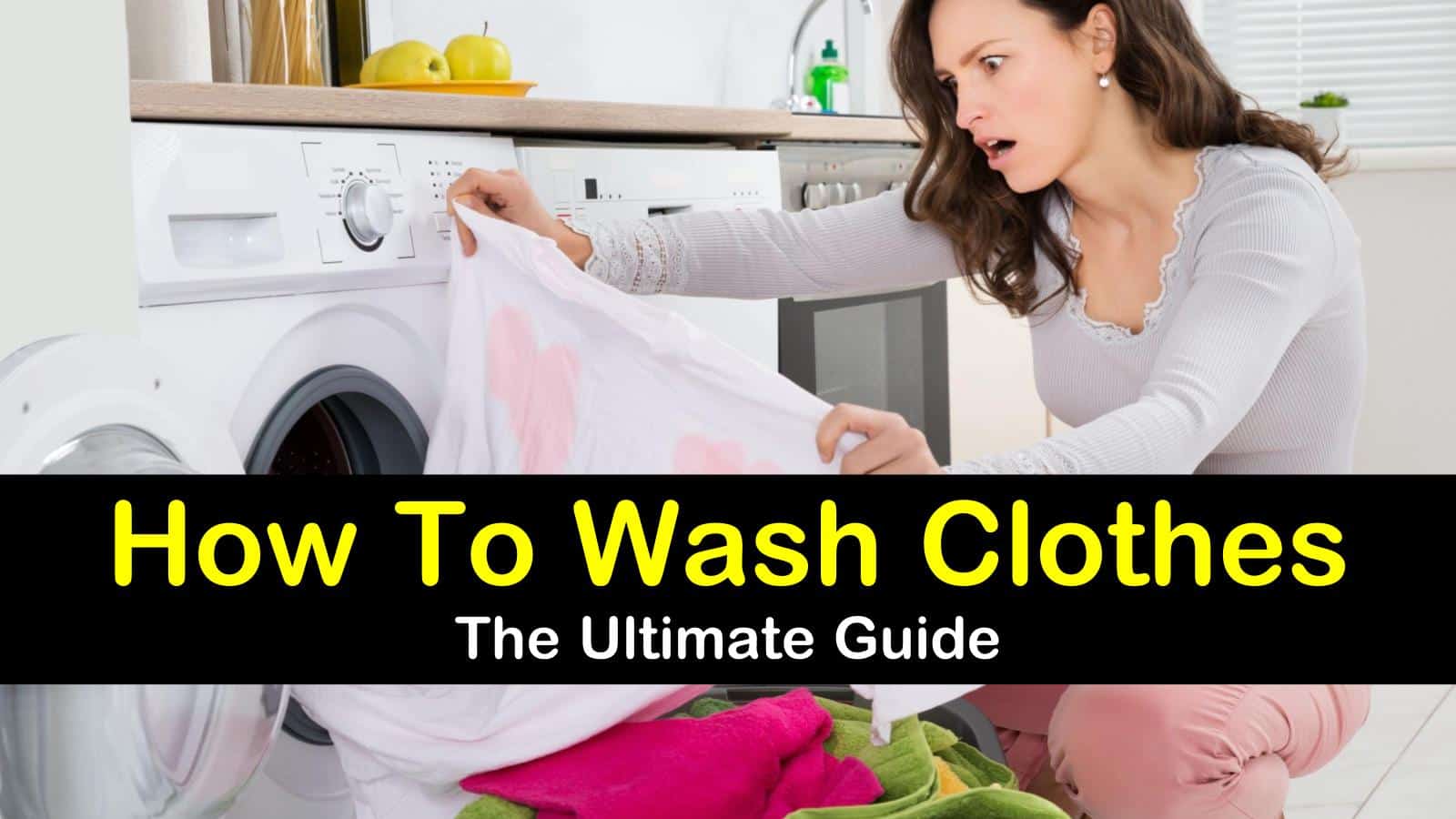 Wash Clothes in a Washing Machine
The easiest and most time-effective way to wash clothes is in a washing machine. It can be used to remove sweat smell from a hat, stains from towels, and keep your t-shirts smelling fresh.
Sorting
The first step to washing clothes with a washing machine is to start separating laundry and sort the clothes appropriately. This helps to prevent bleeding colors and shrinking clothes that you do not want any smaller.
Separate light colored clothes from dark colored clothes. You do not want the dye from the colored clothes to run off and stain the rest of the pile. Divide clothes into two pile, one pile for dark colored clothes and the second pile for white, cream, and pastel-colored clothes.
Separating the clothes saves your white clothes from getting stained. Different materials are used for making clothes and each material has its own special washing instructions.
Occasionally you need to sort by type of clothing, too. If you are washing baby clothes, you might want to separate all these and wash them differently than your regular laundry.
You will be better sorting clothes according to texture and fabric before you begin washing. Thicker materials like wool and denim will need to be washed on a heavy wash circle.
Soft and light fabric like silk only requires delicate washing. When removing smells from towels or you are washing sheets, they should be separated before washing as they both require different washing directions.
Reading the Label on Clothes
Choosing the right temperature/ setting for the washing machine. Just like there are different temperature setting on a washing machine, different fabrics also require a degree of heat to be washed.
As a rough guide, light colored clothes with lots of stains should be washed using very hot water. Cold water is ideal for dark colors and it reduces the chance of color running out from the clothes. If you don't want to shrink any latex clothing, follow the material guidelines on the label.
Picking the Right Wash Load
The wash load depends on the number of clothes being washed. Select large size load if the clothes fill up the machine. Take caution not to stuff the machine with clothes to the brim as this may be dangerous in the long run.
Selecting the Wash Cycle
The wash cycle should be decided based on the fabric and type of clothes being washed. Soft and light fabrics should be washed using delicate cycle. Permanent press is ideal for colored clothes while normal cycle will be perfect for white clothes.
If you have had a problem with bed bugs, using the hottest water setting possible is best to kill bed bugs in clothes. Afterward, dry on high heat, as well.
Choosing the Right Washing Solvent
Pick out the washing liquid like detergent or bleach and pour on the clothes before closing the door. Alternatively, you can fill the washing machine with water and soap before adding clothes.
When washing towels, you can add fabric softeners to make them extra soft and fluffy. Bleach should be used when you want to rid tough stains from your clothes.
Remove Stains Before Washing
Take care of obvious stains before washing items to ensure that they are removed. Even when you eliminate a grease stain, sometimes the odor lingers behind. To get grease smell out of clothes, add some vinegar to the rinse cycle.
Vinegar and dish soap are the best degreaser for clothes and take care of many different unpleasant odors in your laundry and make your clothes softer, as well. Use this power combo to remove dried Modge Podge from fabric, eliminate glue stains, and take care of mud or grass stains.
How to get old grease stains out of clothes requires a little different treatment than a blood stain, grass stains, or what gets coffee stains out of clothes, so it helps to know what caused the stain before treating it. Have some home remedies on hand to treat all kinds of stains.
Baking soda, hydrogen peroxide, vinegar, dish soap and rubbing alcohol are all important stain removers to keep in your cleaning closet. Alcohol is ideal for getting turmeric out of clothing – the pigment in mustard.
If you have a glue spill or need to get sticker residue off clothing, try dabbing the stain with one of these household supplies. Usually one (or more) will work expertly to eliminate the stickiness.
Drying
After washing the clothes, the final stage is moving it to the drying machine. Some clothes are better off air dried so be sure to check the label and follow the instructions written.
The dryer also has different settings suitable for different fabrics and colors. The heavy setting is used for drying white clothes, the permanent press for colored clothes, and the delicate setting is used when drying delicate fabrics.
How to Hand Wash Clothes
Lack of a washing machine doesn't mean you cannot wash your clothes; with a bucket, water, and detergent, you can have your clothes sparkling new in no time. When cleaning sticky things, hand washing can be preferable. Getting sap out of clothes will be easier when using gentle hand washing methods.
Start by filling a bucket with enough water. Pour mild detergent into the bucket of water and add the dirty clothes. Swish the clothes in the water and leave it to sit for several minutes so the stains come off.
After a while, bring out the clothes and rinse them with water until there are no traces of soap on the clothes. Air dry the clothes in the open.
How to Prevent Clothes from Shrinking
There's nothing more deviating than bringing out your favorite sweater from the washing machine looking all shrunken. To prevent shrinking polyester pants and clothes, here are few steps to follow.
How to Keep Your Black Clothes Black
Faded black clothes are not pretty. In order to maintain the color of your black clothes, follow these guidelines.
Reduce the amount of time you wash your black clothes. Over-washing will leave the clothes looking dull and faded. Wash black clothes together and not with other colors. Before washing, turn the clothes inside out to reduce the amount of friction on the surface.
Use cold water when washing. A delicate cycle should be used to wash clothes if using a washing machine. Use a specialized detergent meant for washing colored clothes. Such detergent can be found in any grocery store. Instead of drying your black clothes with a drying machine, hang them out in the open to air dry.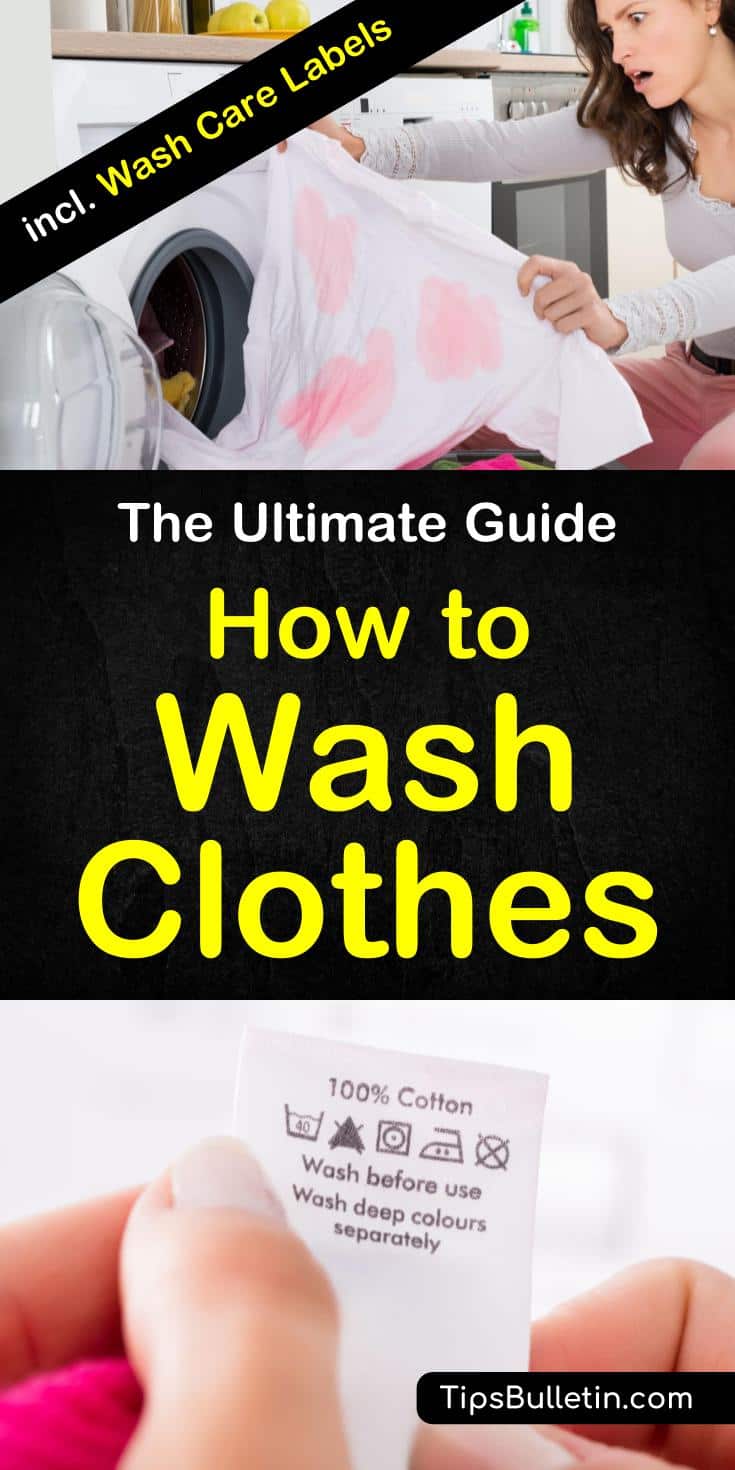 If you enjoyed reading about how to wash clothes properly, please share these clothes washing and drying tips with your friends on Facebook and Pinterest.