Washing your couch covers seems like a simple task, especially when faced with the overwhelming idea of cleaning your entire couch. Unlike your heavy furniture, the ease of removable slipcovers from around the cushions feels like mere child's play. Yet, knowing how to wash couch covers the correct way saves you an unnecessary headache in the future, especially if you want to avoid shrinking the covers or having them lose their shape.
When washing couch covers, pay attention to the manufacturer's labels to determine what cleaning methods and products suit the particular fabric. The care instructions explain whether your favorite cushion covers from Ikea require a water-based cleaning product or a solvent-based cleaner made for dry cleaning only.
This information is crucial for maintaining the look and texture of your furniture, as well as preventing unwanted stains. No matter the process, these simple techniques show you how to wash sofa covers safely and efficiently.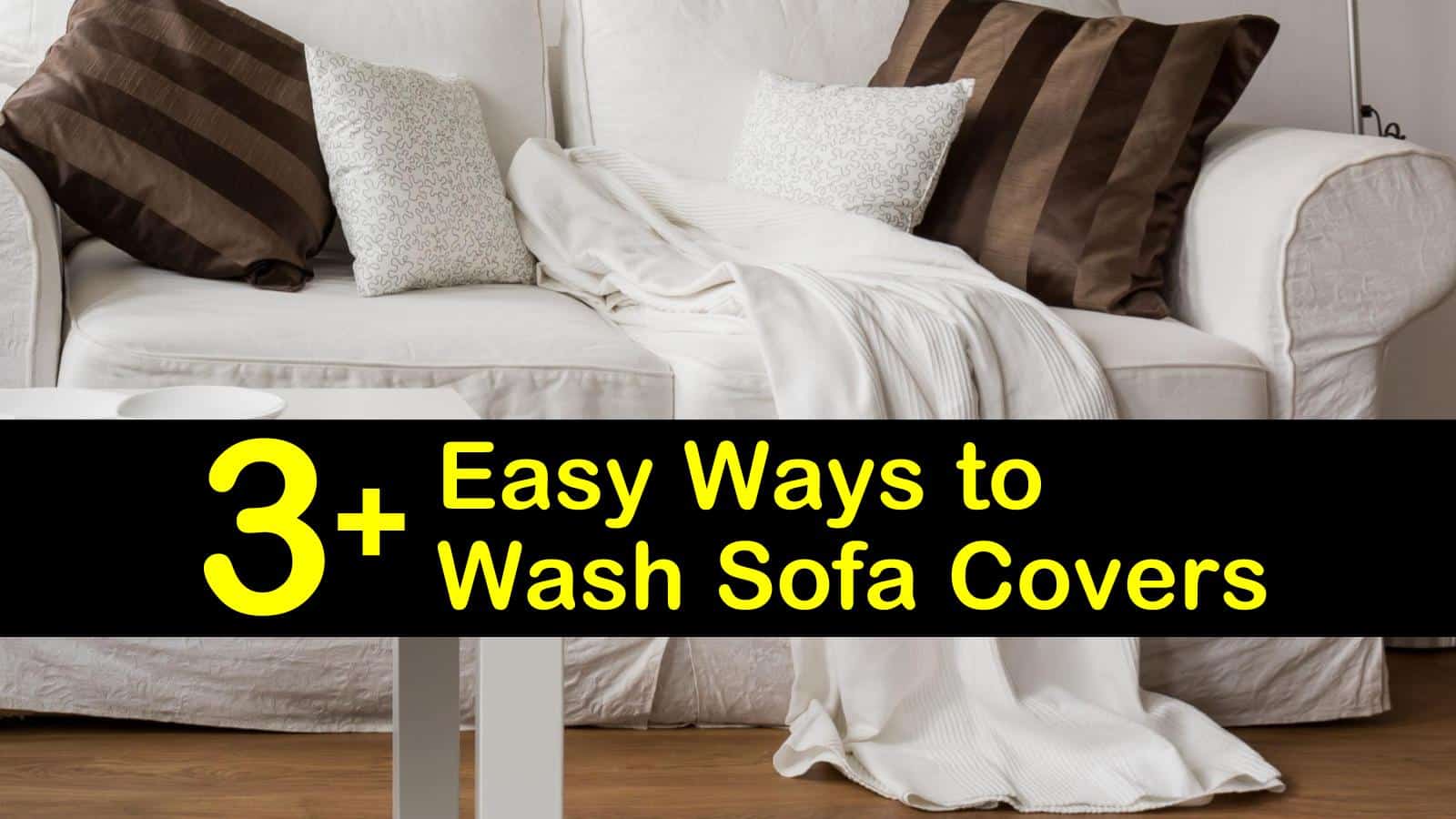 How to Wash Sofa Covers with Ease
One incredible perk to washing removable covers is that you don't risk damaging the couch cushions themselves with liquid from products or a steam cleaner. Similar to washing a mattress, too much moisture during cleaning runs the potential of mildew and mold building up inside the cushions.
By removing the slipcovers, you spare your pillows from this horrible fate. The same applies to washing and cleaning other types of covers. Can you wash a duvet? Read on to determine if this is feasible.
Determine If Covers are Machine-Washable
Before you clean couch covers, determine whether they require washing by hand or in the machine. If attempting to clean using the washing machine, your covers need to be both pre-shrunk and colorfast. If these have not been pre-shrunk, you run the risk of not being able to put them back on the cushions after cleaning.
Equally, if they are not colorfast, the colors fade quickly in the wash cycle. To double-check whether your covers are suitable for the laundry, check the manufacturer's tag. Testing the color by scrubbing a dry, white cloth along the surface also indicates its ability to hold its hue.
If the color bleeds into the fabric, wash it by hand. Other things to avoid when cleaning in the washing machine are cleaners like bleach and hot water.
Wash Couch Covers in the Washing Machine
After you've deemed your couch covers washable, you need to know how to wash couch cushion covers properly to not only clean them but get rid of unwanted stains and smells. Prepare the couch cushions for washing ahead of time by removing all pet hair and dirt before tossing them into the washing machine. Use the upholstery attachment on your vacuum cleaner to suck up gunk and grime.
Next, remove the cover from the cushion and close the zipper before tossing it in the washing machine to spare you from untangling the couch cover afterward. Wash with cold water and a mild detergent on a gentle cycle. Most people avoid the dryer after washing to prevent shrinking.
If you need to use the dryer, use a low heat setting like tumble dry. Otherwise, place them back on the cushions to air dry. After they've completely dried, return the pillows with their covers to the couch. If washing suede couch covers, it's best to send them to the dry cleaners.
Washing Couch Covers by Hand
When it comes to cleaning by hand, using dish soap or laundry detergent with warm water generally does the trick. However, excessively dirty covers may require a stain remover, as well. One great solution to hand wash upholstery with a water-based cleaner is by using baking soda and vinegar.
Start by mixing the water and vinegar in a bottle sprayer, then spraying the covers with the solution. If stain removal is needed, like to get blood out of a couch cushion, spot treat the area first, blotting the stain with a damp cloth.
It's always wise to rub from the outside inward to ensure that you don't spread the stain and make it bigger. Afterward, wash the whole cover with the solution by gently scrubbing it with a clean towel.
Once finished, sprinkle baking soda over the slipcover and let it soak for 30 minutes. Vacuum away the leftover powder to eliminate the stain and any lingering odors. Use this recipe to remove urine smell from a couch or for an excellent way to wash couch pillows and cushions that are only mildly soiled.
Hand-washing is also better for some other linens, too. Washing a down comforter at home should usually be completed by spot cleaning. Many times it also applies when you wash a duvet cover, as well. Putting this type of material in the washer can often damage the feathers or other sensitive contents inside and leave a lumpy comforter.
Washing Sofa Covers that are Dry Clean Only
One significant issue that arises when you need to remove body odor from a microfiber couch is that it's resistant to stains and water. While this is undoubtedly a beneficial thing in most cases, it means cleaning with a dry cleaning agent only.
One fantastic way to wash microfiber couch covers is by using a combination of rubbing alcohol and vinegar. Whether washing a microfiber couch with an "S" tag or any other material type that requires this special solvent, the recipe below is the best DIY solution to use.
To clean microfiber with this solution, remove the covers from the cushions and mix the ingredients in a spray bottle. Gently mist over the fabric with the cleaning solution, then scrub using circular motions.
Once finished, dry the covers by vacuuming them or pressing them with a clean cloth. This recipe also works for spot cleaning sofa cushions with tough stains, like red wine or coffee. Washing couch covers is as simple as pie when it comes to keeping your sofa clean.
Not only do the covers make cleaning your couch even more comfortable than if you attempted to clean the furniture itself, but these easy tips and techniques also ensure the covers maintain their shape and size. With so much helpful information out there, you have everything you need to get you started.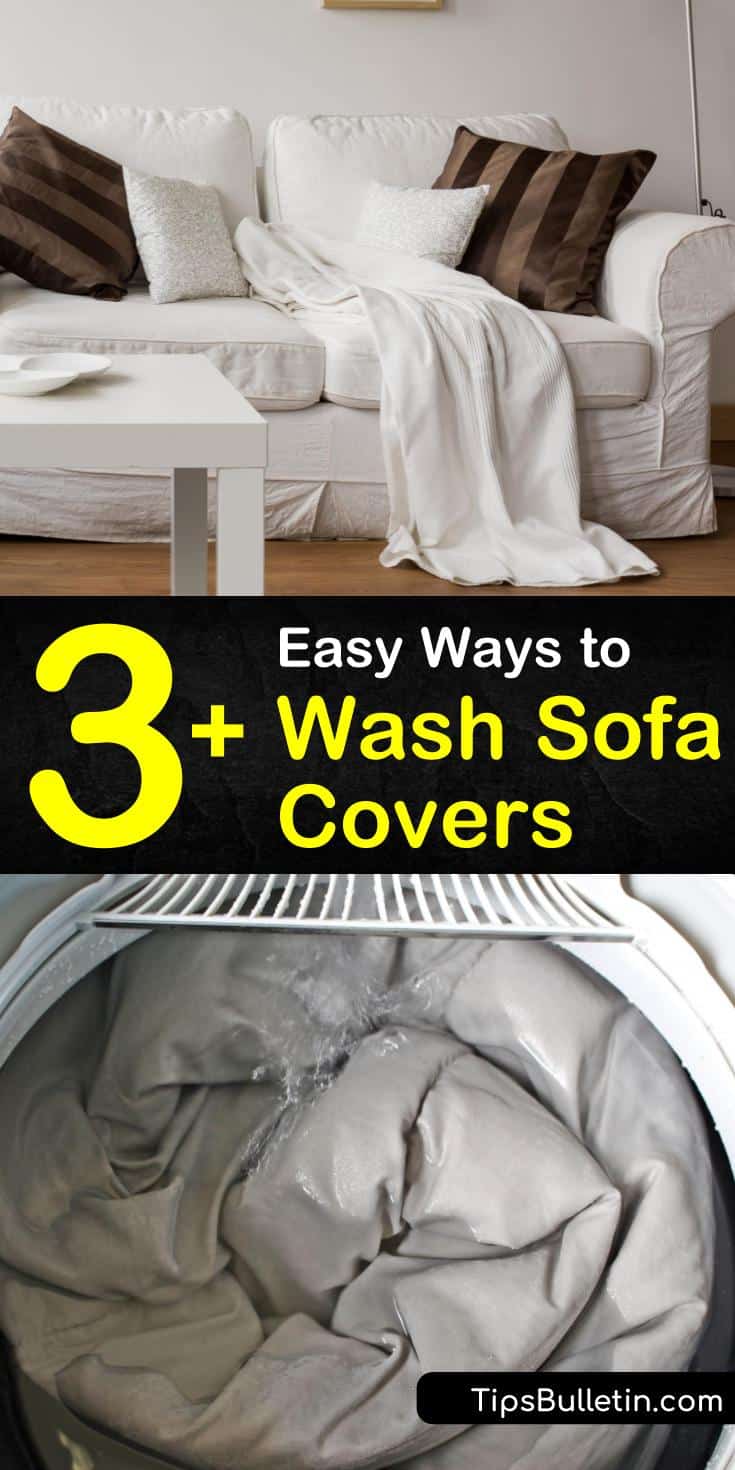 If you found these couch cleaning instructions helpful, then don't forget to share how to wash couch covers with everyone you know on Facebook and Pinterest.