While a pillowcase is excellent for protecting your favorite pillows from everyday dirt, they are not fool-proof. Feather and down pillows still require regular cleaning to prevent dust mites, clumping, bed bugs, mildew, and the accumulation of dirt. Learn how to wash down pillows to clean and freshen them and bring back their original fluff.
Feather pillows are great when you first buy them. They are fresh, fluffy, and so comfy beneath your sleeping head. Unfortunately, those pillows get dirty with body oils, sweat, and everyday dirt, just like a duvet or comforter.
The good news is that just like your bed sheets and pillowcases, cleaning down pillows is not only simple, but it reinvigorates them and restores their original fluffiness, unlike synthetic pillows.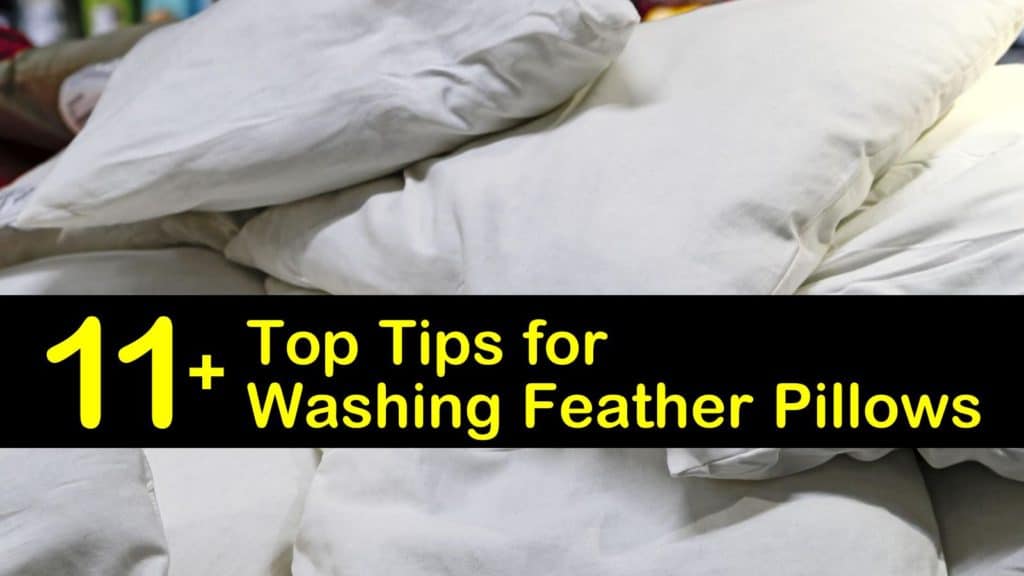 Washing Feather and Down Pillows
You sleep on your bed pillows every night, and it's only a matter of time before they get dirty. If you thought that you couldn't clean your feather pillows, you are wrong. There are many ways to wash those once-fluffy pillows to clean away stains and everyday grime and restore their fresh scent.
The same recipes and procedures also apply for how to wash bed pillows made from other materials, with the exception of memory foam. This delicate interior requires a different approach.
The Differences in Feather Bed Pillows
Feather pillows are expensive, and it's essential to determine which type you have before you wash pillows. Check the care label to discover its filling, whether it is down, feathers, or a blend. The tag also informs you if it requires dry-cleaning.
Feather Bed Pillows
There are three main types of pillows, and these include goose-down, duck-down, and feather down combinations. Labels that state "down" mean that there is a combination of feathers, down, and other fibers. If the care tag states "100% down," then the pillow contains only down feathers.
Down clusters are the easiest to clean but are the most expensive because they have a longer life. Duck down is coarse and small while goose down has insulating qualities and has loft.
Tips for Washing Feather and Down Pillows
Can down pillows be washed? Fortunately, the answer is yes, and it's quite easy to do. However, there are a few tips that make the job of cleaning your pillows easier and more effective.
Down Pillow Washing Tips
If you have a less-expensive feather pillow, it's wise to take it to a dry cleaner. These types of pillows contain feathers rather than down and do not fluff as well after washing. Standard washing of these pillow types traps moisture and causes damage to the feathers.
Make sure to wash your down pillows on days when the humidity is low. If you prefer air-drying your pillows, make sure that it is a dry, sunny day to speed the drying process and prevent mildew growth.
How to Clean Feather Pillows in a Top Loading Washing Machine
Down pillows get dirty just like any other pillow, and it's essential to keep them clean to prolong their life and keep you sleeping well. Luckily, washing down pillows is easy in the washer.
Here is a simple way for how to clean feather pillows in a top loading machine. This method also applies to washing outdoor cushions in washing machine, too.
Remove the pillow from the case or protector and inspect the seams for tears or rips. Place two pillows into the top of the washer, making sure to insert them vertically rather than horizontally to prevent damage from the agitator.
It's essential to wash two pillows at once to keep the stability of the washer and prevent it from being unbalanced. Add a smaller amount of low-sudsing laundry detergent than you usually do to prevent excess residue.
Use the delicate, warm water wash cycle on your machine and avoid using hot water to avoid damaging the feathers or shrinking the exterior fabric. Finish up with an extra rinse cycle to ensure that all soap residue rinses away.
Once the spin cycle is complete, remove the pillows from the washer and press them between two towels to squeeze out excess water. Place them into the dryer, and toss in a couple of dryer balls to fluff them as they dry. Use the delicate, low heat, or no-heat setting. Remove the dried pillows and fluff them by hand before placing them into a clean pillowcase.
Washing Down Pillows in a Front Loading Washing Machine
Pillows require cleaning once every three to six months, depending on the amount of use they receive. The best way to wash down pillows is in a front load washer, and it's just as easy as washing a load of laundry.
Place two pillows in the washer, add your favorite laundry detergent, and set it to the gentle cycle with warm water. Once the machine finishes spin-drying, remove them and place them into the dryer.
Add a couple of dryer balls or use tennis balls in clean socks as a substitute. Toss in a sheet of fabric softener and dry the pillow on moderate heat for 15 minutes. Check them to make sure they are dried thoroughly. If they are still damp, repeat the drying process.
How to Wash Down Pillows in the Washer to Remove Tough Stains
When washing feather pillows with regular detergent doesn't remove stains, try using some white vinegar and hydrogen peroxide to whiten your pillows. These ingredients are also the best way to clean a mattress to remove tough stains.
Add the hydrogen peroxide and vinegar directly to the drum. Place the pillows into the washing machine and set it to a soak cycle. After the cycle completes, add your favorite laundry detergent and run a delicate cycle.
Put the clean pillows in the dryer and toss in a few clean tennis balls or dryer balls. Use the delicate or low-heat setting to dry the pillows.
How to Hand Wash Down Pillows
If you do not have a washing machine or prefer not throwing your favorite pillow in the machine, it's easy to get them clean by hand. Hand washing down pillows is also the best way to clean them if they have loose seams.
To clean throw pillows without washing machine, first, fill a sink or washbasin with warm water and add a small amount of liquid detergent like Dawn or Castile soap. Agitate the water with your hands and press the pillow into the soapy water.
Massage it thoroughly with your hands in the cleaning solution for several minutes, making sure to flip it over and clean both sides and all the edges and corners.
Drain the soapy water and fill the basin with cold water. Repeat the massage in the clean water to force soap suds out of the pillow. Continue doing this with fresh water until all of the residue rinses out. This may take several tries.
Lay a large towel on a flat surface and place the pillow on top. Place another towel on the pillow and press as much of the excess water out as possible. Hang it outside in the sunshine for drying.
Hand Cleaning Stains off Feather Pillows
If your down pillows are basically clean yet you discover a stain that needs attention, it is not necessary to rewash the whole pillow so soon. Instead, perform a simple spot treatment to clean stains away gently without using bleach. This is also the best way to tackle cleaning a duvet cover without washing the entire thing.
To treat unwelcome stains with ease, combine the water and laundry detergent in the bottle sprayer and shake gently to mix. Remove the pillowcase from the pillow and set it on a flat surface. Spray the soapy solution lightly on the stained area, being careful not to saturate the material.
Use a clean cloth to scrub away the dirt. Rinse the rag with cold water and use it to clean soapy residue from the pillow. Blot the area dry with paper towels. Do not replace the pillowcase until it is completely dry.
Cleaning Mold and Mildew off Down Pillows
White vinegar is a great ingredient to add to the washing machine to eliminate mold and mildew from pillows, and essential oil helps mask the vinegar smell while creating a relaxing fragrance while you sleep.
Add half of a cup of white vinegar to the detergent dispenser of the washer, place the pillows into the washer, and run a delicate warm cycle.
Add a few drops of essential oil to the rinse cycle such as lavender, vanilla, or rosemary, or consider using essential oils for dust mites. Put the clean pillows in the dryer and use a low-heat setting to dry them completely.
Removing Odors from Feather Pillows
Bed pillows tend to get a musty smell over time, whether they are down or feather. Baking soda is excellent for eliminating these odors and is easy to use in the washing machine.
Place the pillows into the washer and add your favorite laundry detergent. Pour a quarter cup of baking soda into a front-loading machine or half a cup of baking soda into a top loader.
Run a delicate warm cycle on the machine. Once the cycle completes, remove the pillows and place them in the dryer on a low heat setting for a short drying cycle.
Freshening Down Pillows in the Clothes Dryer
While feather pillows are fluffy and soft the first few times you sleep on them, they do tend to flatten out with repeated use. This issue is easy to remedy by using your clothes dryer.
Remove the pillowcase and protector from your pillow and place the pillow in the dryer. Toss in a damp washcloth, three tennis balls or dryer balls, and a sheet of fabric softener into the machine. Turn the dryer to low and let the pillow tumble for 20 minutes.
Ways to Prevent Bed Bugs and Dust Mites on Feather Pillows
There is nothing fun about getting bitten by bugs in the middle of the night or suffering a dust mite allergy. Luckily, there are many natural ways to get rid of bed bugs and dust mites, as well as ways to prevent them.
Pillow Pest Prevention
The first step in preventing pillow bugs is to use a pillow protector. Pillowcases are not enough when it comes to fending off these annoying pests. There are a variety of pillow protectors on the market explicitly designed for dust-mite allergy prevention.
The next step in dust mite and bed bug prevention is to wash feather pillows and bedding often. Wash the pillows at least a couple of times a year to remove dust, sweat, saliva, and other dirt. Toss your pillow in the dryer in-between washing to kill new dust mites.
How to Keep Your Down Pillow Fresh and Clean
While routine cleaning of your down pillow is essential to good hygiene and optimal comfort, regular pillow maintenance is just as necessary. There are a few easy steps to take in-between washing that keep your pillow fresh and fluffy.
Down Pillow Care
Keep your feather pillows in a pillow protector to keep them fresh. Always keep your pillows as dry as possible and avoid going to bed with wet hair and avoid spilling anything on them.
Store your pillow in a pillow cover to protect it from dust, and keep it in a cool, air-conditioned room. Fluff your pillows by hand or use the clothes dryer for fluffing to keep their shape and comfort.
Regular bedding cleaning is essential to good hygiene. The surface of your pillows, sheets, and blankets get covered with skin cells, sweat, and other bits of dirt and require cleaning to prevent mildew and bad odors.
Fortunately, cleaning down pillows or a down comforter is easier than you thought. All you need is a bit of your time and the right cleaning solutions.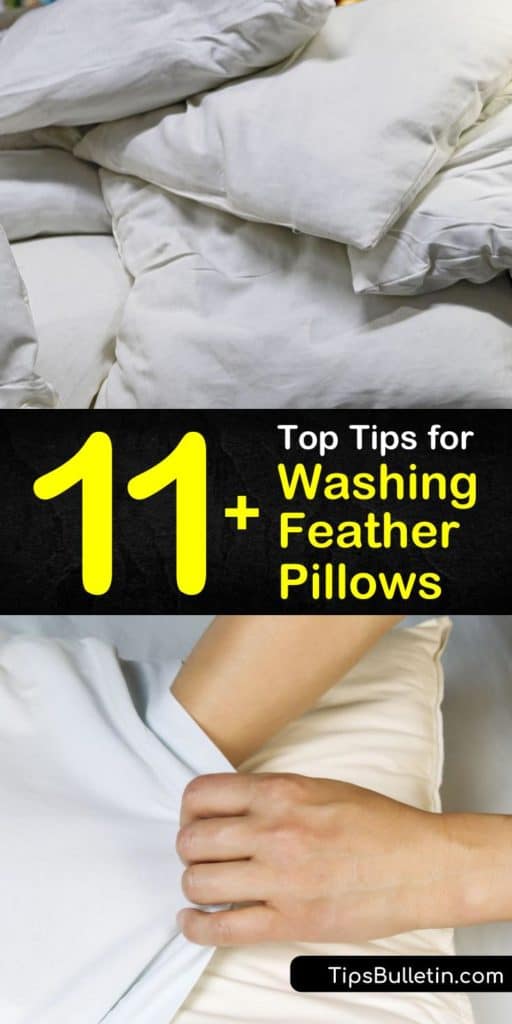 We hope that you enjoyed learning how to wash down pillows safely and effectively so that you have a clean and comfy place to rest your head, and we'd love it if you'd share our pillow cleaning tips with your family and friends on Facebook and Pinterest.