Nothing is cozier than slipping your chilled feet into a pair of fleece lined slippers on a cold day. However, if you live where there are long winters, you probably put those slippers through a lot of wear and tear. Learn how to wash slippers of all types to keep them looking great and feeling comfy.
Dirty slippers are unattractive and smelly slippers are the worst. The more you wear them, the more dust and debris they collect, and the insides absorb sweat, leading to the growth of odor-causing bacteria. While cotton slippers seem pretty straightforward to clean, a sheepskin, suede, wool, or leather slipper is a little more challenging to wash.
It's important to clean your slippers regularly to keep them looking their best and eliminate foul odors, whether you decide to machine wash or hand wash them. First, it's essential to understand your slipper's material and fabrics to prevent them from being damaged during the cleaning process.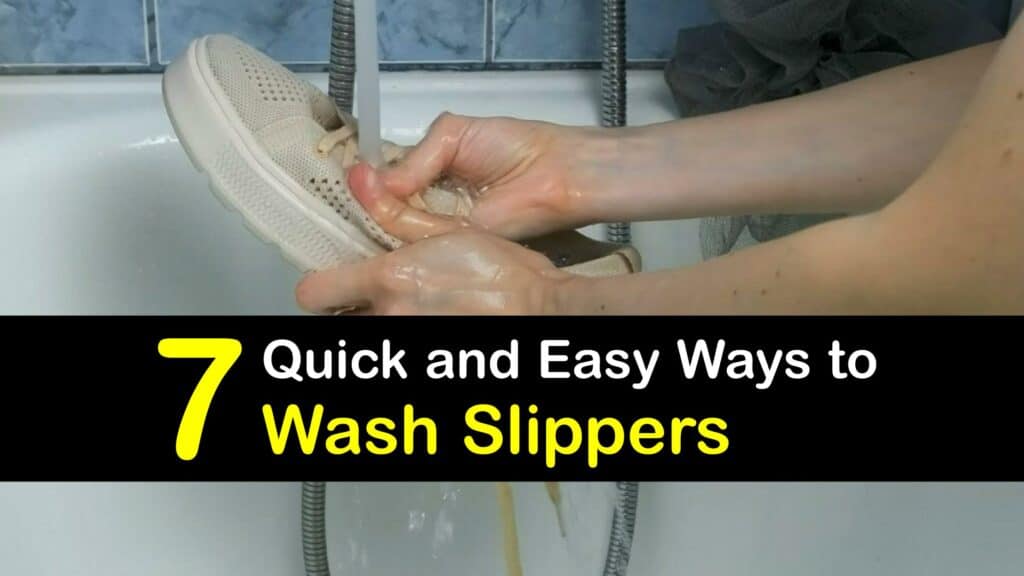 Safe and Effective Ways to Wash Slippers
Some slipper types are safe to clean in the washing machine, while hand washing is better for others. Discover the differences between slippers and how to clean them with varying techniques.
Things to Know before Washing Slippers
Can you wash slippers in the machine, or is it best to hand wash them? Before washing slippers, learn what material they are made of to ensure you don't ruin them. Explore the different types of slippers and the ideal ways to clean them.
There are many slipper styles, including fabric, arch support slippers with memory foam, bootie-style slippers, wool slippers, leather or suede moccasin slippers, sheepskin slippers, UggⓇ slippers, regular fuzzy house slippers, and slipper socks. Some slippers have fabric bottoms, while others have a rubber sole.
Cloth slippers are generally safe for traditional cleaning, while slippers made from natural materials, like suede and leather, need unique cleaning methods to prevent material damage. It's always good to check the care tag label on your shoes and slippers before washing and drying them.
How to Wash Slippers with Rubber Soles
Some slippers have a rubber bottom to prevent slipping as you walk, and while they are convenient, the rubber material requires special cleaning. Here is how to wash slippers with rubber soles and keep Uggs® from smelling up your feet and the house.
Combine warm water and a little liquid dish soap in a bowl or container. Flip your slippers over and apply the soapy water to the rubber bottoms with a cloth. Clean in the crevices if your slippers have treads, and rinse the cloth as you work to remove dirt. If you have baby wipes, use those instead of soapy water for quick cleaning.
How to Wash Slippers in the Washing Machine
Fabric or cloth slippers are the easiest to clean since they do not contain delicate or natural materials, and they are usually machine-washable. Learn how to wash fuzzy slippers with fabric material in the washing machine.
Check the care tag on your fabric slippers and place them into the washing machine with a load of towels. When you wash house shoes, add your favorite detergent and wash them with warm water on a gentle cycle. If your slippers are safe for machine-drying, transfer them to the dryer. Otherwise, place them in a well-ventilated area to air dry.
Ways to Wash Suede and Leather Slippers
Washing slippers made of suede or leather is different from cleaning fabric slippers. Clean these slipper types to remove dirt and stains without damaging the material.
To clean suede slippers, start by brushing the nap with a suede brush or soft toothbrush and gently brush the entire surface to remove loose dirt. If your leather or suede slippers have a stain, apply a small amount of white vinegar to a soft cloth and wipe the stained area.
To remove fresh, wet stains, apply some baking soda to the spot, let it sit for a few minutes as it absorbs the dirt, and wipe it away with a dry cloth. Use baby wipes to clean the inner lining of your slippers, apply a leather conditioner to the outside material, and set them in a well-ventilated area to air dry.
How to Wash Sheepskin Slippers
Sheepskin slippers are soft and comfortable, and it's easy to see why many people wear them even when they are not at home. However, they attract dirt and require special techniques to get them clean.
Fill a bucket or plastic bin with cold water and add a spoon of wool soap. Soak your dirty slippers in the solution for five minutes and use a sponge to clean the surface of each slipper. Rinse the slippers with clean water, dry them with towels, and set them in a cool place to dry naturally.
Cleaning the Lining of Slippers
Once you know how to wash slippers with rubber soles, removing the lining and cleaning the slipper section that comes into contact with your feet is a good idea. Clean the inside of your slippers to remove sweat and odors.
If the lining of your slipper is removable, take them out of each slipper and wash in the washing machine or hand clean them with a mild detergent or dish soap and water.
If the linings do not come out, wipe the insides with baby wipes to remove stains. To freshen the linings, sprinkle baking soda inside each slipper and let them sit overnight. Use the vacuum attachment on your vacuum cleaner to suck up the odor-absorbed powder.
Can You Clean Memory Foam Slippers?
Memory foam slippers nicely conform to the shape of your foot and come in various styles. But, is it safe to clean slippers with memory foam? Fortunately, you can remove everyday dirt and stains using a little soap and vinegar.
Pour some water in a bowl and add a small amount of white vinegar and liquid soap. Dunk a soft cloth into the liquid and wring out the excess soapy water. Place your slippers on a towel and rub the damp cloth over the dirty areas. Once the slippers are clean, wipe away the soap residue with a clean cloth, and dry them well with a towel.
Try vinegar or lemon juice as a way to remove oxidation from shoe soles. One of the two remedies usually works.
It's not long before your clean slipper looks drab, especially if you wear slippers daily. It's relatively easy to turn a well-worn pair of slippers into a clean, fresh-smelling pair as long as you use the correct cleaner and method for your slipper type.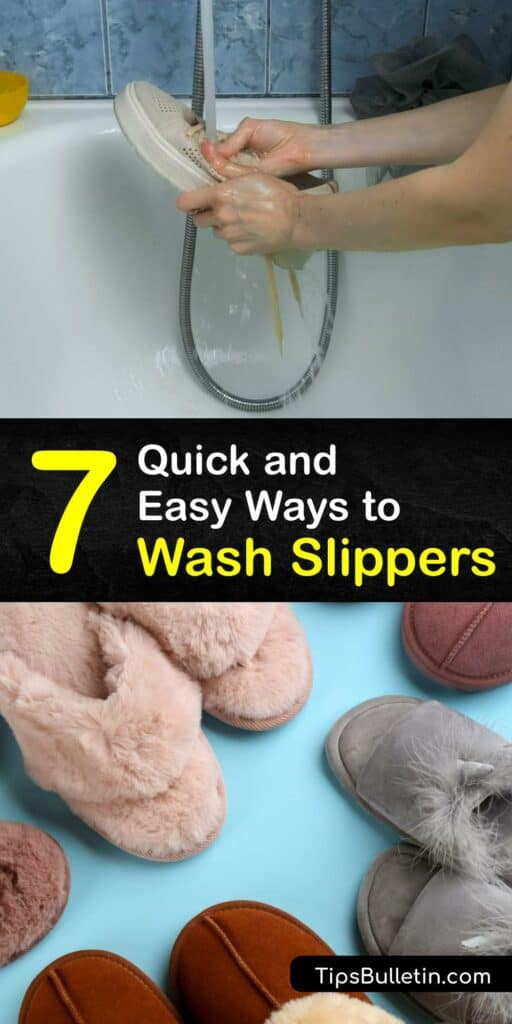 Now that you know how to wash slippers and keep them in tip-top shape, why not share our slipper cleaning guide with your family and friends on Pinterest and Facebook?