Soccer is a much-loved game, with clean, safe, and effective soccer gear from leather soccer cleats to the best sock being vital. Many people want to know how to wash soccer cleats as their leather shoes are covered with scuff marks, excess dirt, and the occasional stubborn stain.
Questions about how to wash football cleats often include asking can you put cleats in the washing machine? Fortunately, several simple methods for washing soccer cleats exist, and most of them use everyday items you probably already have in the pantry or medicine cabinet.
Cleaning soccer cleats is critical for every player. Your synthetic boots or leather boots are a vital part of the uniform, and any smell, odor, or excess dirt is unprofessional and unhygienic. Dirty cleats don't represent the player or the team well. Understanding how to wash soccer cleats makes cleaning your soccer shoe and shin guards a breeze.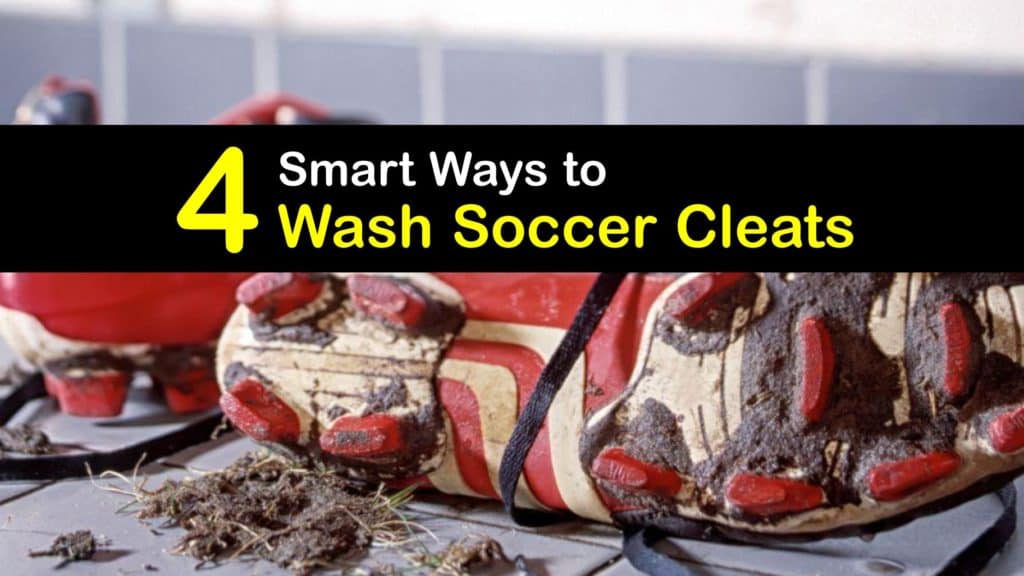 How to Wash Football Cleats or Soccer Cleats
Whether you have a leather cleat, fabric soccer boot, or another football boot, this article explains how to wash football cleats and offers different tips for washing soccer cleats depending on what supplies you have available. Follow some of the same guidelines if you need to clean mud off white shoes or have other footwear that needs refreshing.
White Vinegar Cleaning Solution
Learn how to wash football cleats using pantry goods to make this very effective mixture. With this shoe cleaner and deodorizer, you may also get rid of the foot smell or other strong odors like cat pee or gasoline. When washing any sports or tennis shoes and cleats, note the care label to ensure you don't harm your shoes as you clean them.
Before spraying the liquid into the shoes, vigorously shake the spray container. To clean smelly soccer cleats, wipe down all shoe surfaces with a rag or paper towel when you finish, and let the cleats air dry. If any odor or dirt lingers, reapply the spray. For filthy areas, use an old toothbrush first to loosen mud.
How to Wash Soccer Cleats Using Dish Soap
Dish soap offers an easy way of washing soccer cleats, one of the best ways to wash shoes by hand. It is convenient for cleaning a leather soccer shoe because it refreshes the leather and lifts any odor without drying out the boot.
Soak a clean rag or brush for a few minutes in the soapy solution, and clean your shoes with a damp cloth or a soft bristled brush. Remove any dirt stains or odors with soapy water, and rinse with clean water. To dry your clean shoes, blot them with a paper towel to remove excess water and lay them flat to dry.
Mild Detergent for Washing Soccer Cleats
Another option exists if you've previously tried washing your football shoes in the washing machine and the dirt and smell haven't disappeared. With a concentrated liquid laundry detergent, it's simple to get rid of heavy soiling and odor. Use this technique to clean white leather tennis shoes, too. It's ideal for most types of shoes.
Color-safe bleach detergents are the most efficient for eradicating stains and odors. While a regular wash cycle may not be adequate to remove the stench, a concentrated detergent accentuates the effect and ensures all dirt odors are removed and washed away.
Apply a thick layer of laundry detergent to the football cleats, scrub it with a soft bristled brush or toothbrush, and set it aside for about 15-20 minutes before laundering on a regular cycle in the washing machine.
Baking Soda Cleans Dirty Soccer Cleats
Baking soda, known for its versatile cleaning abilities, removes odor from shoes, and is great to clean smelly soccer cleats. Sprinkle the baking soda in your shoes and allow them to sit overnight for baking soda to evenly coat the insoles of your football shoes.
Shake the baking soda into a plastic bag or onto a newspaper in the morning, and your shoes are ready. Baking soda absorbs odors and leaves shoes feeling fresh; even use it to produce handcrafted sneaker balls.
Cut the toes off old socks, stuff them with baking soda, and glue them tight. Drop the baking soda sneaker balls into your smelly sneakers overnight instead of sprinkling baking soda. Baking soda may also be mixed into a paste with water and applied to stubborn stains or dirt to remove them.
Use care to dry wet shoes and sneakers after cleaning them. Air dry soccer cleats and other footwear outside in the shade to avoid damaging the material of your shoes. For faster drying, add newspapers to the interior of the shoes. Replace as the water soaks into them.
If your shoes are a little too tight after they get wet and dry, stretching boots and leather shoes at home is possible with a little time and some effort. At the same time, you can shrink leather shoes by using other strategies.
Knowing how to wash football cleats lets players keep their boots in top shape and looks clean and professional. Washing soccer cleats doesn't have to be complicated. Household items like vinegar, baking soda, and dish soap achieve clean, shiny cleats.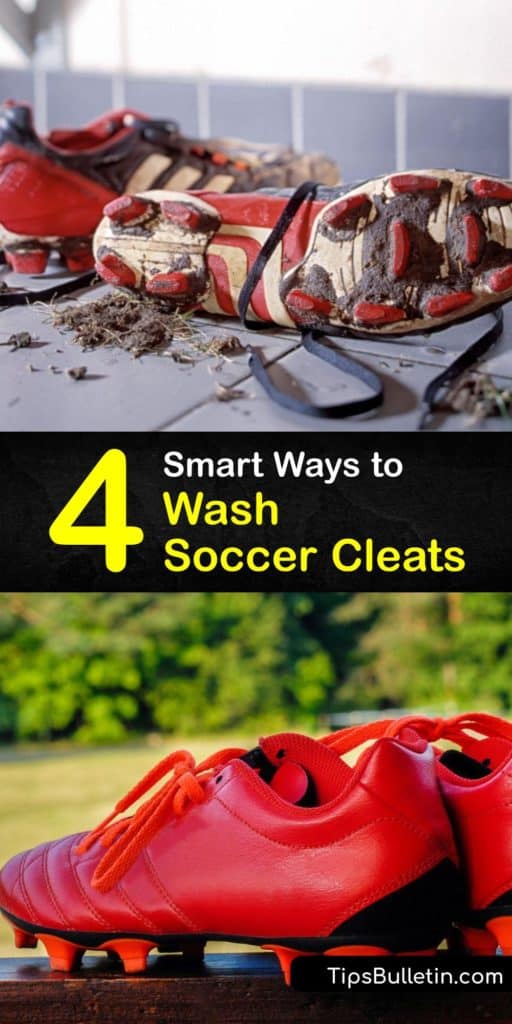 If you loved this article on how to wash soccer cleats, please share these clever tips on how to wash football cleats with your family and friends on Pinterest and Facebook.