From canvas sneakers to leather shoes, shoes are attractive and essential, yet they may be challenging to keep clean. Learn how to wash tennis shoes without spreading dirt and how to wash tennis shoes in the washer without ruining them.
Remove dirt or stains like mud and salt, or give your prized pair a thorough washing with these simple tips for washing tennis shoes. These intuitive methods work well on both white and dark footwear. White sneakers, in particular, are often tricky to clean due to yellowing and staining.
Clean your shoes with items you probably already have on hand using home remedies and DIY ideas. Whether you use a washing machine or tackle stains by hand, several methods eradicate dirt and stains from shoes. Turn to everyday solutions like dish soap, white vinegar, and baking soda to restore your favorite shoes.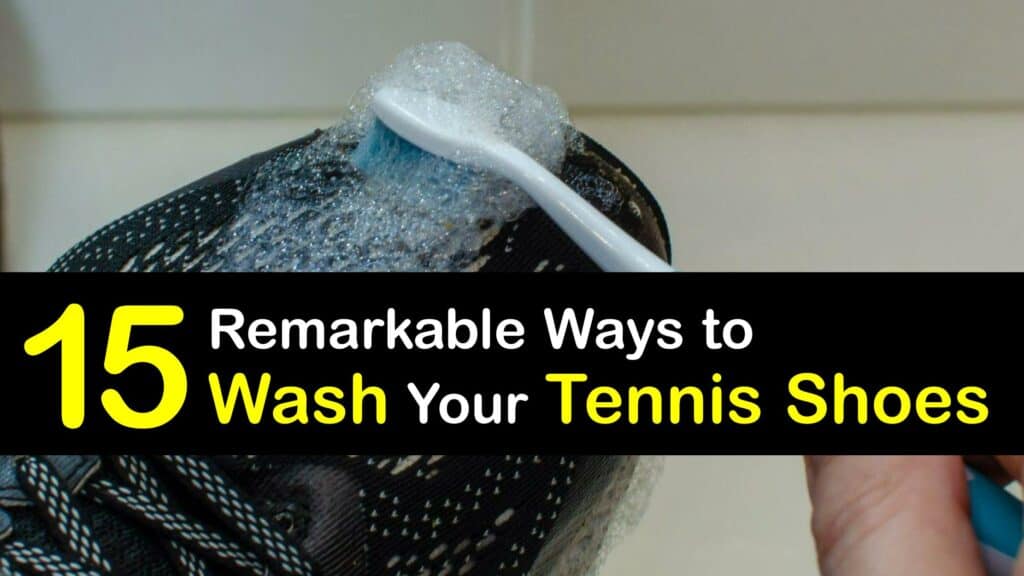 Brilliant Tips to Make Washing Tennis Shoes Easy
Almost everyone has wondered how to wash tennis shoes at some point. We've all had a dirty stain or an ugly yellow shoe that seemed impossible to get clean.
Dirt or stains are unsightly and must be removed as soon as possible from your tennis shoes; however, some treatments are preferable to others. You risk making the situation worse and increasing the time it takes to clean your shoes if you choose the wrong strategy.
To learn how to wash tennis shoes in the washer, there are a few basic actions to ensure the process is effective. Washing tennis shoes is a breeze with a few materials and patience.
How to Wash Tennis Shoes in the Washer – Preparation
Planning before you put tennis shoes in the washing machine is critical. Tumbling around the machine may damage your sneakers and cause the removable parts to dislodge or become caught. Machine washing requires preparation to protect your shoes and ensure the best cleaning.
Remove loose parts such as shoe laces and the removable insole. To minimize wear on your sneakers as they progress through the wash cycle, seal them inside a mesh bag or a specially designed sneaker laundry bag.
Read the care instructions and follow them carefully when laundering shoes. Once your shoes are prepared and safely inside an appropriate mesh bag, they are ready to go in the wash.
How to Wash Tennis Shoes in the Washing Machine
It's simple to wash your dirt-stained shoes in the washing machine. To avoid exposing your sneakers to harsh chemicals, use a mild detergent or gentle powdered detergent when you put sneakers in your washing machine. Add white vinegar to the detergent pan before running a cycle to remove dirt and sterilize the boots.
Pour the detergent, then the vinegar, into the pan and use a regular wash cycle to clean your shoes. A great way to clean cloth tennis shoes in the washer is to include similarly-colored towels in the load to reduce banging during the spin cycle. Allow your footwear to air dry.
Dish Soap Gently Cleans Suede Shoes
Dish soap is an easy and quick way to remove stubborn dirt and stains off boots, and it's suitable for use on sneakers and other canvas shoes. Because it refreshes the leather, dish soap is an intelligent choice for washing leather boots.
Soak a towel or rag in soapy water and wipe your dirty shoes, scrubbing back and forth over more soiled areas to break down the grime. Pat the excess moisture out of your clean shoes with an old towel or clean paper towel, then lay them flat to dry.
Remove Stains from Canvas Sneakers with Baking Soda
Baking soda is a great shoe cleaner and removes even the toughest stains. Baking soda is well-known for its cleaning abilities, making it an excellent choice for restoring discolored footwear.
In addition to removing dirt from your shoes, baking soda also tackles shoe odor – after cleaning, sprinkle baking soda into your shoes and leave overnight to ensure your footwear is fresh.
Slowly combine the baking soda and water until thick paste forms. Scrub the stained area in a circular motion with a scrub brush. To eliminate any discoloration, thoroughly rinse your boots in lukewarm water.
Stuff a paper towel or a dry rag inside the toe areas to absorb excess moisture and hang the footwear to dry in a warm location.
Use Hydrogen Peroxide on Canvas Shoes
Hydrogen peroxide is helpful when cleaning dirt and stained spots, as it is a high-strength disinfectant and multi-purpose cleaner that brightens dull or stained surfaces.
With oxidizing compounds like hydrogen peroxide, colored components in dirt or stains break down, rendering the coloration unnoticeable. Make a solution with water to use hydrogen peroxide as a shoe wash.
Press the mixture onto the shoe surface with a clean towel. Rub stubborn stains in a circular pattern with a scrub brush to loosen and erase the discoloration when you deep clean white mesh sneakers and tennis shoes. Allow the clean sneakers to air dry after rinsing them with clean water. If you use hydrogen peroxide on dark-colored shoes, be careful as it may lighten them.
A Magic Eraser Tackles Tough Shoe Blemishes
Magic Erasers are easy to use and effective on many dirt stains without hazardous chemicals. A Magic Eraser is ideal for cleaning sneakers, especially those with dirty soles.
The Magic Eraser comprises solid melamine foam with small air holes between the layers. Soak the eraser in water and scrub it over the surface of your shoes to remove the worst stains.
While Magic Erasers are great for swiftly removing stains, some caution is required when using them on your shoes. Always test and inspect a small area first to verify no scratches or scuff marks occur.
Since Magic Erasers are abrasive, they're great for cleaning yellow soles or rubber accents instead of sensitive areas like shoelaces and suede or leather sneakers.
White Vinegar Beats Stains on Sneakers
White vinegar is widely employed as a multi-purpose cleaning product. It is a potent cleanser for getting rid of even the worst staining. It's simple to clean a canvas or fabric sneaker with white vinegar. Dilute acidic white vinegar before using it to avoid damaging your shoes.
Apply the diluted vinegar solution to your shoes using a clean cloth and let it soak into the discoloration for half an hour. Scrub the stain using an old toothbrush to remove the vinegar and dirt, rinse with cool water, and pat dry. The color releases and rinses off easily thanks to white vinegar's cleaning properties.
How to Wash Tennis Shoes with Concentrated Liquid Detergent
To remove dirt or stains, use concentrated liquid washing detergent. Color-safe bleach detergents are effective for removing large dirt areas without deteriorating your sneakers.
Knock off excess dirt or grit with a brush. Apply a substantial amount of laundry detergent directly to the dirty areas on your shoes, scrub it in with a scrubbing brush, and let it sit for 15-20 minutes before laundering on a regular wash cycle.
Try Nail Polish Remover Instead of Washing Shoes
More than your nails benefit from nail polish remover. An ingredient in many nail polish removers, acetone removes stains and other discoloration from footwear. Acetone is a color remover found in several household products, including personal care and beauty products.
Flick off any loose dirt particles with an old toothbrush. Dip an old cloth or paper towel into the acetone and rub the dirt spots back and forth to allow the solution to work. Test a hidden area first before using acetone on your shoes, especially if you're cleaning a suede boot.
OxiClean Brightens Your White Shoe
OxiClean is an oxygen bleach-based cleaning solution that removes dirt and brightens textiles. When OxiClean is mixed with water, it produces oxygen bubbles that break down and dissolve tough stains. As it's environmentally friendly and safe, OxiClean is a must-have for cleaning.
Mix as directed and soak your shoes in the cleaner for an hour. Rinse your boots with cool, clean water, and let them air dry. For a very fast way to dry soccer cleats and tennis shoes, hang them on a standing fan.
Darker colored footwear may not be suitable for OxiClean; always follow the manufacturer's instructions.
Spot Clean Athletic Shoes to Prevent Stains
Spot cleaning is used to clean only the soiled region of the shoe and is very beneficial for leather shoes and other sensitive footwear. Because leather is challenging to clean, a spot treatment removes dirt without destroying the shoe.
Decide on a cleaning strategy from the list and focus only on the dirty area to perform a spot treatment. This process uses less cleaner on your sneakers, reducing the chance of additional stains or discoloration.
DIY Shoe Wash Cleans Leather Shoes and More
This simple stain remover includes simple items, and it works on even the toughest stains. Adding your preferred essential oil gives the mixture a delightful aroma and won't fade or stain your shoes as it cleans.
Use lemon juice instead of essential oils to create a pleasant scent and add cleansing strength. Test the mixture on a small, discreet area before applying it to your shoe for optimal results.
Combine and spray the dirty area. Allow one minute for the cleaning fluid to soak into the stain before scrubbing gently with an old towel. Rinse well with cool, clean water and repeat if necessary. After cleaning your leather shoes, apply a leather conditioner to avoid drying and cracking.
Bleach Your White Sneakers Spotless
Bleach is a powerful tool for cleaning white fabric shoes and is ideal for a particularly stubborn stain. Mix four parts water with one part bleach and scrub the dirty parts of your shoes with an old toothbrush dunked in the mixture.
Rinse the scrub brush with water, then scrub the spots while they're still wet. Keep scrubbing until all the dirt lifts, and take care not to get bleach on your skin or in your eyes.
Rubbing Alcohol Restores White Tennis Shoes
Dirt, grime, and stains detract from the appeal of canvas and leather sneakers. If you have rubbing alcohol, you already have an effective stain remover.
The organic components of the pigments in dirt and stains are degraded by the alcohol, allowing the unwanted coloration to wash out. Test a small patch first since rubbing alcohol isn't suitable for all materials.
Soak a clean cloth in rubbing alcohol, carefully wipe the filthy area to remove the pigment, and rinse the shoe in clean water. If the discoloration persists after one round, continue the process to guarantee the dirt lifts and your sneakers' natural color returns.
Baby Wipes Reduce the Frequency of Washing Tennis Shoes
Baby wipes are inexpensive and convenient, making them excellent for removing tough stains right when they occur and preventing dirt from seeping into your sneakers. Since they clean while still delicate, baby wipes are great for removing dirt without harming shoes.
As soon as dirt or an unwanted substance gets on your footwear, rub a baby wipe over it to lift it before the stain penetrates the materials and becomes more challenging to address.
If your shoes have gotten a little tight, after cleaning, you widen your tennis shoes by putting them on a shoe tree while still wet or over-stuffing them with a towel. They'll dry a bit bigger.
A pair of dirty shoes appears unclean and unprofessional, ruining an outfit. Using the appropriate combination of substances, removing tough stains is simple without harming your favorite shoes. Use things you already have to quickly remove dirt, soiling, and tricky stains from shoes.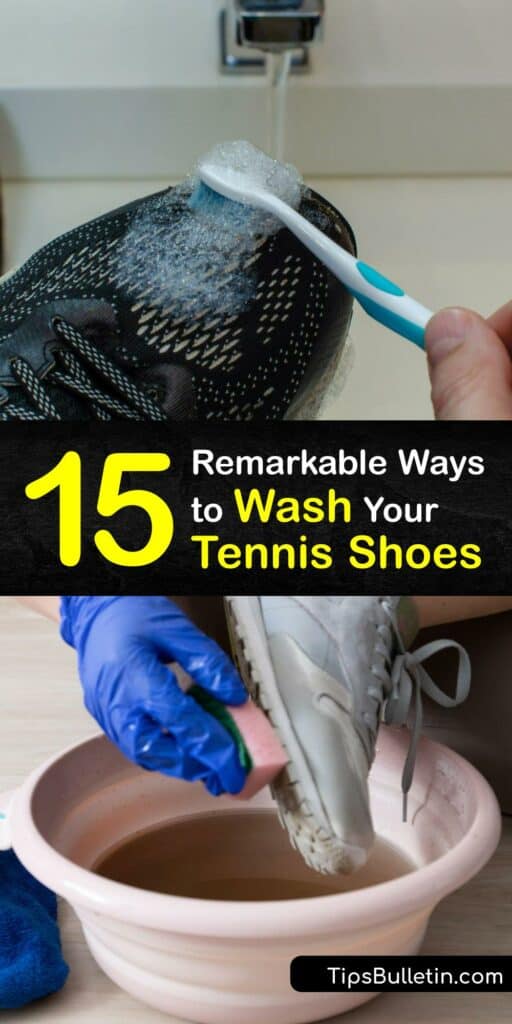 If you loved this article on how to wash tennis shoes, please share these brilliant ideas for washing tennis shoes with your friends and family on Pinterest and Facebook.