When cleaning the house, many people overlook cleaning their home décor, such as throw pillows. For those of you wondering can you wash throw pillows, the answer is yes. How to wash throw pillows varies, though, because of the materials they are made from.
For example, a silk throw pillow requires dry cleaning, while a foam-filled one does not. Before you start washing throw pillows, consult their labels for detailed washing instructions. While some might appear machine washable, they may not be.
Nobody wants to toss a soft cushion inside a washing machine for it to come out in a clumpy mess. Consulting the care label is the best way to know how to clean throw pillows, but what if the tag is unreadable or missing?
The only thing to do is to make your best guess as to what materials it contains. Once you identify the materials used in your throw pillows, follow one of our tips and tricks for washing them.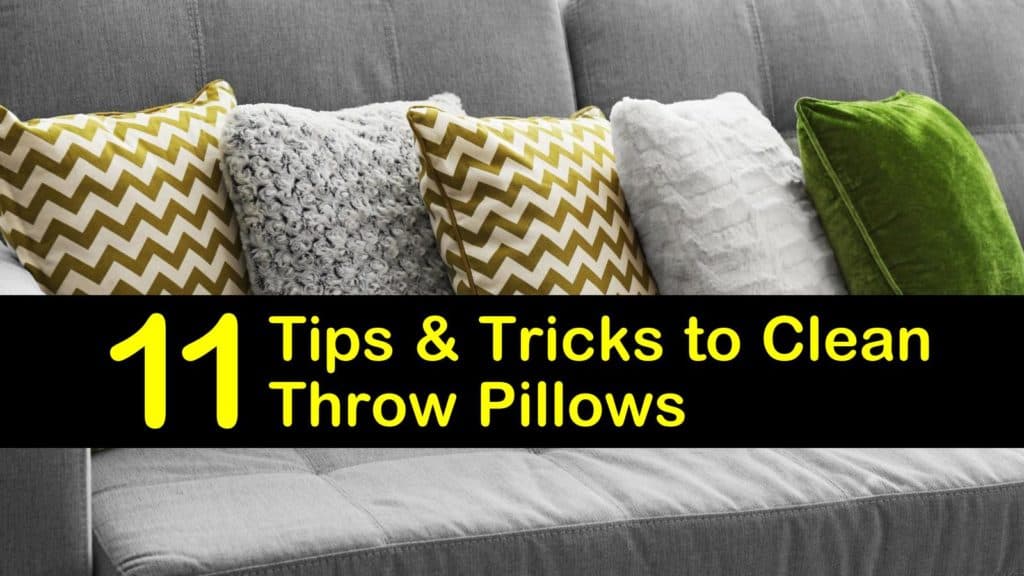 My Useful Tips and Tricks When Washing Throw Pillows
Although considered decorative-pillows, throw pillows see more use than our sleeping pillows. Most people use them for support of the head and neck in the living room while watching TV, relaxing on the couch, or reading a good book. With the use they endure, it is crucial to clean them regularly to ensure they stay looking and feeling like new.
Best Way to Clean My Throw Pillows Without Removable Covers
The best way to clean throw pillows with removable covers or for washing couch cushions that are stained or smelly is through spot-cleaning unless the care instructions state it is machine washable.
For machine-washable ones, wash in cold water using the gentle cycle with mild laundry detergent. Dry according to the care instructions using no or low heat.
For pillows made from silk, velvet, or other delicate fabrics or those filled with memory foam or microbeads, use dry cleaning fluid to spot-clean where needed. Apply the cleaning liquid to a sponge or white cloth and gently dab the stains until gone. Once the stain disappears, use a new white rag to blot it dry.
How I Clean Throw Pillows Made of Foam
Can you wash memory foam pillows? Yes, you can wash memory foam but not in the washing machine. If your pillows are manufactured from a solid piece of another type of foam or memory foam, spot cleaning is one way to clean them.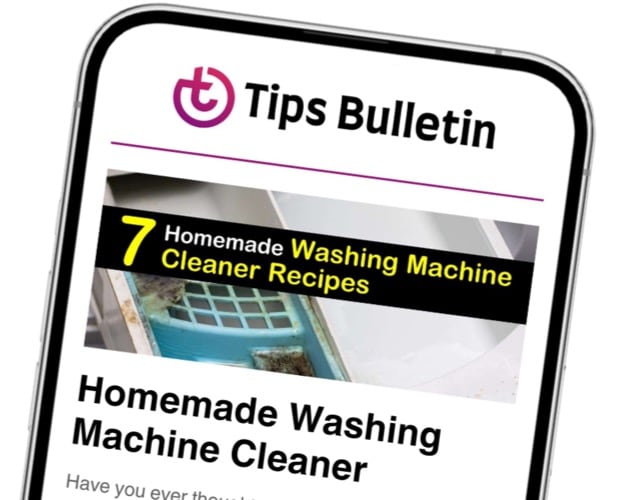 Finally, an email that Transforms Your Home.
Get the latest home and garden tips from our experts, delivered straight to your inbox.
Never use a dryer for foam pillows as the foam is combustible. Squeezing it between two towels or setting it outside in the sun helps with the drying process.
Before washing a solid foam pillow, remove the cover and wash it separately. Fill a bucket or container with warm water and stir in some mild laundry detergent. Create a small amount of suds, but nothing excessive.
Submerge the foam inside the bucket, allowing it to soak up the soapy water. Let it soak in the bucket for at least 30 minutes. Gently squeeze out excess water and then rinse the foam under warm running water to remove all detergent residue.
Press out the excess water lightly and allow it to air-dry. Bathtubs or large sinks work in place of a bucket or tub.
How I Wash Throw Pillows with a Sponge
Can you wash a bamboo pillow that is soiled? Of course. This recipe is ideal for bamboo or other more sensitive types of pillows. One way to clean memory foam or other non-machine washable pillows is with upholstery shampoo and a firm sponge. Purchase the shampoo from a big box retail store or make your own at home with common household ingredients.
Combine all four ingredients inside a large mixing bowl or bucket. Stir well and pour the cleaner into a spray bottle. Spray your pillow with the shampoo and use a firm sponge to work the shampoo deep into its surface.
With a white towel, gently blot away the shampoo and dirt. Repeat this process as necessary until the pillow is clean.
Washing My Throw Pillows in My Washing Machine
To quickly and easily clean your cushions, toss them in the washing machine and follow the instructions for washing as stated on the care label. For the best results, wash in hot water using a mild laundry detergent. Use the longest washing cycle the care instructions allow.
If your washing machine offers an extra rinse cycle, take advantage of it to rinse away all residue and grime. If an extra rinse is not available, run it through a rinse only cycle for the same amazing results. Pillows constructed from fiber, down, or other feathers are typically safe for machine washing.
For top-loading machines, soak them in the drum for ten minutes, flip them over and continue soaking for up to one hour. Once done, run through a normal washing cycle, but do not use bleach.
My Top Tips for Cleaning Pillow Covers
Most decorative pillows offer an inner pillow with a pillowcase. Some covers look similar to sham covers where the back pieces overlap; others provide a hidden zipper. Where possible, remove the covers and machine wash according to the care label's instructions.
For machines or hand washing, always use mild laundry detergent. Wash removable covers weekly to keep the interior pillow cleaner. For decorative pillows with covers made from a delicate fabric, such as wool, silk, or velvet, do not wash as they require dry cleaning only.
Spot cleaning is okay for smaller stains, but always test a small area of the fabric to determine which method works best. To perform a spot test, rub a small inconspicuous area of the material with a damp sponge and blot with a white towel.
If there is no dye transfer, the fabric is safe to hand or machine wash. If dye transfers, only use a professional dry cleaner or dry clean it yourself at home.
My Best Advice for Drying Throw Pillows
The first rule to follow when drying covers and throw pillows is to follow the instructions on the label. In most cases, if the pillow and case are machine washable, it's okay to place at least the cover in the dryer. Cotton and denim fabrics are safe for the dryer, but delicate fabrics like silk and wool shrink when exposed to a high heat setting.
If in doubt, always tumble dry using no heat or allow it to air dry. Use dryer balls or tennis balls to ensure the pillow retains its shape inside the dryer. Hang dry pillows using heavy-duty style clothespins.
Allow it to dry outside or in a well-ventilated area until it's dry to the touch. Before using or placing it back on your furniture, make sure the interior is completely dry. Any moisture left in the pillow increases the risk of mildew or mold developing.
Allow it to hang dry for several more hours or finish it off in the dryer. Point a fan directly at your pillow to help speed up the drying process. No matter how careful you are when washing and drying your pillows, the shape can be distorted.
Once it's dry, reshaping is often necessary. Use your hands to push and pull the internal fibers apart; think of how an accordion plays.
Repeat this process for both sides of the pillow, as well as the top and bottom. Reshaping this way loosens up all of the filling inside and helps return everything to its original shape.
Spot Cleaning My Favorite Throw Pillows
Older pillows with weak seams require spot cleaning to survive the washing process, as the agitator bursts the seams even on a delicate cycle. Other ones require spot cleaning in between washing. It's also the best way for how to wash a body pillow with just a stain or two.
To spot clean your whole pillow, stir about one tablespoon of laundry detergent into a bowl filled with warm water.
Dip a clean towel into the cleaning solution, then wring it out and use it to blot any soiled areas. To rinse, dip a second rag into fresh water, squeeze out the excess, and blot the area a second time to remove any residue. For particularly stubborn stains, add a little vinegar to the mixture.
Can I Pre-Treat Stains on My Throw Pillows?
For machine washable throw pillows and covers, pre-treating stains is necessary before washing. Use a commercial stain remover spray or make your own using the following recipe. Never use stain remover on wool, velvet, upholstery, or silk pillows as it damages these fabrics beyond repair.
Combine the three ingredients in a spray bottle and shake to mix. Spray the solution directly onto the stain and allow it to sit for several minutes before washing as usual. To protect the texture of the cover's fabric, turn the cover inside out before washing.
My Tips for Cleaning Suede Pillows
Never clean suede pillows with water as this leaves behind water spots. The best cleaning method for suede is to use a soft-bristle brush to brush the cover in the direction of the grain. We recommend using a suede brush, but a manicure brush or a new toothbrush works, too.
For ordinary stains, dip the brush into vinegar and proceed with brushing the pillow. Sprinkle cornstarch or another absorbent powder on oily stains. Opt for a suede cleaner for more stubborn stains.
How Can I Freshen Up My Pillows?
To help keep your pillows smelling fresh and clean, begin by fluffing them each day. Fluffing helps remove any dust or dirt build-up that leads to a musty or unpleasant smell. Deodorizing sprays, commercial or homemade ones, help eliminate unpleasant odors.
Disinfecting pillows also keeps them smelling fresh. Cheap vodka sprayed onto your pillows cleans the surface, and the alcohol evaporates quickly, so there is no risk of mold or mildew developing. Vodka also works to sanitize mattress pads, covers, etc.
How Can I Keep My Pillows Clean Longer?
While you want clean throw pillows, you don't want to wash them every week. Only wash pillows once or twice a year. Regular washing causes unnecessary wear and tear on delicate materials leading to faster replacement time. Luckily, there are ways to keep your pillows cleaner longer.
Each week as you vacuum or dust the rooms they are in, run your duster or vacuum over the pillows. Vacuuming removes dust, dander, and other loose debris from deep within the cushions, as well as traces on the covers. Spritz them with a DIY bed bug killer spray to prevent unwanted pests.
Always use throw pillow covers for extra protection. Covers are easier to wash, as you simply remove them and throw them inside the machine.
Opt for like colors, so there is no separating before washing and no potential of darker ones dying the lighter ones. Keep delicate pillows out of regular reach or in rarely used locations to prevent daily use.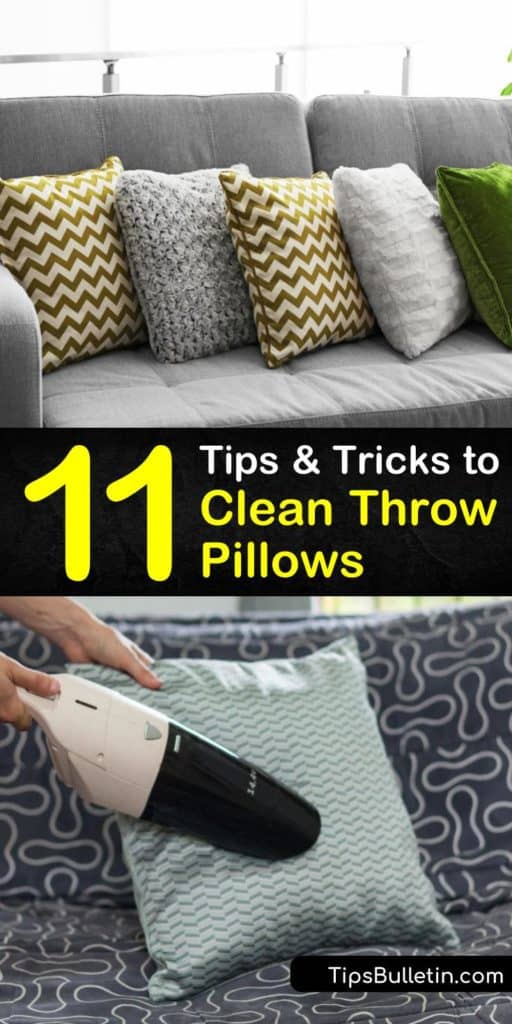 Thank you for reading our ideas for how to clean throw pillows. If you found any of our ideas on cleaning throw pillows useful, please share our cleaning solutions on Facebook and Pinterest, so other people can learn how to wash throw pillows correctly at home.