When I was young, I dreamed of having a large yard so I could plant all kinds of fruit trees. Now that dwarf trees are becoming more and more popular, and I can purchase an array of dwarf fruit trees and achieve that childhood fantasy by growing fruits indoors!
And like many plants grown indoors, indoor fruit trees tend to have prolonged growing seasons, meaning you will have fresh fruit right in the comfort of your home.
There are many varieties of fruit trees you can grow. So no matter what type of fruit you prefer, whether it be citrus or sweet or tropical, you can find the perfect fruit tree for you. Growing fruit indoors can be a rewarding experience and one that is sure to intrigue the entire family.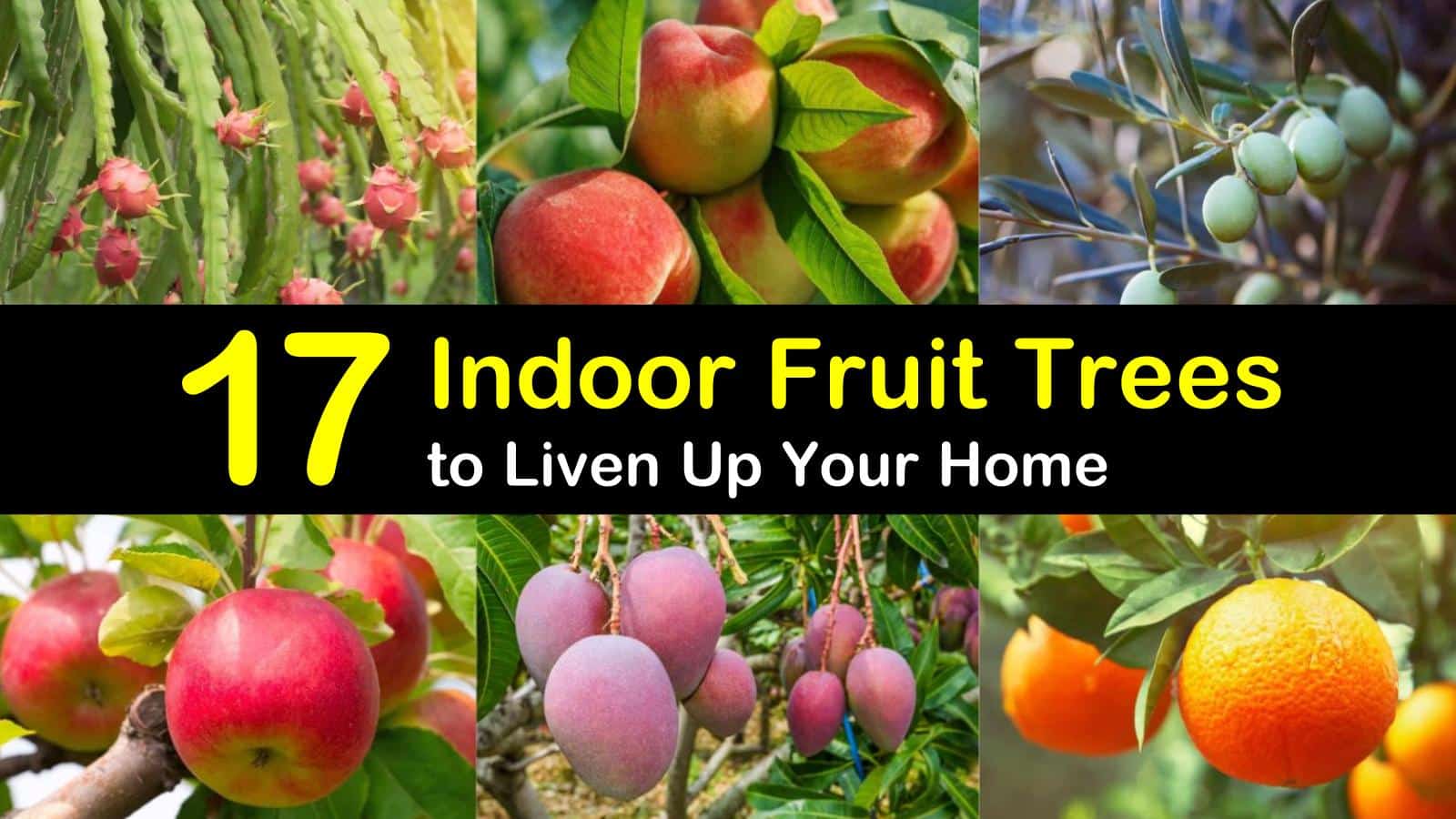 Do I Need Dwarf Indoor Fruit Trees?
Unless you have 30-foot high ceilings and the floor space for a large pot, you are going to need to search for the dwarf variety of indoor fruit plants.
Many local gardeners and garden shops will be able to either get you what you need or tell you where to find it. If not, there are several online marketplaces where you'll be able to locate the perfect dwarf variety for the tree you want.
Where is the Best Place for Growing Fruits Indoors?
Generally, you are going to want to make sure the plant is near a window. However, it is essential to realize that some trees will need full sun whereas others will be happy in a shadier situation.
It is essential to assess the amount of natural light that the various areas of your home receive and determine how much natural light an area gets each day. From there, you will be able to decide on the best fruit-bearing trees.
Do Indoor Fruit Plants Grow in Hanging Baskets?
Sometimes, you don't even have enough floor space for a large pot or container (hello, first apartment). If this is the case, there are several common hanging plants to spruce up your home. If you're looking for indoor plants with edible fruit, there are still a couple of options!
While none of the indoor fruit trees in this list would thrive in a hanging basket, you can try your hand at growing strawberries indoors in a hanging planter or experiment with some refreshing cucamelons. No matter your housing situation, there are fruits you can grow indoors.
Easy-to-Care for Indoor Fruit Trees
While you can certainly add a single fruit tree to any room in your home, why not create an oasis in a bright corner. Add a few of the many types of indoor palms to accentuate your fruit tree and make the space more inviting than you ever thought possible. Here are a few ideas for the best fruit trees that grow well indoors.
Apricot (Prunus armeniaca)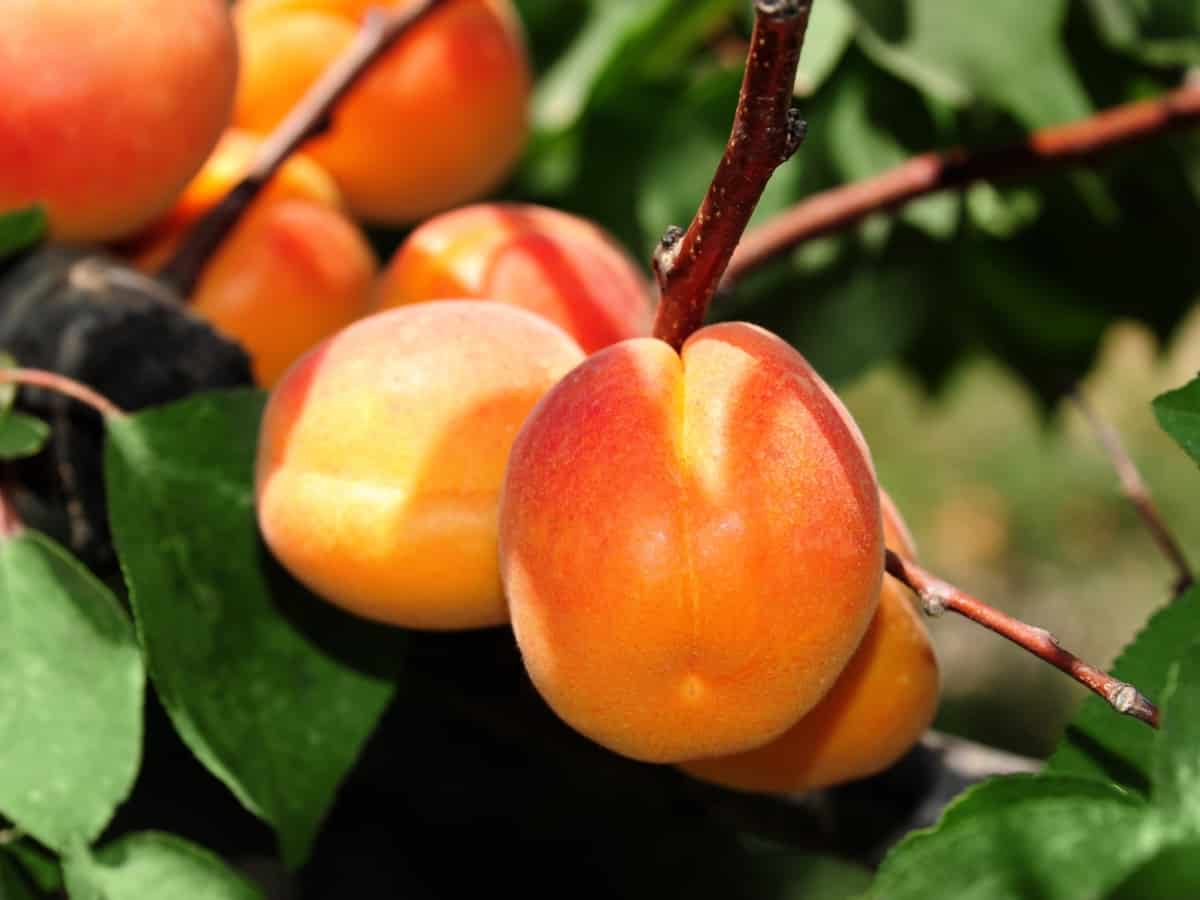 For those who enjoy sweet fruit, a dwarf apricot tree is an excellent addition to your home. Two varieties that are often considered the best for indoor growth are Shipley and Goldcot, or another kind of self-pollinating type. Apricots sometimes even come as mini fruit trees, perfect for those with limited space!
As long as you keep the soil for the apricot moist with regular watering and your tree gets at least six hours of sun, you will have a happy apricot tree. To ensure that your apricot tree is well-draining, put about an inch or two of gravel at the bottom of your pot.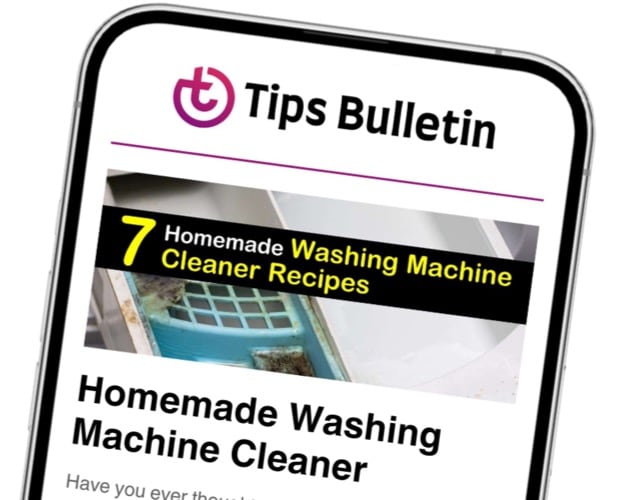 Finally, an email that Transforms Your Home.
Get the latest home and garden tips from our experts, delivered straight to your inbox.
Eat your apricots right off the tree or gather your harvest and make some apricot jam to enjoy later.
Fig (Ficus lyrata)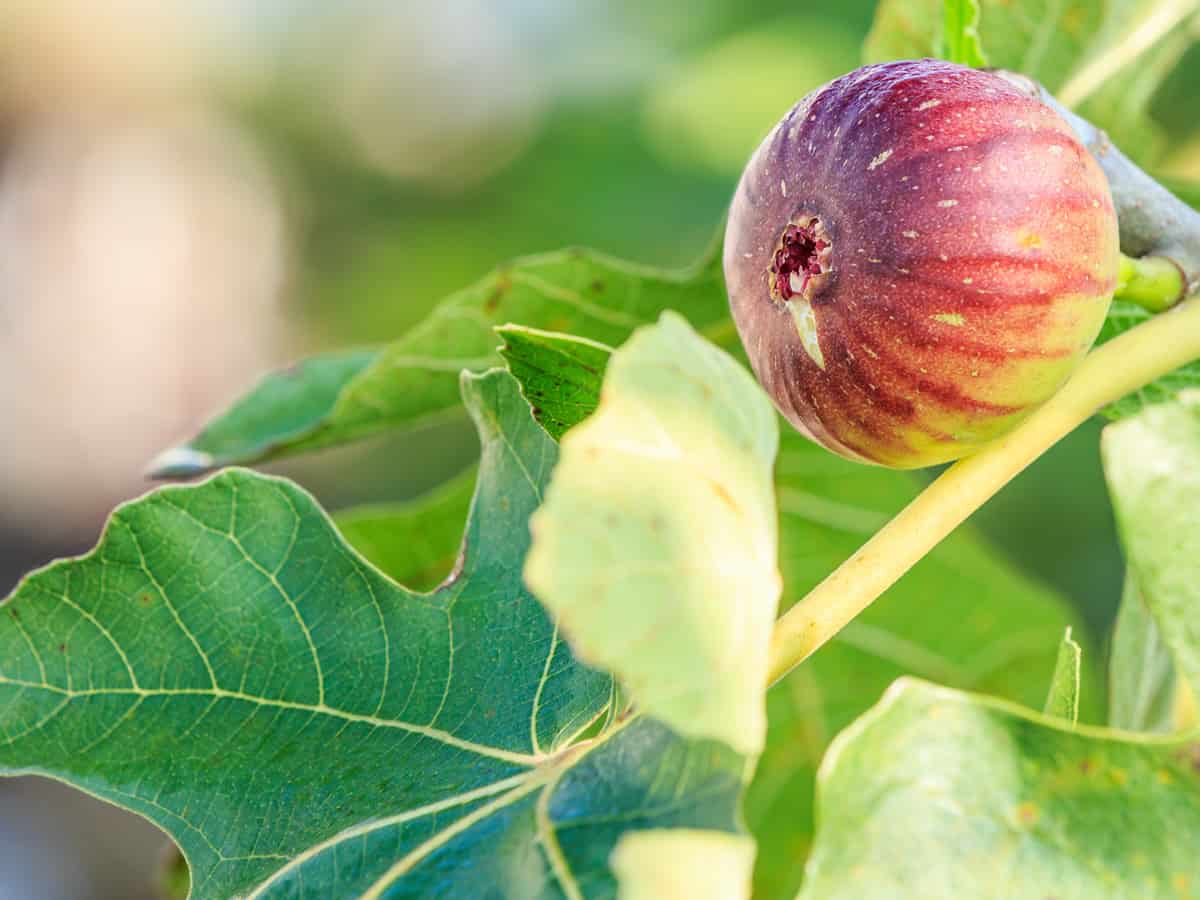 These sweet and subtle fruits are also reasonably easy to grow indoors! With a five-gallon pot, you can grow a fig tree.
A common variety for indoor growing is the Negro Largo. The Negro Largo is a relatively hearty strain which makes it suitable for a variety of climate and light situations. However, it is recommended that your fig tree gets at least six hours of direct sunlight.
Even as potted fruit trees, a happy and healthy fig tree will still try to grow outside its container. A little bit of pruning is all that is needed to train the tree to stay within its indoor boundaries. However, the benefit to a happy and healthy fig tree is that it just might produce fruit year round!
Meyer Lemon (Citrus meyeri) – The Classic Indoor Fruit Tree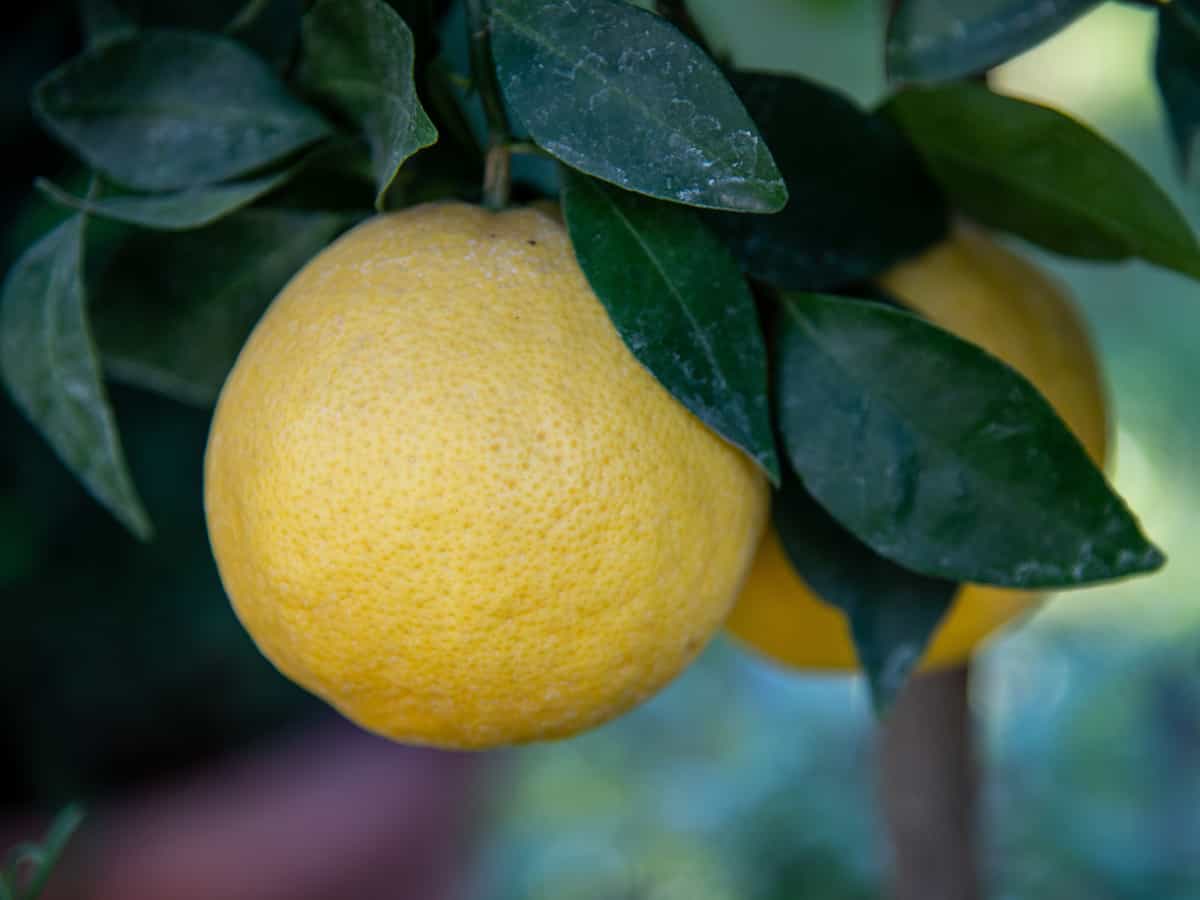 When growing fruit indoors, just about everyone suggests a Meyer lemon tree. It's easy to grow a dwarf lemon tree even for those without a green thumb. Citrus trees like lemons, limes, and oranges are happy indoors and tend to be relatively low maintenance, making them beautiful starter plants for beginners or even experienced gardeners.
However, be patient, because it may take a Meyer lemon tree up to three years to grow fruit. The fruit that eventually forms will be worth the wait, though, so stick with it.
The one downside to the Meyer lemon is its constant need for direct sunlight. Unless you have a south-facing window where you can get at least eight hours of sun a day, the Meyer lemon may not be the best of the indoor fruit trees for you. You'll also be glad to know that your indoor citrus plant repels spiders!
Kaffir Lime (Citrus hystrix)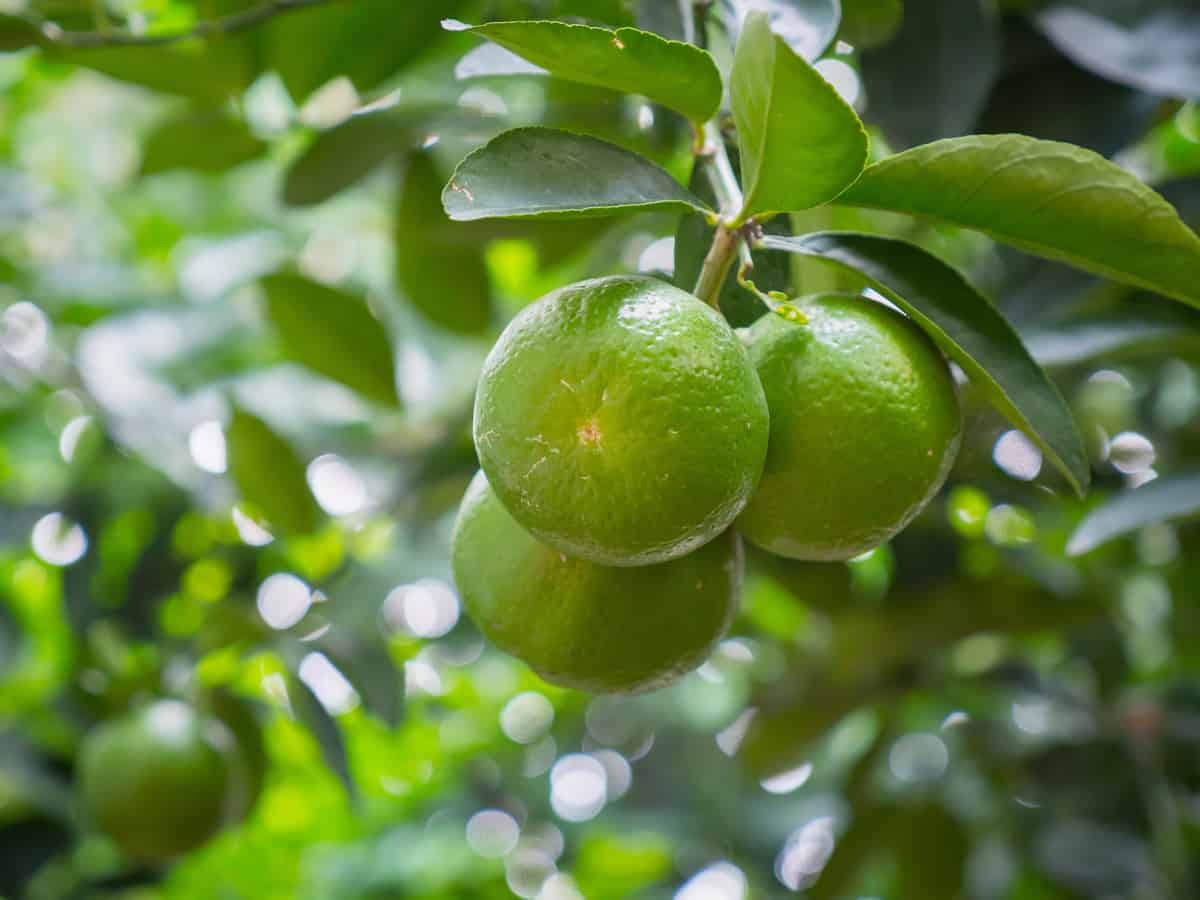 Also considered among the easy to grow citrus trees, the Kaffir lime tree is among the classic indoor trees. An excellent choice for warmer climates, the Kaffir lime tree is happiest when it receives a minimum of 8 hours of direct sunlight a day. Coffee grounds are good for citrus trees like limes, so add your grounds to the soil periodically.
However, the Kaffir lime is perfectly happy in the standard potting soil you'll find at your local nursery. Just make sure that whatever container you pick has plenty of drainage holes because the Kaffir lime can become waterlogged quickly.
For those of you who enjoy experimenting in the kitchen, you'll be happy to know that the Kaffir lime tree leaves are the same lime leaves so often used in Indonesian and Thai cuisine! You'll be wowing dinner guests before you know it.
Orange (Citrus sinensis)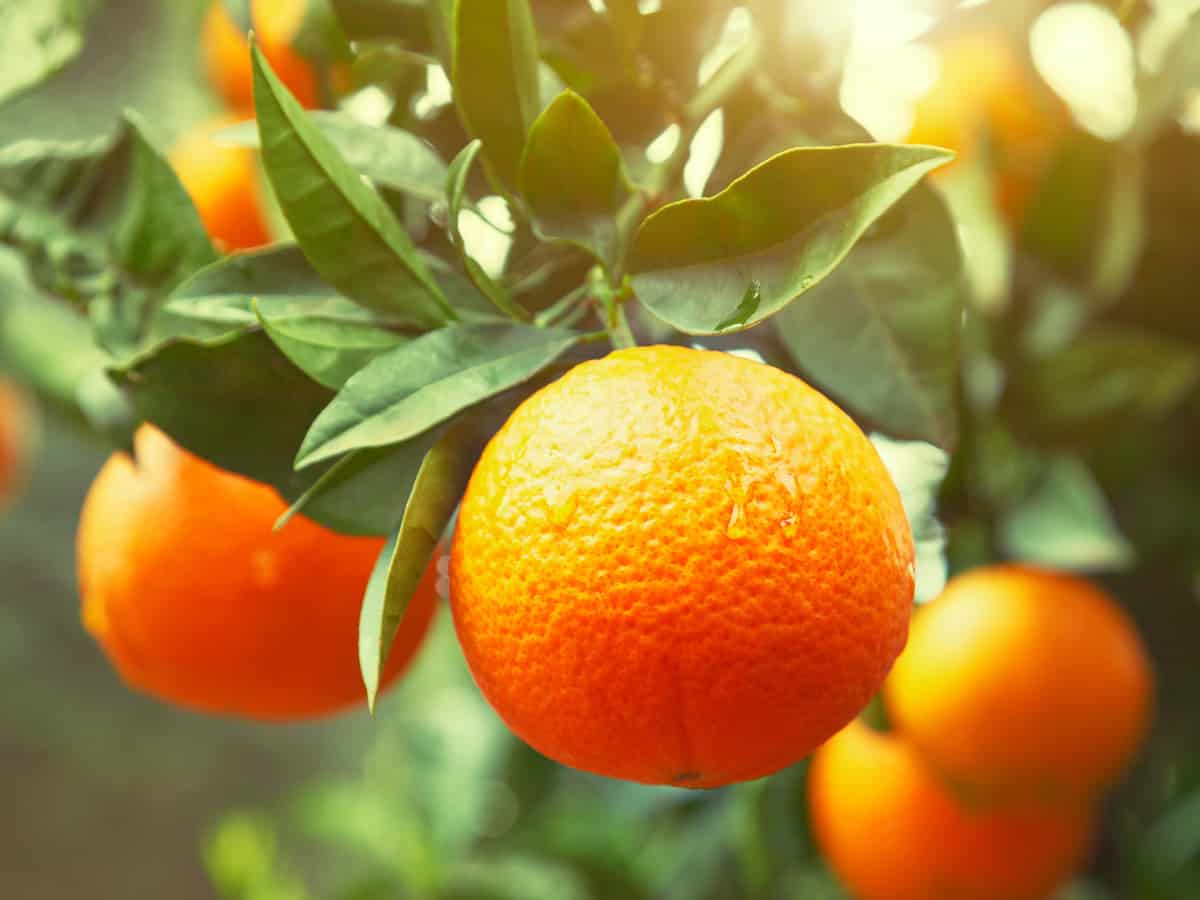 For citrus fruit lovers, you will be happy to know that orange trees can also thrive indoors. The most popular type of dwarf variety for an indoor orange tree is the calamondin, Citrus mitis. However, orange trees are a little bit trickier to keep happy.
If you have a south-facing window that receives at least eight hours of sunlight, chances are your orange tree will thrive. An orange tree also needs a specific citrus potting mix. However, your local nursery or garden store will be able to help you with that.
To go the extra step in keeping your orange tree happy, get a spray bottle. Oranges prefer more humid climates, so the occasional spritz of water will help your tree produce some delicious fruit. This will be doubly helpful because that extra water that keeps dust from settling serves as a spider mite killer and deterrent.
Olive (Olea europaea) – The Trendiest of Indoor Fruit Plants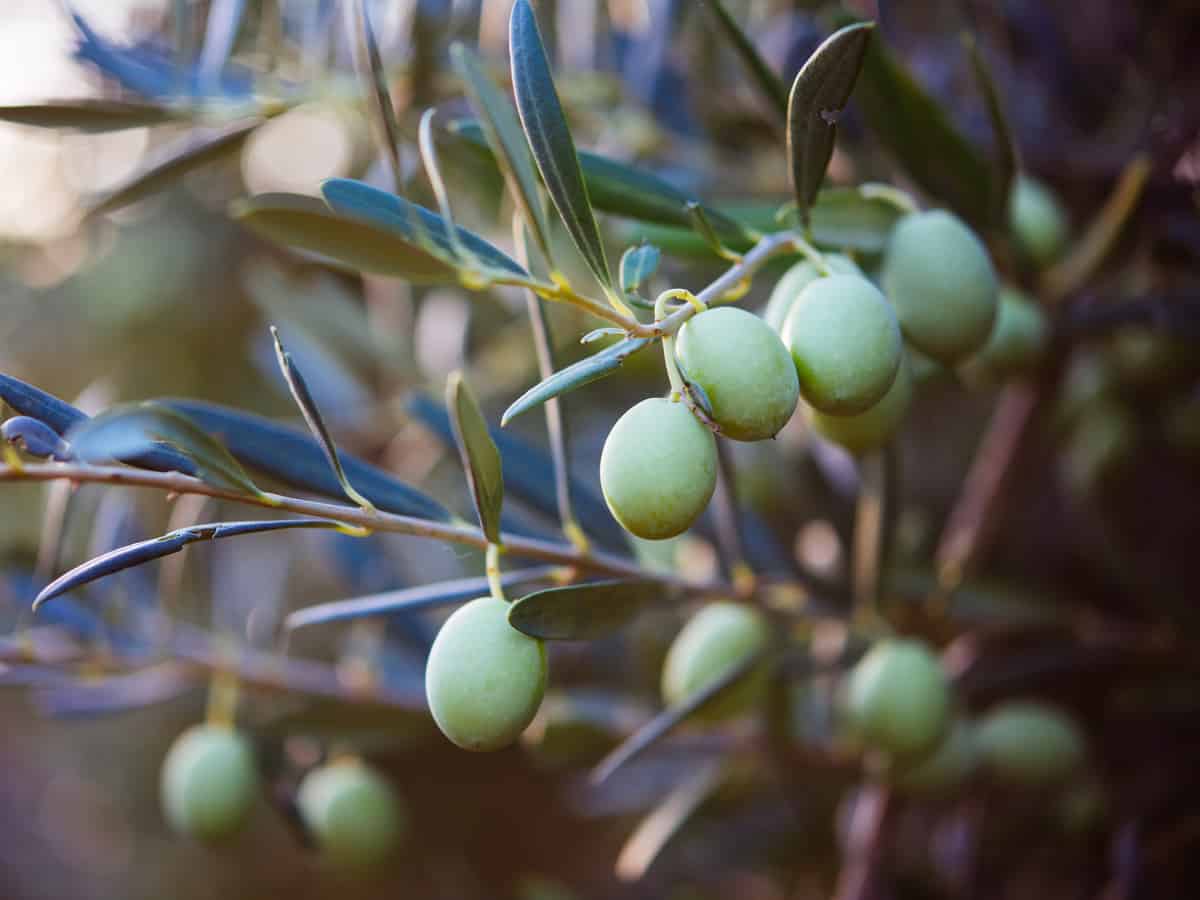 If you dream of escaping to the Mediterranean, consider getting an olive tree. These fruit plants (yes, fruit!) are quickly becoming one of the trendiest indoor house trees available.
Some common indoor varieties include the Arbequina and Picholine. While olives are some easy to grow fruit trees that can withstand varying humidities and temperatures, they do need at least six hours of direct sunlight to produce fruit.
And due to their Mediterranean nature, they want a sandier potting mix that allows plenty of drainage. Before you know it, you'll be making homemade olive oil and tapenade for all your neighbors and friends!
Banana (Musa acuminata)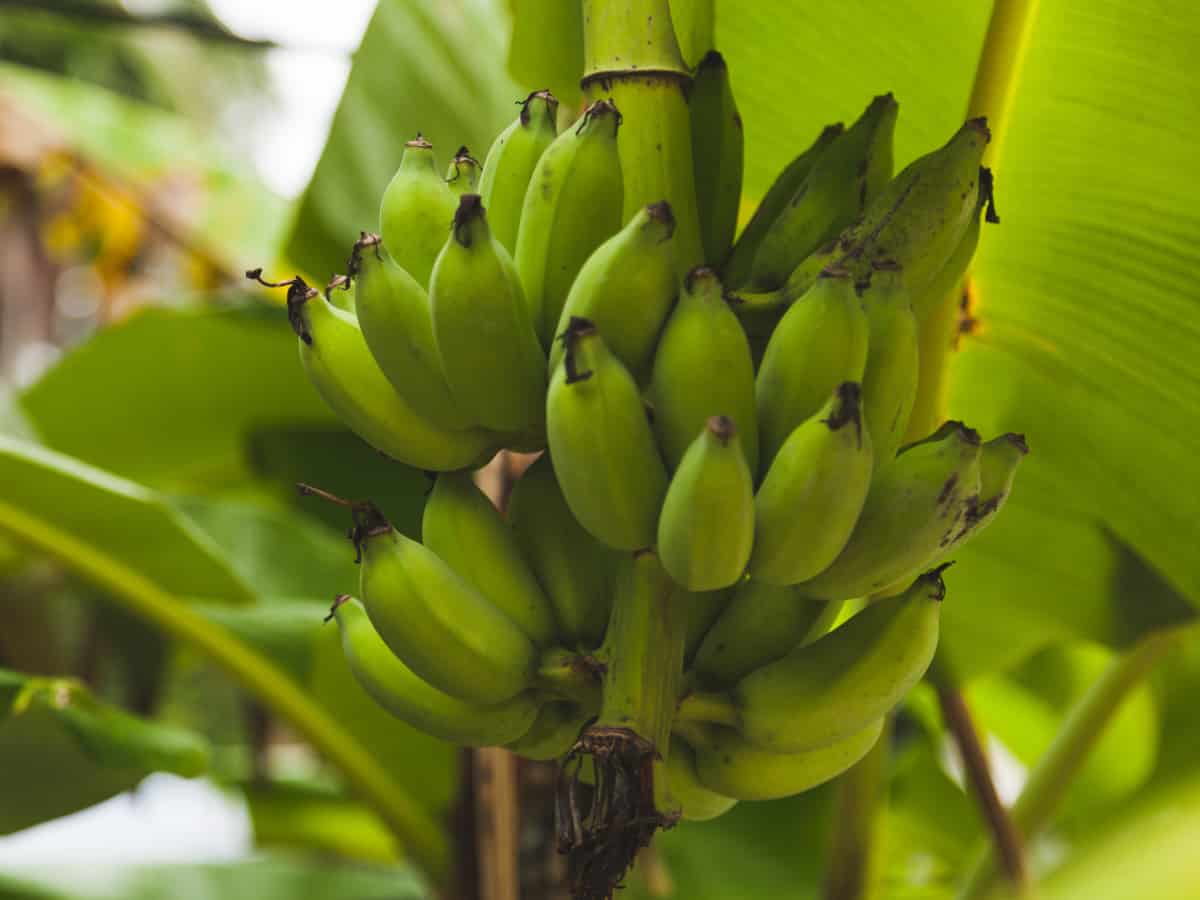 If you love tropical fruits, you'll be excited to learn that you can grow a banana tree inside the house, in addition to growing it outdoors. Two specific dwarf varieties work well indoors: the Super Dwarf Cavendish and the Red Dwarf. However, even with a dwarf variety, you will need a large pot because the banana tree root system is expansive.
Even though you can successfully grow an indoor banana tree, the plant needs a minimum of 12 hours of sunlight or artificial plant light every day. If you don't have a sunny window, invest in a plant light to give your banana plant the light it requires. To ensure healthy growth and life for this tropical plant, fertilize your banana tree once a month and learn how to get rid of spider mites naturally if they become a problem.
Mulberry (Morus nigra) – A Plentiful Indoor Fruit Plant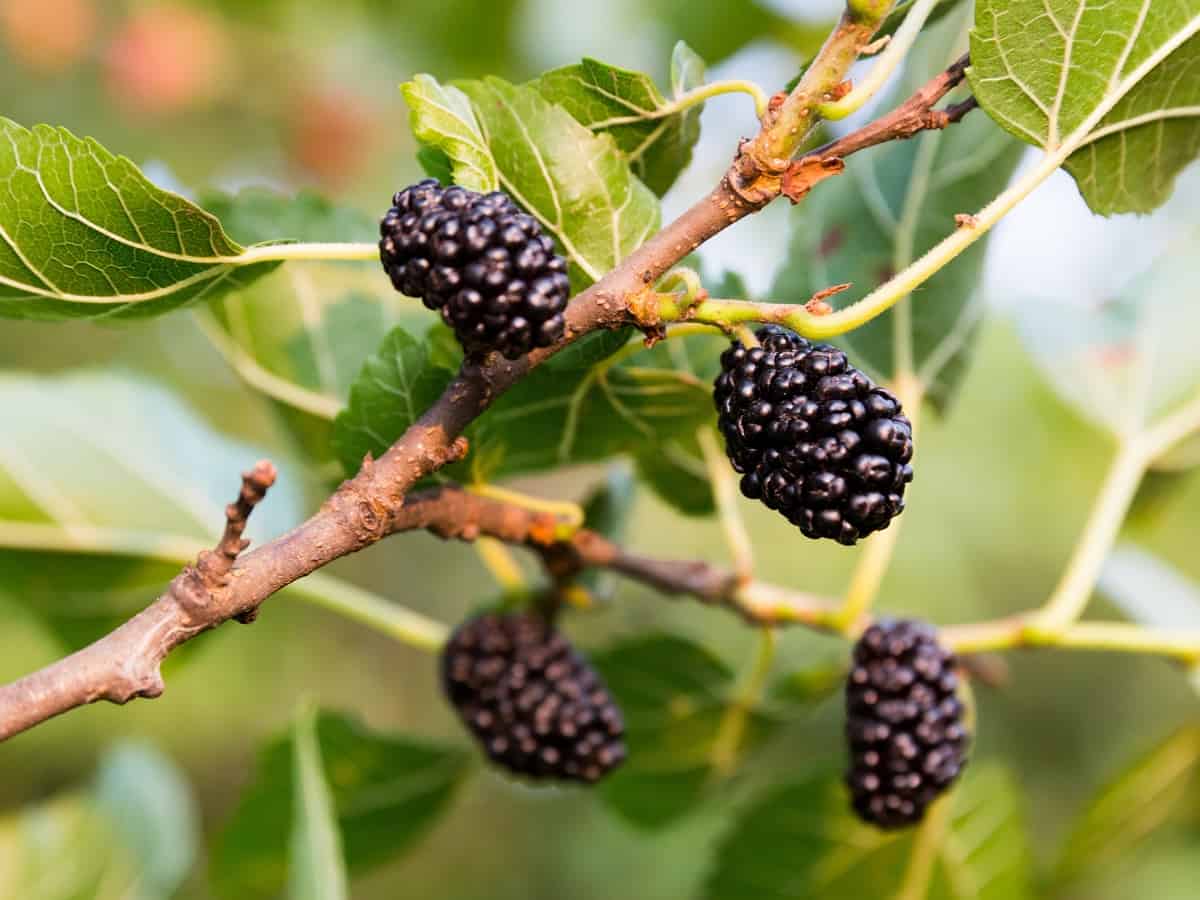 For those who love blackberries, the mulberry is a perfect choice. Are mulberries the same as blackberries? With a similar flavor to the blackberry, the mulberry tree has a slightly more tart flavor, but still satisfies the sweet tooth. Mulberries make excellent jams and pies or are just as delicious eaten right off the tree!
An excellent variation choice for growing mulberries indoors is the Dwarf Everbearing. If happy and healthy, the Dwarf Everbearing produces fruit almost year round! Your mulberry tree prefers at least six hours of sunlight but can produce fruit in shady situations, as well.
Most mulberry trees need full sun but some can be low light indoor houseplants that are happy in a wide variety of climates, making them resistant to temperature and humidity changes and are adaptable to all sorts of growing situations. The mulberry is also an excellent starter for those just starting to learn about growing fruits indoors.
Cherry (Prunus cerasus)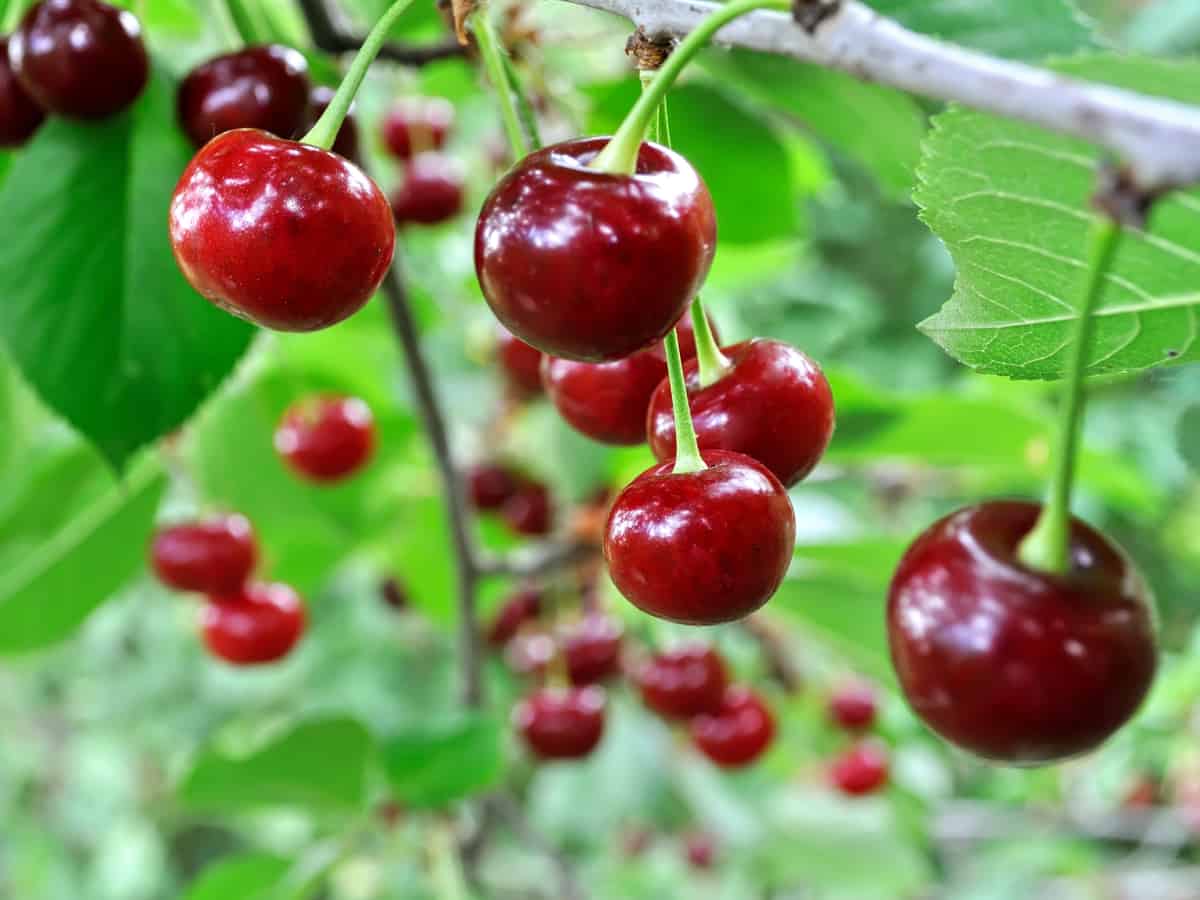 No matter which dwarf cherry tree variety you pick, it is essential to know that there are self-pollinating varieties available. These are more low maintenance and better suited for the beginning gardener. Keep in mind that even though the dwarf cherry tree will only grow to be a meter or two high, the root system is rather large, so you will need a large pot.
Consider your plans for the cherries. If you want fresh, edible fruit for snacking, go with a sweet variety. If you plan to do a lot of baking and cooking with the cherries, get a sour variety.
Apple (Malus domestica Fuji)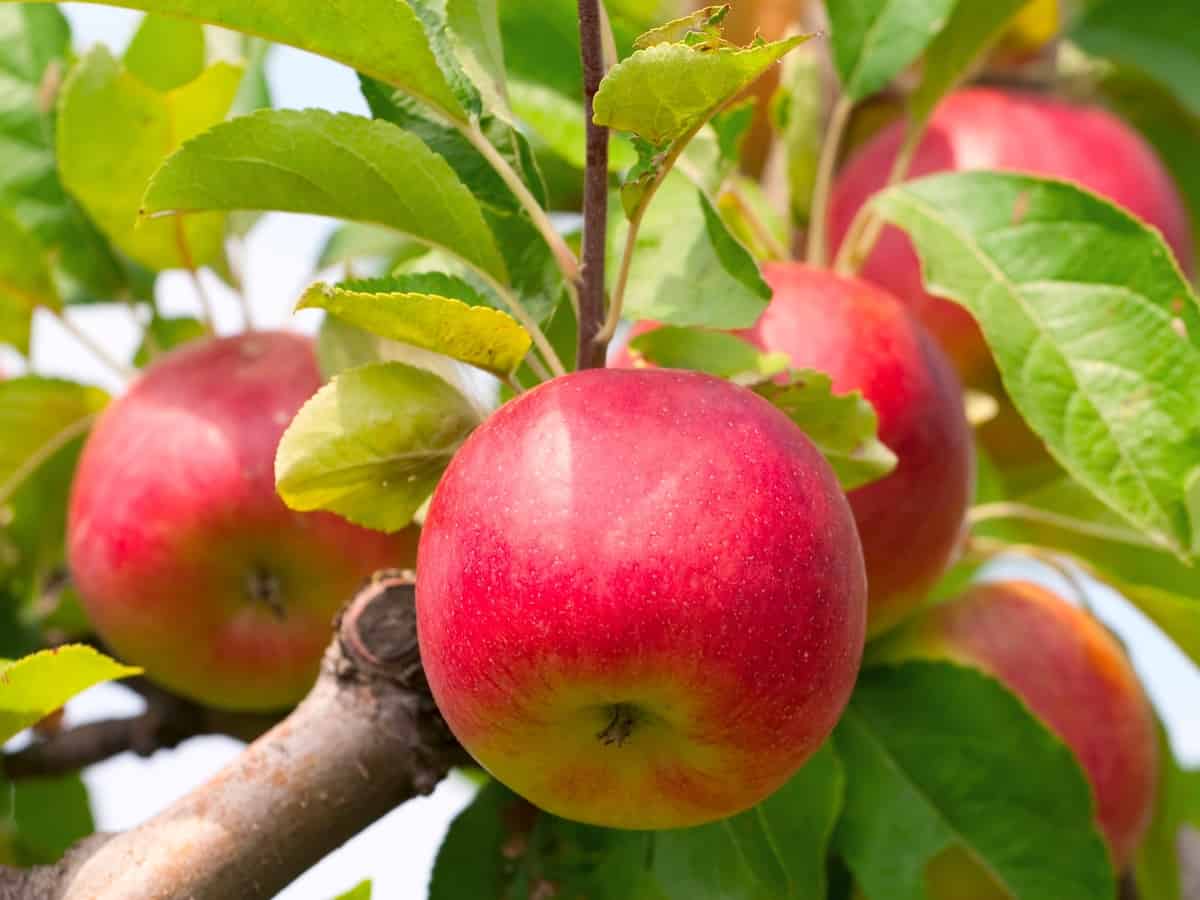 Autumn lovers will be happy to know that they can grow an indoor apple tree. The Fuji variety has the most resilient dwarf option, so you will soon enjoy sweet and crisp Fuji apples. However, an indoor apple tree requires some extra attention.
Start the tree in a smaller pot and then as it grows and gets larger, re-pot it into a larger container. This may be required as often as every few months. When you see flowers in the spring, you'll know that you'll have apples in the fall.
Apple trees also need a chilling (but not freezing) period to produce fruit. The best way to do this inside is if you live in an area with mild winters. Place these dwarf flowering trees near a window.
Open the window so it is exposed to the cooler air. Check on your apple tree variety with your local agriculture agency because different varieties have different climate tolerances.
Pomegranate (Punica granatum var. nana) – My Favorite Indoor Fruit Tree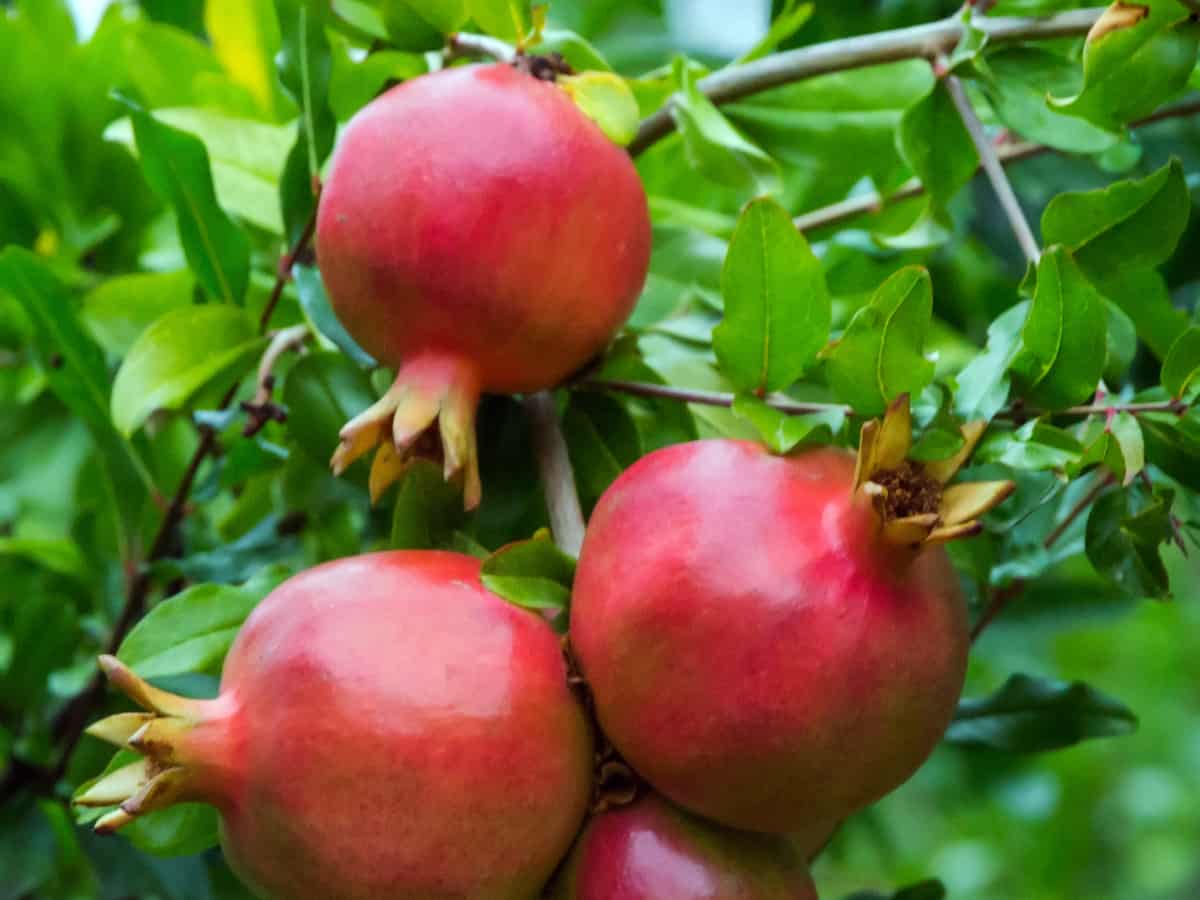 At a small three feet tall, the dwarf pomegranate tree produces full-grown pomegranates in the comfort of your living room. Place the fruit tree somewhere in your home where it will receive southern, or at least eastern, sun exposure. The pomegranate tree will want as much direct sunlight as it can get.
While the pomegranate tree is fairly low maintenance, make sure you use a sandy-potting soil mix and fertilize the tree every other week to make sure it gets its necessary nutrients.
Mango (Mangifera indica)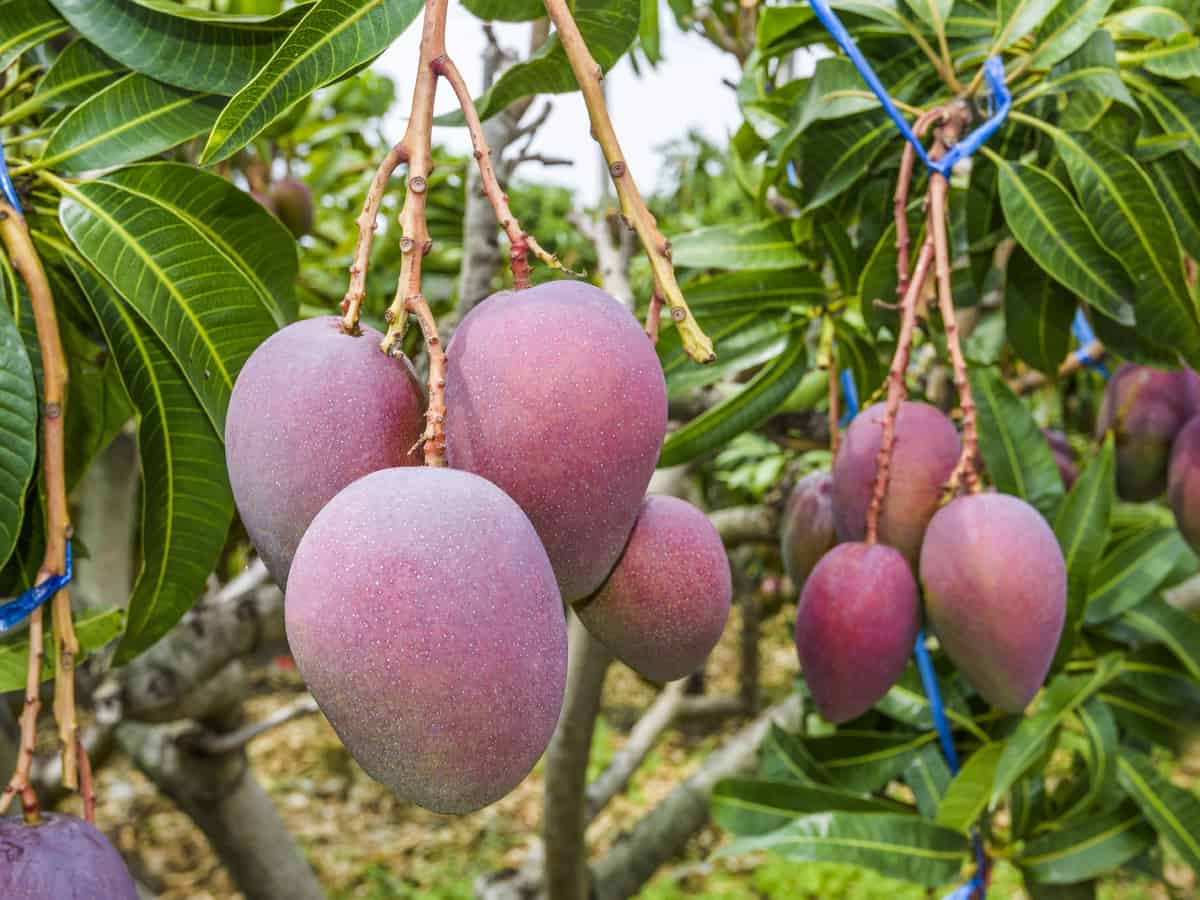 Mangoes grow in tropical regions, so make sure that you keep the soil moist and well fertilized. The large leaves of the plant will help make your living area feel like a tropical oasis.
Unfortunately, there is a chance that the mango tree will never produce fruit. Because it is a tropical fruit, mangoes require a specific climate and plenty of sunlight. However, if you invest in a spray bottle and spritz the tree every so often and keep the tree in a very well lit part of your home, you might find some delicious mangoes on your hands.
Dragonfruit (Hylocereus undatus)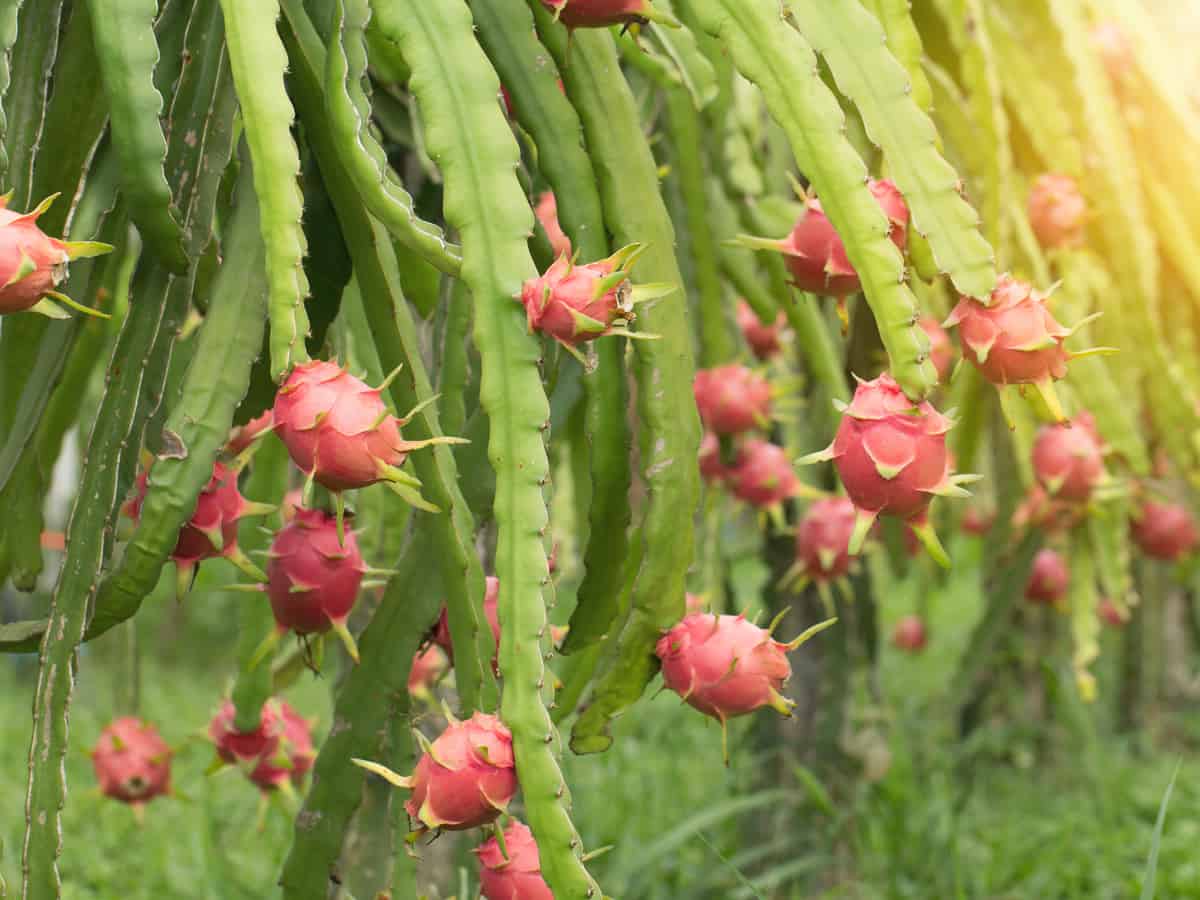 To add a unique plant to your living space, consider the dragon fruit plant. The cactus-like tree bears the unique spiked hot pink fruit, making a statement piece in your living room.
Because the dragon fruit is a cactus, make sure that the soil is very well draining. By placing gravel or rocks in the bottom few inches of the pot, adding a couple of inches of sand, and then covering it all with potting soil, the soil will drain well. You'll also want to make sure to position a trellis in the center of your pot to help support the plant.
Avocado (Persea Americana) – Growing Fruit Indoors for Experts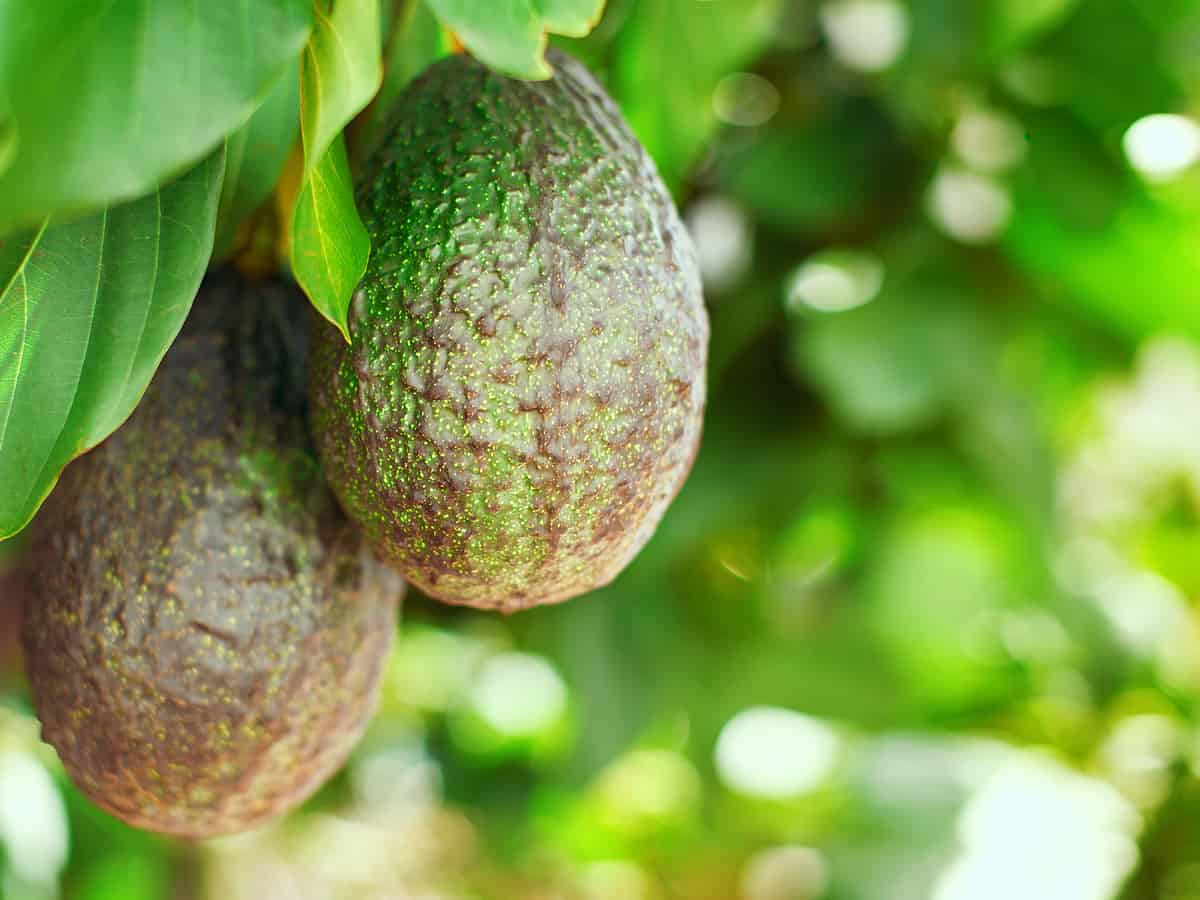 If you enjoy fresh avocado, you may have thought about learning how to plant an avocado tree in a pot at home. While growing an avocado tree is fairly simple, it is rather tricky to get the tree to produce fruit. To start an indoor avocado tree and grow an avocado tree from a pit, take the pit of an avocado, skewer it with toothpicks, and set the pit over a glass of warm water.
The pit should be just slightly touching the water. Place the pit and water in a sunny windowsill and change the water frequently. Once the pit forms roots, transfer it to a container.
If you want to purchase an already growing tree when growing avocados at home, you'll be happy to know that a lot of dwarf varieties are a little more resistant to colder temperatures than their full-size counterparts. Trees started by cultivators are more likely to produce fruit.
If you are lucky enough to have an abundance of avocados, you'll be happy to know that you can preserve them to eat later. Freezing avocados is easy and will keep you stocked with delicious fruit for guacamole whenever you want it.
Papaya (Carica papaya)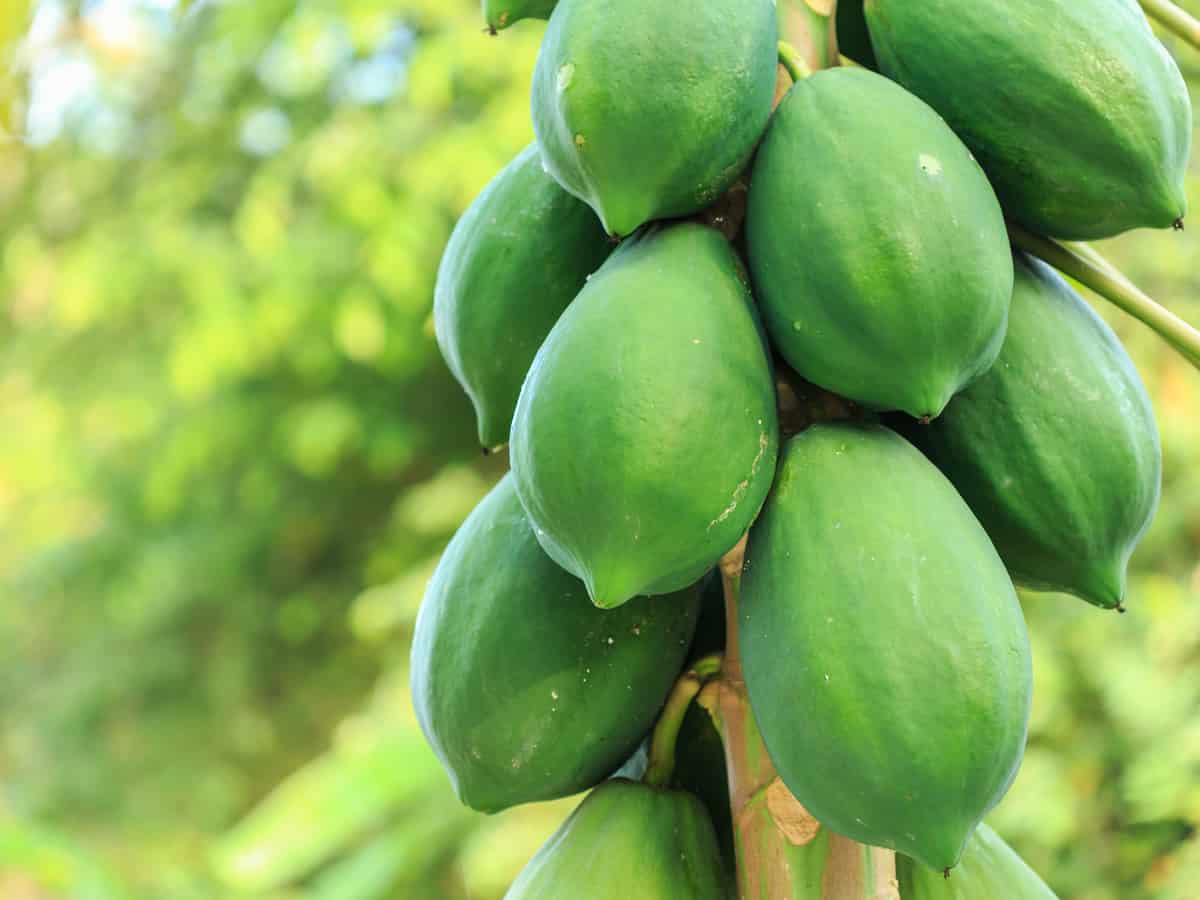 Because papayas are tropical fruits, pick a precise location for your papaya plant. Choose an area that has plenty of direct sunlight, preferably a south-facing window, and somewhere near a heating vent in the winter. Additionally, the occasional misting with a spray bottle will help keep the papaya plant happy.
While the papaya is a tropical tree, it will likely not need as much watering as you think. Simply water the plant twice a week, but not enough for there to be any water standing on top of the soil.
Guava (Psidium guajava)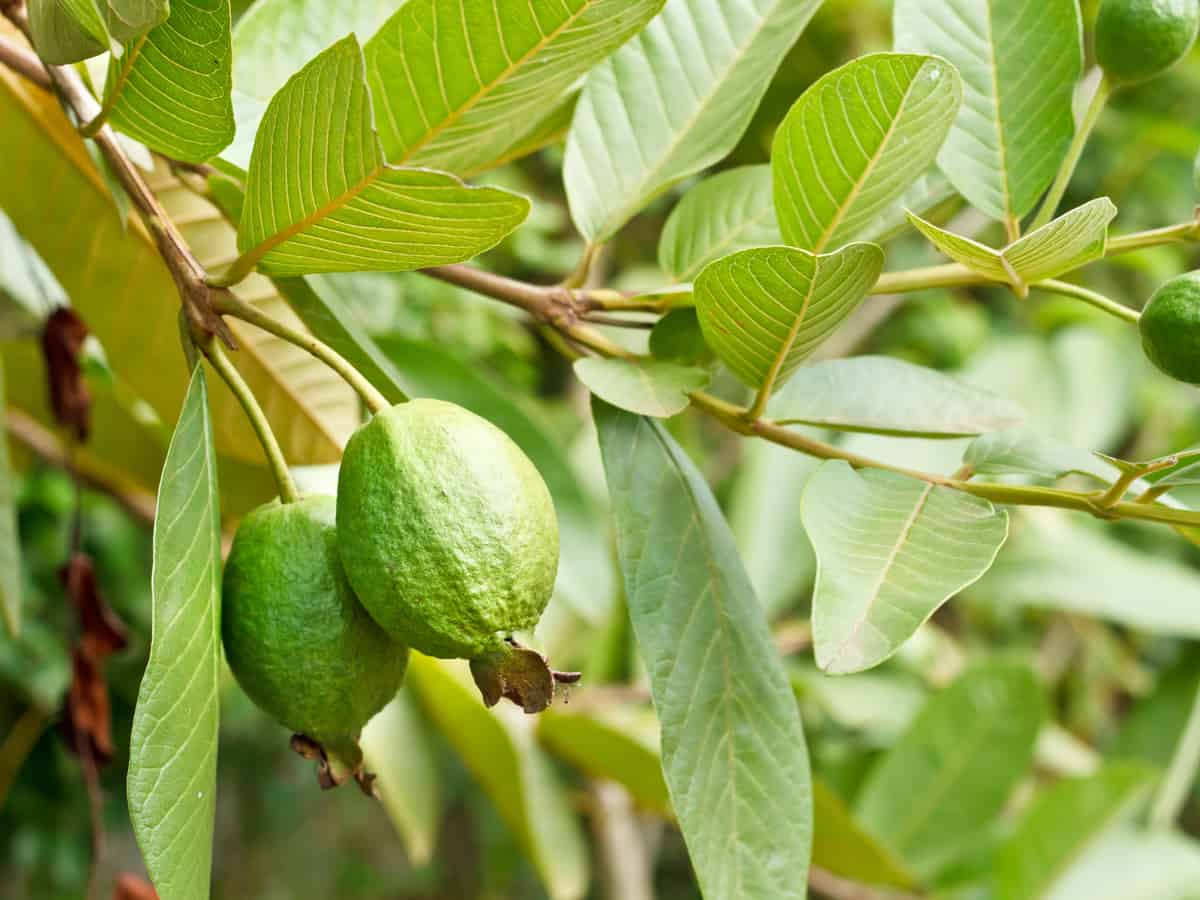 The special care instructions for a dwarf guava tree are relatively low maintenance, making it a decent starter plant for those just beginning to learn about growing fruits indoors. You need standard potting soil and a large pot with ample drainage holes.
Unfortunately, the guava plant enjoys full sun. It is recommended that the guava plant is moved outside for the spring and summer months. While this isn't required, it can be that extra boost to help your guava produce plenty of delicious fruit.
Peach (Prunus persica)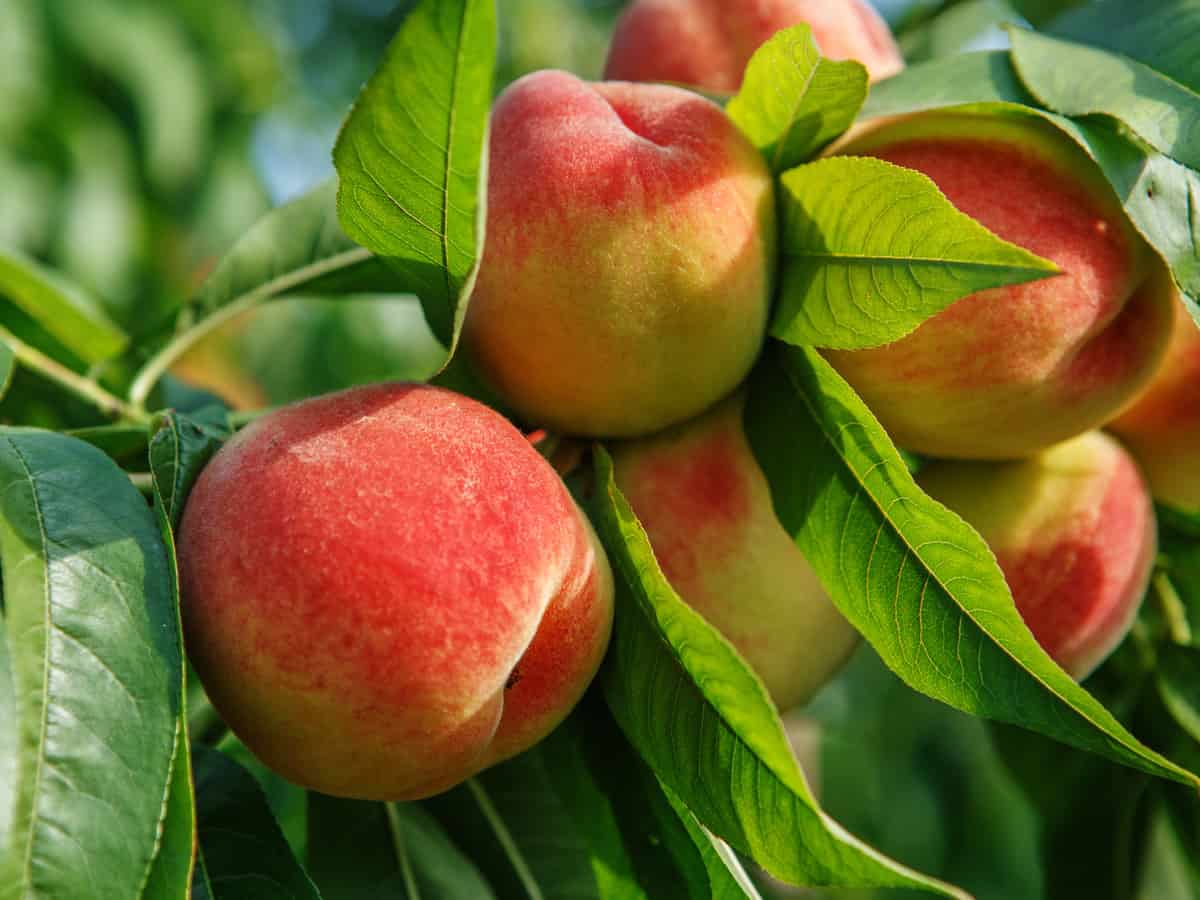 Nothing says summer like fresh, juicy peaches. While there are dwarf varieties of peach trees available, you will still have to maintain it with semi-regular pruning to help it maintain its size and shape. To aid with drainage, add a layer of gravel to the bottom of the pot. Be sure to keep the soil moist, but you don't want to waterlog your peach tree.
If you want to grow your tree from a peach pit, it may take up to four years for it to start producing fruit. However, if you purchase a young tree from a cultivator, you might get peaches after just a year!
Hopefully, you found some inspiration here for creating an indoor orchard. With so many options available for gardening enthusiasts, you are going to find yourself with plenty of fresh fruit throughout the year at a much lower maintenance requirement than many people believe.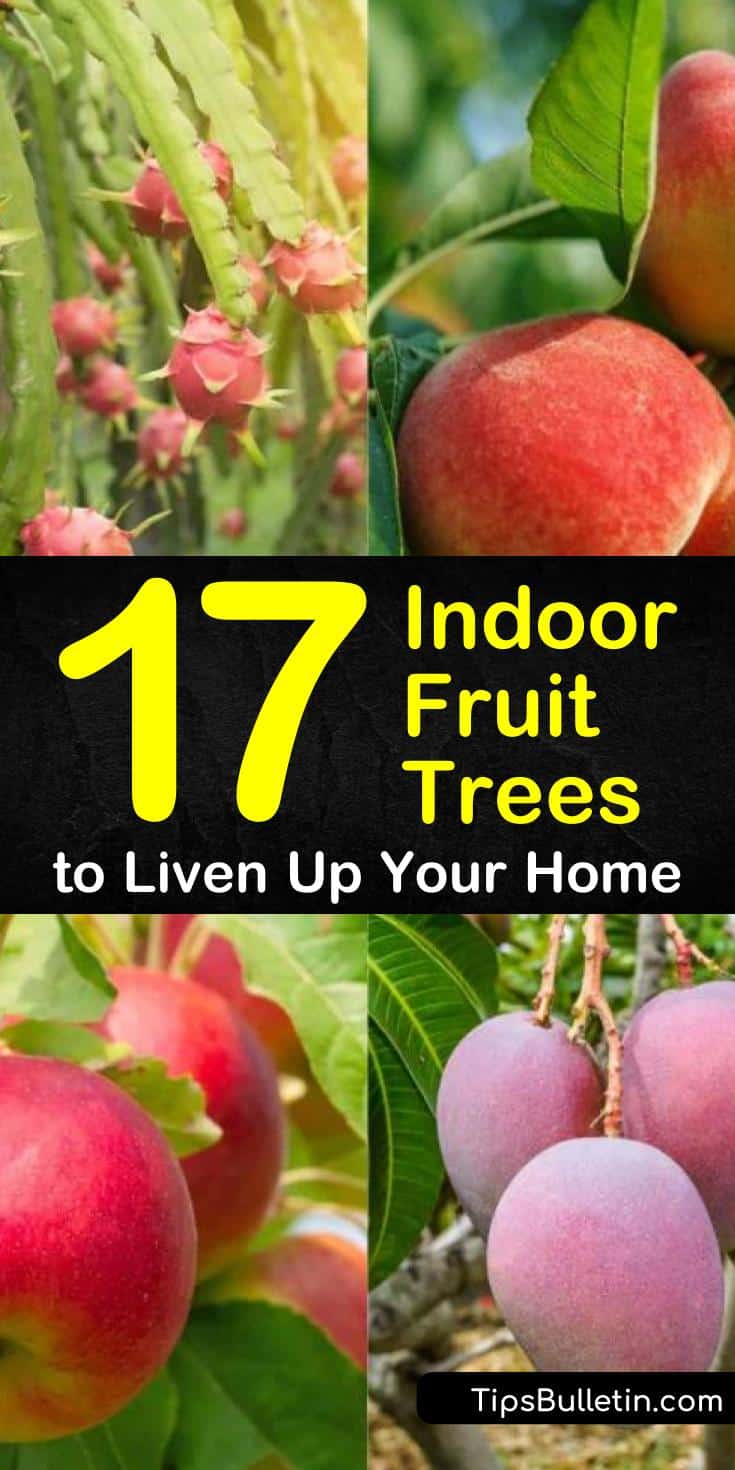 If you found this article about growing fruit indoors interesting, please share this post about indoor fruit trees with your friends on Facebook and Pinterest.