If the windows in your home face north, you're probably dealing with a low light issue when you consider growing plants indoors. Contrary to belief, you don't need a lot of sunshine and a green thumb to grow beautiful plants in your house. There are many indoor plants for low light that not only grow well but add appeal to your home.
Houseplants serve many purposes. They add a touch of colorful nature to the area, purify the air by removing carbon dioxide and toxins, and some plants even look like living artwork and add visual appeal to central points of the home.
Fortunately, plants grow in many conditions, depending on the variety. The only challenge is narrowing your choices.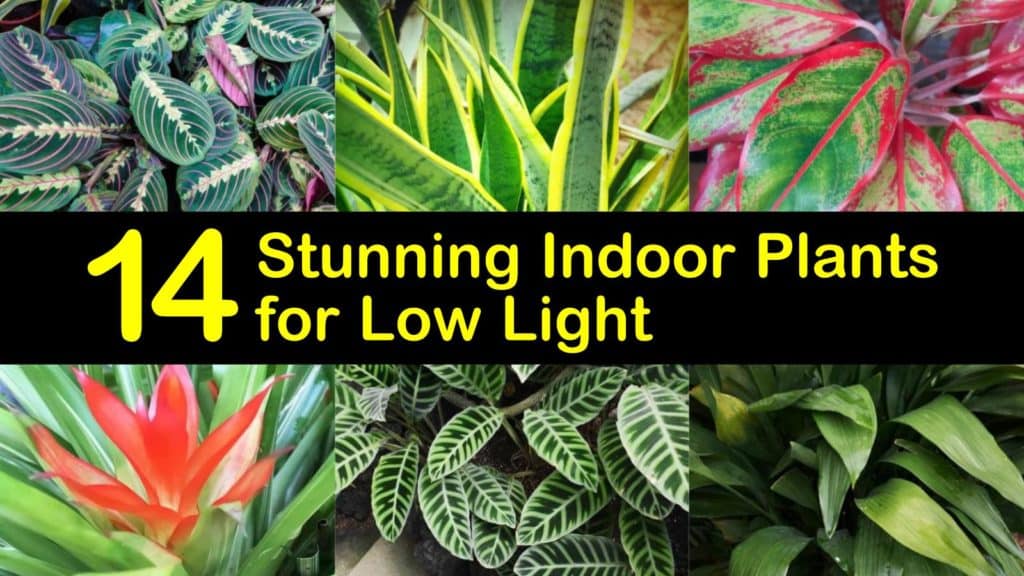 Growing Houseplants in Low-Light Conditions
Growing plants in your home when you do not have direct sunlight is easy when you know what plants to choose and how to care for them. First, determine the type of natural lighting your home has and then choose the best plant for your home conditions. After that, it's just a matter of giving your plant a little TLC.
What is Low Light for Plants?
There are various types of light conditions that plants thrive in, and it all depends on the specific plant. While some plants desire full or direct sunlight to flourish, like with the care for indoor succulents, others shy away from that and prefer indirect light or shade.
Low light means that the plant does not want any direct sunlight. These types of houseplants thrive in areas of the home where the sun's rays do not directly hit the foliage. If low light plants get too much sun, their leaves wither and burn, eventually killing the plant.
Which Types of Houseplants Grow in This Type of Light?
There is a wide variety of indoor plants for weak light areas. Read the care label for your plant to determine what it requires. Make sure you choose plants that are labeled low-light or indirect light before placing them in a space that lacks sunshine.
Easy to grow plants such as the spider plant (Chlorophytum comosum), snake plant (Sansevieria), and dumb canes (Dieffenbachia) are perfect examples of houseplants that grow well in poor light situations.
Philodendron, succulent plants, begonia, and peace lily with its white flowers are also excellent choices. Not only do these varieties grow well in low amounts of light, but they are also easy-to-maintain and require very little care.
Where Can I Place These Plants in My Home?
The best place to make your plant feel at home is to place it in front of north-facing windows. This side of the house provides the perfect amount of indirect sunshine for low light plants.
If you must place your plants in south, west, or east-facing windows, consider setting the houseplant at a distance of three to ten feet from the windowsill.
Are These Plants Hard to Maintain?
These types of plants are just as easy to care for as any other. The only difference is the placement of the plant to ensure that it does not receive direct sunlight.
When choosing your plants, check the care guide for growing instructions. Choose plants that are low-maintenance and require infrequent watering. That way, you can be assured that if you forget to water your plant occasionally, it won't wither and die right away.
Should you accidentally overwater your plants, use a plant bug spray you create with dish soap and water to eliminate spider mites and other bugs that may enjoy the damp environment.
Snake plant (Dracaena trifasciata)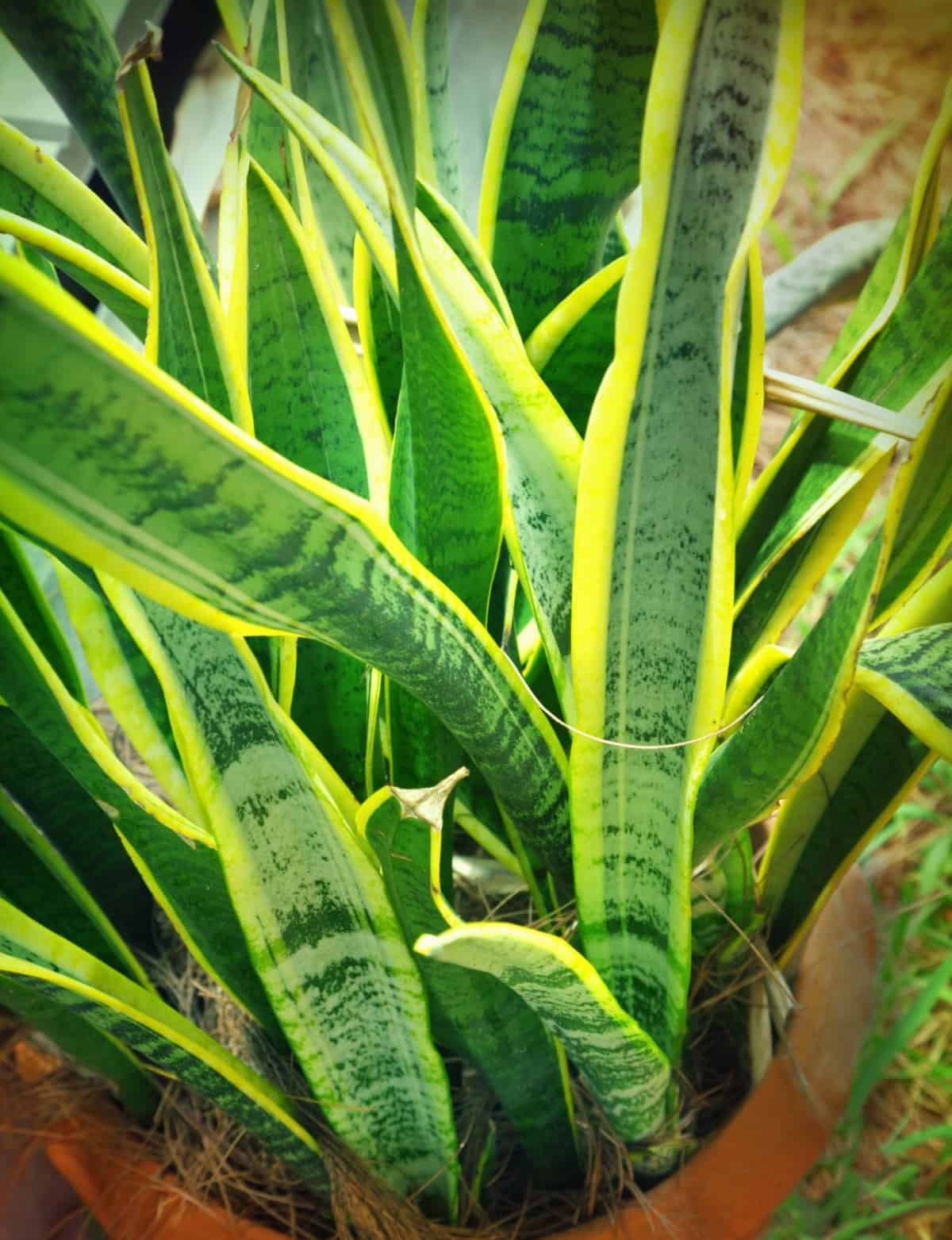 The snake plant is one of the tough houseplants that don't need light very much and that tolerates most conditions. It has upright foliage that almost has a fake appearance and adds architectural form to any room. There are no stems on this plant.
It has tall, leathery leaves that are variegated in bright colors of green, silver, and yellow. This drought-tolerant plant needs well-drained soil to keep it happy.
It is low maintenance and grows to a height of 3 to 8 feet, depending on the pot size. The snake plant enjoys all types of light, including poorly lit areas of the home.
Grape Ivy (Cissus rhombifolia) – Easy to Grow Houseplant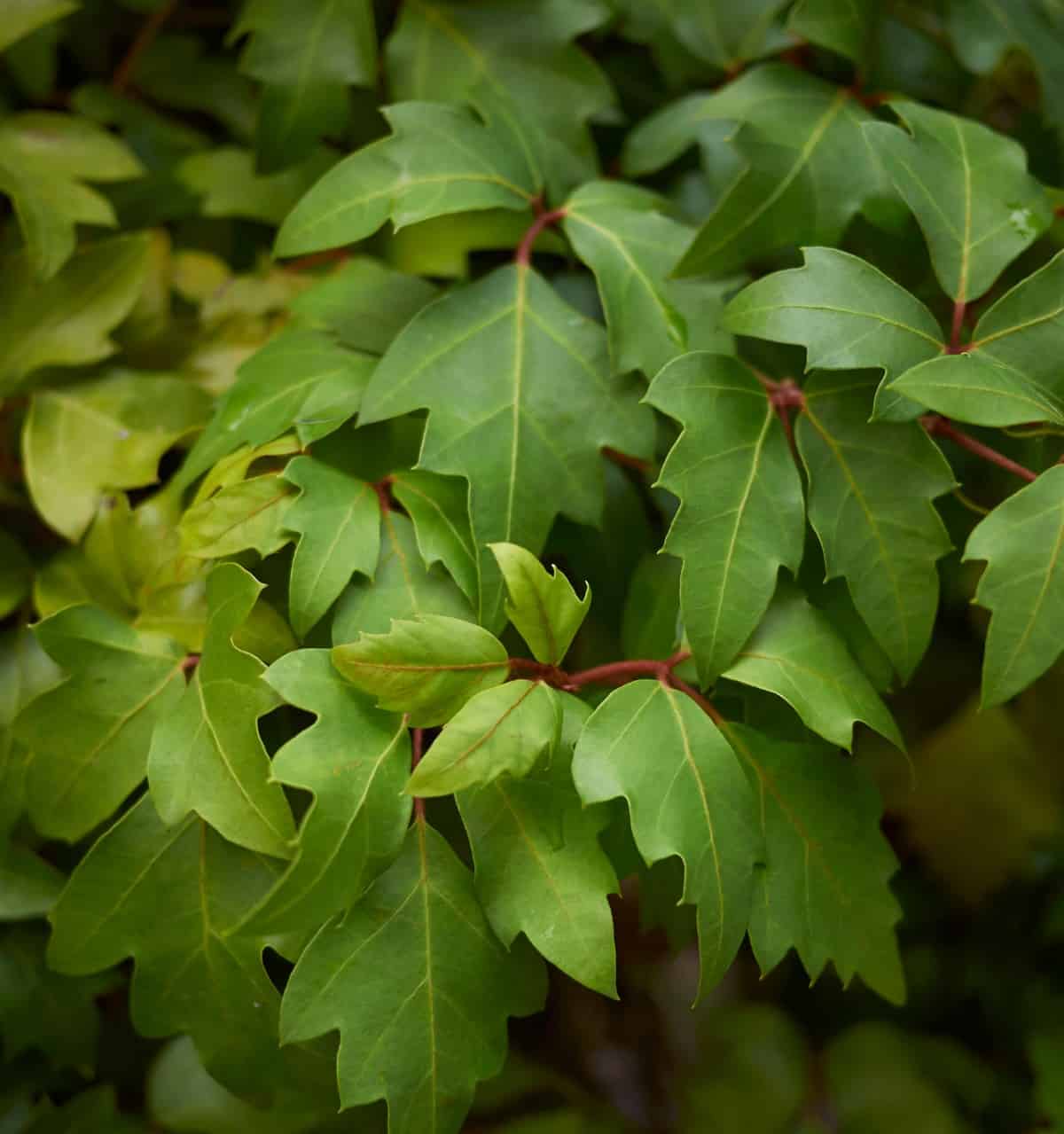 There are many varieties of ivy, and most tolerate low to medium light areas, but grape ivy is also one of the easiest to grow, even if you have a brown thumb. This vining houseplant has a tropical feel to it, and it adds an interesting flair to the room.
Grape ivy grows well in hanging baskets and urns and cascades its foliage over the sides to a length of 3 to 8 feet. It is propagated from stem cuttings and thrives in front of north-facing windows.
Bromeliads (Bromeliaceae)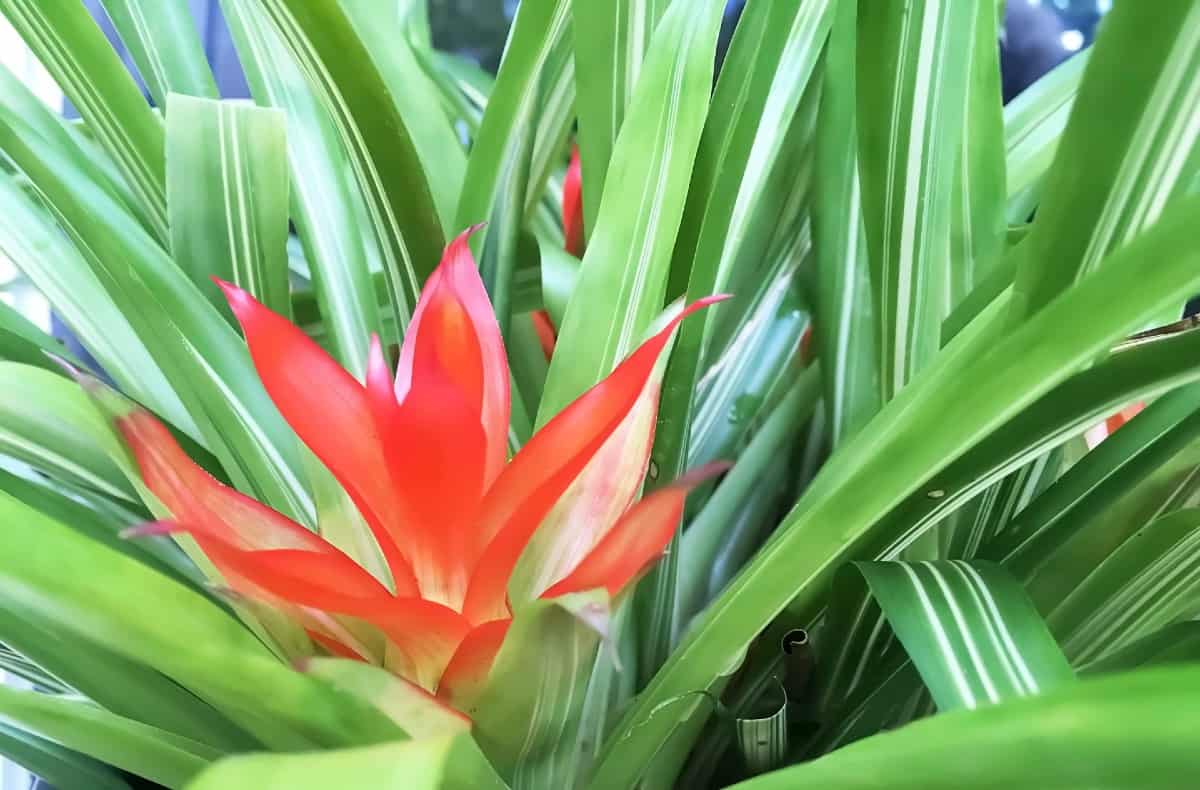 Commonly thought of as a plant meant for greenhouse experts, bromeliads are now recognized as a household plant that is much more easily maintained than many people think. These easy grow indoor flowers are available in a wide array of colors and textures with a showy display. Its strappy leaves of foliage have colors ranging from green and red to orange and yellow.
These low light flowering plants prefer indirect light and fast-draining potting soil. It is very drought tolerant and only requires watering weekly during the growing season and less frequently during the winter rest period.
Maidenhair Fern (Adiantum) – Indoor Plant with Graceful Foliage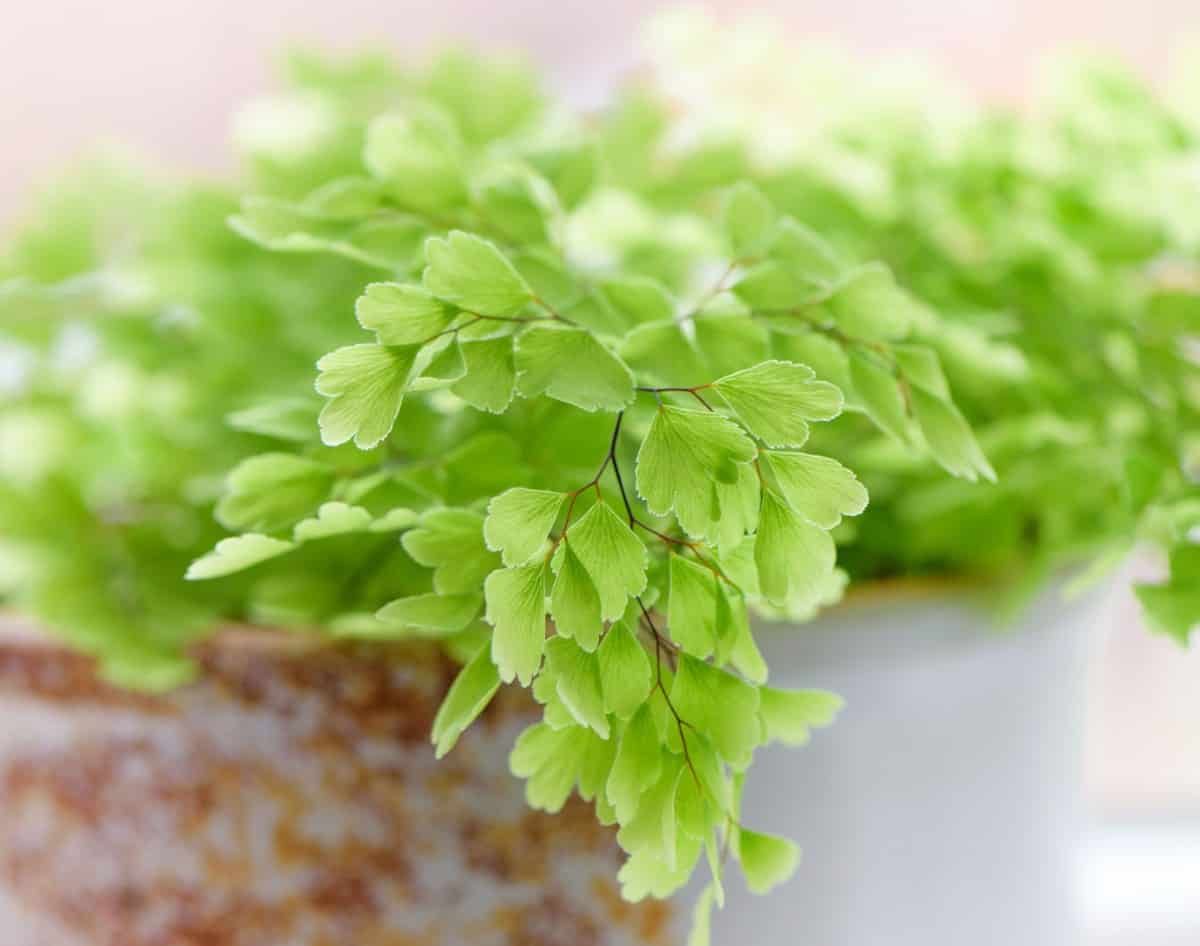 The feathery green foliage of the maidenhair fern has a graceful appearance with its lacy, blue/green leaves. The delicate-looking ferns of this plant add eye-catching appeal when hung in front of a north-facing window.
Maidenhair ferns are usually thought of as outdoor plants that need little light. While this is considered a hardy fern, it's a little finicky about its growing conditions and does take some effort to grow indoors.
The maidenhair fern thrives in poorly lit areas and requires warm, humid air. Use a spray bottle to mist it a couple of times a day to keep it happy.
Arrowhead Vine (Syngonium podophyllum)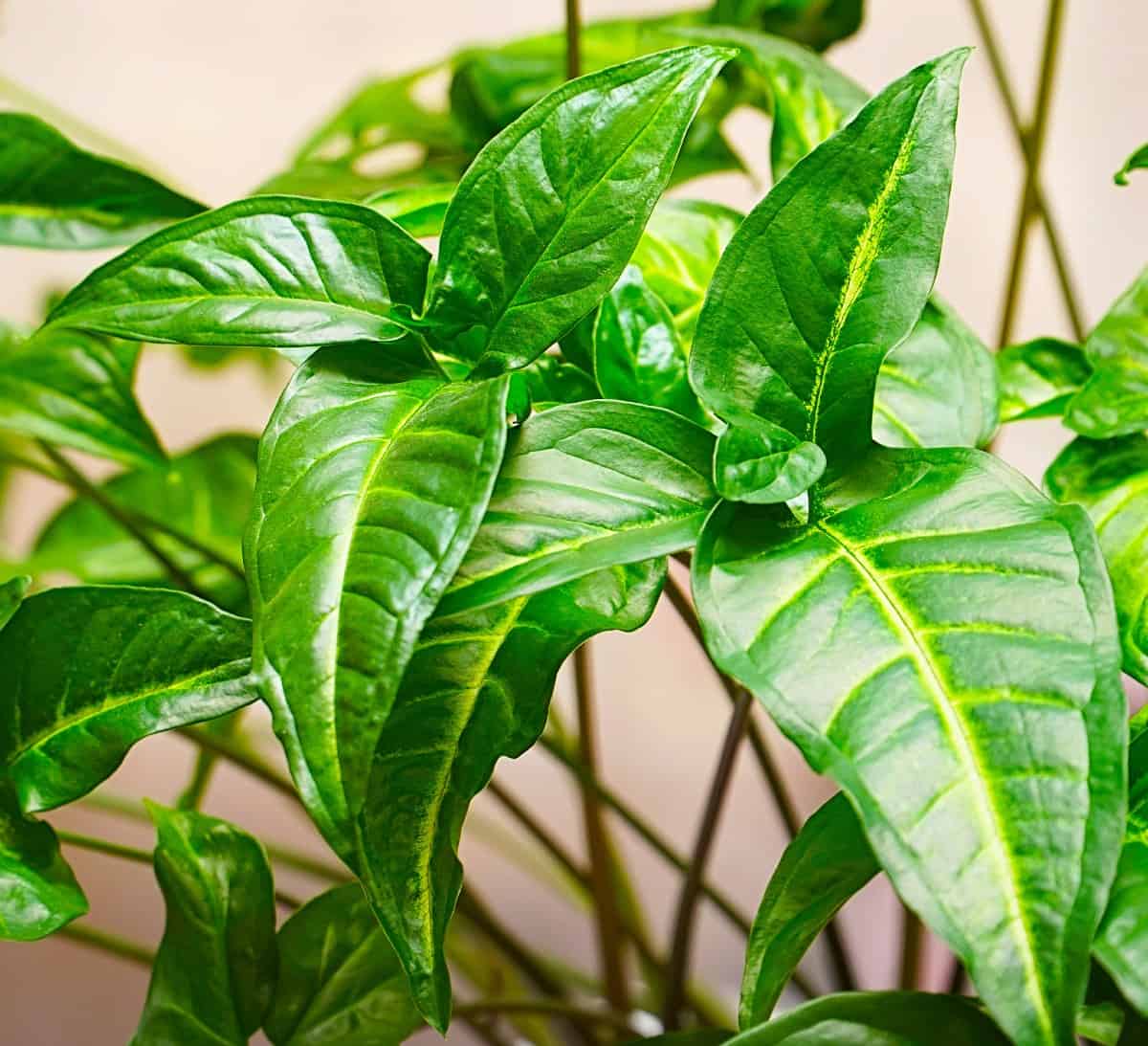 This is a tropical climbing vine with foliage that changes as it matures, making it one of the ideal plants for your home office. The leaves start as a simple arrow shape and develop into a deeply lobed divided leaf.
Arrowhead vine leaves are variegated with splashes of cream, white, silver, pink, or purple shades and are stunning in the home environment.
This climbing vine requires plenty of sunshine without direct sunlight and well-drained, rich potting soil. Keep the soil evenly moist during spring and summer with less watering in the winter, and mist it daily with a spray bottle.
Chinese Evergreen (Aglaonema) – Hardy Houseplant for Beginners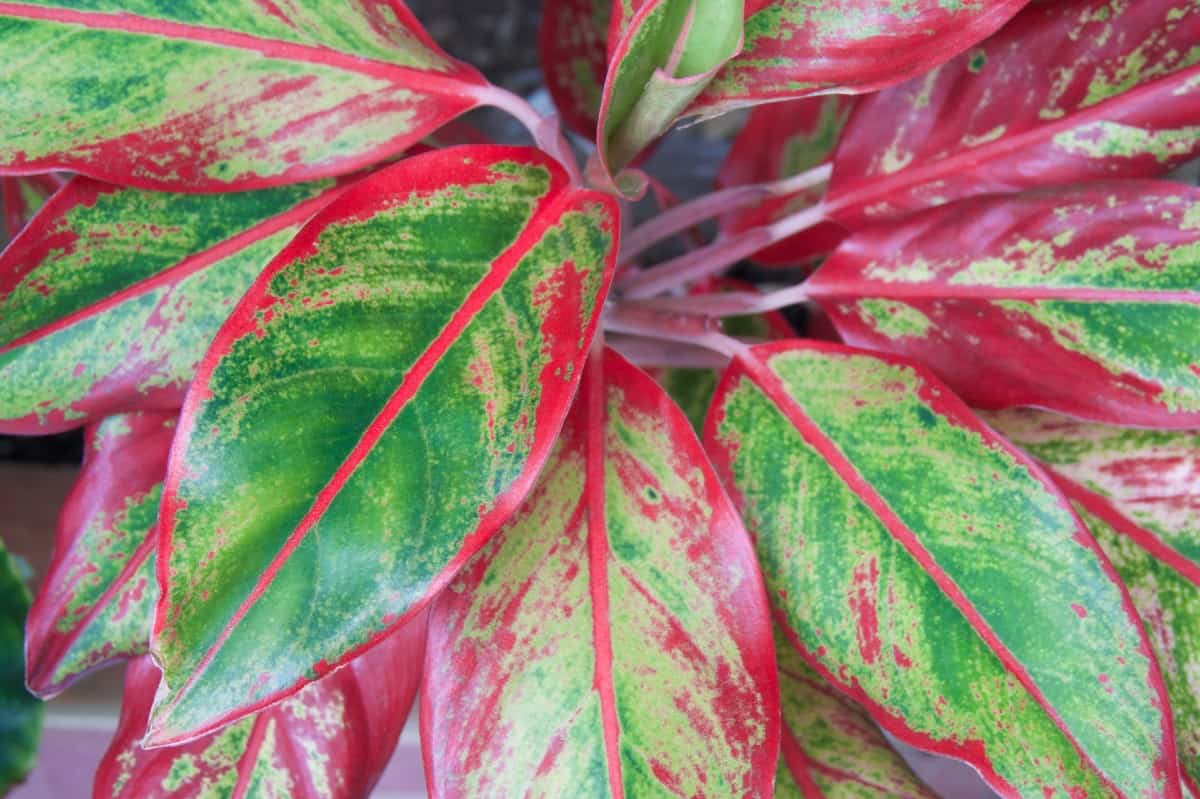 Chinese Evergreens are easy-to-grow plants for indoors that are tough as nails. It handles any growing condition your home throws at it and is the best houseplant for beginners.
These plants for air quality have vibrant, green leaves that are splashed with variegated colors of white, silver, red, or pink, depending on the variety.
This plant is low maintenance and requires regular watering to keep the soil moist but not soaked. It is a slow grower and reaches a maximum height of 3 feet, depending on the planter size.
Prayer Plant (Maranta leuconeura)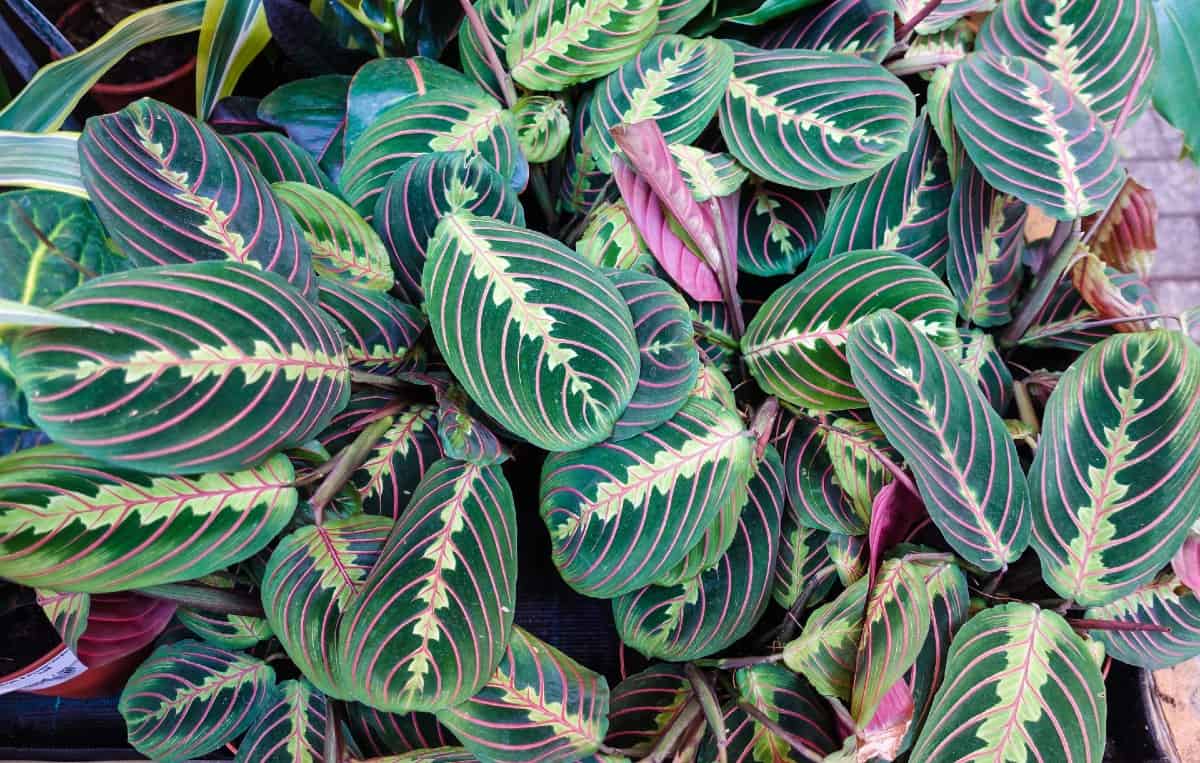 The prayer plant is native to the American tropics, and there are several low growing varieties. It gets its name because its vibrant tri-colored leaves are flat during the day and then fold together like praying hands in the evening.
A well-grown variety of this plant has striking decorative leaves that are 6-inches in length. They rise from a central stem and drape gracefully downward. The prayer plant enjoys indirect light but does like more direct light during the dormant winter months.
Parlor Palm (Chamaedorea Elegans) – Indoor Plants for Low Light with Tropical Flair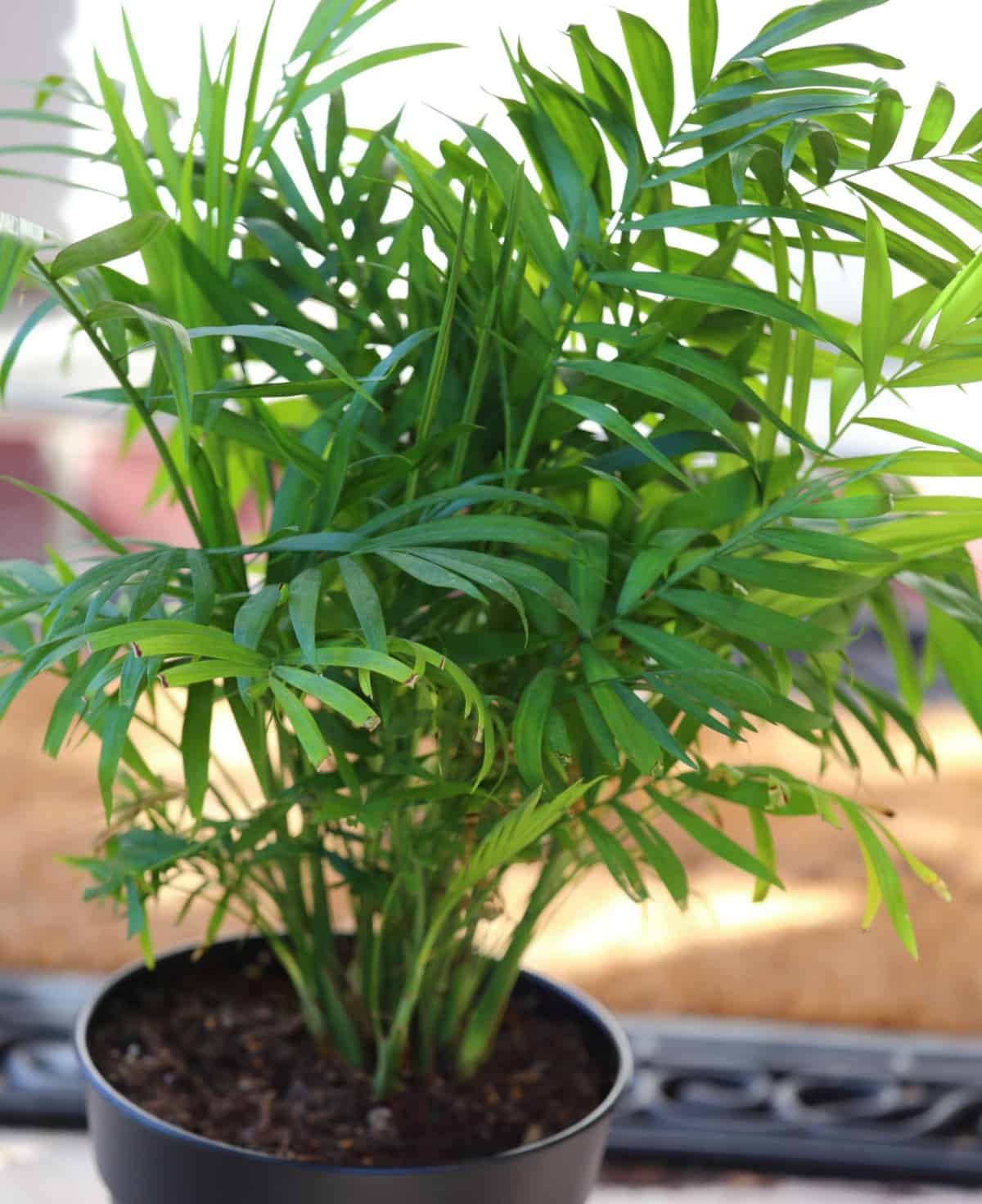 The parlor palm brings color and texture to low light areas of the home. It is a rainforest native with a compact habit and arching, tropical style palm leaves. It grows in both small and large sizes, making it an ideal candidate for a desktop or as a floor plant in the corner of the room.
This plant enjoys low to medium light and prefers evenly moist soil. It thrives best in temperatures between 65 and 80°F, making the home an excellent place for it to grow. It reaches a height of 1 to 8 feet and a width of 1 to 3 feet, depending on the variety.
Pothos (Epipremnum aureum)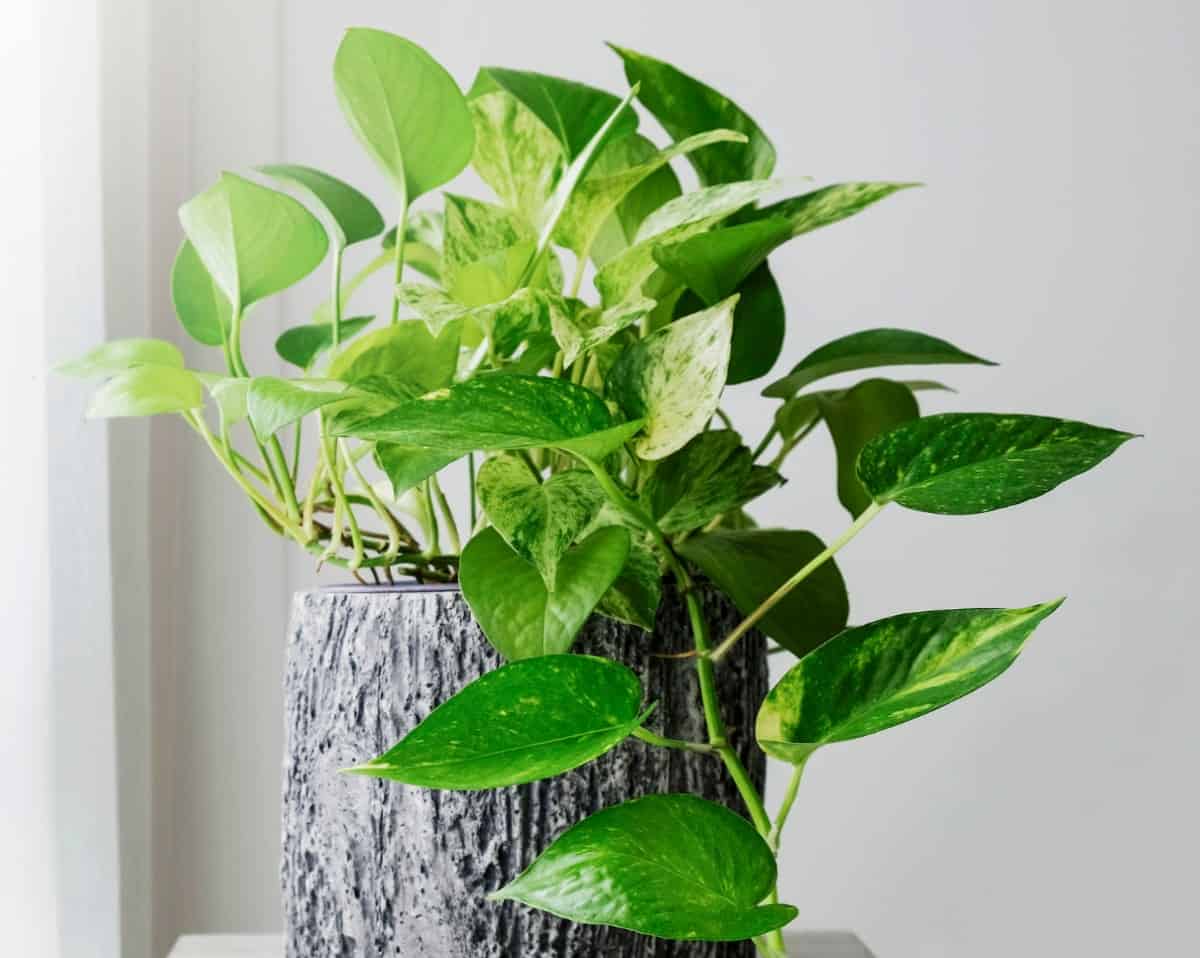 Pothos is one of the easy indoor plants to grow and is an excellent plant for beginners. This sturdy, vining plant handles most growing conditions with ease and is rated number one for removing toxins from the air.
This vining plant has colorful, variegated leaves of blue/green and chartreuse/gold. The low maintenance pothos is one of the popular clean air plants that grows from stem cuttings and can handle all types of light conditions.
It fills an indoor planter with ease with its growing length of 20 feet or more and a width of 3 to 6 feet. Be prepared to transfer the plant to a larger container fairly frequently. Clip a stem to grow in water to grow more plants quickly, as well.
ZZ Plant (Zamioculcas zamiifolia) – Indoor Foliage Plant with Magnificent Luster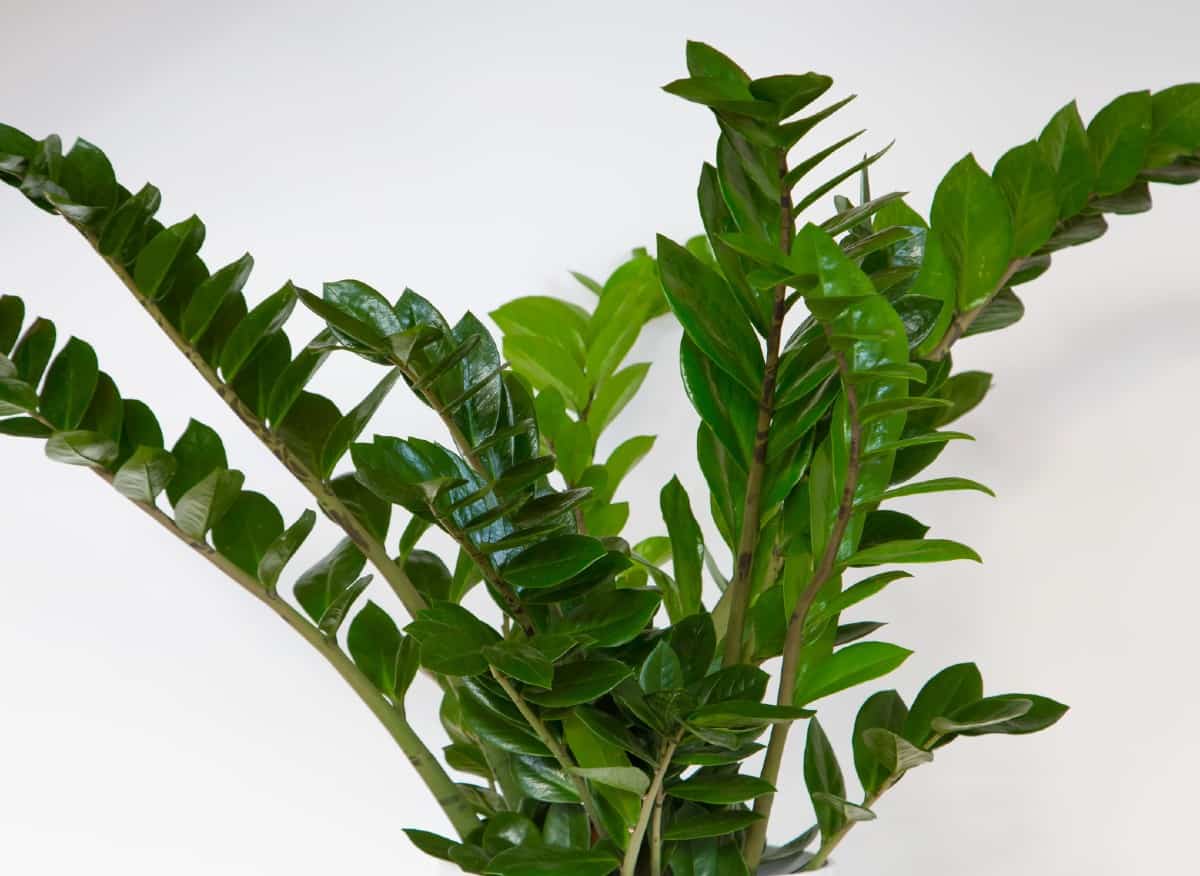 The ZZ plant is known by several names, from the cardboard palm to eternity plant, and has magnificent, shiny foliage. It is easy to grow and looks stunning as a centerpiece in the home. Its green foliage has a shimmering appearance and is an excellent plant for beginners.
This low maintenance house plant thrives in poor light situations and tolerates lighting areas facing east or north. This plant grows to a height of 1 to 3 feet with a width of 2 to 3 feet.
Aspidistra (Aspidistra elatior)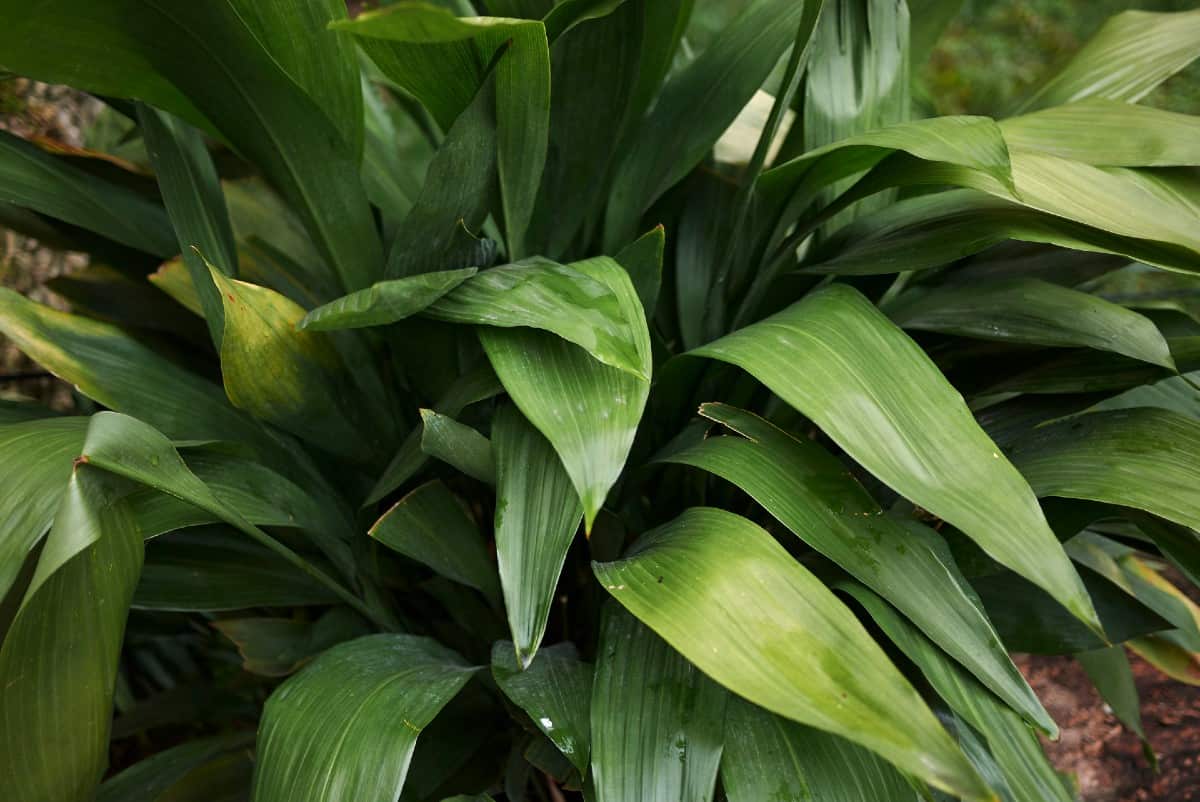 Otherwise known as the cast iron plant, aspidistra belongs to the lily family, and it gets its name because of its hardy nature. This nearly indestructible plant has tall deep green leaves with some varieties that have speckles of white shading.
Position the aspidistra in front of a north-facing window, and it is a happy plant. It is slow-growing and requires very little maintenance. Water it occasionally so that the soil is moist but not saturated.
Calathea (Calathea makoyana) – Ornate Foliage Plant that Thrives in Indirect Light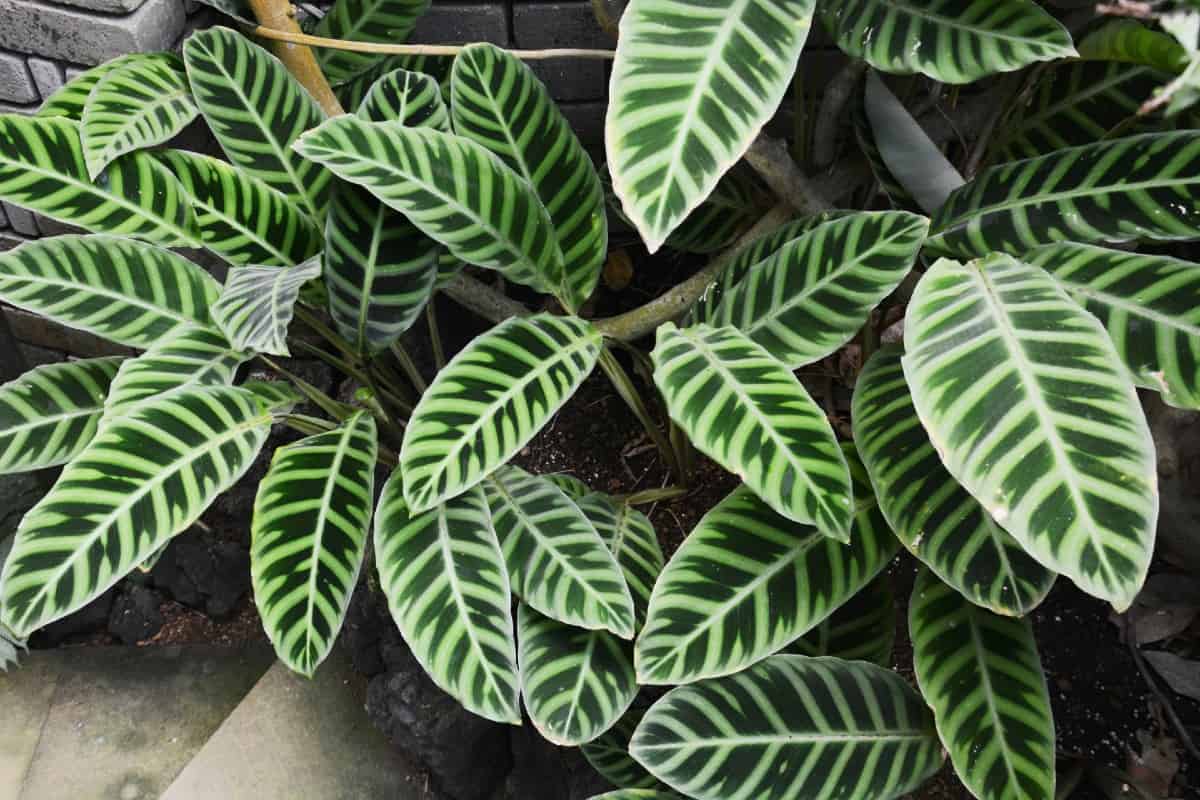 Calathea is the ideal candidate for homes that have little light, with its velvety, dark green leaves filled with geometric patterns. The underside of the leaves has a maroon color, and the overall look of this plant is stunning. Avoid placing this plant in direct light, or you risk bleaching the leaves.
These plants enjoy evenly moist soil and humidity, so if you have a dry home, consider spritzing the leaves with water every day. It grows moderately fast and reaches a height of up to 2 feet tall.
Weeping Fig Tree (Ficus Benjamina)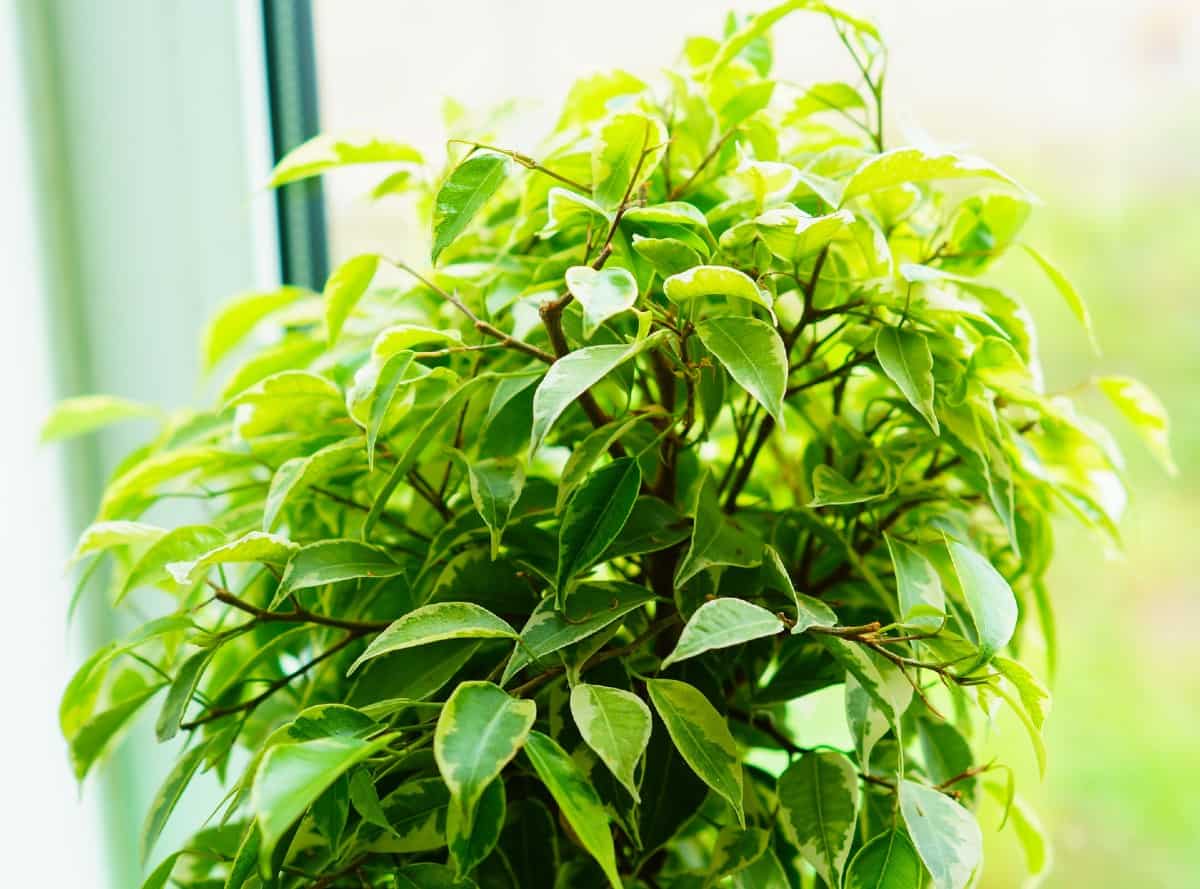 The weeping fig tree is a versatile and robust houseplant that fills the empty corner of a room with its tree-like appearance. It has glossy leaves that grow in various colors and patterns, and there are many different species.
This house tree requires well-drained, fertile soil that is evenly moist. It is low maintenance and reaches a height of 1 to 20 feet, depending on the variety and container size.
Lucky Bamboo (Dracaena sanderiana) – A Feng Shui Houseplant for Good Luck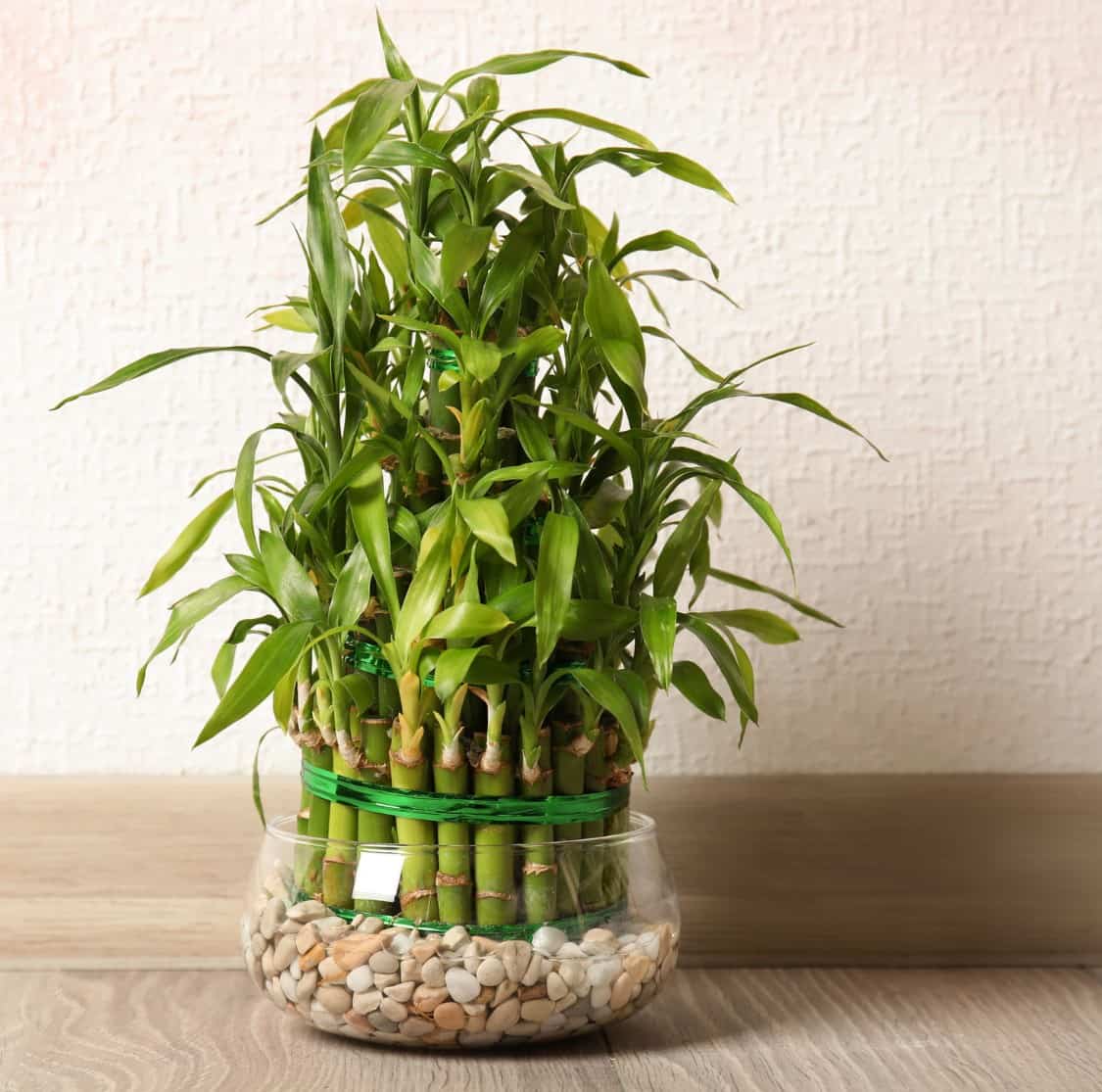 Lucky bamboo is a unique looking houseplant that inspires feng shui in the home. It is often shaped in striking poses with twisted stems and delicate light green foliage. It has earned the reputation of bringing good luck and fortune to the plant owner.
This bamboo plant requires bright, filtered light, but never direct sunlight. It grows in a pebble filled vase with at least an inch of water that requires occasional replenishing. It is also grown in well-drained, fertile soil that is moist but not soaked.
Nothing brightens a room more than a plant with green leaves cascading over the side of a hanging basket or a miniature tree of variegated leaves standing proud in the corner. Luckily, you don't need a room filled with windows of sunshine to grow these wonders of nature in your home.
You also don't have to have a green thumb to grow them. All that is required is a few low light indoor plants and a small amount of your attention.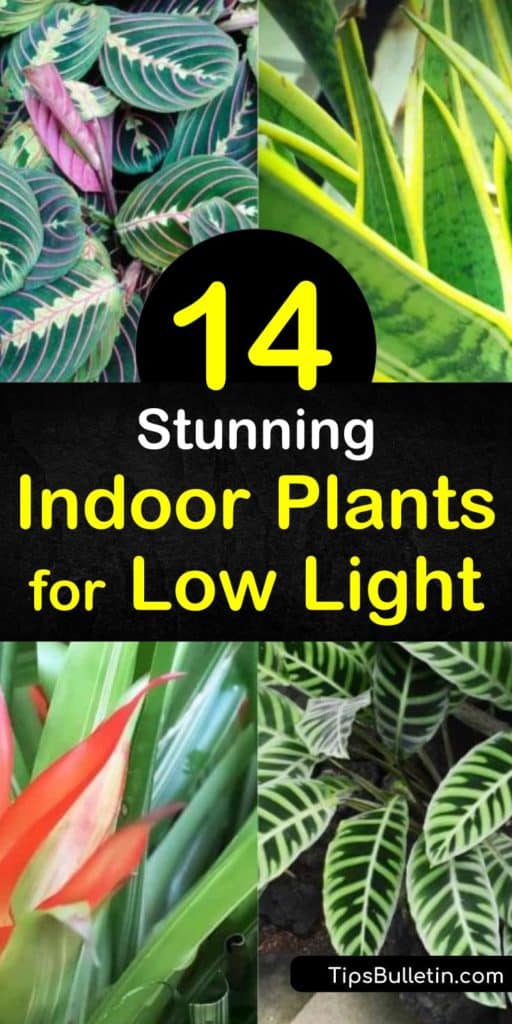 Growing ivy, parlor palm, and other indoor plants for low light accentuates the home with natural beauty while freshening the air you breathe, so why not share our low light houseplant list with your family on Pinterest and Facebook?