We all want to keep our gardens as beautiful as possible. Every year, we spend lots of hours on our knees, digging in the dirt, and doing our best to make sure that our plants stay beautiful and healthy. Unfortunately, some of the plants that look best in our gardens can also be bad news for the rest of our plants.
Many attractive species are invasive plants and can crowd out or kill native plants. To keep our gardens as beautiful and diverse as possible, we need to make sure to avoid planting invasive species.
We've developed this guide to help you figure out which plants to keep out of your garden. In this article, you'll discover which species will take over your gardens. We look at the most invasive aquatic species and show you how to keep them from spreading.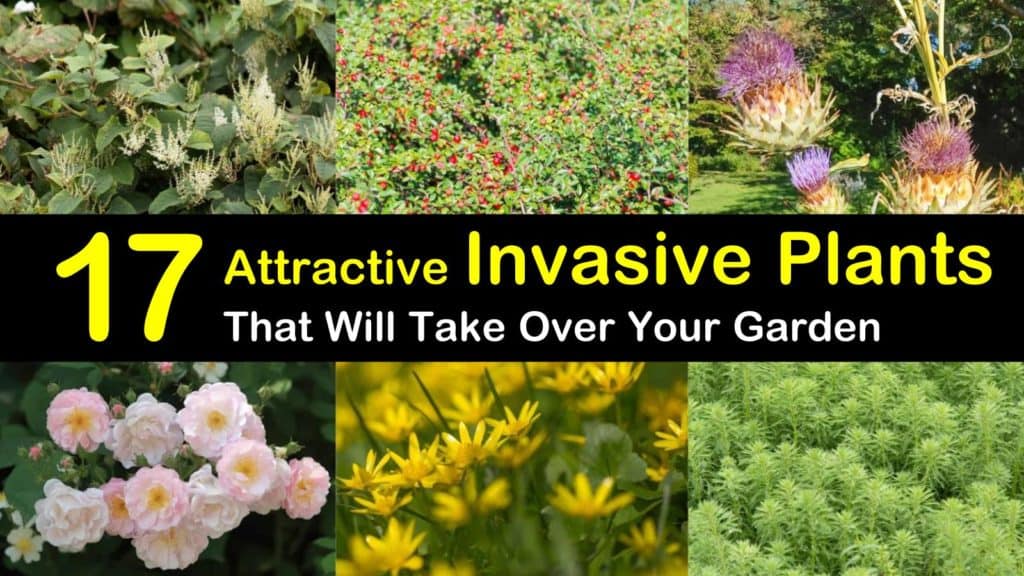 Your Guide to an Invasive Plant
Get familiar with the most invasive plant species that can take root in your garden and muscle out the rest of your plants. With our help, your gardens and ponds will be full of happy and cooperative plants.
While most people wouldn't want to plant invasive plants, they do have their benefits. Their spreading capabilities are the perfect solution to filling in blank spaces in the yard or to create fence trees for a living border wall to give you privacy.
For example, bindweed or Morning Glory is quite pretty and can cover a trellis in no time. However, if it grows too aggressively, you need a way to get rid of bindweed without harming the surrounding landscape.
One plant you do not want to have in your yard at all is poison ivy. Getting rid of poison ivy plants can be challenging, as many people are not only sensitive to touch the plants but even be near them. If you have poison ivy, use natural remedies or a commercial herbicide to eradicate this plant right away.
While there are some people who find dandelions attractive, and even use them medicinally and in salads for a unique taste, most people don't want them in their yards. Get rid of dandelions with home remedies or commercial herbicides to prevent them from spreading.
When Do Invasive Plants Start to Grow?
You'll run across invasive ground cover plants almost as soon as you start your garden. Invasive plant species are stubborn and tough to get rid of, and many of them already live in your garden soil and are just waiting for fertilizer and water to make them sprout.
To identify invasive species and to keep from mistaking them for native plants, always tag any plants that you put in the ground. This allows you to know by looking at it whether a plant is an unwanted plant like Creeping Charlie weed or not.
To get a better idea of when you should start looking for types of invasive vines and other weeds, reach out to your local agriculture agency or nearby national park. They are gold mines of information and can give you all of the information you require about local weeds and invasive species that frequent your area.
And, they'll be happy to assist you in selecting plants that can hold their own against the interloper weeds. Your agriculture agency can also give you an invasive species definition relevant to your area.
How Can I Get Rid of the Most Invasive Plant Species?
The way you attack invasive weeds depends on the type of plants with which you're dealing. Small weeds that grow in bare patches of the garden differ from trees that grow fast, and your method of removing them has to change, as well.
Again, your local agriculture agency or forest service has essential information on keeping invasive species at bay. If you have questions, you shouldn't hesitate to reach out to them.
There are plenty of commercial weed killers out there, and many of them will suit your needs, but only use as much force as possible to remove invasive plants. Overkill can result in damage to plants that belong in the garden, so before reaching for the industrial-strength herbicides, try a little elbow grease and effort.
An old-fashioned round of weeding every week not only keeps your garden gorgeous but also allows you to engage in a peaceful and contemplative task. Weeding might seem like a chore, but you'll be surprised at how much you start looking forward to it.
One home remedy for eliminating weeds is to use rock salt to kill tree and plant roots in sewer line and in other areas you don't want them to grow. Apply thickly and water. Repeat treatments are necessary.
How Do I Keep My Invasive Weeds From Coming Back?
Regular attention is the key to making sure that the most invasive plant species are discouraged from making repeat appearances. Take time each week to walk around the garden, and if you find an infestation of some sort, immediately resolve it.
Some beneficial plant species such as coral bells and plantain lilies actively discourage weed growth, so plant a few around the borders of the garden and wherever you've encountered a weed infestation previously.
If a weed infestation is too bad or comes back too regularly, try killing off anything in the soil to eradicate lingering invasive weeds that might be there. Once the planting season finishes, remove remaining vegetation and cover bare earth with a transparent plastic sheet, pegging it down on the corners to prevent it from blowing away.
The idea is to prevent any nutrients or water from reaching anything in the soil and to magnify the sunlight's effect on the ground. Remove the sheet after about six weeks. This solution works well as a homemade weed killer safe for grass around the perimeter of the area with weeds.
Amazing Invasive Plants
Garlic Mustard (Alliaria petiolata)
Garlic mustard originated in northern Europe and made it to the United States in 1868. It was originally cultivated for medicinal and food use.
The garlic mustard plant produces an intense scent that does indeed seem to be part way between mustard and garlic when crushed. Because each plant produces hundreds of small seeds that hitch rides in animal fur and quickly take root in garden soil, they can rapidly take over your garden.
When you discover garlic mustard weed in your garden, take aggressive measures to prevent it from returning. Believe it or not, you might need to resort to using fire to remove the garlic mustard plant.
Many people burn patches of garlic mustard weed that they find. Burning your garlic mustard plants one year might not be enough to eradicate them, though. You might need to repeat the eradication process for several years in a row.
Air Potato (Dioscorea bulbifera)
The air potato came to North America from Africa and Asia in the 18th century, and it arrived in Florida in 1905. Folks had high hopes for the air potato, also called air yam and bitter yam, when it came to North America and intended to use it as a food source.
However, air potatoes are very bitter tasting unless boiled for a long time, and they tend to take over any patch in which they take root. Control air potatoes via a few different methods. You can always use Roundup, the famous weed killer, but you risk injuring other innocent plants.
You can also go for a more natural solution and purchase a fleet of air potato leaf beetles. As a natural weed killer safe for grass, these Chinese beetles love to chow down on air potatoes more than anything else and will reduce the weed's growth rate quickly, which gives native species and your lawn a chance to thrive.
Japanese Knotweed (Fallopia japonica) – Invasive but So Beautiful
The Japanese Knotweed, also called Mexican Bamboo or Fleeceflower, is native to Asia. It arrived in the United States in the late 1800s and became a decorative plant. Gardeners soon discovered, however, that the Japanese Knotweed crowds out any native species it encounters and becomes the dominant force in the garden.
While the Japanese knotweed resembles bamboo, it is not related to the bamboo plant. Because the Japanese Knotweed spreads through rhizome activity under the soil, it is often quite challenging to get rid of them. Use a non-selective herbicide like Roundup, but if you do, make sure not to dilute the weedkiller first.
Give this plant both barrels. You don't have to go it alone, however; many cities recognize the danger of Japanese Knotweed infestations and provide free spraying services to keep them at bay.
Although Japanese Knotweed is not actual bamboo, it is important to note that real bamboo can be invasive, too. However, one of the best uses today for all that extra bamboo comes in the form of flooring. It is durable and offers a nice finish. If you are lucky enough to have bamboo floors, investigate making your own DIY bamboo floor cleaner with just a few simple ingredients.
Purple Loosestrife (Lythrum salicaria)
Nobody knows when the Purple Loosestrife, a European and Asian native, arrived in North America. However, it was firmly established by the 1830s as a noxious weed. The Loosestrife is an aquatic plant and may very well have traveled to the Americas as hitchhikers in water tanks used for ships' ballast.
The aquatic plant is pretty enough to have been used as an ornamental, as well. However it got here, the Purple Loosestrife is highly invasive and impact your water quality and natural resources.
Never add Purple Loosestrife to your garden, even though the plants are available for purchase. If you already have Purple Loosestrife in your garden, remove it via mechanical or chemical methods.
If you opt for a mechanical solution, either dig it up and burn it, or dig it up and pack it in plastic bags, which you tie tightly and send to your landfill. You can also use a vegetation killer containing glyphosate, but this can damage your other plants.
Canada Thistle (Cirsium arvense) – One of the Most Invasive Plants
The Canada Thistle, also called Field Thistle, Creeping Thistle, and Corn Thistle is native to Europe. It arrived in the United States sometime in the 1600s and may have been part of seed shipments to farms.
The invasive weeds have gorgeous purple flowers that pollinators love and they grow almost anywhere. If left unchecked, Canada Thistle dominates fields and reduces forage and crop yields, thus impacting human health. It is one of the most invasive plant species you'll encounter.
The trouble with trying to get rid of Canada Thistle lies in the extensive root structures the invasive weeds extend into the soil. Any root scrap results in another year of Canada Thistles, and it's tough to get them all.
Repetition is the key when eradicating Canada thistles; if you're digging and burning, do so multiple times. The same goes for chemical treatments. With lots of dedication and patience, you can kill thistle weeds and keep these invasive plants under control.
Dalmatian Toadflax (Linaria dalmatica)
The Dalmatian toadflax, which is also called the Broadleaf Toadflax, is one of many non-native invasive plants that originated in Europe's Mediterranean region. It made it to North America sometime in the late 1800s or early 1900s, as a fabric dye and an ornamental, and had medicinal purposes. The plant has lovely yellow flowers and seems harmless enough, but it grows like wildfire and will quickly become king of any garden in which it lives.
Don't be fooled by its appearance; the Toadflax is a noxious weed, and you should eradicate it upon early detection. Herbicides are your best bet when combating Dalmatian Toadflax.
Contact your local agriculture office to find out which herbicides they recommend for your area. Good old-fashioned weeding works, as well, but you need to be persistent if you choose this option.
Chinese Tallow (Triadica sebifera)
The Chinese Tallow is an attractive, deciduous tree that has a lovely fall display and produces beautiful colors throughout the season. It grows with one trunk or several and is fast-growing.
They were introduced to North America from their wildlife habitat in China and Japan in the 1700s to be used for seed oil cultivation and as an ornamental.
While the Chinese tallow does provide seed oil, it proliferates and wins out over native species whenever they come into conflict. The Chinese Tallow prefers damp soil, which is its medium for spreading.
If you have wet earth and a Chinese Tallow tree is nearby, there's a good chance that you'll have a new Chinese Tallow tree sometime later.
Control the Chinese Tallow tree with simple weeding most of the time. However, if an infestation becomes too high, resort to an herbicide to remove the trees.
Multiflora Rose (Rosa multiflora) – The Invasive Rose
The Multiflora Rose is incredibly sturdy and makes an excellent rootstock for other rose varieties, which is how it came to the United States. These pretty flowering vines arrived in the late 1700s and quickly became popular as rootstock, an ornamental, and for erosion control and fencing.
If allowed to grow, the Multiflora Rose, as lovely as it is, will dominate your garden and kill off competing plants.
Remove a Multiflora Rose from your garden by several means. For starters, dig them up and either burn them or bag them and throw them away. Another method is to burn out the plant using careful application of fire.
Finally, you can go with chemicals such as herbicides. If you do use herbicides, apply them during the early spring or late winter, as this has been shown to positively affect growth.
Quackgrass (Elymus repens)
Quackgrass or Medusa's Head is a not-unattractive, broadleaf grass-like weed. It got to the Americas in the 1600s through what was thought to have been an accident of seed contamination.
The Quackgrass weed is extraordinarily invasive and crowds out both cultivated crops and native species, reducing plant diversity and leaving you with a garden full of grass if you are not careful. The best way to prevent Quackgrass from growing is to keep it from arriving in your garden in the first place.
Check seedlings or plants purchased from greenhouses for Quackgrass sprouts before you transplant them. If you do discover Quackgrass in your garden, merely applying an herbicide won't do it. To get rid of Quackgrass completely, you might need to replant the entire bed and repeat the replanting if Quackgrass returns.
British Yellowhead (Inula britannica)
The British Yellowhead, which is also called the British Elecampane and Meadow Fleabane, is a small plant with a bright yellow flower typically found in the company of Hosta plants that come to the United States from the Netherlands.
The Yellowhead was first introduced to North America in 1915 from Asia and Europe. The plant takes advantage of its resemblance to Hosta plants and often tags along for a ride.
The USDA-sponsored National Invasive Species Information Center fact sheet and the Global Plant Council identify the British Yellowhead as a noxious weed. Because the British Yellowhead reproduces from root fragments, it is sometimes challenging to remove from the garden.
Make sure that when you dig out the roots, you get the entire structure and do not leave behind a single scrap. If you use a potent herbicide, you can control the British Yellowhead plant reasonably well. However, you risk damaging other plants in the garden when you use herbicides, so exercise caution.
Fig Buttercup (Ficaria verna)
Many non-native species such as the Fig Buttercup started as ornamentals, but folks quickly realized how dangerous these invasive species were to native plants. The Fig Buttercup hails from Europe originally, and it was first introduced to North America in 1867 as an ornamental.
The Fig Buttercup produces attractive yellow flowers and spreads out across the ground, taking over any plot in which it takes root. To control a Fig Buttercup infestation, exercise caution.
The Fig Buttercup flower resembles several innocuous plant flowers, so double-check whether the bulb you're weeding comes from the Fig Buttercup or another source. If you must use herbicides to control your thick buttercups, apply them early in the season to reduce the impact to native plants.
Japanese Barberry (Berberis thunbergii)
Barberry trees can be quite lovely, but they can also dominate any space they inhabit. The Japanese Barberry, in particular, has been identified as a noxious weed and will crowd out any existing plants.
The tree was introduced to North America in 1875 as an alternative to the Common Barberry, which is vulnerable to black stem rust. When left unchecked, it forms dense groves and competes with native trees and plants.
Control Japanese Barberry by cutting off individual trees and treating the stumps with a 25% herbicide solution. If you use the chopping-and-herbicide method, do so before the ground freezes to let the herbicide make it through the root system. You can also do simple weeding if you catch Japanese Barberry before it takes root and grows large.
Hydrilla (Hydrilla verticillata)
The Hydrilla plant can be an aquatic nightmare if you're not careful. The Hydrilla was introduced to the United States from Asia in the 1950s through the aquarium trade.
This plant grows unchecked in any watery environment in which it lives. It crowds out native species and fouls waterways, impacts the local water quality, and impedes irrigation systems.
Because the Hydrilla spreads so quickly in any water environment, it is challenging to eradicate once it takes hold. The plants extend their roots twenty feet into the water, and any bit of Hydrilla that breaks off can form an entirely new plant.
Merely pulling up or dredging the plants is not adequate. Use a chemical herbicide to control your Hydrilla or get rid of duckweed, another invasive plant, but this may also affect aquatic life such as fish.
Alligatorweed (Alternanthera philoxeroides)
Alligatorweed, or Pigweed, grows throughout the southern United States. These aquatic plants produce lovely white flowers and broad green leaves, and they gather into massive plant communities that foul boat propellers and impede swimming for both humans and native aquatic animals.
The plant originated in South America, and it was likely introduced through ballast water in much the same manner as Purple Loosestrife.
If you're in a hot climate, use an exotic species such as the Alligatorweed beetle to control the invasive weed. The beetle is native to South America and can't live in cold climates.
However, in areas where it thrives, it is the most effective method of controlling your Alligatorweed. Thrips and stem borers also enjoy dining on Alligatorweed, and they establish populations that control future infestations as a bonus.
Musk Thistle (Carduus nutans)
The musk thistle, also called Nodding Thistle, arrived in the United States from Eurasia in the 1850s. When the Musk Thistle grows without being checked, it takes over from native plant species and prevents animals from finding forage.
The Musk Thistle flowers are a beautiful purple and produce a profusion of seeds that spread and take root quickly. Fortunately, you can easily control the Musk Thistle by tilling.
Chop off the root below the ground using a hoe or shovel, and the thistle will die. If the thistles are growing on a lawn, regular mowing reduces seed production and can be an effective control. You can also use several herbicides registered for pasture, rangeland, and non-profit areas.
Kudzu (Pueraria montana var. lobata)
If you've traveled around the southern United States, you've almost certainly run across Kudzu from time to time. You'll find Kudzu vines draped across highway medians and overpasses in California and the Pacific Northwest, Florida, and Texas as well as in natural areas, forming a massive green blanket that prevents anything else from growing.
Kudzu is native to Asia and was introduced to North America in the late 1800s for erosion control and use as an ornamental. Kudzu is quite a beautiful plant, but it spells doom for surrounding plants, and you should eradicate it whenever you encounter it.
Removing Kudzu from your garden or lawn is a multi-step process. Give your yard or the area of your garden that contains the Kudzu a proper mowing or get a few goats to eat the plant to the ground.
This removes the above-ground vegetation and gets the Kudzu ready for herbicides. Apply a brush killer with triclopyr to remove the remaining Kudzu roots; multiple applications may be required to ensure that you completely get rid of Kudzu. Keep an eye on the area in the future to ensure that more plants do not pop up.
We hope that you enjoyed this guide to the most invasive plant species. Nobody wants an invasive plant to take over their garden and ruin their curb appeal.
This guide helps you identify and control invasive plant species in your garden or yard. With a little effort from you and some help from us, your garden and life will be weed-free and happy.
Thanks for reading our invasive plants guide. If you found our invasive weeds tips to be of help, we'd appreciate it if you would share our invasive plant species pointers with your family and friends on Pinterest and Facebook.