There are various health benefits to consuming dark leafy greens, but distinguishing each one is often confusing. They are all green and leafy, after all. Learn the differences between kale vs collard greens, their nutritional value, and how to grow, store, and prepare them.
Many types of greens line the produce section of grocery stores, and it's easy to mistake one for another.
Take a walk through the aisles, and you'll see everything from Swiss chard, mustard greens, and watercress to arugula, collard greens, and kale. So, are kale and collard greens the same?
While both are leafy greens, they differ in texture and flavor, and they also have varying amounts of vitamins and minerals.
That said, they are both nutritious, and understanding which ones taste best with your favorite recipes helps you prepare the right ingredients for a healthy diet.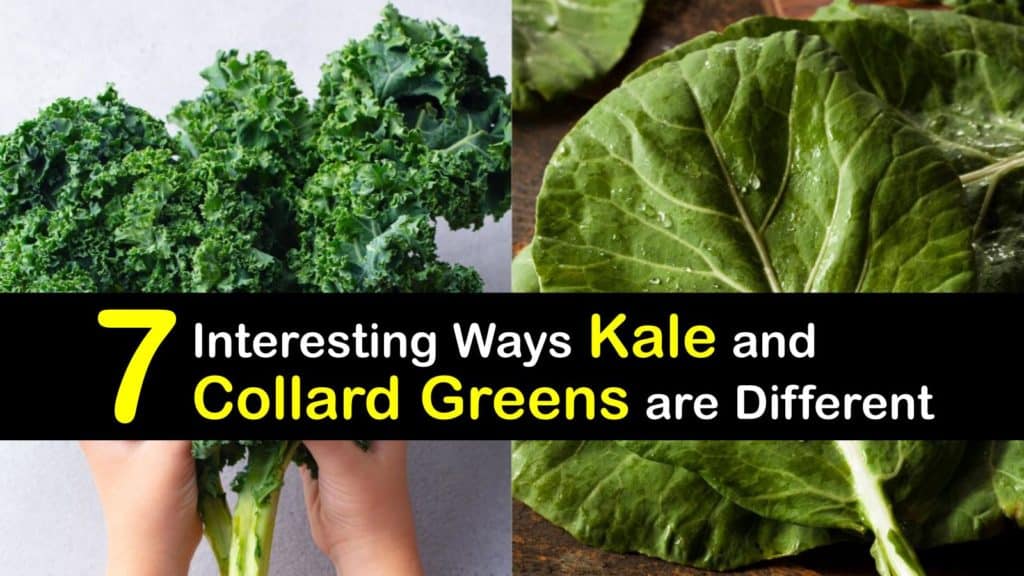 Growing, Storing, and Preparing Kale and Collard Greens
While growing a vegetable garden, it's simple to tell a turnip from a tomato and a potato from a pepper, but leafy greens all have a slightly similar appearance.
We explain how kale and collard greens differ, ways to grow your own, and how to prepare them in a tasty recipe.
Are Kale and Collard Greens the Same?
When making a salad, we often combine several leafy greens and sometimes substitute one for the other when the grocery store is out of our favorite. But, are kale and collard greens the same, and how can you tell the difference?
Collard Greens vs Kale
Collard greens are a southern staple, while kale is more of a new age leafy green. They are both cruciferous vegetables and a variety of the cabbage family, but they are different species of Brassica oleracea.
While both are delicious and highly nutritious, one has curly, soft leaves while the other has stiff and plain leaves.
Flavor and Texture Difference Between Kale and Collard Greens
There is no mistaking the flavor of iceberg lettuce with its high water content or the mildly sweet flavor of spinach, but what about collard greens and kale? Here is the difference between kale and collard greens when it comes to texture and taste.
Kale has large leaves that grow on erect stems, and they vary from dark green to violet-green in color. They are soft and curly with a slightly bitter flavor and tasty in a variety of cuisines.
Collard greens are light to dark green, and the leaves plain and thick. They have a mild taste, are popular in southern cooking, and pair well with pork and veggies.
Nutritional Value of Kale vs Collard Greens
Thinking that all dark green veggies have the same amount of nutrition is a common mistake, but did you know that some contain more nutrients than others? Discover the nutritional value of kale and collard greens and which one is the healthiest.
Kale is a nutrient-dense plant, and a 1-cup serving of raw kale contains 6 grams of carbs, 33 calories, and 3 grams of protein.
It is packed full of magnesium, calcium, manganese, and potassium. Kale has very little fat, and the fat it does contain is primarily from omega-3 fatty acids.
Both leafy greens have antioxidants, riboflavin, vitamin A, vitamin C, and vitamin K, and contain no cholesterol. Collard greens are low in calories and contain vitamin B6, folate, and dietary fiber, and have only 2 grams of carbs per cup.
When considering which one is healthier, curly and lacinato kale have high amounts of vitamin K and iron, and collard greens are rich in proteins and fiber.
The USDA economic research service conducted a study that concluded that collards are less expensive than many other cruciferous vegetables, and this veggie is an excellent alternative for a healthy diet.
Is Kale a Good Substitute for Collard Greens?
Many greens are interchangeable in recipes, which is useful when your grocery store doesn't have the right ingredients. Are kale and collard greens the same, and can you substitute one for the other?
The texture and flavor of collard greens make them the perfect substitute for kale and vice versa. However, there are also other great options.
Mustard greens, English spinach, Chinese broccoli, baby spinach, and broccoli raab are suitable replacements for recipes that call for kale or collard greens.
Ways to Grow Kale and Collard Greens
Once you figure out how kale and collard greens differ and decide which one is your favorite, why not plant your own? Growing collard green plants and kale is simple, and they flourish in both a garden bed setting and a container garden.
When growing kale from seed, prepare a raised bed or garden and plant them 12 to 24 inches apart. Start planting kale three to five weeks before the last frost and follow the seed packet instructions for depth.
Water the plants an inch or two weekly and begin harvesting kale by picking the lower leaves when they are large enough to eat.
If you prefer growing collard greens, plant the seeds 18 inches from each other in rows three feet or more apart.
Harvest the leaves in the summer before bolting occurs by picking the lower leaves when they are the desired size. Keep in mind that kale is annual while collard greens are biennial, and both grow best in full sun.
How long does it take to grow kale and collards? Check the seed package for the guidelines for the specific variety.
How to Store Kale and Collard Greens
There is not much difference between kale and collard greens when it comes to storage. Here is how to keep your leafy greens fresh in the fridge and ways to store them longer in the freezer.
To store cooked leafy greens, transfer them into a storage container, pop the lid in place, and set them in the refrigerator for up to seven days.
For raw kale and collard greens, soak them in a large bowl of cold water for a few minutes and drain them in a colander.
To keep lettuce and kale crisp, as well as collard leaves, press the leaves between a towel to remove excess water and place them into a plastic bag. Squeeze out the air, seal it shut, and store it in the crisper drawer of your fridge for up to ten days.
To freeze your veggies, remove the woody stems and blanch the leaves in boiling water for three minutes. Stop the cooking process by transferring them from the hot water to a bowl of ice water.
Drain off the excess water, blot them dry with a towel, and place them in a freezer bag before freezing them.
How to Prepare Kale and Collard Greens in a Recipe
There are many health benefits to eating kale and collard greens, so why not pair them in your next recipe? This superfood stir fry dish is healthy and delicious and the perfect side for everything from grilled steak to fried chicken.
Start by preparing the greens by removing the stems and ribs and cutting the leaves into quarter-inch strips. Set a saute pan on high heat and add the olive oil. Add the garlic, cook it for 30-seconds and then add half the greens.
Let them cook for a minute, toss in the remaining kale and collard greens and cook while stirring for ten more minutes. Remove the skillet from the stove, season the greens with salt, pepper, lemon juice and Parmesan cheese, and serve.
Ask any dietitian, and they'll tell you that veggies are good for you, but green vegetables are some of the best, especially if they are dark green and leafy.
The only trick to adding them to your diet is understanding the differences between them and the healthiest ones.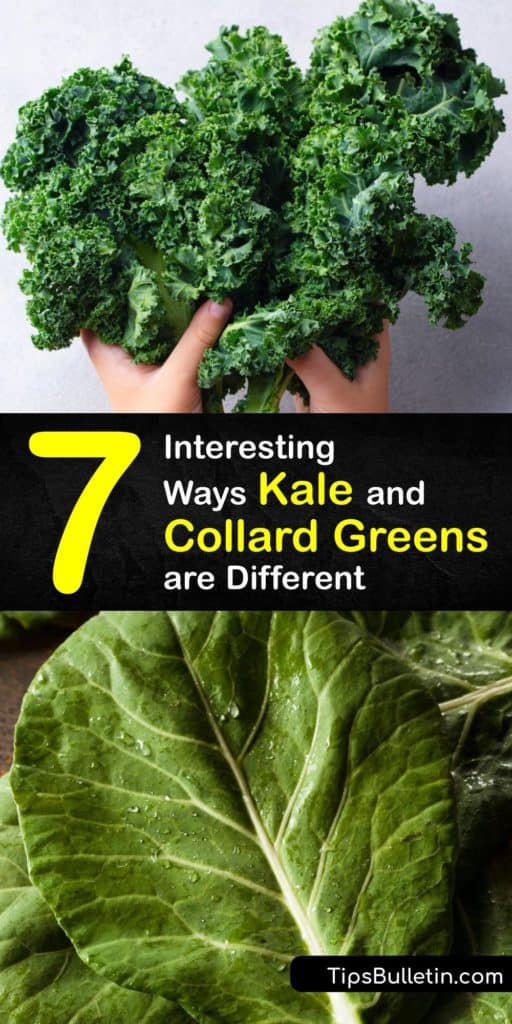 We hope that you enjoyed learning the nutrition and flavor of kale vs collard greens and that growing them is a simple task, and we'd love it if you'd share our kale and collard greens guide with the veggie lovers in your life on Facebook and Pinterest.