If you have been gardening for a while, you've probably run into a problem with squirrels and, in some areas, chipmunks. They seem to either want to eat my plants or bury their food supply in my flower pots.
Over the years, I have tried various methods to get rid of squirrels, and I am offering you my best tips here. Squirrels are part of the natural environment that I enjoy, so I do not want to harm them, only encourage them to go elsewhere.
We will start with the most straightforward solutions first and work from there. Keep in mind that you may have to try a combination of several of these strategies to completely resolve the problem.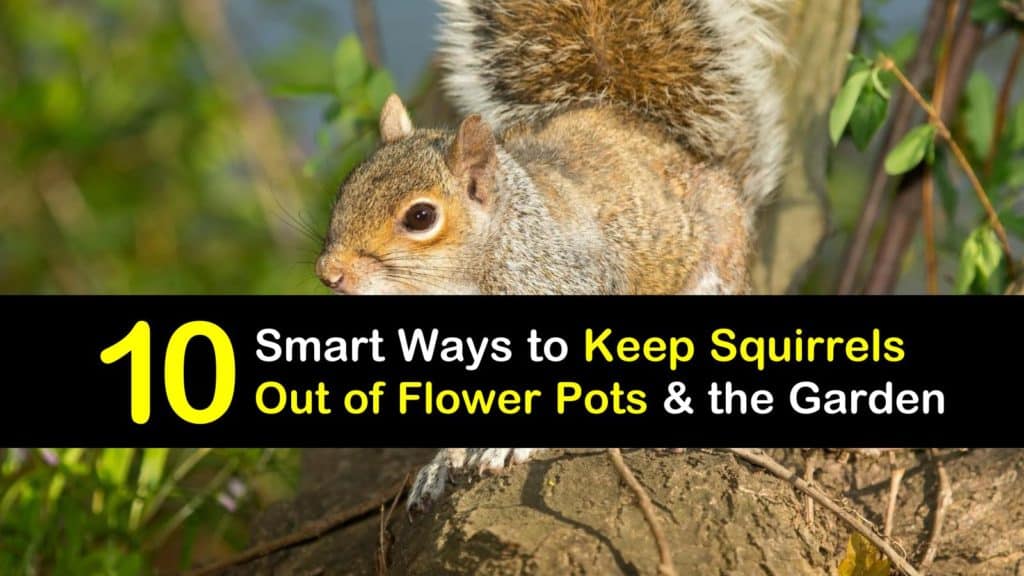 How to Keep Squirrels Out of Potted Plants
Those cute fluffy squirrels can wreak havoc in your yard, getting into all sorts of trouble. If your problem is squirrels digging in your potted plants, solve this problem by putting a layer of chicken wire or hardware cloth on top of the soil before you plant.
Place the flowers into the pot through the holes in the wire, cutting a larger hole with wire cutters, if needed. The chicken wire prevents squirrels from digging holes and ruining your potted flowers.
You can also sprinkle cayenne pepper spray on the soil (see recipe below) for your outdoor plants in pots to deter squirrels and have them going elsewhere to dig. You may need to try several different repellent tactics to find one that works on the squirrels and other pests at your home.
Keep Squirrels Out of Flower Pots with a Sonic Deterrent
One of the most accessible solutions, if you don't have pets, is to use an ultrasonic squirrel repellent device. These devices emit a high-pitched ultrasonic sound that animals like squirrels and chipmunks can hear, but is outside the hearing range of humans.
The sound is an irritant to animals and encourages them to leave the area. Dogs and cats can also hear the noise, so skip this idea if you have pets.
You can plug an ultrasonic repellent device into an outdoor outlet, or install solar-powered equipment in the area, especially around flowerbeds you want to protect. If your garden area is large, you might need more than one.
I would look for a device that emits sound continuously, rather than a motion activated one. Squirrels are small and easily hide, so the motion activated model might not catch their movement.
Keep Squirrels Away from Plants in the Vegetable Garden
If squirrels are eating your plants, you will probably want to step up your game and use a spray squirrel deterrent. You can buy a commercial product that does a good job; but, if you are like me, you want to know that you are only using safe products in the vegetable garden.
Here is a recipe for an entirely safe squirrel deterrent spray that does an excellent job and effectively repel squirrels from garden.
Mix up our Natural Squirrel Deterrent Spray in a spray bottle. Shake and spray on plants and surrounding soil after every watering or rain storm. I'm sure I don't need to tell you why this works, but the squirrels don't enjoy the heat as much as some of us do.
One good taste should solve the problem. Just be sure to keep applying the spray, because they will come back periodically to try again and new squirrels may need convincing.
Fertilize with Bone Meal
Bone meal has an odor that is offensive to squirrels, and they will avoid flower pots and garden where they smell it. For best results, sprinkle bone meal on the surface of the soil. Don't mix it in; just leave it on the surface.
You'll have to apply another dose when the first gets watered in. As a bonus, bone meal helps your plants, so it is a win all around.
Do You Have a Dog? Try this Trick for How to Keep Squirrels Out of Potted Plants
Next time you groom your dog, save the hair and sprinkle it on the soil of your potted plants. It only takes a little bit to give off the scent of dog and scare away any little critters that come calling. It will eventually break down, so replace it periodically. Human hair will also work if you save your clippings.
Stop Squirrels from Eating Flowers
Some plants repel squirrels naturally and planting these in your garden keeps it safe from squirrels.
These plants will naturally fit into your garden: narcissus varieties including daffodils and jonquils, Fritillaria imperialis, also known as Kaiser's Crown or Crown Imperial, scented varieties of marigolds, crocus tommasinianus also called snow crocus, and allium. In a vegetable garden, use garlic or peppermint.
Keeping Squirrels Out of Bird Feeders
Another squirrel attractant is a bird feeder. Keep squirrels out of bird feeders with a baffle. Squirrels love to rob the feeder for seeds and can make off with more feed than the birds get. I'm not suggesting that you stop feeding the birds; but if you have a bird feeder, invest in a baffle to keep the squirrels from getting to it.
Some baffles also act as weather protection to keep the seed dry. Putting a squirrel baffle above the bird feeder prevents the squirrel from climbing down to the feeder. Also, make sure that there are no easy points of access from below.
Use Physical Barriers to Keep Squirrels Away
As a last resort, you might want to use physical barriers to keep squirrels out of your favorite plants. This might also be a good first step until the other strategies begin to work. Cover plants with wire mesh, wire baskets, or other deterrents to keep the squirrel from accessing the plant.
Some gardeners grow their plants inside a birdcage or other decorative structure that also acts to keep squirrels out. I like my plants free and unrestricted, but it does work.
Tidy up the Yard to Discourage Squirrels
While all of these deterrents will help keep squirrels away, you also need to avoid attracting the little critters. Squirrels, raccoons, chipmunks, and rodents are attracted to food smells in the yard.
If All Else Fails, Use a Live Squirrel Trap
Try these methods and see how they work for you. Some squirrels can be stubborn and may try to outlast you, so you need to stay diligent and try new strategies when needed.
If you persist, you will win the war without harming the squirrels. However, if you get a very stubborn squirrel, don't hesitate to use a live squirrel trap and remove it to some remote location.
Let me know what works for you. Ground squirrels and tree squirrels are similar and have the same goals, but may require different strategies for success.
You may have another method for getting rid of squirrels in your garden or flower pots. We can all use more ideas for dealing with backyard squirrels.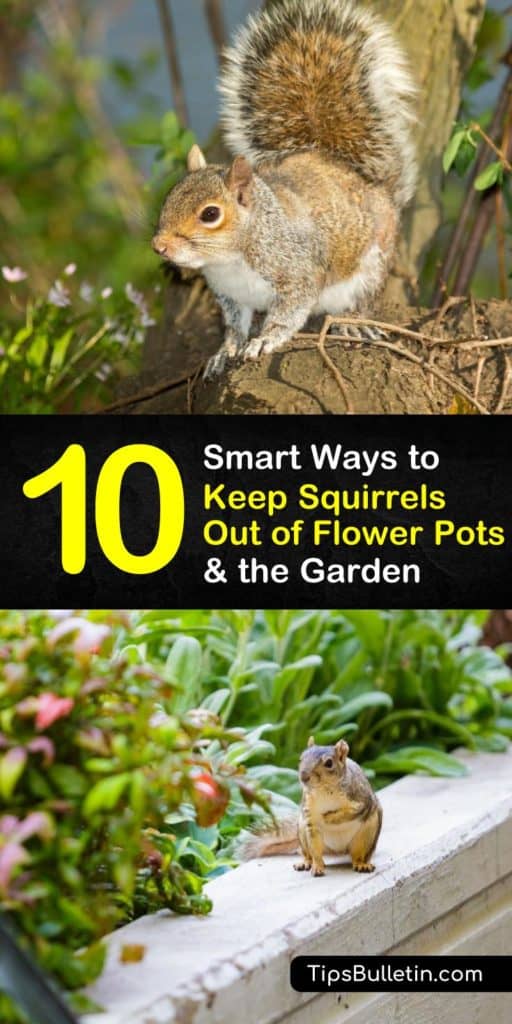 I hope you enjoyed this article. If you found it helpful, please take the time to share it on social media so that others may benefit as well.