What if basil for the Caprese salad was only a few steps away? And mint to garnish the mojito, too? It's not necessary to rush to the store when you have a herb garden at home.
Most herbs are natural to grow. And the few dollars you spend to plant them will save you tens of dollars down the road. Here is a collection of our favorite culinary herbs for a kitchen garden.
We hope seeing them inspires you to try growing something new. Small containers of herbs growing on the windowsill will make it easy to access your favorite flavors while taking little time to gather them because of the convenience.
You can start with just a couple and add to them as you become more comfortable growing them.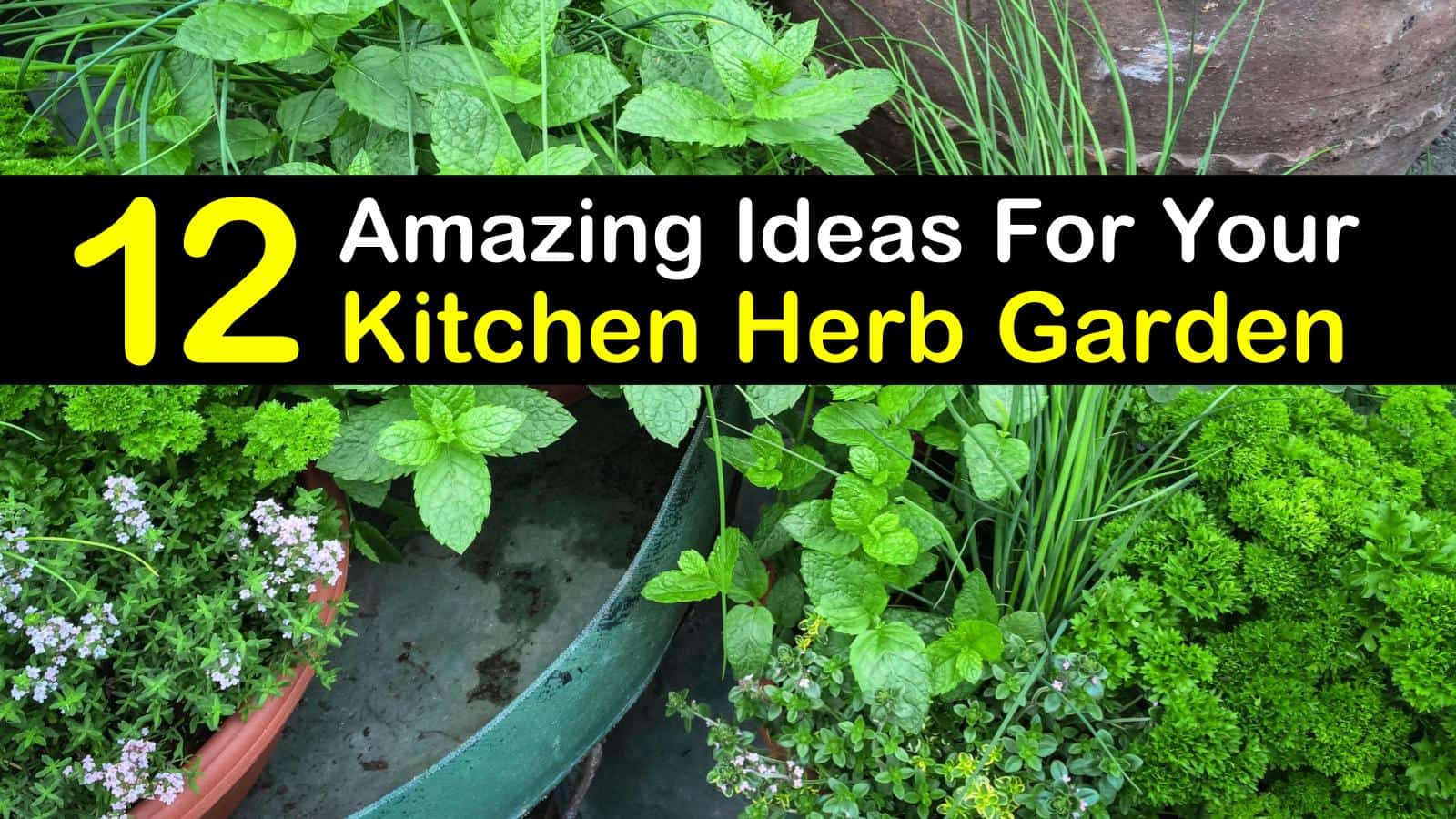 The Best Kitchen Herbs
Check out our favorite herbs that are easy to grow on the kitchen windowsill. While it's easy to plant herbs to grow outside, it's important to grow them in the correct season for them to flourish.
How long do herbs take to grow? It all depends on the variety. Of course, some take longer than others but the wait is worth it.
When inside, you don't have to worry about herbs to plant in fall, spring, or summer – or even winter.
The best way to grow herbs indoors to ensure success is to provide them with enough water and light and the proper container. They almost take care of themselves.
Experiment with your favorites to see what you would like to grow. Try one of the ginseng types, a garlic bulb, or an Herbes de Provence mixture.
Parsley – A Must-Have for Home Chefs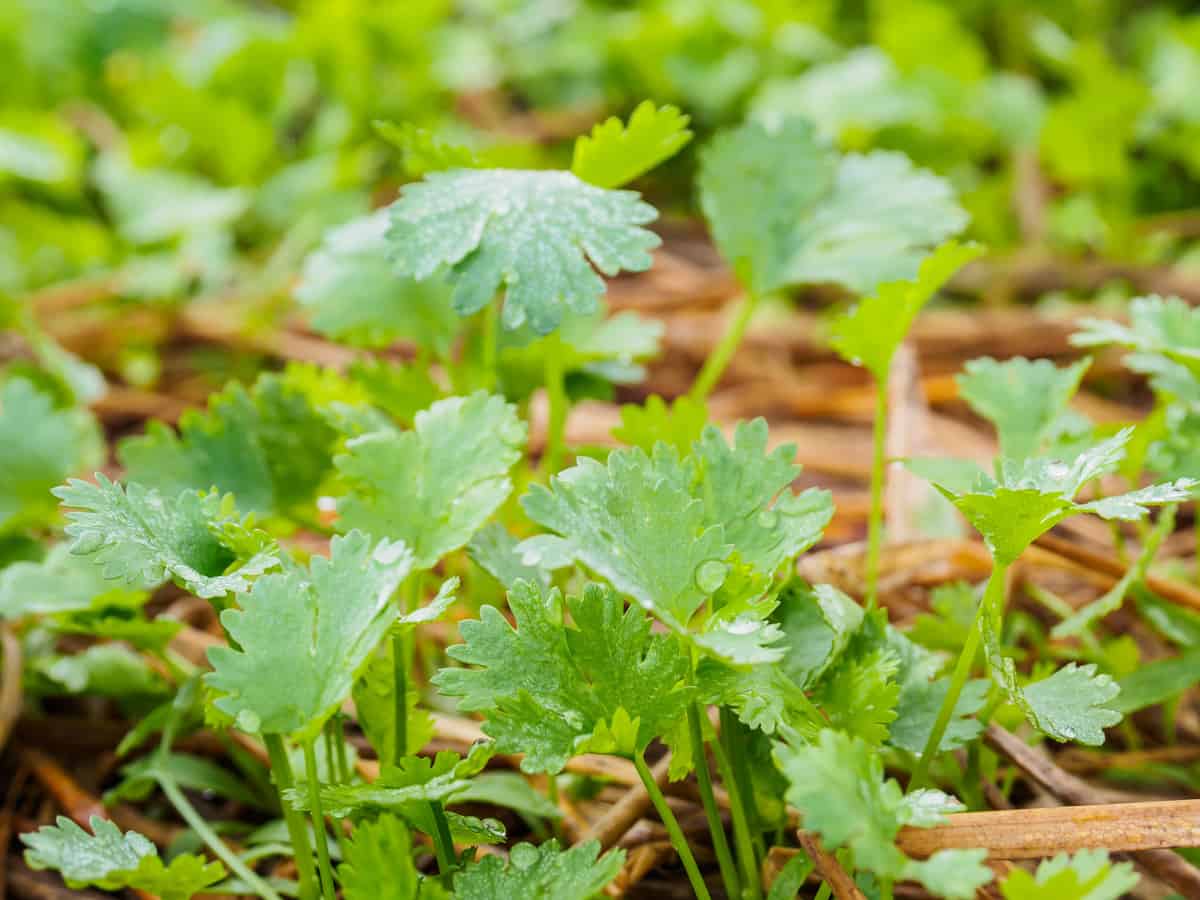 Parsley is packed with Vitamin C. It's a garnish for many foods and the main ingredient of tabbouleh. Plus, it's effortless to grow even if you plant it in partial shade.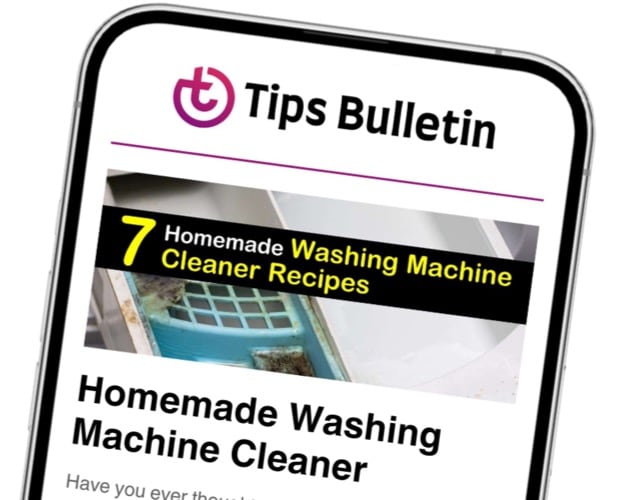 Finally, an email that Transforms Your Home.
Get the latest home and garden tips from our experts, delivered straight to your inbox.
Pick up parsley from the nursery, or plant seeds in well-drained potting soil. Then let the ground dry out between waterings. Although it's slow to grow from seeds, a mature parsley plant will last for about two years before it dies.
Lemon Balm or Melissa officinalis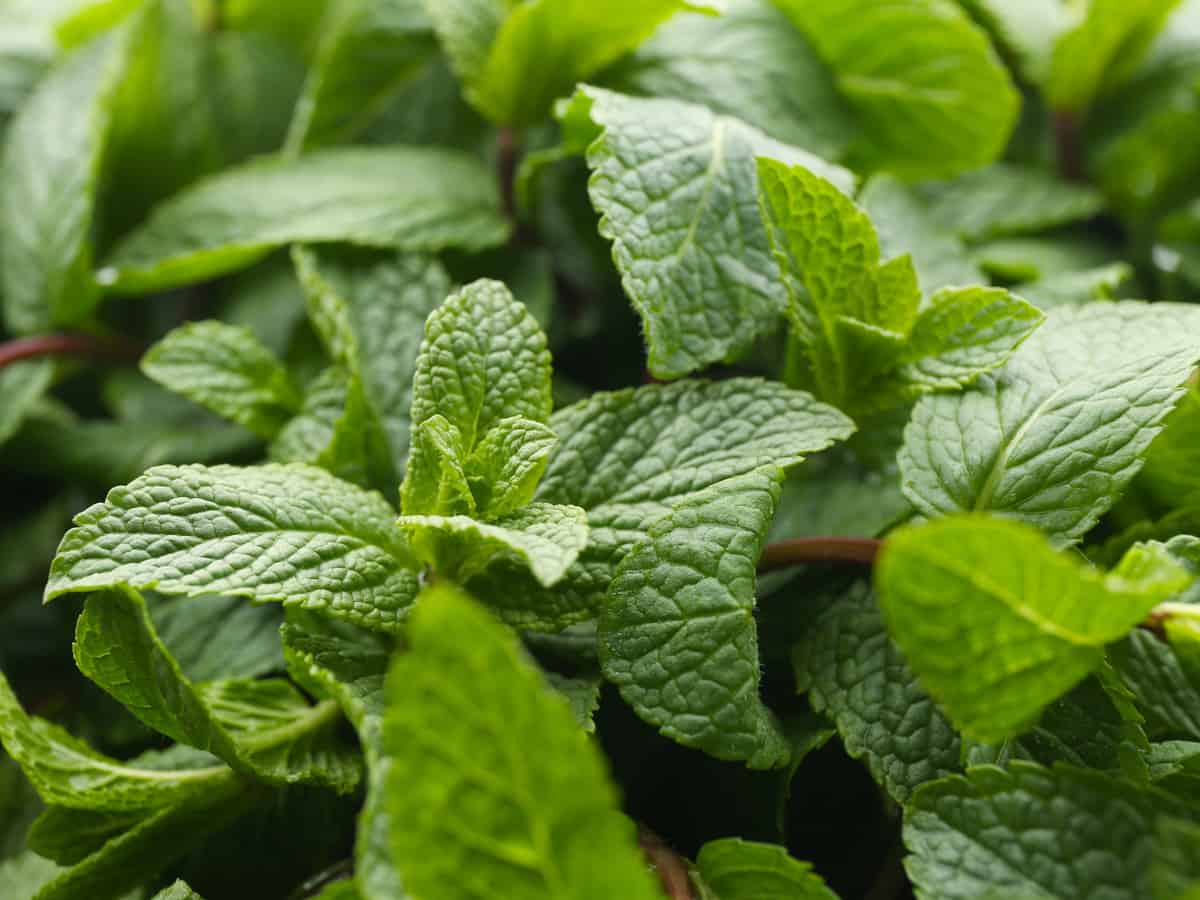 You might recognize lemon balm as Melissa, a soothing tea that treats digestive troubles and reduces stress. Like parsley, lemon balm doesn't require full sunlight to thrive.
It's one of the perennial herbs, and it takes a season to grow to harvestable size. To make use of lemon balm sooner, pick up an established plant from the garden center.
Unlike parsley or rosemary, Melissa needs frequent watering. But grow it in fast-draining soil to avoid root rot. Lemon balm is also a natural way to prevent spiders in the kitchen.
Lemon balm is also one of the best herbs to plant in summer outside, whether in the garden or in a pot. It has the added bonus of repelling mosquitoes.
Chives – A Blooming Delight for Your Culinary Needs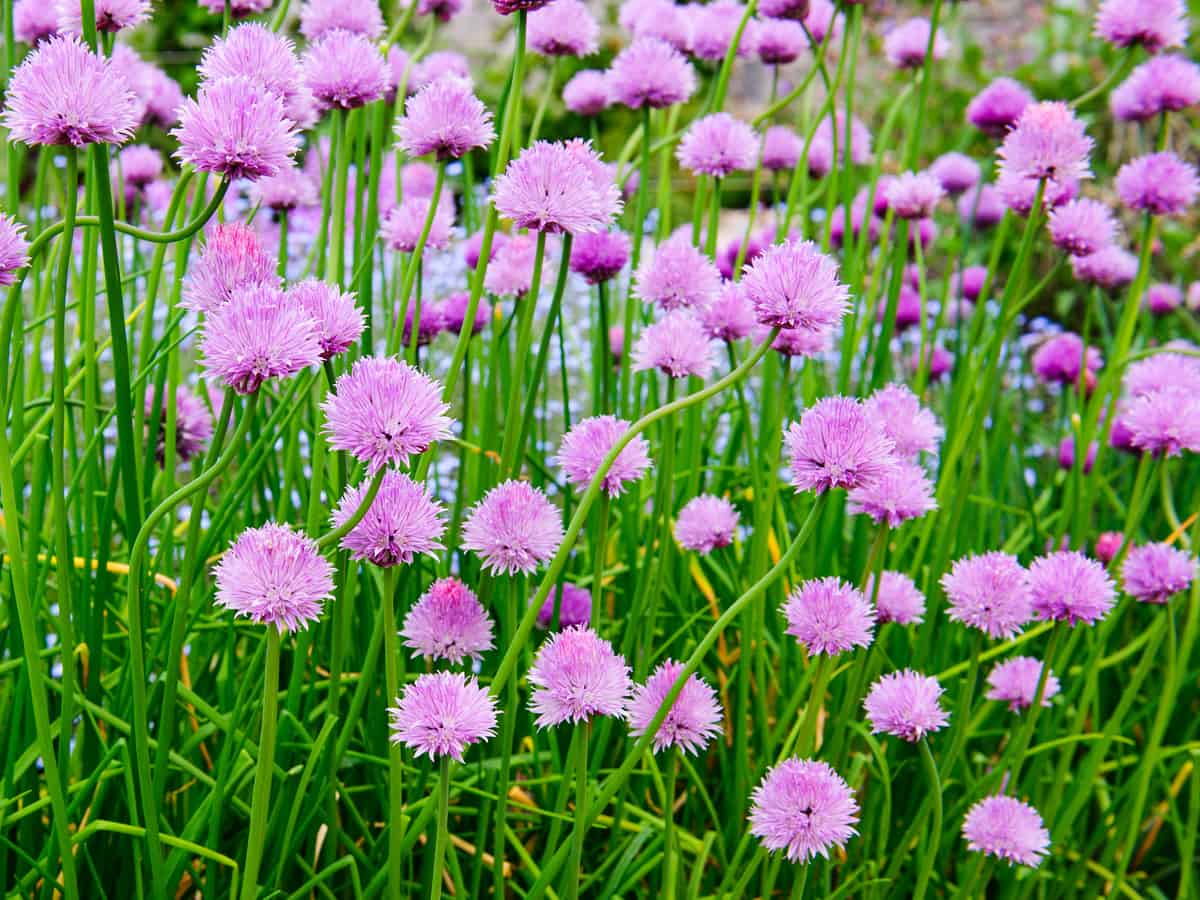 Like Melissa, it's faster to raise chives from nursery plants than from seeds. It might be years before the seedlings mature into harvestable kitchen herbs. But once you can clip chives for your soups, salads, and baked potatoes, you'll be glad this plant's in your garden.
Chives only need a few hours of direct sunlight, but they like a lot of moisture. For dry climates, you might need to mist them to keep them from drying out too much.
Ginger – Essential for the Home Cook's Garden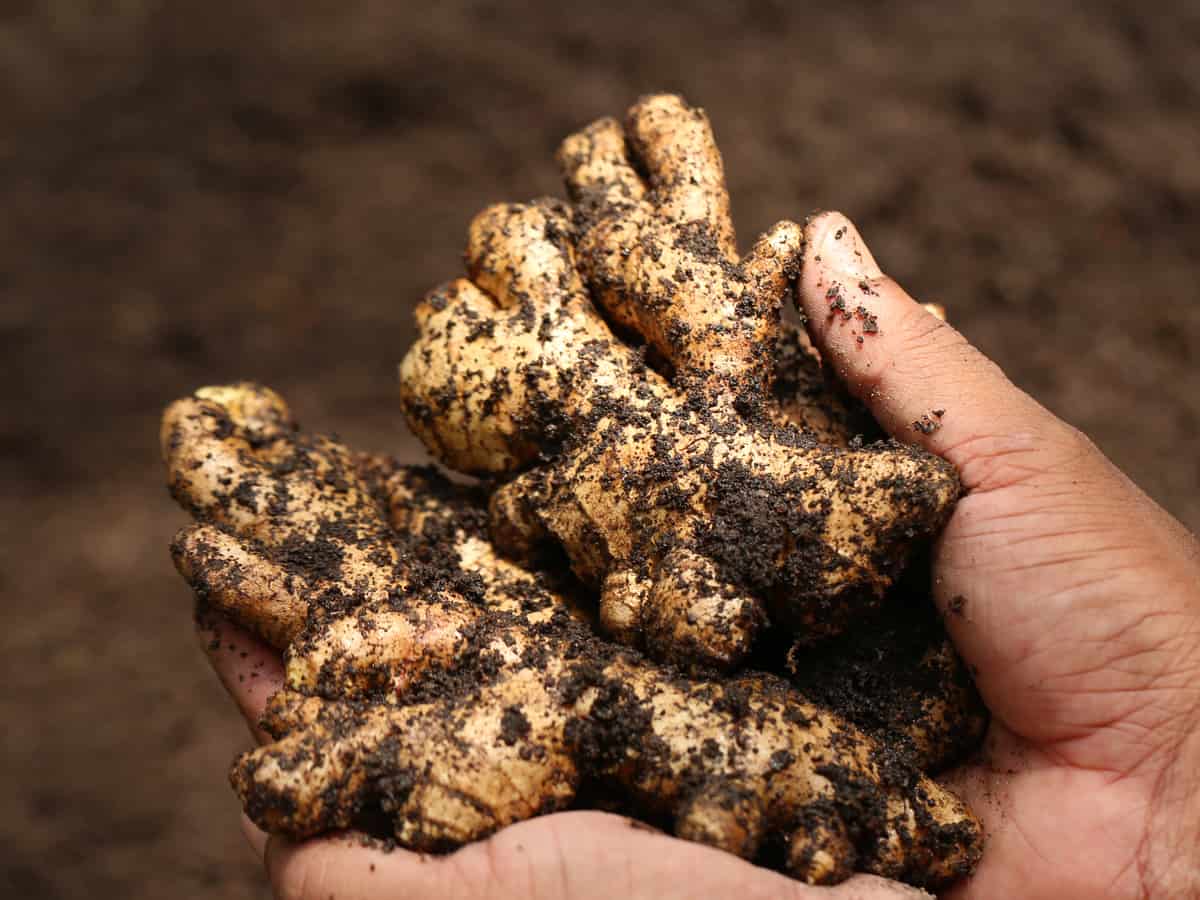 Ginger is native to equatorial regions of the world, but it doesn't like the heat. It grows in the shade under tree canopies where the soil stays damp all the time.
You can keep it happy with indirect sunlight and humid conditions around 70 degrees. This is another plant that you'll want to mist regularly to ensure that it continues to flourish.
Mint – The Fragrant Wonder for an Indoor Garden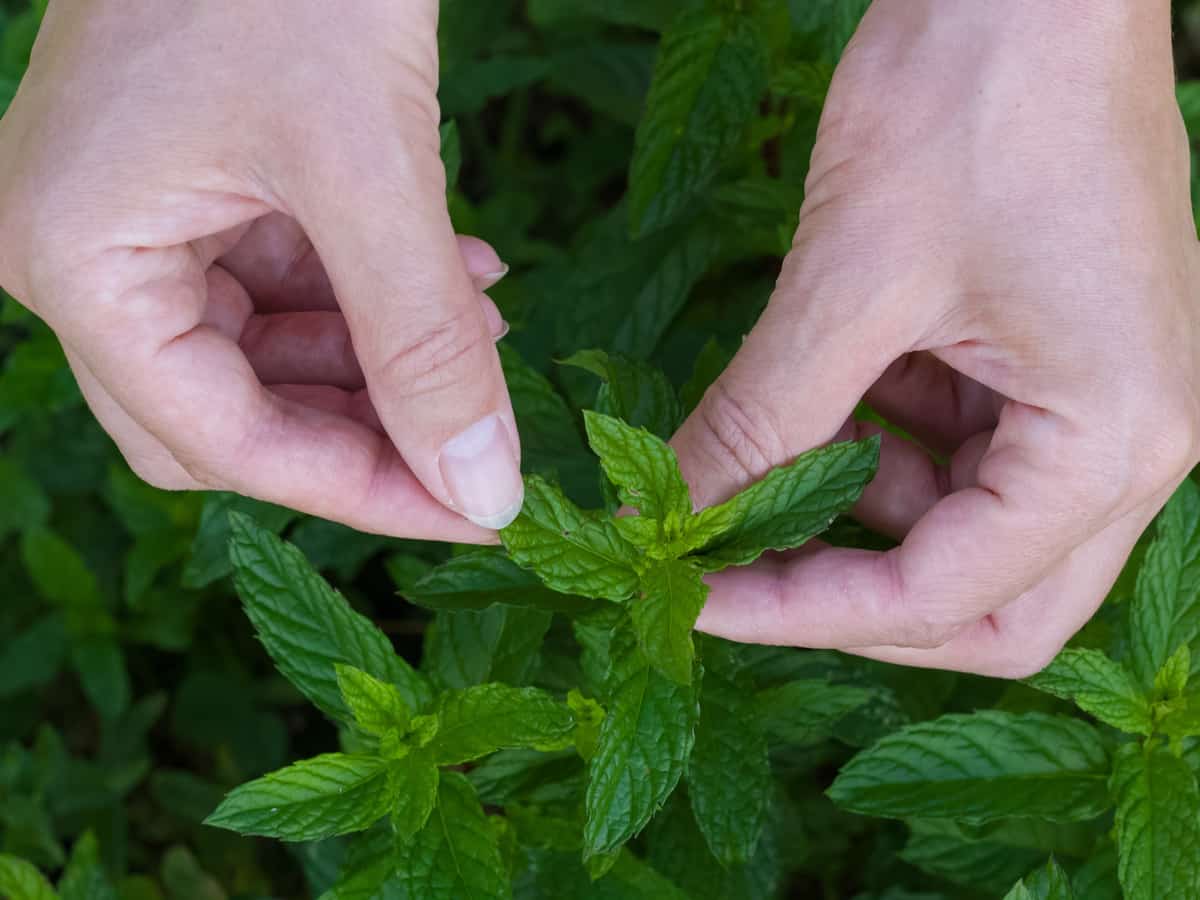 Almost any kind of mint grows aggressively indoors or outside. Often used to repel flies and gnats, it doesn't need much sunlight, and it isn't picky about soil type. But it does require regular watering to thrive.
Fresh peppermint and spearmint leaves are excellent for teas, desserts, and even chicken noodle soup. Try garnishing salmon with mint, too.
To keep your mint plant producing a steady supply, pick the leaves regularly. In the springtime, you can divide the mint plant into halves and plant those in new pots.
Rosemary – A Fragrant Staple for Homegrown Flavor
If you are growing edible plants, don't forget about rosemary. Easy to grow and harvest, rosemary retains its delicious fragrance even when it's dried. It's the perfect addition to many Italian dishes and an aromatic seasoning for stews and roasts.
As soon as it's 6 inches tall, you can trim the tips to encourage branching. Use the tips to spice up meals or dry them for later.
Rosemary lives for years and grows up to 6 feet tall. For best results, give it plenty of sunshine and let the soil dry out before you water it again.
Coriander – The Unsung Hero of Flavorful Cooking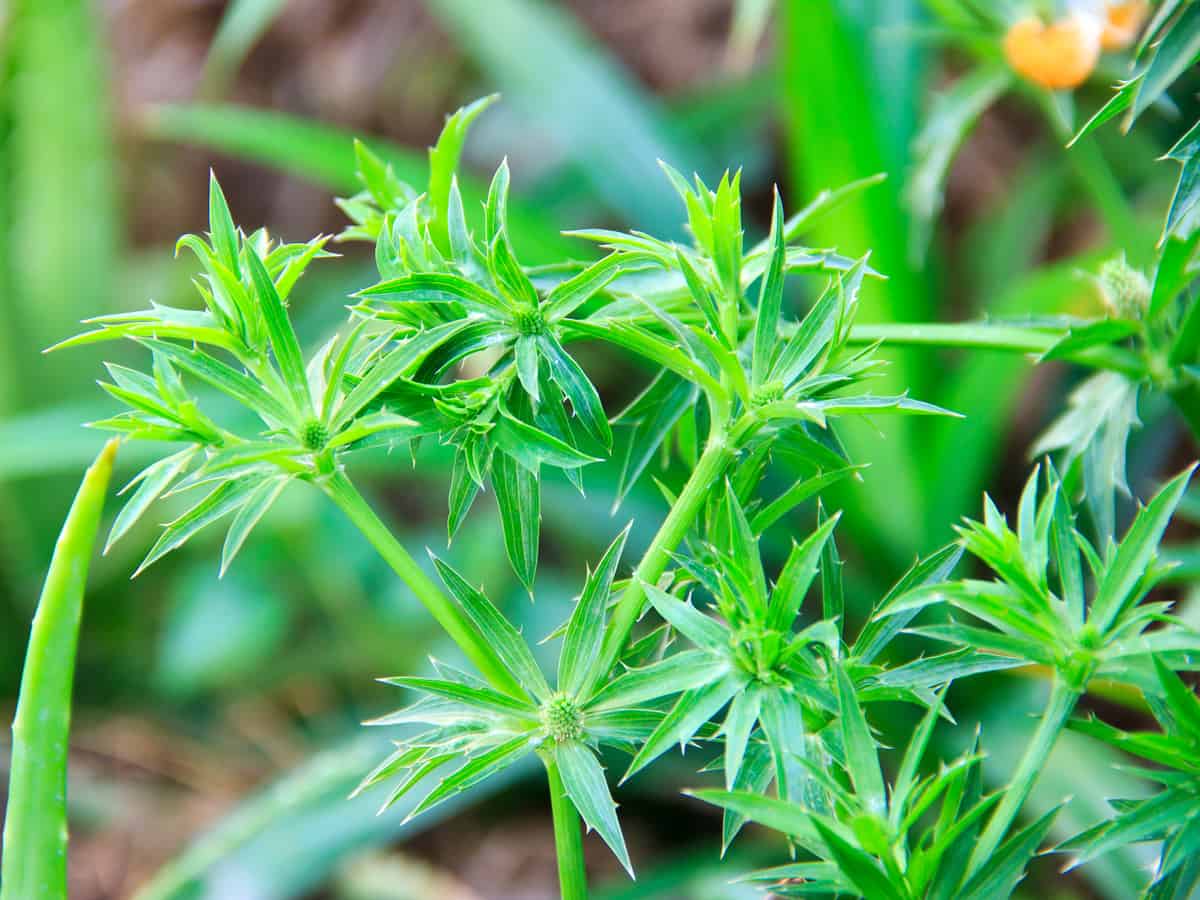 Coriander is sometimes called Chinese parsley because it's a frequent addition to Thai, Indian, and Chinese meals. Its leaves and seeds are both used as seasonings.
Coriander blossoms and then goes to seed in a short amount of time. It's not a very long-lived plant.
It will grow for more extended periods in partial shade if you trim the leaves and keep it fertilized. Some gardeners prefer to plant it in the late summer and enjoy it again when it comes back in the spring.
Fennel or Foeniculum vulgare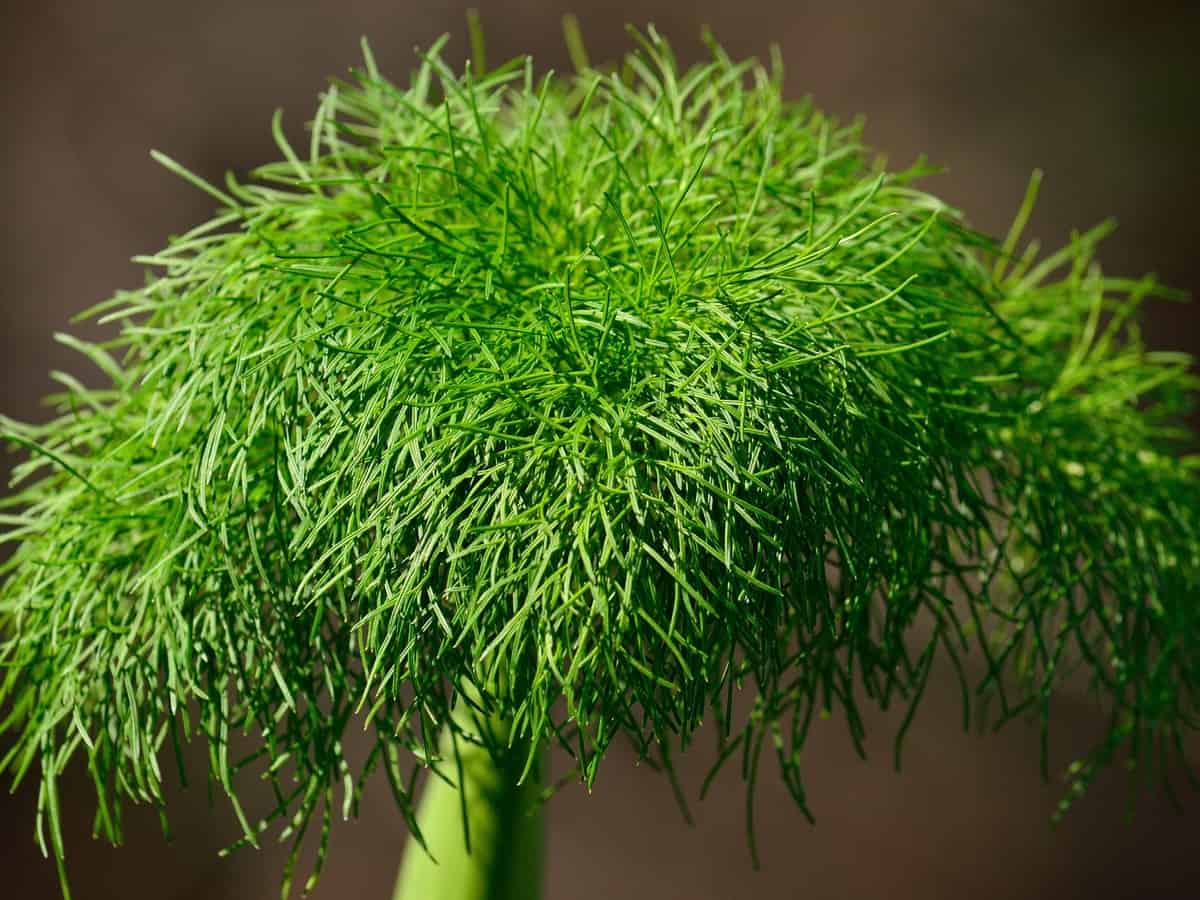 Fennel is a robust perennial native to the Mediterranean zone, although you may have eaten it in Indian dishes. It likes full sun, loose soil, and regular watering.
It's easiest to grow from seeds. But be careful to keep fennel and dill plants well apart in the garden because they cross-pollinate.
All parts of fennel are edible. The stalks are often treated like celery while the vitamin-rich bulb is grilled or baked. The seeds taste a lot like licorice.
Thyme – Aromatic Ground Cover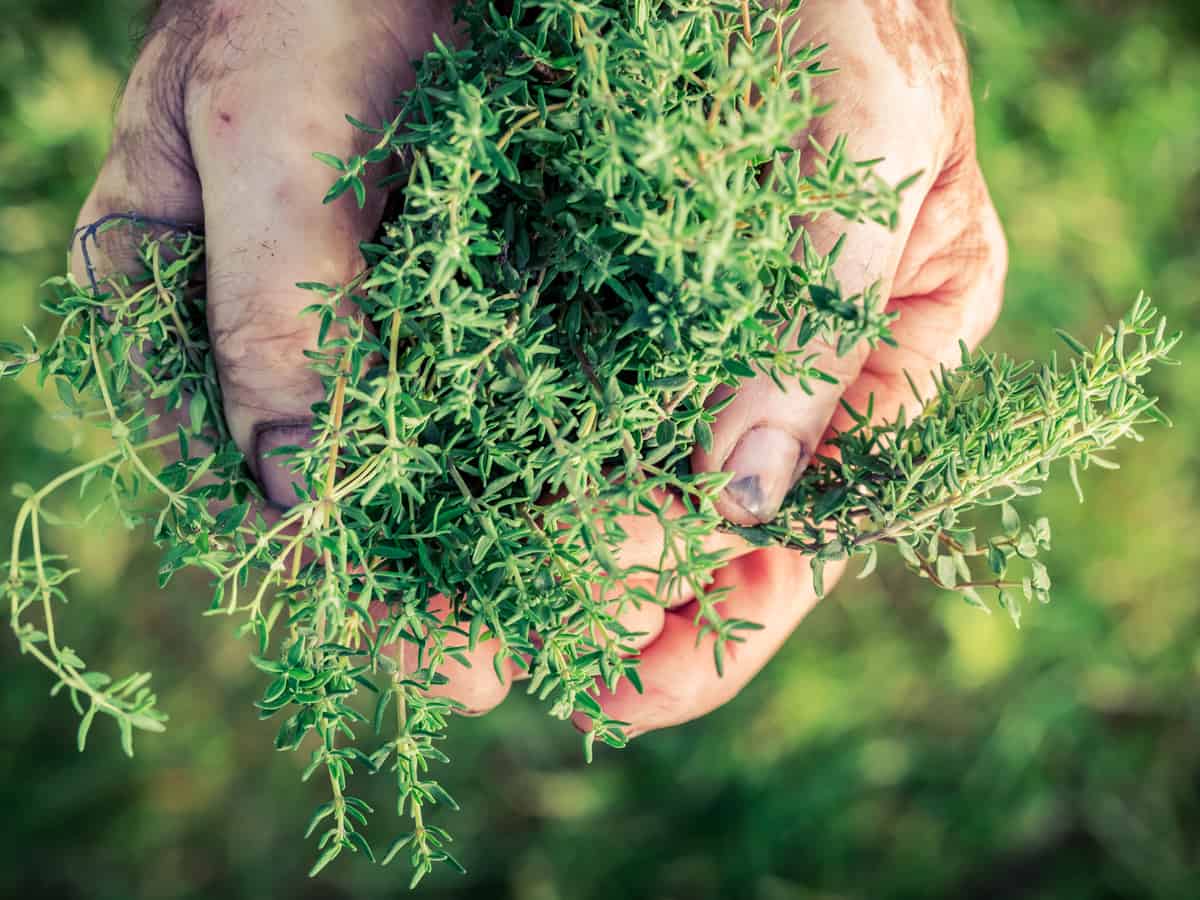 Thyme makes a fragrant ground cover as it grows well in full sun and tolerates some shade. It prefers dry conditions and needs infrequent watering. You can harvest thyme when the plants bloom during the second year of its life.
That delay is why many gardeners purchase established plants for their kitchen herb gardens. But, fresh thyme is tasty in salads and as a poultry seasoning. And you can reap up to a third of the plant at a time.
Basil – The Favorite for Fresh Pesto and More
If you love pesto, you need to plant basil in your herb garden. Growing basil herbs is easy if you give them warm sunshine and moist, well-drained soil.
And, if you harvest the leaves regularly, the plant will grow all the more. It is one of the best herbs to grow if you enjoy Italian cooking.
Start basil outdoors when the weather warms up in May or June, or plant seeds indoors before the last spring frost. Basil likes at least 70-degree weather, just like humans do. As soon as it's at least 6 inches tall, you can begin harvesting the leaves for cooking.
Of course, you can also grow basil in a pot, whether indoors or out. Just make sure to give it the light and water it needs and you'll have fresh basil whenever you like.
If you start to have a problem with aphids, take care of the issue right away so your basic doesn't become inedible. A hard spray of water from the hose works quite well to kill aphids on basil. Sprinkle diatomaceous earth around the base of each plant to prevent future invaders.
How long does basil last after harvesting? If you package it correctly and put it in the proper place, you can have basil whenever you want it.
Storing basil in the fridge works for several days but if you have a bit too much to use quickly, you can freeze it whole or make it into a puree.
Oregano – Perfect for Enhancing Tomato Dishes
There are several varieties of oregano, including ornamental cultivars, but Greek and Italian are the ones you'll want in the kitchen. Oregano is an essential seasoning for Italian and Greek meals. It also happens to be a natural insect repellent.
Oregano is straightforward to raise from seeds. It sprouts in a week or two, then thrives in full sun and warm weather. Both its leaves and flowers are edible.
Tarragon – The "Secret Star" of the Herb World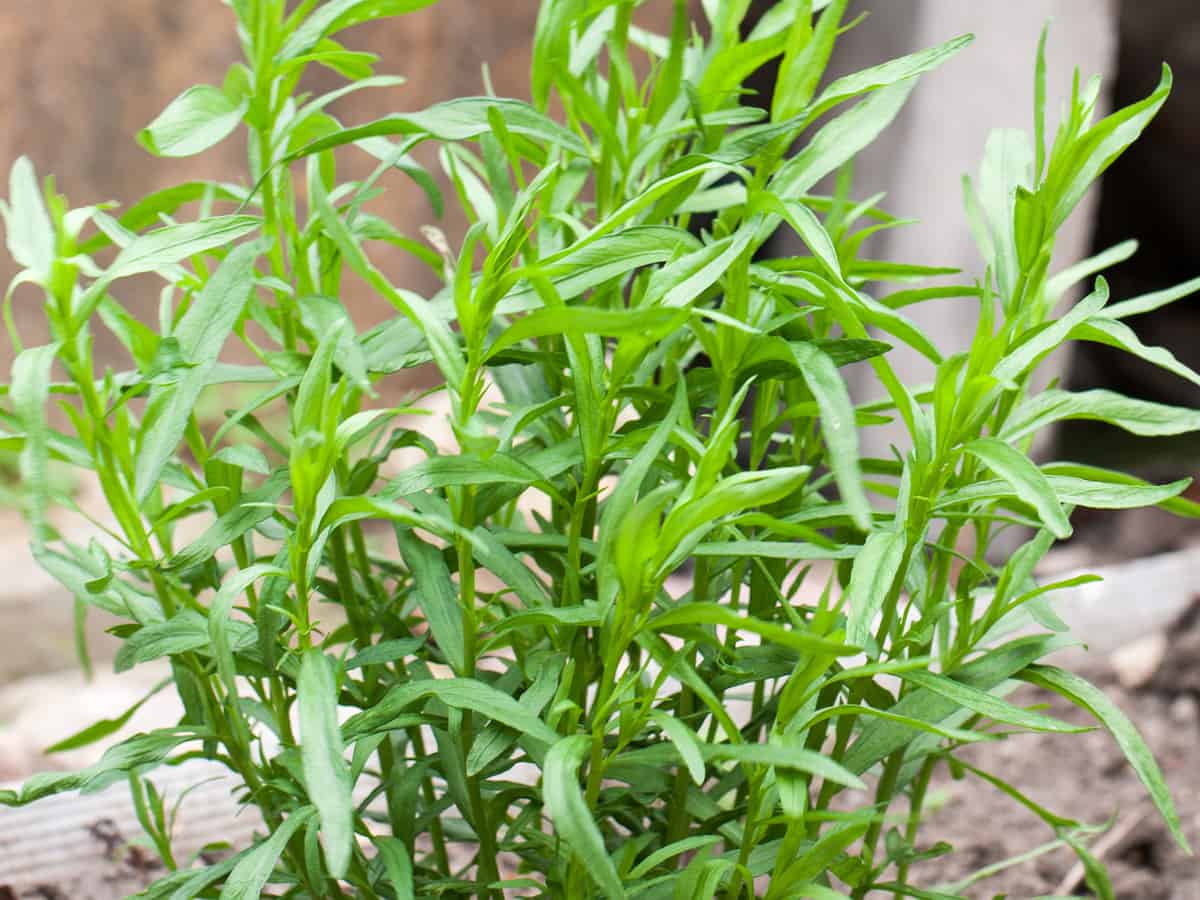 Tarragon is an outstanding source of minerals and vitamins. Its leaves taste like anise or licorice, making it an ideal seasoning for seafood, poultry, and egg dishes as well as salads. Some gardeners swear by tarragon tea for stress relief and to numb the pain from canker sores.
You can grow tarragon from cuttings or seeds. Tarragon prefers moist soil but is okay with drought. And when you trim it, it thrives.
Many of the most natural herbs to cultivate in a kitchen garden grow better when they are harvested regularly. Most of them are just as effortless to care for indoors as outside. And several, like rosemary and oregano, repel insect pests.
There's also nothing like the pleasure that comes from raising and eating your own food. It just seems to taste better.
In conclusion, we'd love to know if you were encouraged to start your herb garden. Spread the word about plants you can grow in the kitchen and share this article about plants for your kitchen herb garden with others on Facebook and Pinterest. Best of luck in all your gardening endeavors!