No gardener wants to face a leaf miner infestation. Despite their destructive tendencies, leafminer larvae are simple to identify thanks to the distinctive wiggly line marks they create on plant leaves. These winding paths result from the larvae feeding on the leaf and eating their way across the surface.
Start leaf miner control should as soon as you see affected leaf tissue to help your plants recover. If left unchecked, leafminers do a lot of damage to a garden quickly, so it's vital to know how to control leaf miners. Regularly check your plants for any evidence of these nuisances, such as yellow lines on the leaves or sizable pale and discolored regions where the trails overlap.
If leafminers attack your garden, know that there are numerous straightforward tips on how to prevent leaf miners or eradicate them if they've already invaded. Combine good garden maintenance with neem oil or parasitic wasps to eliminate leafminers from your garden this season.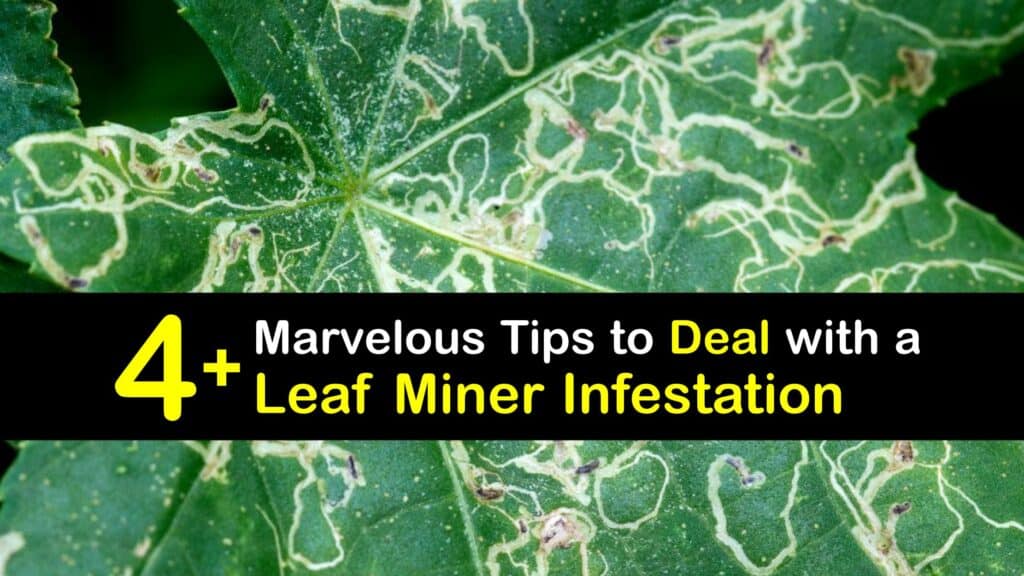 How to Control Leaf Miners with Simple Remedies
Leafminer control is frequently required to handle the prominent tunnels on leaves that lower crop value, though they are typically not life-threatening. You most likely have a leaf miner infestation if you notice large spots of no chlorophyll or wiggly trails on an affected leaf surface.
These are either moth, sawfly, beetle, or fly larvae. The larvae reside in the leaf's outer layers of tissue. Leafminers cause injury and reduce the levels of chlorophyll in the leaf, preventing it from producing as much energy for the plant through photosynthetic processes.
Badly infected leaves fall off the plant, and the growth of the plant is hampered if too many leaves are lost. Discover ways of keeping leaf miners away and stopping this pest from wreaking havoc.
Types of Leaf Miner Infestation
The leafminer, or Liriomyza huidobrensis (L huidobrensis), consists of multiple species, though they all have common habits. Adult leaf miners lay their eggs inside leaf tissue, where larva hatch and begin to feed. As the larvae eat, they burrow their way through the leaf, leaving a characteristic trail that looks the same no matter their variety.
Adult leaf miners feast on an infested leaf and deposit leaf miner larvae within the leaf tissue. Leaf miner damage appears as pale splotches and tunnels on plant leaves and, worse, wilted and fallen leaves.
Organic Leaf Miner Control Using Trap Crops
Trap crops are a natural method of leafminer control. The principle of trap cropping is to draw the insect pest away from your prized citrus tree or ornamental plants by providing an enticing alternative. Sacrificial plants lure the pests to them, thus sparing your tomato leaf from deterioration.
Plant trap crops around the periphery of your vegetable bed or intersperse them between the plants you're protecting. The leaf miners will flock to the favored trap crop to feed, hatch their leafminer larvae, and leave valuable crops unharmed.
Use Neem Oil for a Leaf Miner Problem
Neem oil is a safe way to control leaf miners without damaging populations of beneficial insects. Neem tree extract is exceptionally efficient against several insect pests, including leaf miners.
The active ingredient in pure neem oil is a potent organic insecticide. Leaf miner larvae consume this substance while they feed on plant leaves, which prevents them from growing and causes them to starve.
Shake or thoroughly mix the water, soap, and neem oil. Soak the soil around your plants in place of usual watering to treat leaf miners. Treat aphids on houseplants or garden plants the same way.
You can also combine the liquids in a sprayer to make a spray to kill leaf miner larvae. Be sure to spritz both the tops and bottoms of all the leaves of each plant.
How to Prevent Leaf Miners with Parasitic Wasps
The parasitic wasp is the natural enemy of the leafminer, making it a fantastic tool for natural leaf miner prevention and control. Diglyphus isaea, or the parasitic wasp, is a non-stinging beneficial insect to aid in pest control. Reach out to your local gardening store to order a batch of parasitic wasps and release them per directions.
The wasps lay their eggs inside the leaf miner larvae, offering an invaluable option for breaking the life cycle without harmful chemicals. Once freed in your garden or greenhouse, these predators quickly establish dominance and guard against leaf miners all season.
Effective Ways to Stop Leaf Miners
Maintaining your plants in peak shape helps them resist leafminer injury. Ensure your plants receive adequate water and fertilize them appropriately. Inspect your plants at least once every week.
Squash the leaf miner larva at the end of the tunnel if you notice tunnels on your leaves. If the plant has enough healthy leaves, remove the diseased ones. Floating row covers protect against adult leafminers by preventing access.
Till the ground thoroughly after removing the fall crops from your garden. Tilling aerates the earth and buries and kills the pupa stage to end the leafminer life cycle. It's a natural way to get rid of clover mites, too. Keep weeds out of your garden so they don't draw leafminers and other bugs.
Every season, clean up plant debris and leaves. Remove and destroy leaves that have leafminer traces. Avoid using leaf miners while composting leaves.
Although they initially appear harmless, the feeding and tunneling habits of leaf miner larvae quickly devastate the leaf tissue of a plant. It is wise to get rid of citrus leafminer and other larvae before they cause irreparable damage by using home treatments to kill leaf miners.
The yellow zigzag lines left by leaf miners make it easy to spot an infestation. These lines result from the larva boring tunnels into the leaf tissue. Any indications of leafminers must be treated right away. Find out how to control leaf miners and eradicate these pests with ease.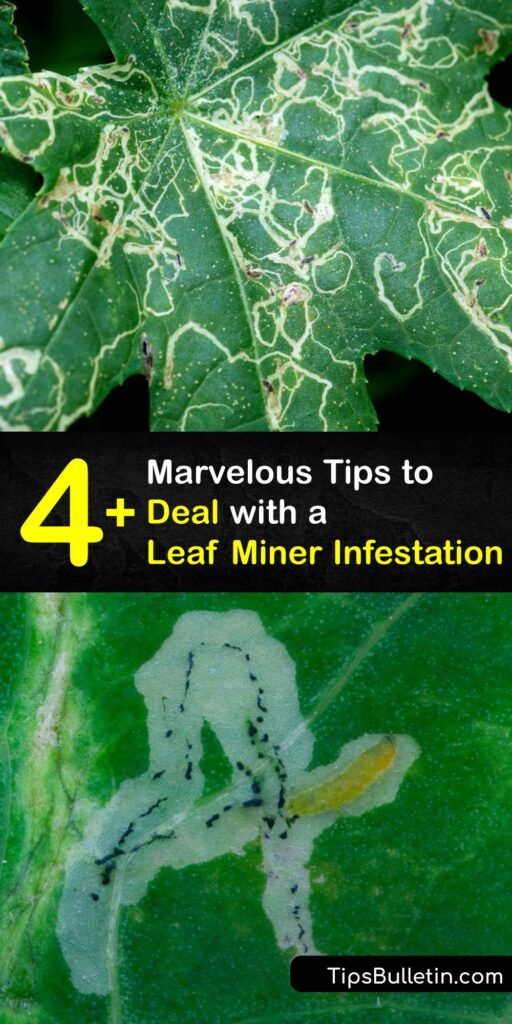 If you loved this comprehensive article on leaf miner infestation, please share these ideas with your friends and family who'd like to know how to prevent leaf miners on Pinterest and Facebook.