Lettuce crops are staples for farmers worldwide as lettuce is a hardy annual crop. Once harvested, lettuce is a common ingredient for salads, sandwiches, soups, and wraps. As much as humans enjoy lettuce, mammals and pests love it too, and lettuce bugs are a common annoyance for those growing their crop.
Its popularity means that lettuce is likely the first to come to mind when you think of vegetable crops. Whether it's romaine, iceberg, arugula, watercress, or spring mix, there are numerous varieties of lettuce to grow.
Growing lettuce around your home is simple whether you start from seeds, plant living lettuce from the local market, or start from kitchen scraps. Before your lettuce reaches the kitchen table, though, dealing with issues like whiteflies and aphids on lettuce crops is the biggest challenge.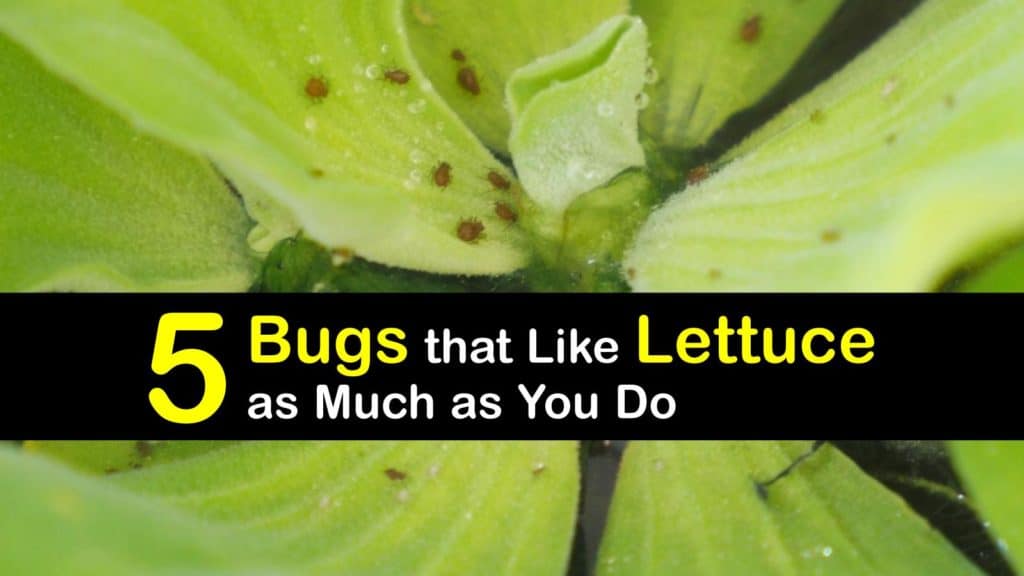 Dangers of Pests Devouring Your Lettuce before You Do
While growing your lettuce crops, a lack of nutrients makes pests that carry plant-affecting diseases target your crop. After lettuce takes weeks to grow, lettuce that pests have contaminated causes bacterial or parasitic outbreaks in humans such as E. coli and Salmonella.
Like most vegetable plants, lettuce is susceptible to nutrient deficiencies from the soil. A deficiency may cause your plant to become unwell without enough water or nutrition.
Lettuce Bugs that Leave Holes
Caterpillars are the larva stage of insects belonging to the Lepidoptera order and commonly feed on lettuce plants.
Caterpillars feast on all parts of lettuce plants, chewing holes in the leaves or severing them completely. Caterpillars also feed on seedlings and the crown of your plant.
Cutworm caterpillars are common on your lettuce. Cutworms come in different colors but are identifiable by their reaction to curl into a "C" shape when disturbed.
Cabbage loopers are green with white stripes; armyworms are dark-colored with three lines on their sides.
Corn earworms are a similar agricultural pest that finds their way onto your lettuce crop from neighboring plants and causes damage.
Dealing with Aphids on Lettuce
Aphids and their nymphs are piercing-sucking winged or wingless insects with several colors ranging from light green to orange to pink.
Aphids have a short life cycle and can rapidly increase their numbers, so finding aphids on lettuce in your garden can be detrimental to your plant if left alone.
Aphids feed deep inside your plants when you grow iceberg lettuce and other types, and extract sap from them, leaving discolored areas on leaves.
Dealing with Whiteflies Sucking Juice from Your Crop
Whiteflies are common lettuce bugs to find on the underside of plant leaves but they do not typically feed on spring lettuce. Instead, whiteflies feed on lettuce in the fall.
Whiteflies leave behind a sticky honeydew on the plant's leaves that leads to black sooty mold on the plant. Whitefly feeding may stunt your plant's growth and cause discoloration on the lettuce head.
Viruses Brought by Thrips
Like aphids, thrips are pests that puncture plant leaves and suck the sap from them. Once punctured, leaves take on a silvery appearance that eventually turns brown.
This discoloration resembles damage caused by windburn; however, the presence of small black fecal matter on the damaged leaves confirms the presence of thrips.
Thrips are one of the main pests that serve as vectors for plant diseases, the most common being Impatiens Necrotic Spot Virus.
The virus causes numerous symptoms like stem death, stunting of growth, wilting, yellowing, and sunken spots on leaves.
Crop Damage from Leafminers
Leafminers burrow narrow tunnels through leaves where they live. Female leafminers use these spaces to lay eggs as well as feeding sites.
Once hatched, leafminer larvae exit these mines to pupate, causing additional damage and contamination. If you remove mined leaves, leafminer contamination may affect the lettuce head anyway.
Effective Pest Control Methods
While picking caterpillars off your plant before they feed effectively protects your lettuce crops, not all pests are so simple to remove.
When an infestation takes over your produce, it's best to remove it from your garden to avoid pests spreading to healthy plants.
Row covers are another popular method for pest prevention. Tobacco cloth is a well-liked choice because it is lightweight, breathable, and durable.
By placing a row cover over your plant once it is seeded and leaving until after bloom, your plants are better protected from disease-carrying pests that want to ruin your yield.
Commercial Pesticides
For less severe pest problems, spraying Bacillus thuringiensis (Bt) is a quick way to kill worms and caterpillars harming your crops.
Neem oil made from neem tree seeds is a natural pesticide that kills pests when sprayed on the various types of lettuce plants. You can spray neem oil on lettuce leaves to get rid of these pesky bugs.
Although these options are not forms of chemical control, be mindful when applying them to your crops.
Overuse may negatively affect beneficial insects like ladybugs and your pests' natural predators like parasitic wasps and the larvae of lacewings.
Natural Bug Spray for Lettuce
If you don't purchase a commercial pesticide, a natural bug spray for lettuce made at home works to protect your plants from critters.
Applying a homemade natural bug spray made with diluted rubbing alcohol kills harmful pests after planting romaine lettuce or other varieties. Adding dish soap helps your foliar spray stick to deter more pests from landing on your plant.
To make this homemade spray for aphids on lettuce or to kill kissing bugs, combine water and rubbing alcohol with mild liquid dish soap in a spray bottle. This natural bug spray for lettuce plants is simple to create and works wonders.
Spray this solution onto your plants to kill insects and prevent more from gathering on your crops. Do not overspray or use an excessive amount of soap as it may damage your plant's health.
Protecting Your Lettuce Crops from Garden Pests
Spinosad is an effective alternative to eliminate an infestation and avoid harming your lettuce plants with chemical insecticides. A natural pest control made with soil bacterium, Spinosad is toxic to insects.
Mix water and the Spinosad into a tank sprayer or a container with a sprayer nozzle. Spray your mixture on the tops and bottoms of the plant leaf surfaces.
Spinosad does not penetrate the cuticle layers of your plant. It is best to apply without rain in the forecast for the best chance at ridding your crops of pests.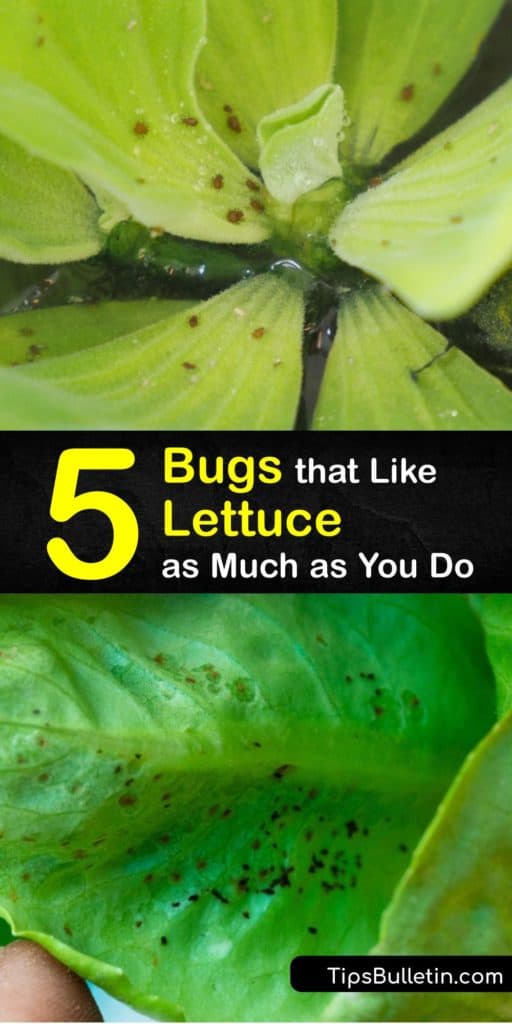 Now that you know what lettuce bugs to be on the lookout for, why not share this article with your friends and family on Facebook and Pinterest to help them deal with bugs like aphids on lettuce plants?