While filling as much space in your yard as possible seems like the best way to economize on flower beds and landscaping, there are many benefits in planting low growing shrubs. Smaller, more compact species of shrubs make excellent groundcover plants, filling in the gaps left behind by more pronounced flowers.
Shade-loving varieties also look lovely around the bases of trees that might otherwise remain bare. In addition to providing texture and cover around taller specimens, it prevents covering up areas you don't want hidden.
One example is blocking the view out windows. Shorter species are ideal for planting around foundations of homes, while still allowing for the best range of vision. Equally, it's essential to keep open spaces clear of any obstructions for maximum visibility.
Though privacy hedges are phenomenal for maintaining boundaries along property lines, taller shrubs make it easier to conceal potentially dangerous animals or humans. Whatever the reason, these petite shrubs make dressing up your home and garden a breeze.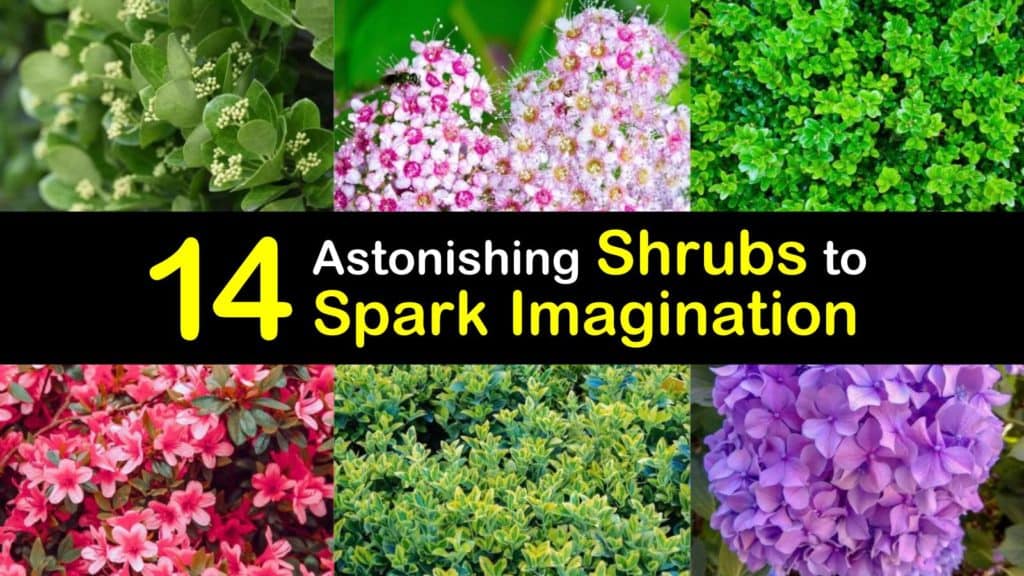 Sensational Shrubs Perfect for Crammed Spaces
The most important aspect to think about when shopping for your carefully chosen shrubs is height. You want something that perfectly fits into its niche rather than something that suits for the time being.
Instead of getting a small shrub that eventually exceeds the area you plan to fill, find one that grows into the space over time.
Golden Bell (Forsythia suspensa)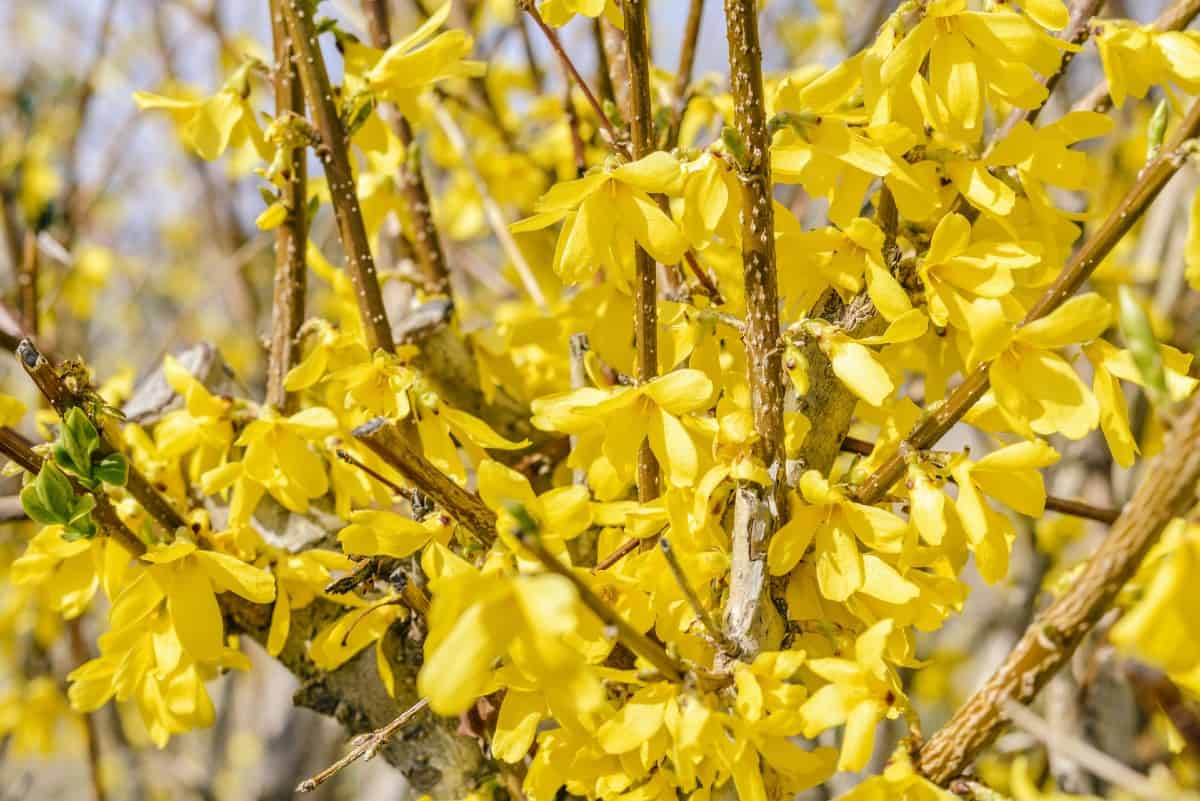 One of the best shrubs to start with is a member of the forsythia family, Golden Bell. This plant grows up to 10 feet tall and 12 feet wide when left to its own devices.
However, with proper pruning, the plant maintains a much more manageable, compact size. Its bright yellow flowers appear at the beginning of spring, usually as one of the first flowering shrubs in the area, and stand out against its dark green, oblong leaves.
Golden Bell enjoys most soil types but does not do as well in heavier soils. One way to amend this is by adding compost or other fertilizer.
Azalea (Rhododendron): Beautiful Flowering Shrubs that Attract Birds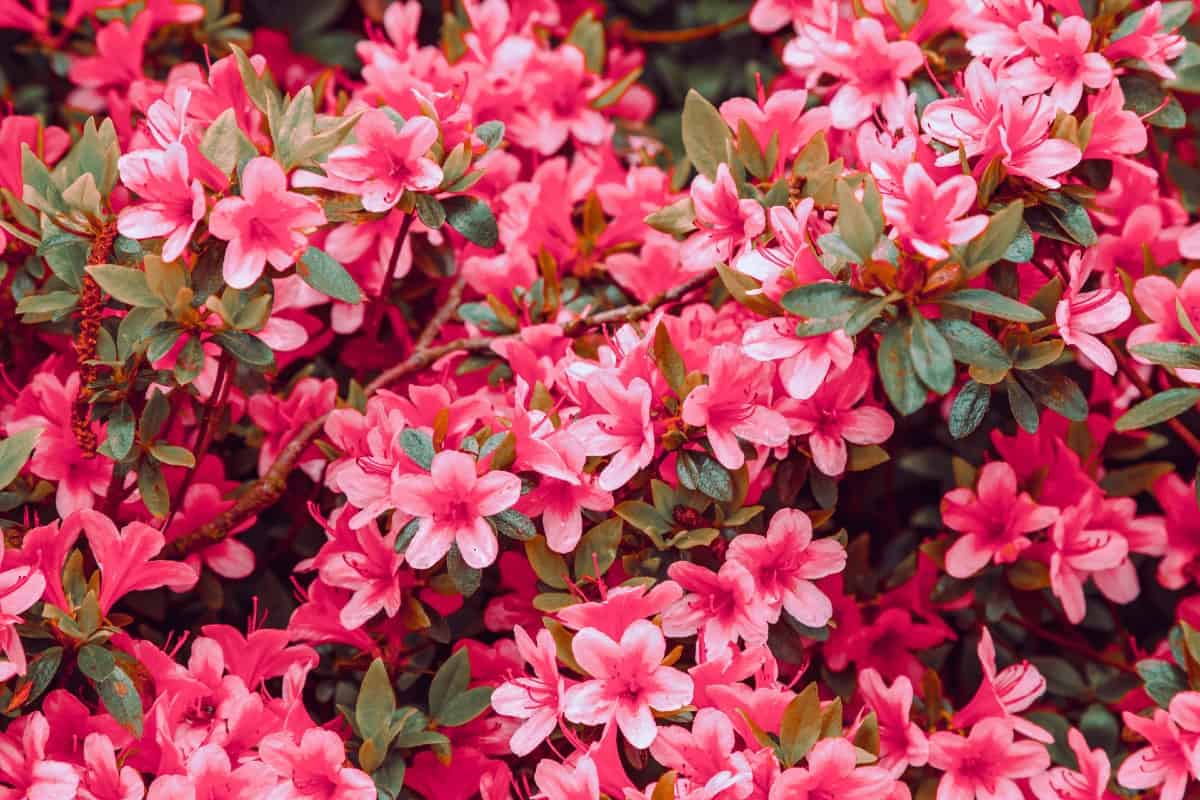 A common type of low maintenance shrubs is azalea bushes. Typical versions of this plant grow up to 8 feet tall, though most only grow to about half of their proposed height.
If that still feels like too much of a gamble for you, there are also dwarf species of azalea bushes that grow only 2-3 feet high. The bright flowers and high nectar content of the azalea flower on these tiny bushes attract pollinators of all kinds, including hummingbirds that love the flowers' shapes.
These swarf varieties of these plants can be used as ground cover shrubs if you keep them pruned. They prefer moist, acidic soil for its ideal growing conditions with plenty of organic content like peat, compost, or mulch.
It also frequents partial shade under trees, making it a fantastic candidate for foundation plantings along the sides of homes with awnings.
Emerald 'n Gold Euonymus (Euonymus fortunei)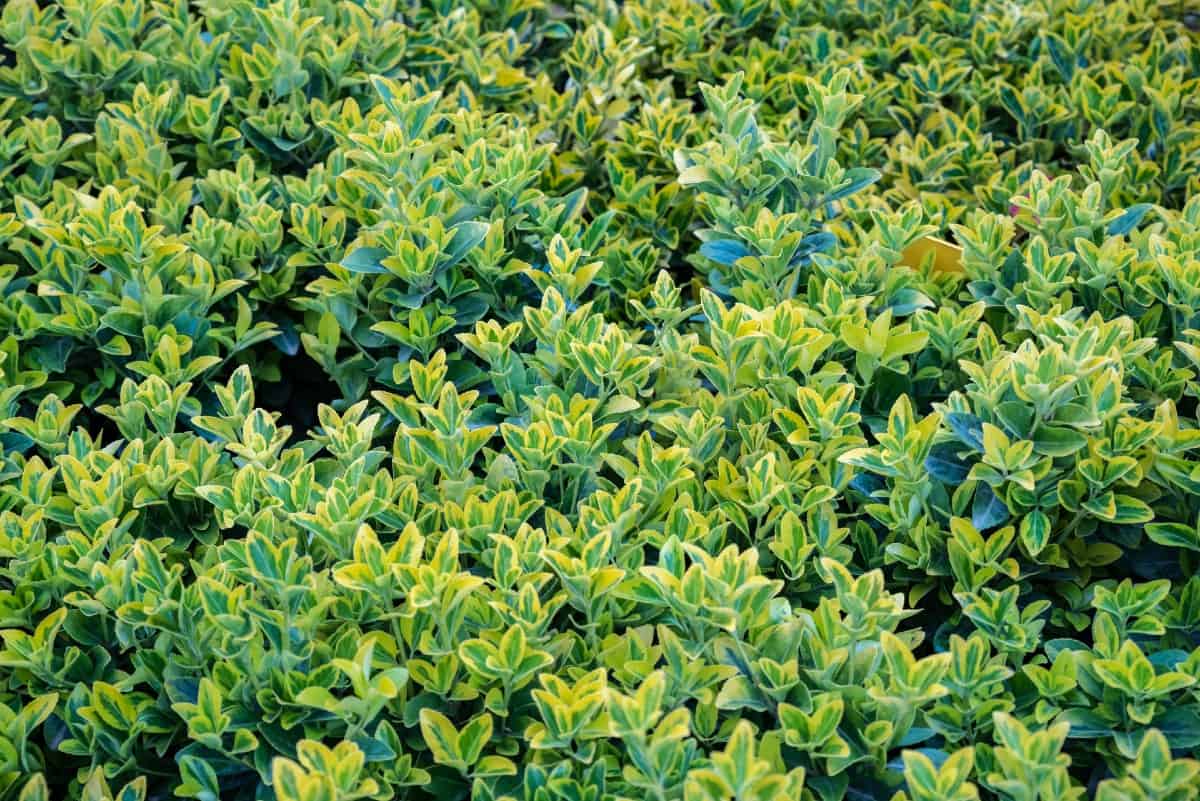 The Emerald 'n Gold Euonymus gets its name from the variegated gold and green leaves it sports throughout most of the year. Those hues give way to a brilliant fall color that transforms first to pink then red when September rolls around.
The shrub only grows about 1-2 feet tall, making it an incredible choice for low-growing shrubs. Euonymus grows in mild temperatures, leaning toward the center of the states between areas 5-9 of the USDA hardiness zones.
The plant requires at least two waterings a week until it adequately establishes itself with a stable root system. After that, once a week suffices for this lovely groundcover shrub.
English Lavender (Lavandula angustifolia)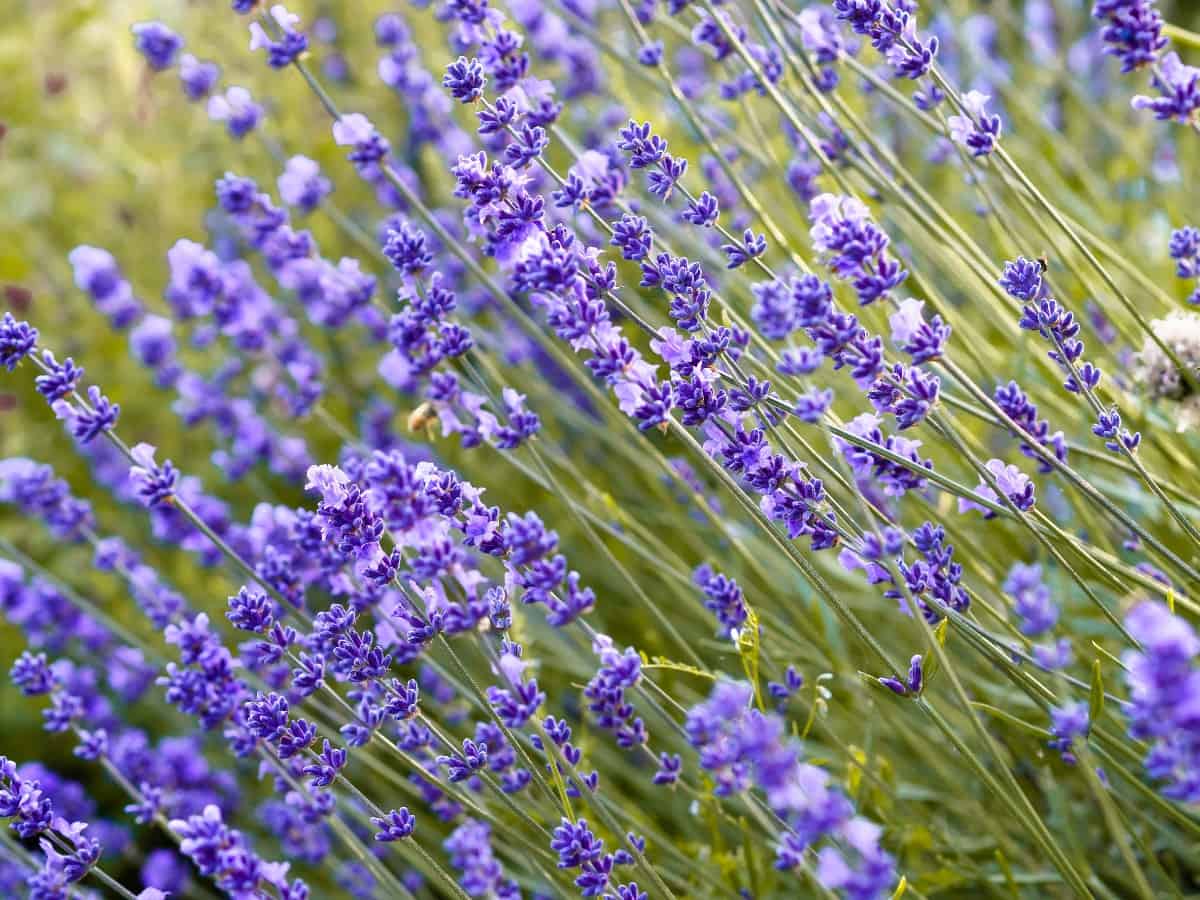 Lavender is known for its saccharinely sweet smell that seems to permeate every inch of a room. The scent is said to alleviate stress, as well as drive away pesky pests like mice, mosquitoes, and flies.
In historical times, when bathing was not as commonplace as it is now, it was even used to perfume clothing and bedding as a way to counteract foul smells. This lovely bundle of flowers only grows to about 20-24 inches when in full bloom.
Flowers appear in June and remain for anywhere between three and four weeks. This extremely hardy plant rarely requires watering once it is established, asking only for well-drained soil of a slightly alkaline pH level.
Japanese Meadowsweet (Spiraea japonica): Sun-Loving Plants that Grow Near Riverbanks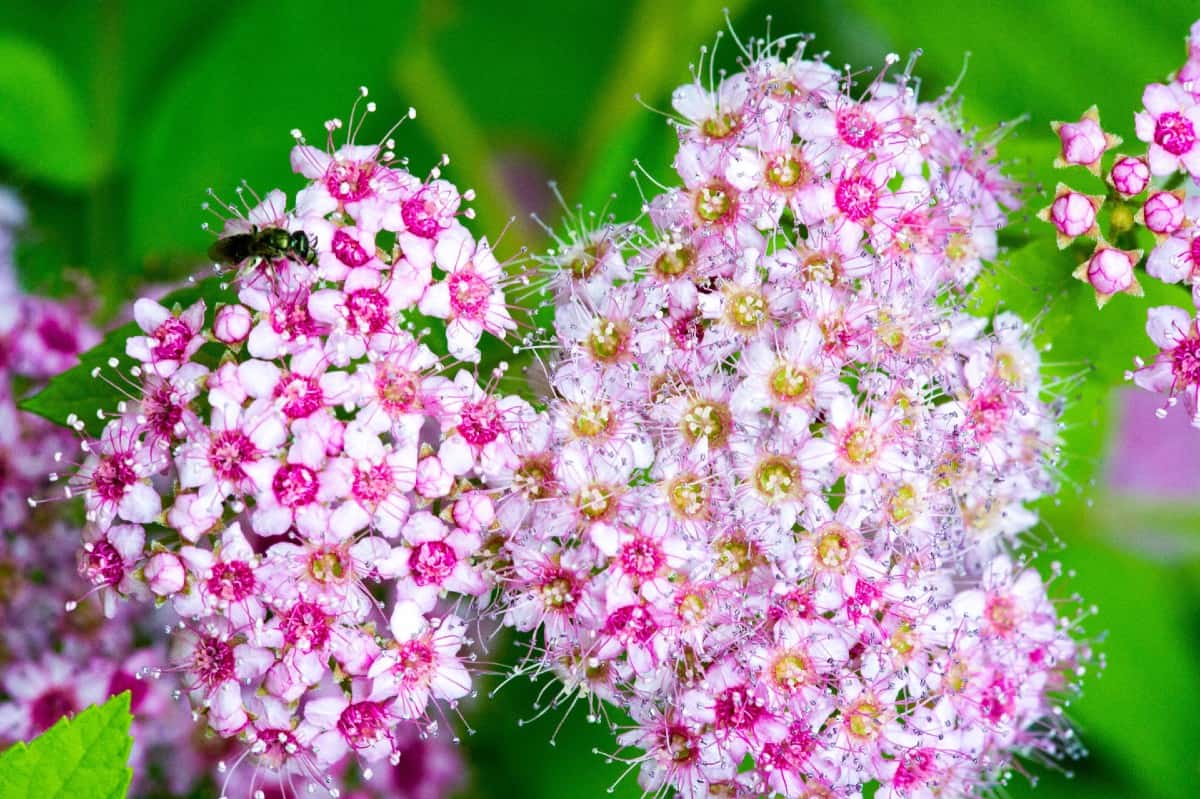 Japanese Meadowsweet, also known as Japanese spirea, is another impressive shrub that possesses stunning flowers homeowners love. Its rosy pink flowers appear in late spring and early summer, providing your windows with a much-needed splash of colors.
Beyond growing alongside houses, these plants also do well beside riverbanks with plenty of moisture and full sun. The shrub remains quite small, stretching no more than 6 feet tall when fully grown.
Prune the branches back in early spring to keep the plant looking its best, especially when flowers start to erupt along the reddish-purple branches. Japanese Meadowsweet thrives in most soil types, even clay, but has a preference toward rich loam.
French Hydrangea (Hydrangea macrophylla)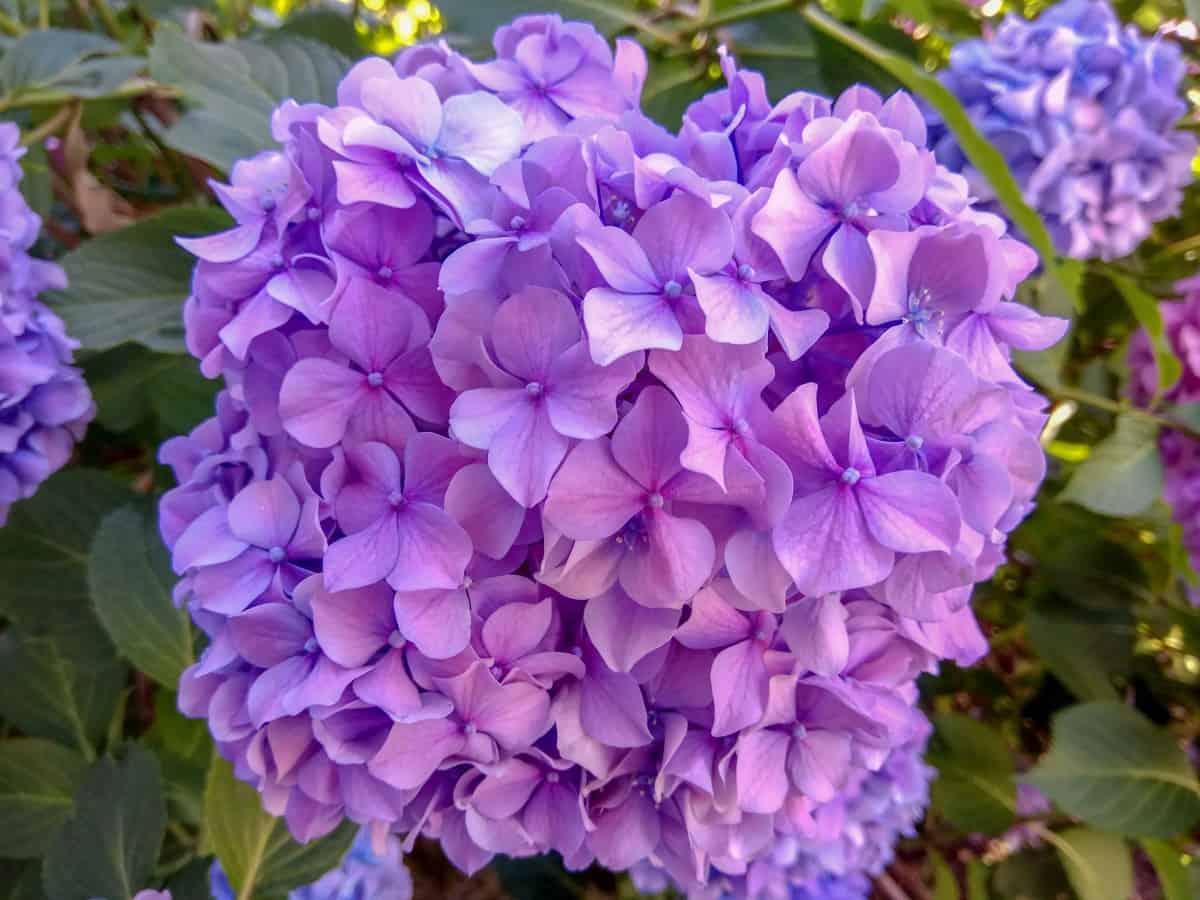 With over 70 different hydrangeas species, it's no surprise this gorgeous flower grows practically everywhere in the world.
A favorite in weddings and Southern gardening, the hydrangea's plant family houses mainly deciduous species with the occasional evergreen shrub or two. These shrubs grow to about six feet high and wide when fully grown.
Hydrangeas are relatively cold hardy plants and equally tolerate salt in the soil. Their greatest weakness is as a thirsty plant that requires a lot of water to keep it satisfied.
It also prefers part shade or some morning sun over afternoon lighting, which often causes its lovely flowers to wilt in the heat.
Fox Red Curly Sedge (Carex buchananii): Bright Red Foliage that Makes a Statement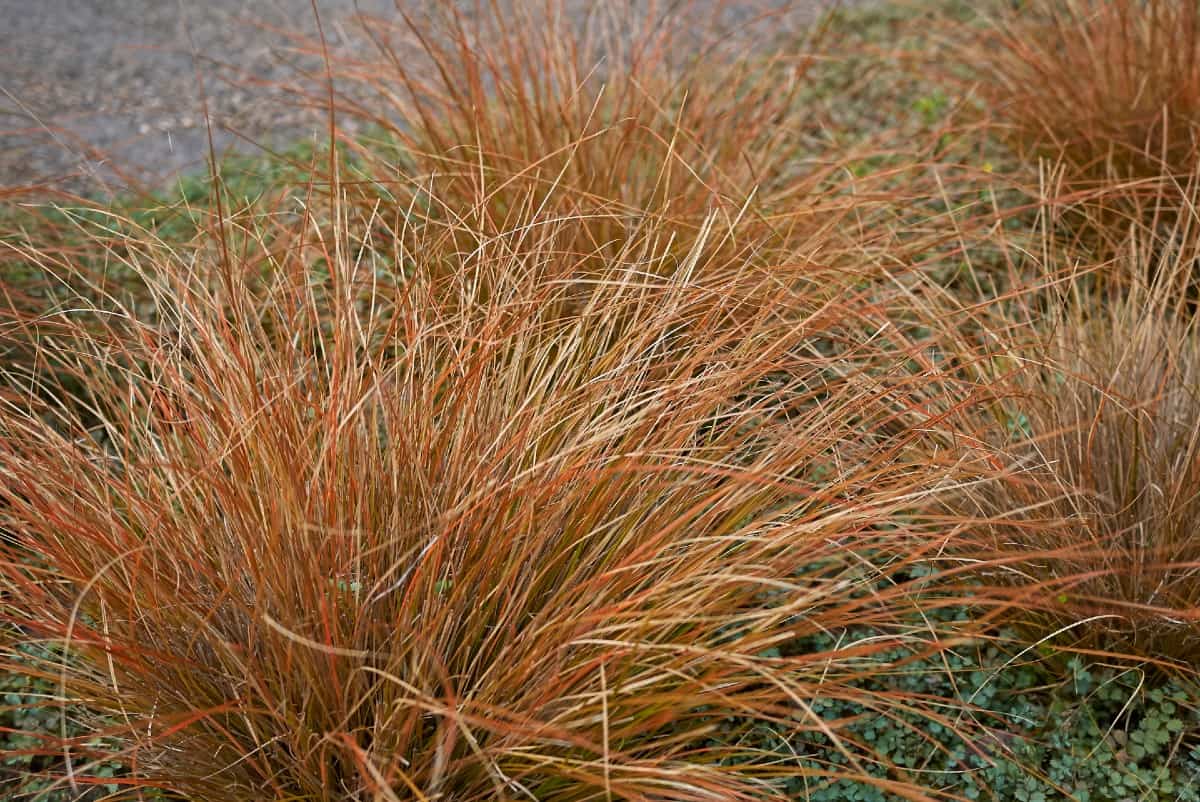 Fox Red Curly Sedge is most beloved for its vibrant foliage and tendencies toward low maintenance. Shoots of reddish-bronze blades reach toward the sky and give the sedge its eye-catching appeal.
The color and compact size make it the perfect addition to container gardens, ponds, and rock gardens. This type of sedge only reaches about 2-3 feet tall, with a spread that matches its height.
It lives for damp areas, such as those along riverbanks and marshes. However, it also easily survives the occasional drought.
Dwarf Norway Spruce (Picea abies)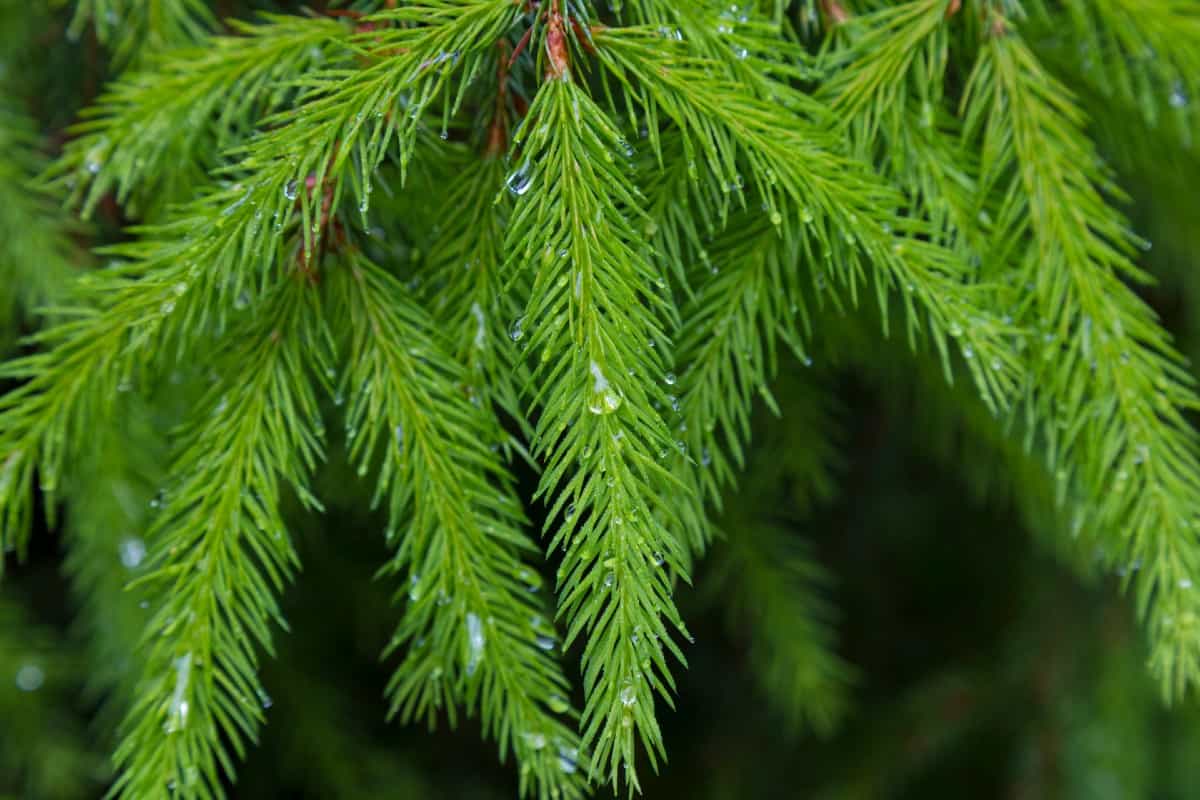 The Norway Spruce is another petite specimen to add to your landscaping projects. Topping out at four feet, this evergreen hedge plant is tall enough to create a moderate barrier but short enough to see over.
Some landscapers even use these small landscape trees to keep animals out of garden areas. The globe-shaped shrub prefers cooler climates and often doesn't fare well when planted in hot, humid environments.
The most striking feature on the spruce is the bluish tint of its evergreen foliage. When given plenty of water and a balanced soil pH level, it creates a marvelous accent piece for any yard.
Arborvitae (Thuja occidentalis)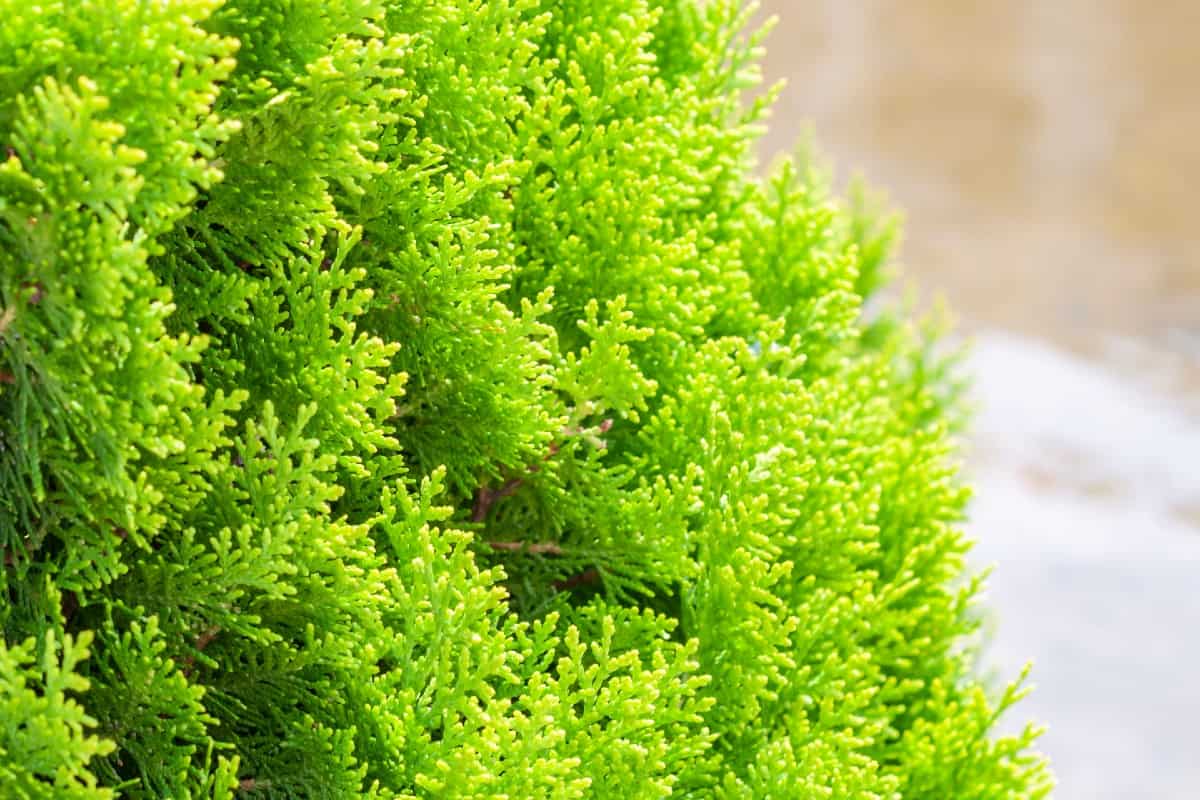 Arborvitaes are native plants with a long history of usefulness. They were the first tree from North America introduced to Europe when they arrived in Paris in the 1500s.
While many of us use these plants for borders and privacy hedges, other uses included teas meant to cure ailments like scurvy. Despite the tall varieties that grow to impressive heights, arborvitae also comes in small shrubs that only reach about three feet high.
These low growing evergreen border plants do as well in full sun as they do in partial shade, and only ask for a deep, thorough watering once a week. The best way to water these plants without soaking the soil is to let a hose slowly leak a little bit of water at a time for several hours.
Boxwood (Buxus sempervirens): Low Growing Shrubs as Alternatives to Trees
Most people recognize boxwoods as tall arching trees that reach toward the sky. However, there are smaller boxwood shrubs that make perfect plants for edges and borders or as a focal point in a garden area.
These hardy shrubs are even deer resistant, giving them a bonus advantage as miniature fences around other plants and flowers. Boxwoods prefer deep watering, similar to arborvitae plants.
However, boxwoods require at least two deep waterings a week instead of one. Their success revolves around their soil structure, whose pH levels can either be slightly acidic to slightly alkaline.
Adding mulch and compost around the base of the plant increases nutrients found in soil and helps retain moisture for these slow growing evergreen shrubs.
Abelia (Abelia x grandiflora)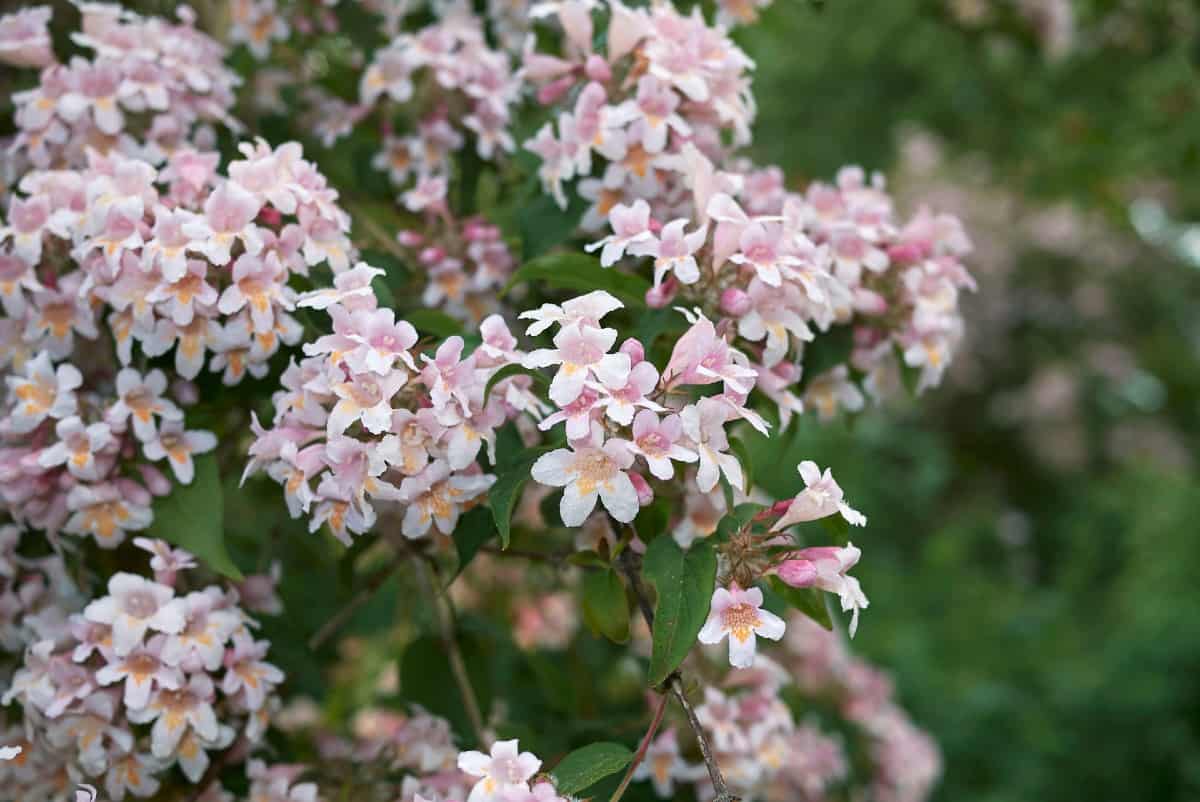 If flowers are more appealing, the lovely abelia bush is the one for you. This shrub is a relative of the honeysuckle and displays soft pink and white flowers starting in the spring to the fall.
The plant grows between 3-6 feet in height and spread but is usually tamed down to be much shorter. These amazing shrubs for shade or sun do well in a wide range of soil conditions, too.
When it comes to watering plants, keep them in the ground, rather than in containers. Growing them in containers is restrictive, and often requires more water to keep abelias happy and thriving.
Japanese Euonymus (Euonymus japonicus): Fabulous Clusters of Orange Berries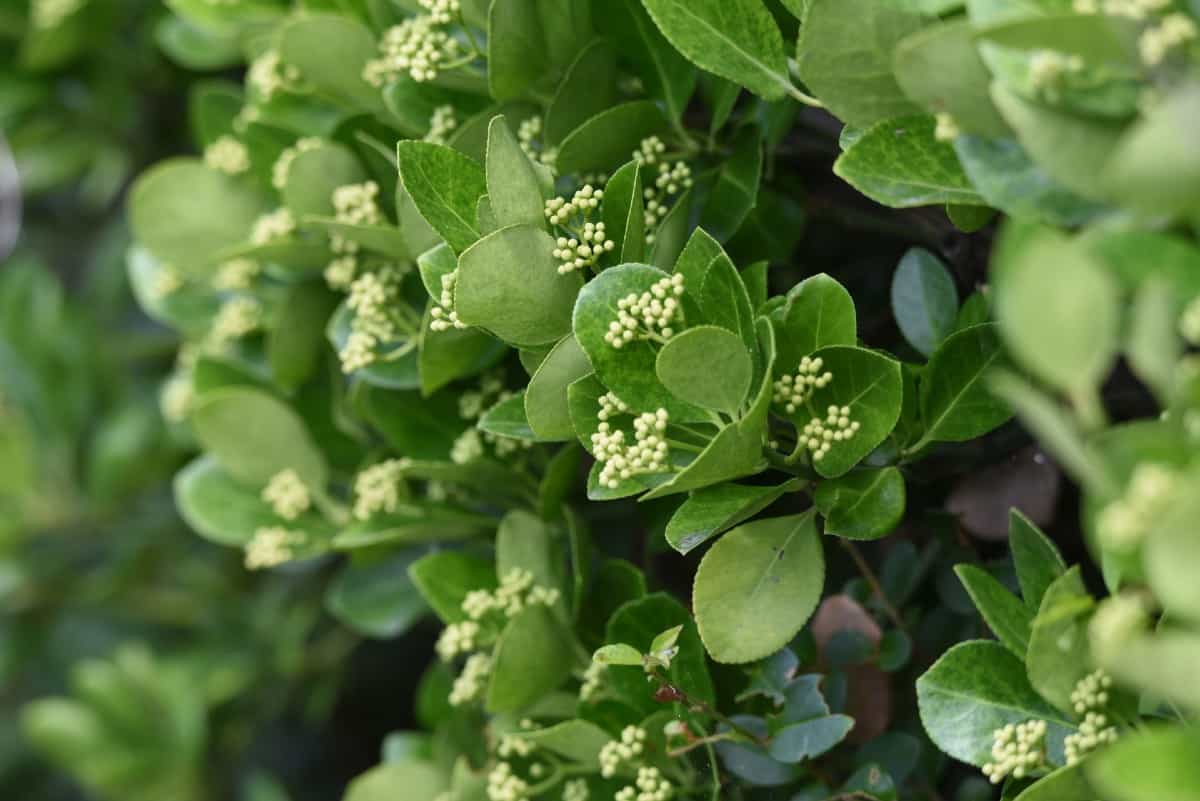 Japanese Euonymus is another large shrub that gardeners effortlessly trim back to maintain a smaller, daintier form. The plant displays either dark or lime-green leaves in the summer, which soon shift to stunning reds in the fall.
However, most notable in the plant are the full bundles of orange berries that pop up in the fall. The fruit is poisonous to humans, though it doesn't stop us from reaping the benefits.
The berries last a long time and attract birds who love to munch on the fiery berries. The euonymus is pretty low maintenance when it comes to watering and soil, making it one of the berry trees as shrubs even easier to plant in your yard.
Weigela (Weigela florida)
A plant worthy of a trip to the local garden center is the gorgeous weigela. These shrubs occupy a large amount of space, with a diameter of about 10 feet.
However, keeping them small is as easy as trimming them down early every spring, right at their blossoms begin to fade.
Weigela blooms appear starting in late spring to early summer, typically sporting flashes of light-pink petals. The nectar and tube-like shapes attract all kinds of birds and butterflies. Watering them once a week is vital to encourage deep root growth.
Black Chokeberry (Aronia melanocarpa)
It's always wise to have different plants in your garden that dress up the different seasons, especially when it comes to the barren wasteland of winter. One plant that provides an incredible winter interest is the Black Chokeberry.
The plant flowers in early spring, but as you slip into the late summer months, fruit gradually forms on its branches. Unlike the common red berries you see on most plants, chokeberries are a dark, purplish-black that matches the reddish-purple leaves the shrub sports in the fall.
Within just a couple of weeks, the berries overwhelm the shrub and tend to last on into January. Surprisingly, the berries do not appeal to birds, but they create a gorgeous backdrop for photos in the depths of winter.
These small shrubs are perfect for borders, filling in empty spaces in gardens, or as a beautiful way to dress up the foundation of your home.
Their petite size makes them easy to manage, as well as being no-prune shrubs and ensures they don't block windows or other essential areas of your property.
All you have left to complete your list now is to find the tiny plant that works best for the small spaces in your yard and to get planting.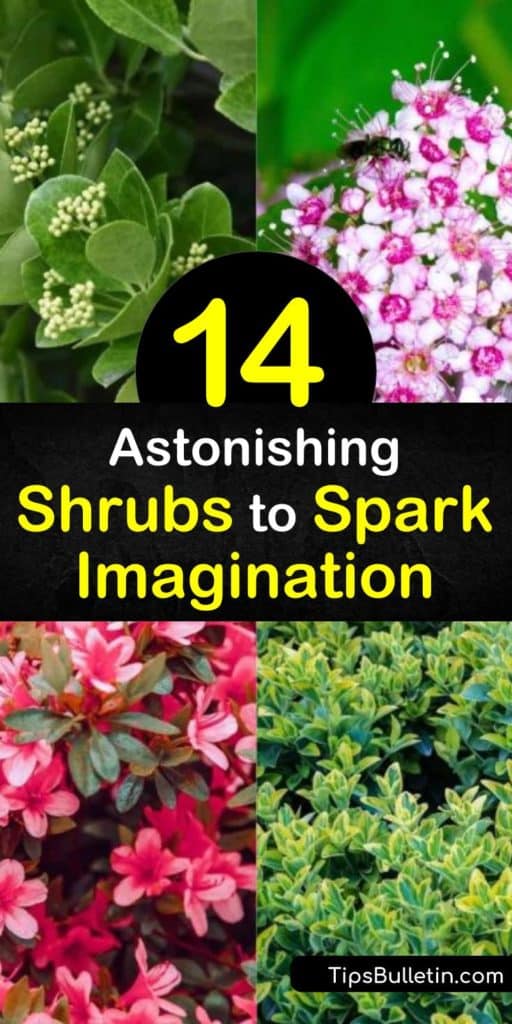 If these gardening tips for groundcover and filler plants are everything you hoped for, please feel free to share these low growing shrubs with everyone you know on Facebook and Pinterest.