We all want our homes looking as beautiful and well tended as we can, but we don't always have time to spend in our yards or gardens maintaining our plants. That's why low maintenance shrubs are such an attractive option.
When you want to add a ground cover or border trimming, you can't go wrong with low growing shrubs. A carefully planned yard with pleasing shrubs and a variety of colors and scents makes your home a much more pleasant place, and it could raise your property value to boot.
In this guide, we look at low maintenance evergreen shrubs for every climate and condition. You'll find information on hot-weather bushes and cool-weather shrubs, and you'll learn which plants do best in arid conditions and which thrive in the wet.
You'll even find out which are the best shrubs for front of house display and which are the right shrubs for full sun. With our assistance, your home will look beautiful and raise your spirits every time you see it. Low maintenance shrubs are an asset to any home, so with our guide, you can find the best option for your situation and start living a greener, happier life.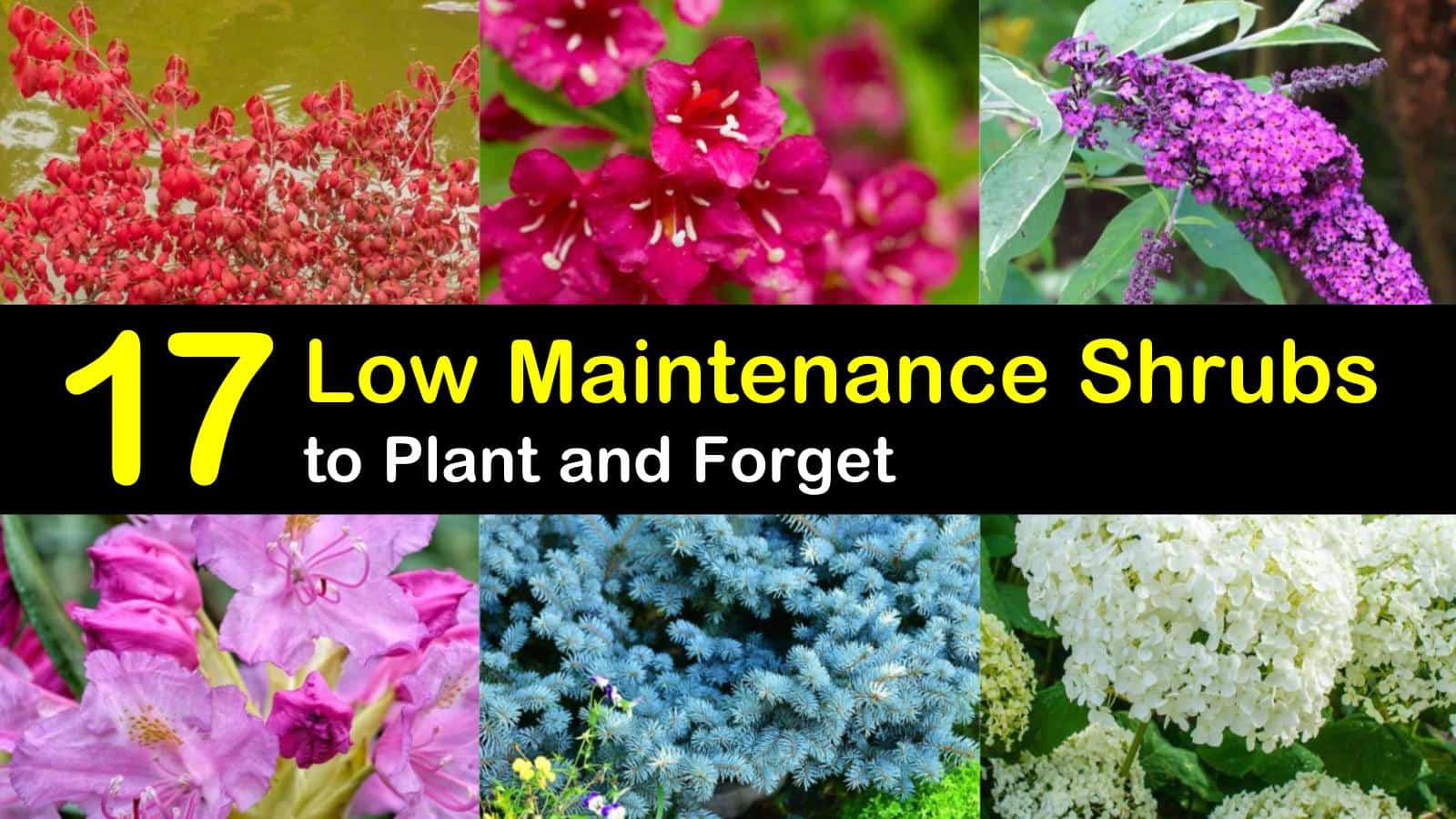 When Should I Plant Low Maintenance Shrubs?
You can plant shrubs at any time of year, but to give your shrubs their best shot at thriving, plan to plant them as soon as the last frost passes in the early spring. The same guideline applies to vines for sandy soil, as well as most annuals and perennials.
Your low maintenance ground cover might have special planting requirements, so check with your local agriculture office to get the latest information on when to plant.
Try not to take any chances with the shrubs, though. If you are concerned about whether your shrubs will survive local conditions during planting, hold off on planting until you're comfortable. You can even start the shrub off in a pot before transplanting after the weather warms up.
How Do I Plant Low Maintenance Evergreen Shrubs?
Take care of your plants while planting them to make sure that you wind up with healthy, good-looking shrubs. If you jump in feet-first without planning everything, you run the risk of missing a step or neglecting your shrubs just when they need you the most.
Before you plant, it's a good idea to verify that the shrubs will thrive where you want to plant them. While they are still in pots, place your shrubs outside where you intend to plant them to ensure that they'll be happy there.
Give your shrubs plenty of water before transplanting them. Make your hole at least as deep as the pot and twice as wide, and after you place the shrub, make sure to cover the root ball wholly and firmly with soil.
How Do I Care for Low Growing Shrubs?
A happy shrub is a productive and healthy shrub, so be sure to tend to all of your shrubs' needs. Keep them weeded, and check their moisture levels regularly to ensure that they don't get too thirsty. To thwart deer and other pests, pair your small shrubs with deer resistant plants such as Russian sage and lavender.
Don't forget to prune your shrubs when they need it; even low maintenance shrubs need to be trimmed from time to time. Try to time pruning so that it occurs in the early spring, as you won't have to deal with the shrub's leaves during that period.
Pruning is particularly important if you need to keep your bushes small, whether you only have limited space or just like the look of minature shrubs. Follow the care instructions for the plants you have to ensure that they are pruned correctly.
Beautiful Low Maintenance Shrubs for Your Yard
Check out our list of fast growing shrubs for privacy and those for beauty in all four seasons. You're certain to find one or more that will work in your yard.
Bella Bellissima Potentilla (Potentilla fruticosa) – Low Maintenance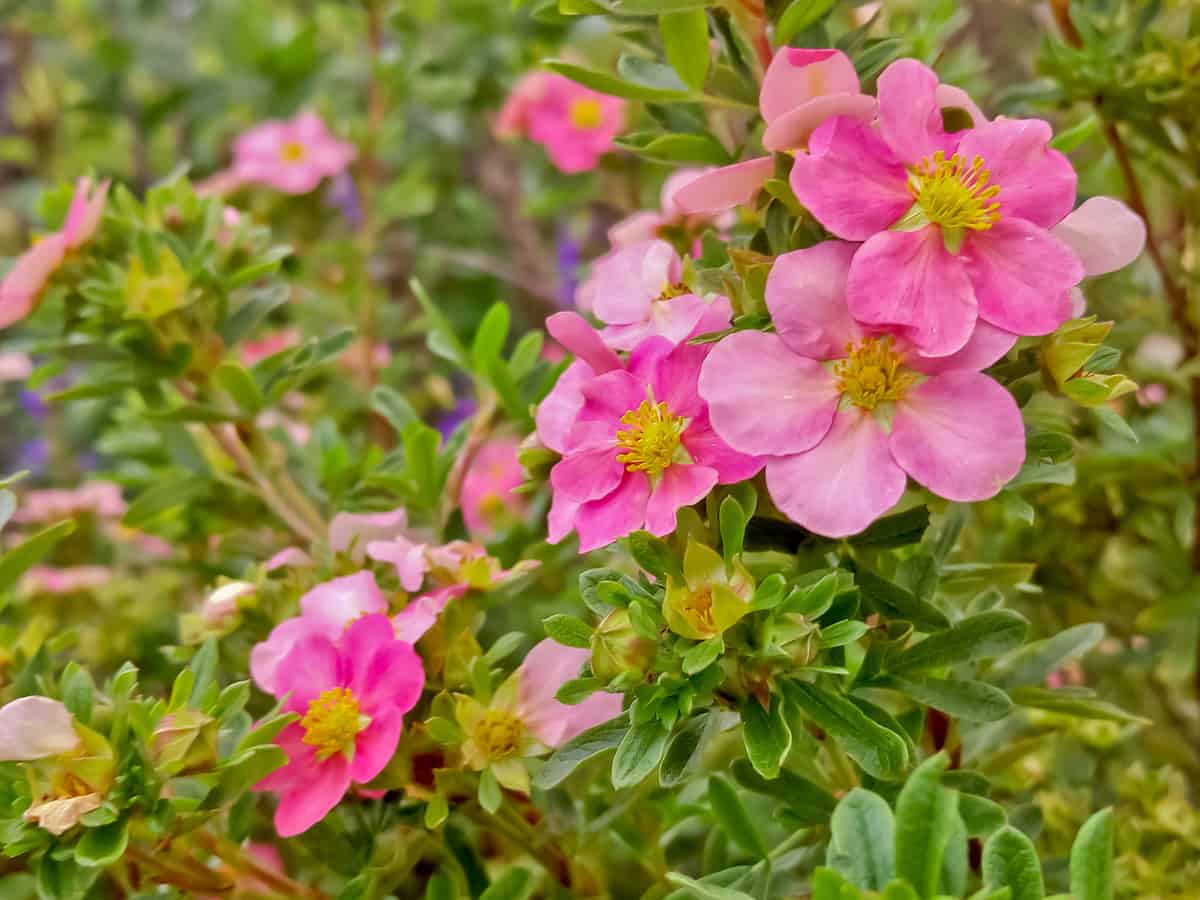 The Bella Bellissima potentilla can't get enough sunlight. It will be happiest in conditions that allow it at least six hours of full sun a day. All of that sunshine gets paid back in flower form; the Bella Bellissima produces spectacular pink flowers that dazzle the eye and spread out across the yard.
If you want a tough winter shrub, this is the one for you. You could throw a blizzard at the Bella Bellissima, and it wouldn't flinch. It's an ideal option for folks who live in cold climates but still want to keep a garden. On top of that, the potentilla is one of the best air cleaning plants you'll find.
Oakleaf Hydrangea (Hydrangea quercifolia)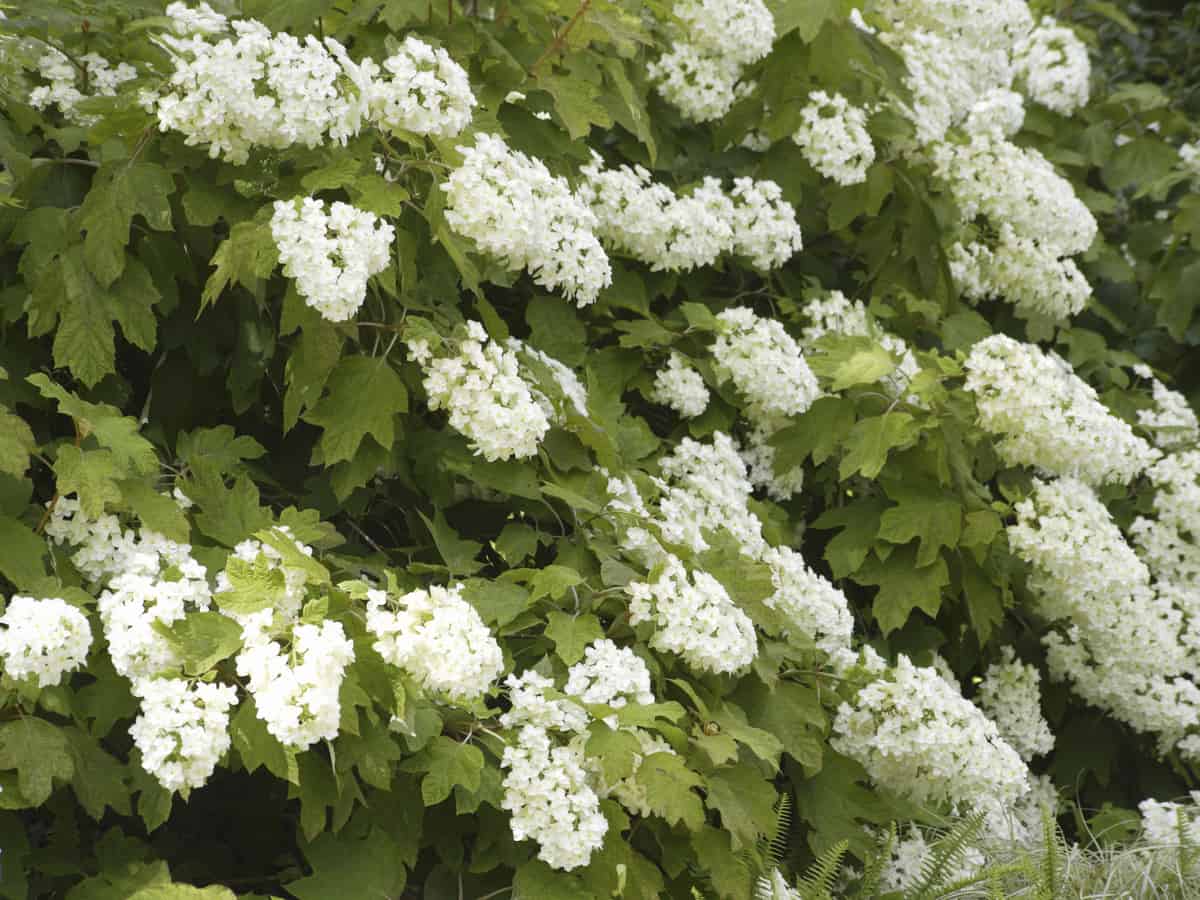 The Oakleaf hydrangea is a spectacular shrub that is pleasing to the eye and nose all year. Every season is a colorful one when you have an Oakleaf hydrangea, with its deep green leaves and stunning white blossoms. These moderate-sized shrubs grow wild across the northeastern United States.
Plant the Oakleaf hydrangea in moist soil, and cover the area with mulch to improve the plant's growth rate. This plant prefers colder climates, but it can tolerate severe summer weather, too. If your winters get too cold, you might need to cut the shrub back and cover it with mulch to protect it.
Rainbow Fizz Spirea (Spiraea japonica) – Low Growing and Beautiful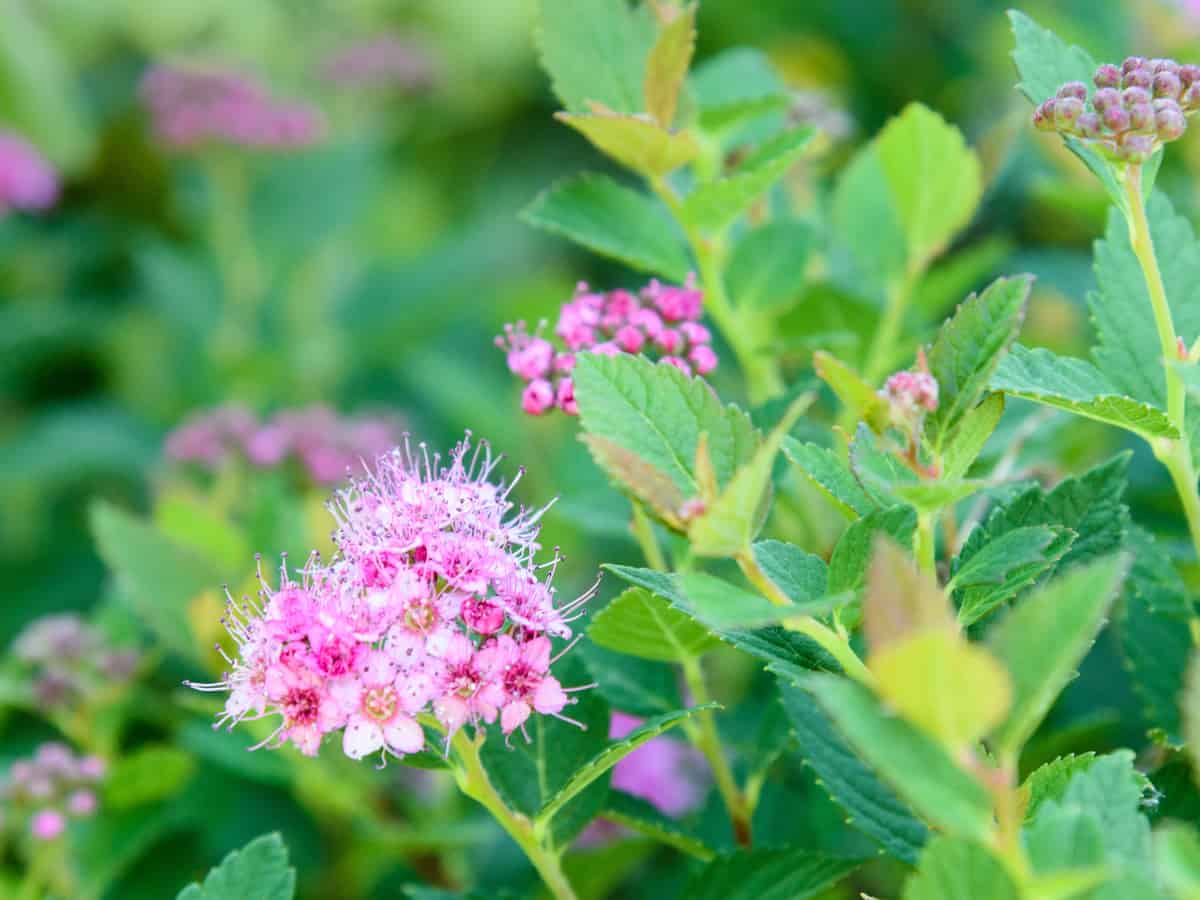 Do you like brilliant, multicolored shrubs that produce a regular array of gorgeous blossoms streaked with rust, flame, and Merlot but can still take on the most robust and most punishing winters? The Rainbow Fizz Spirea might be right up your alley.
This summer flowering shrub is a hardy soul and can survive harsh winter conditions, but none of that shows when you look at its delicate-looking stalks and spectacular yellow and red flowers. The Rainbow Fizz can grow taller than many other flowering shrubs, so it is an excellent candidate for a border plant or you could plant it at the back of a corner for a showy display.
These small, low maintenance plants get the job done and look great while they do. You can't go wrong with planting the Spirea.
Peach Lemonade Rose (Rosa radpastel)
We all love rose bushes. We love their scent and how they class up a yard, but many gardens and yards are too small to support a rose bush. If you want to try your hand at growing rose bushes, you can't go wrong with the peach lemonade variety.
We love the peach lemonade rose bush, which brings all of the beauty of a full-sized rose bush in a compact package. With its amazing blossoms, these low growing shrubs with spectacular blooms will steal your heart and soothe your senses.
As you might gather from its name, the peach lemonade rose is famous for its remarkable multicolored blossoms. Your yard will be full of fragrant pink and yellow flowers in early summer with a peach lemonade rose bush.
Lo & Behold Butterfly Bush (Buddleja)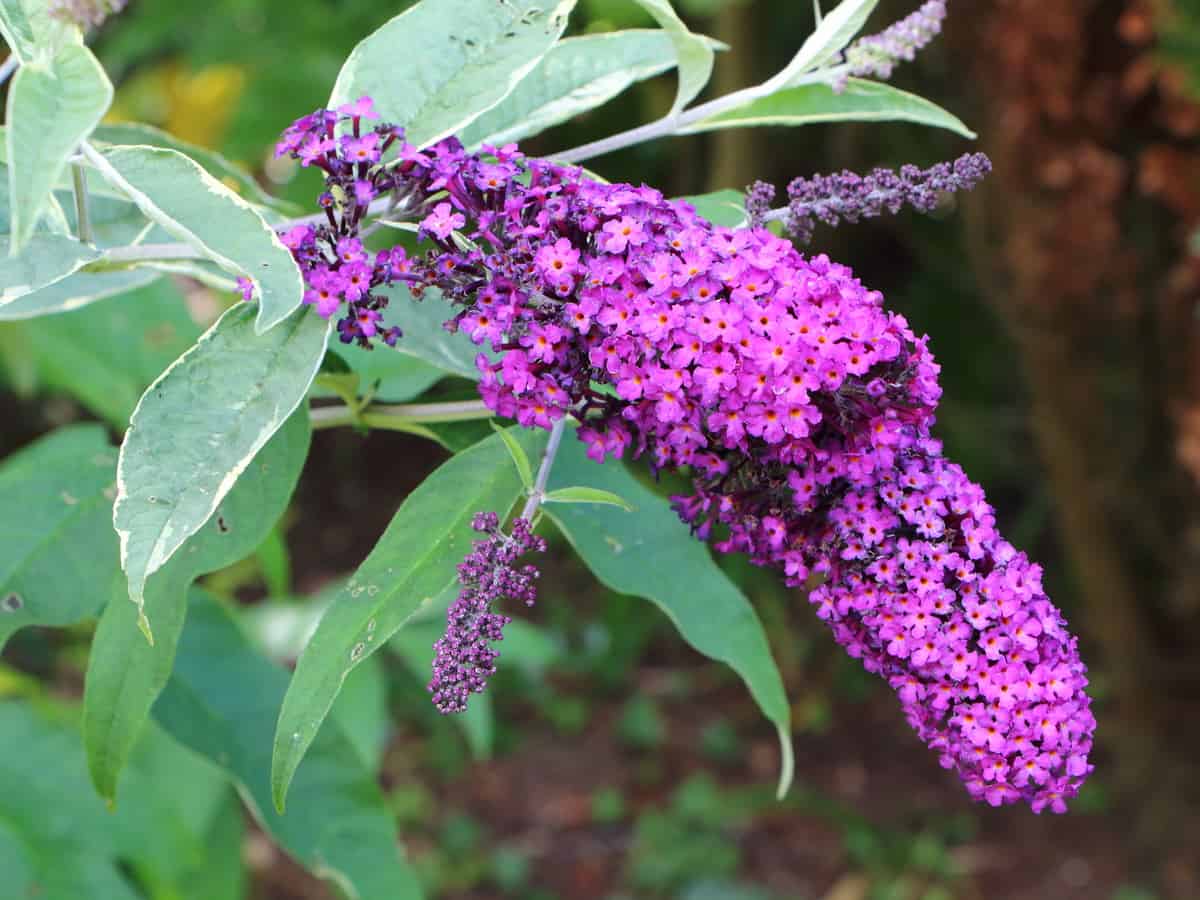 Do you have more heat than most folks but still want a pleasant garden? If your climate is temperate, then you'd do well planting the Lo & Behold butterfly bush.
This low-slung bush is available in many varieties, including dark purple, lilac, and blue, and it's a perfect ground cover plant. It also does great in small, out-of-the-way spaces.
Because butterfly bushes re-bloom throughout the growing season, they continuously pop out new blooms that look as good alongside spring colors as they do with fall foliage.
That makes this plant an ideal choice for people who crave color across all seasons. They do very well in the heat, and they can tolerate drought conditions.
The Lo & Behold is perfect for warmer climates. As one of the popular evergreen plants that flower, the butterfly bush attracts beneficial pollinators to its beautiful, fragrant blooms. Plant several in your yard in different locations and see what colors attract butterflies, bees, and hummingbirds.
Scent & Sensibility Lilac (Syringa vulgaris) Low Maintenance Bush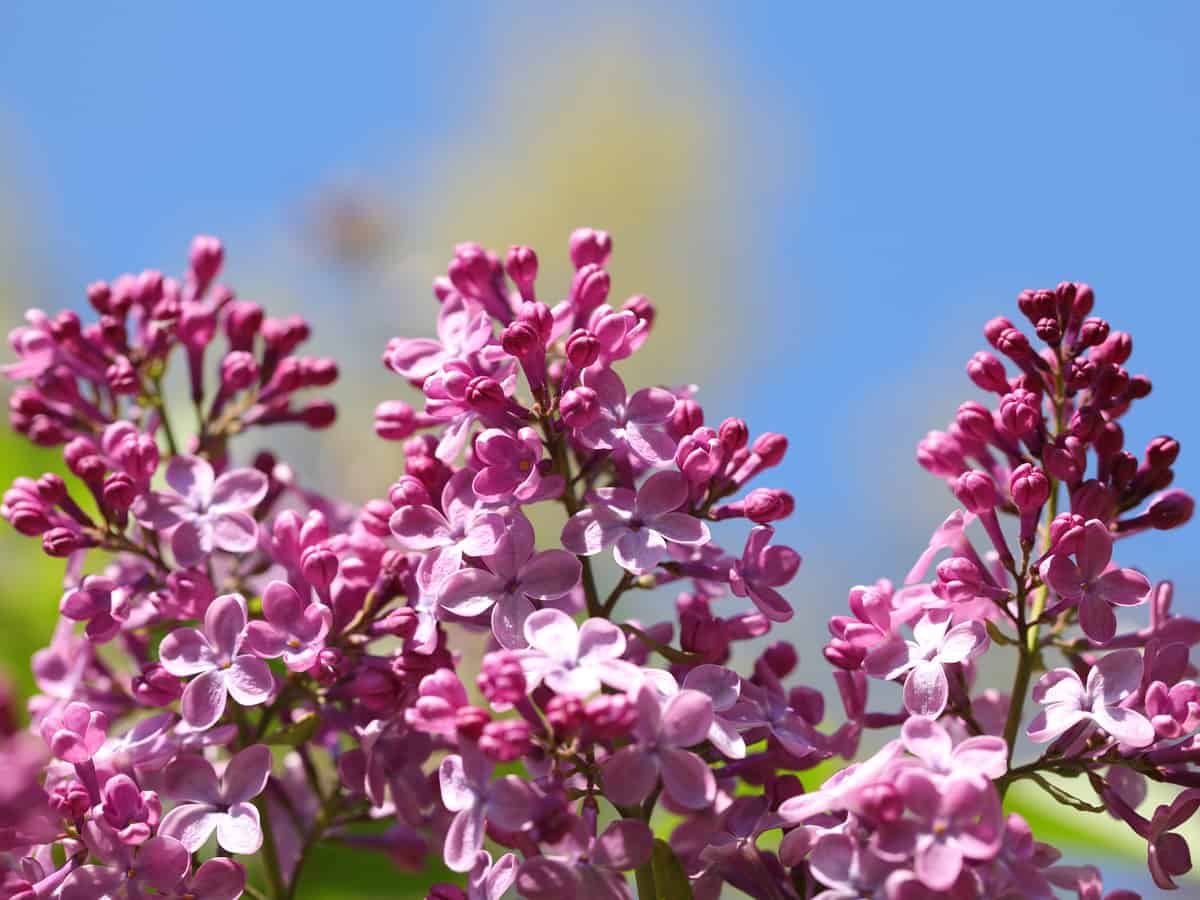 If you're a fan of bright, gorgeous colors and alluring fragrances, then you'll fall head over heels for the Scent & Sensibility lilac. This compact bush packs a considerable punch for its size and will blow you away with how much color and scent can come from such a low-built shrub. This re-blooming plant is easy to maintain and will bring you joy every time you see it.
While the Scent & Sensibility does best in full sunshine, you can place it in partial shade and expect it to do well. Its dark green leaves and pink blossoms make this shrub a winner in the looks department, and its flowers produce a sweet scent that will stay with you.
Burning Bush (Euonymus alata)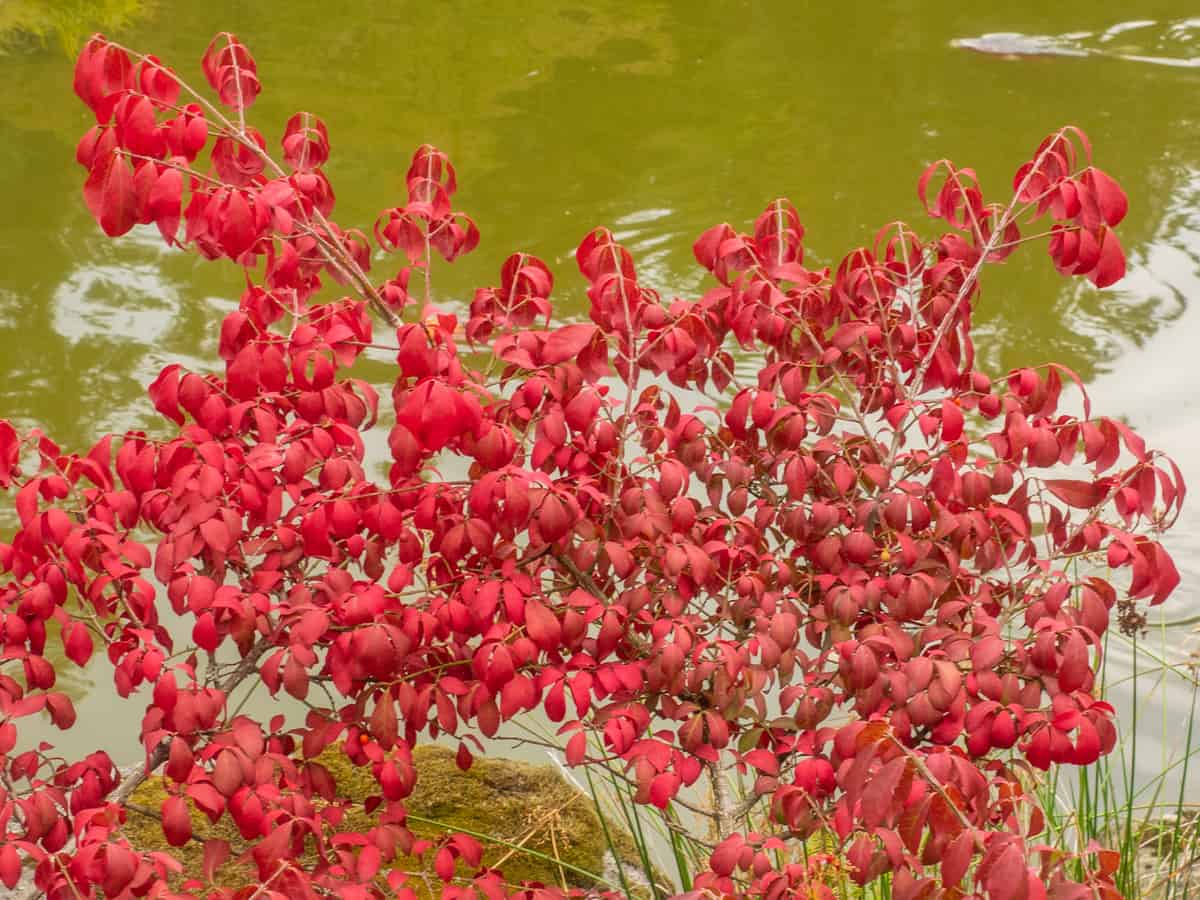 When you're craving a little color, the Burning Bush shrub is there to give you what you need. The plant stays green and somewhat dull during the late spring and summer, but when fall hits, its drab outer layer comes off to reveal hidden beauty. Suddenly, the shrub's leaves explode into flames of bright red, giving the plant its name.
It's tempting to choose the Burning Bush for its fantastic autumn display, but check your local regulations before planting this shrub: because of their toughness and adaptability, many regions consider the Burning Bush shrub an invasive species.
Dwarf Globe Blue Spruce (Picea pungens) Amazing Evergreen Shrub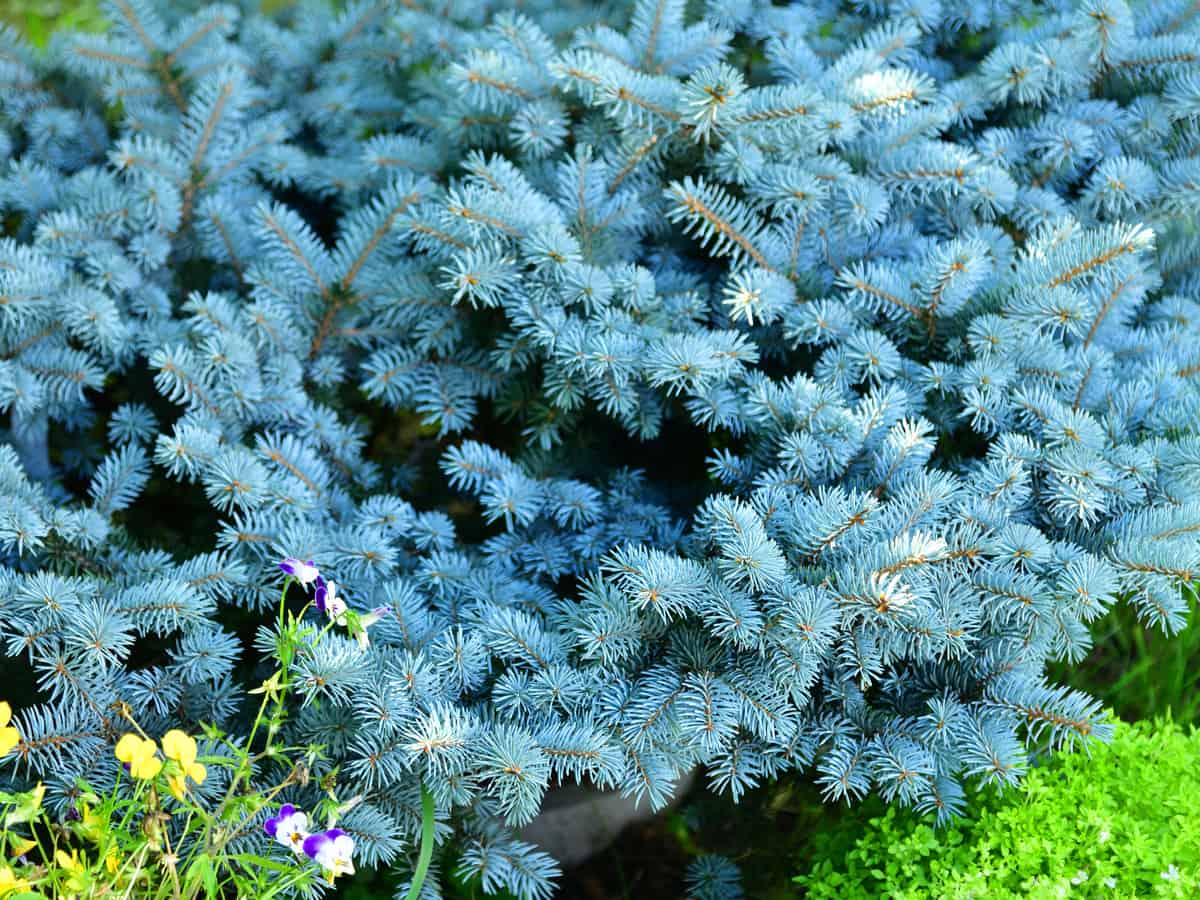 We all like to have some year-round green present in our gardens, but most evergreens are too large to do well in a small yard or if you want to have some control over the size of your shrubbery. For those of us that want and need the green but don't have adequate space, the dwarf globe blue spruce seems custom made.
The dwarf globe is a nicely rounded little shrub with evergreen leaves and a pleasant shape, and it will survive the worst winter storms without issue. This is not exactly the right shrub to make a hedge for better privacy, but it does add some unique color to your yard in every season of the year.
The slow-growing dwarf globe blue spruce has evergreen foliage all year long, making it ideal as one of the shrubs for a winter garden, and it produces red berries in the spring.
This shrub loves sunlight, but it can tolerate partial shade conditions, as well. Add some interest to your yard with the lovely blue-green color and unique shape of the dwarf globe blue spruce.
Bloom-a-Thon Pink Double (Rhododendron)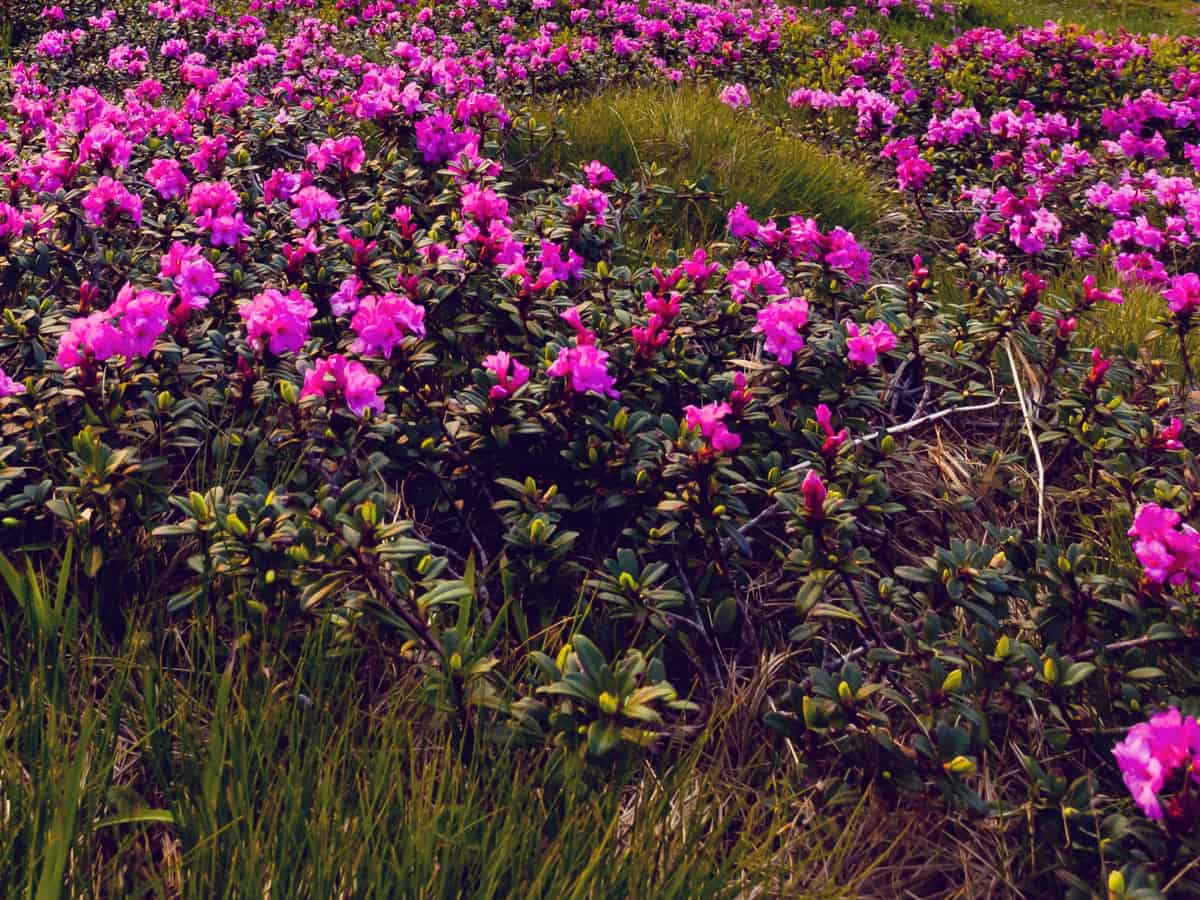 Azaleas are re-bloomers, which make them perfect for Japanese gardens and other large spaces. They bloom continuously from the spring to the fall, and they require very little pruning.
The Bloom-a-Thon Pink Double has all the same traits and packs them into a little package. Its small size makes the Bloom-a-Thon Pink Double the perfect choice for your home garden.
Once you plant the Bloom-a-Thon, you'll be stunned how it transforms your home. Your garden will spring to life in a riot of colors, and beneficial insects will flock to its bright blossoms. To top it off, the Bloom-a-Thon Pink Double is a hardy plant and is heat and drought tolerant.
Tuff Stuff Mountain Hydrangea (Hydrangea Serrata) – Gorgeous Low Maintenance Shrub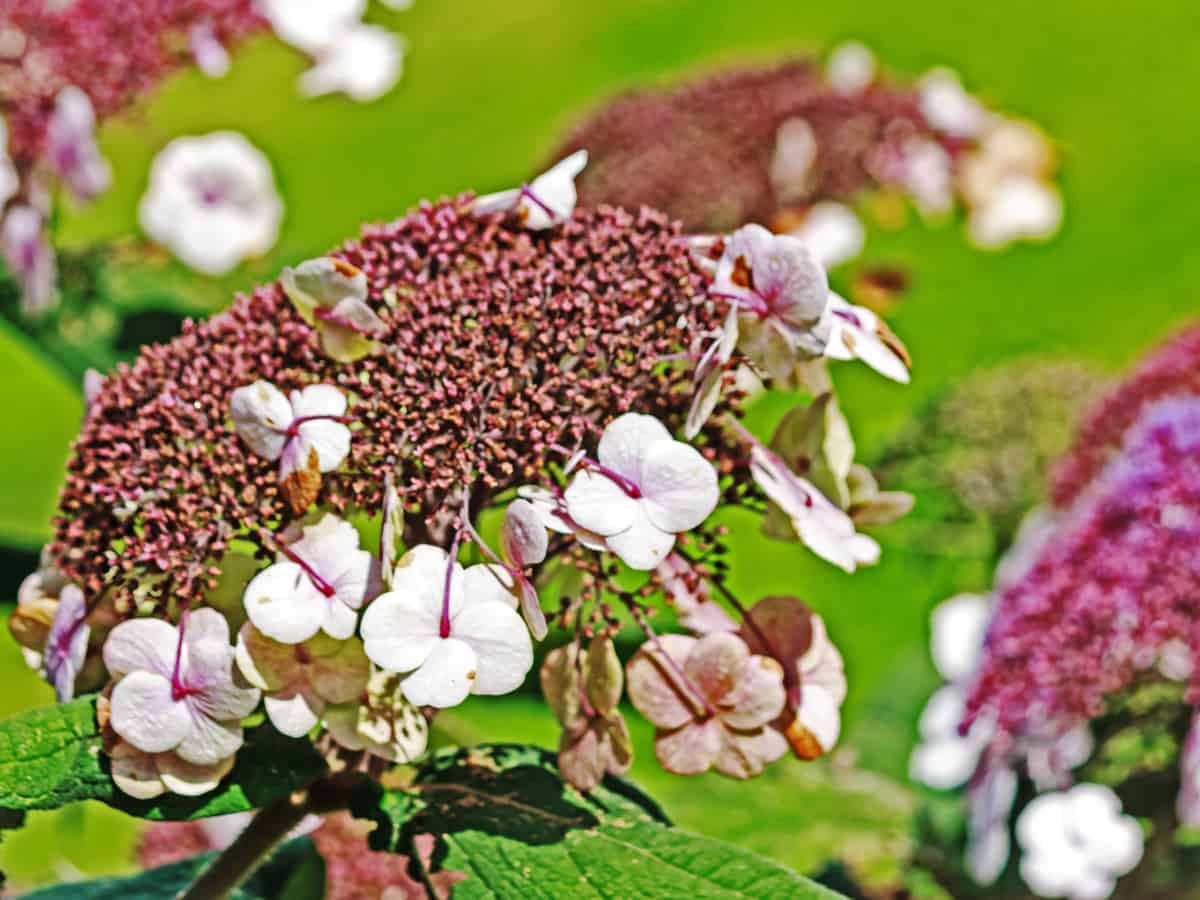 Do you enjoy the scent of hydrangea but are concerned about your cold climate doing a number on them? If so, you're just the right person for the Tuff Stuff mountain hydrangea. The Tuff Stuff is not only ready to take on the worst cold and snow Mother Nature can throw at it, but it thrives in those conditions.
The mountain hydrangea, as its name suggests, originated in mountain terrain, where cold weather and winter storms are the norm. Thanks to their strict upbringing, these dwarf shrubs will survive the bitter cold and harsh winds and still burst into incredible blue and purple flowers.
Bobo Hydrangea (Hydrangea paniculata)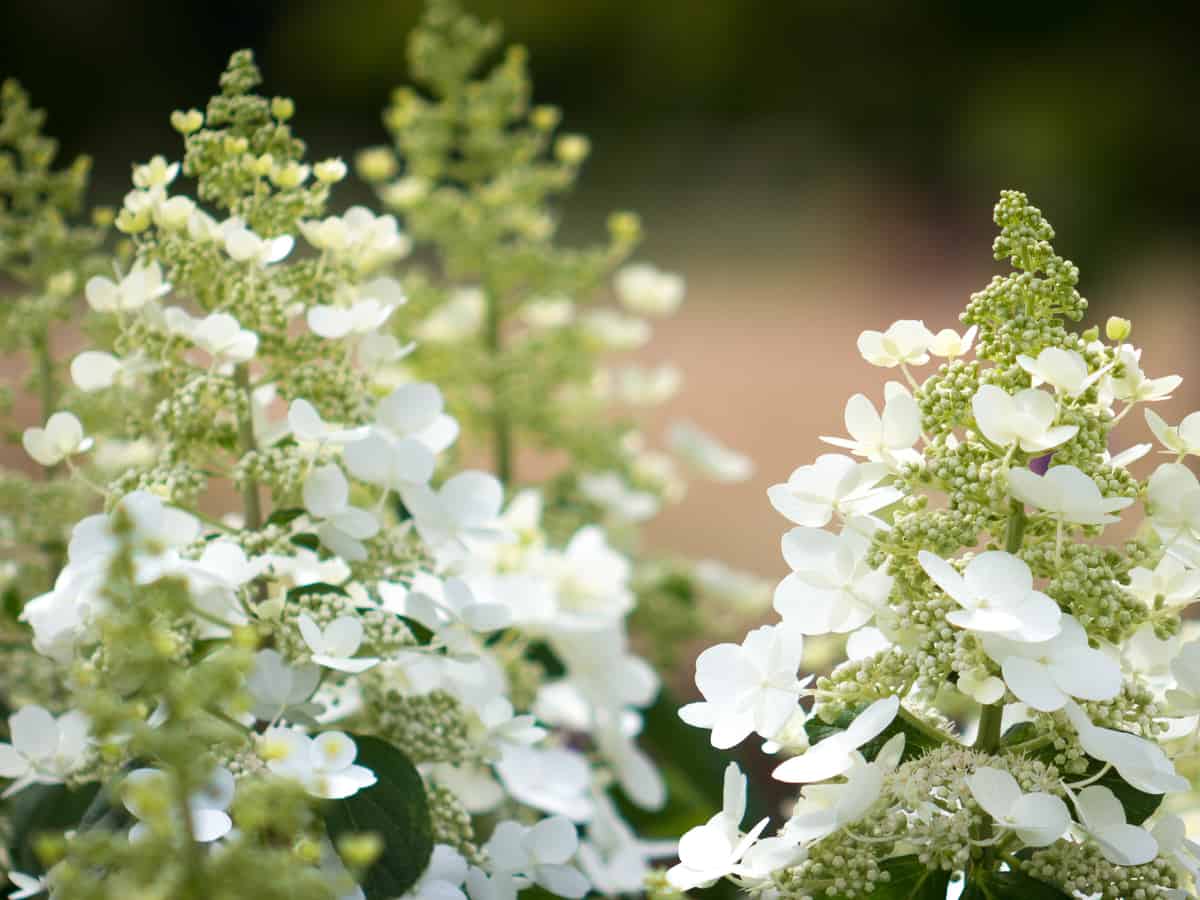 Every spring and summer, the Bobo hydrangea bursts into an explosion of panicles. It becomes so engorged with white blossoms, in fact, that it seems as if the stalk and branches are too delicate to withstand the weight. However, Bobo is a resilient plant and can bear a considerable amount of weight without suffering.
That's not all the Bobo hydrangea can do, either; wait until you see its fall color. In the late summer and early fall, the shrub's white flowers change to uproarious pink and kick your garden's looks up another couple of notches. This easy-care plant will steal your heart and raise your spirits every time you see it.
Cityline Hydrangea (Hydrangea macrophylla)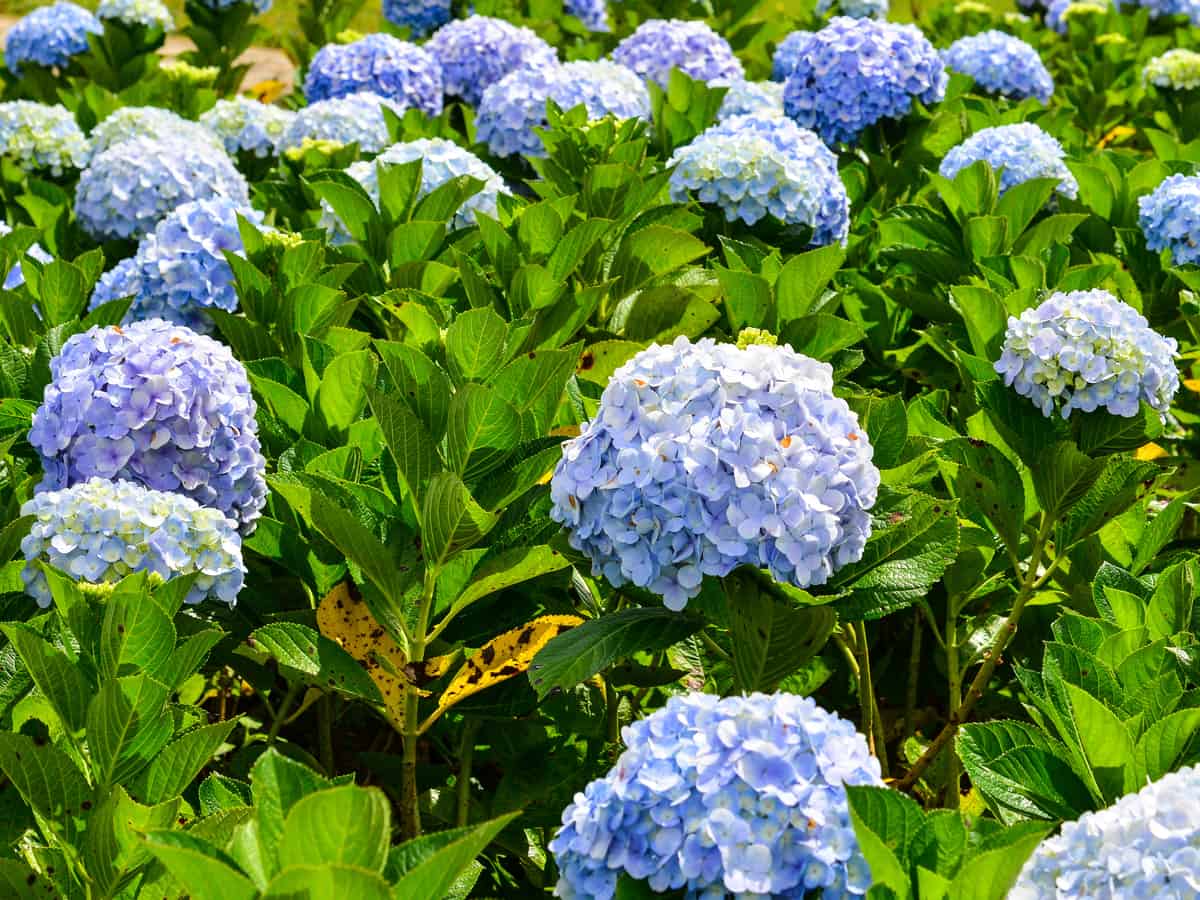 Hydrangeas are amazingly versatile plants. They come in all shapes and sizes, and soil conditions dictate their blossom colors. Acidic soil leads to a bounty of blue flowers. Alkaline soil, on the other hand, results in a cascade of pink flowers all year.
The Cityline prefers soil with good drainage and enjoys seaside locations and other wet conditions. Try to plant it in full sunlight, but don't worry if you have to place it in a spot with partial shade. If you plant the Cityline in colder climates, be prepared to protect it over the winter to prevent damage.
Little Henry (Itea virginica) – Amazing Low Growing Shrub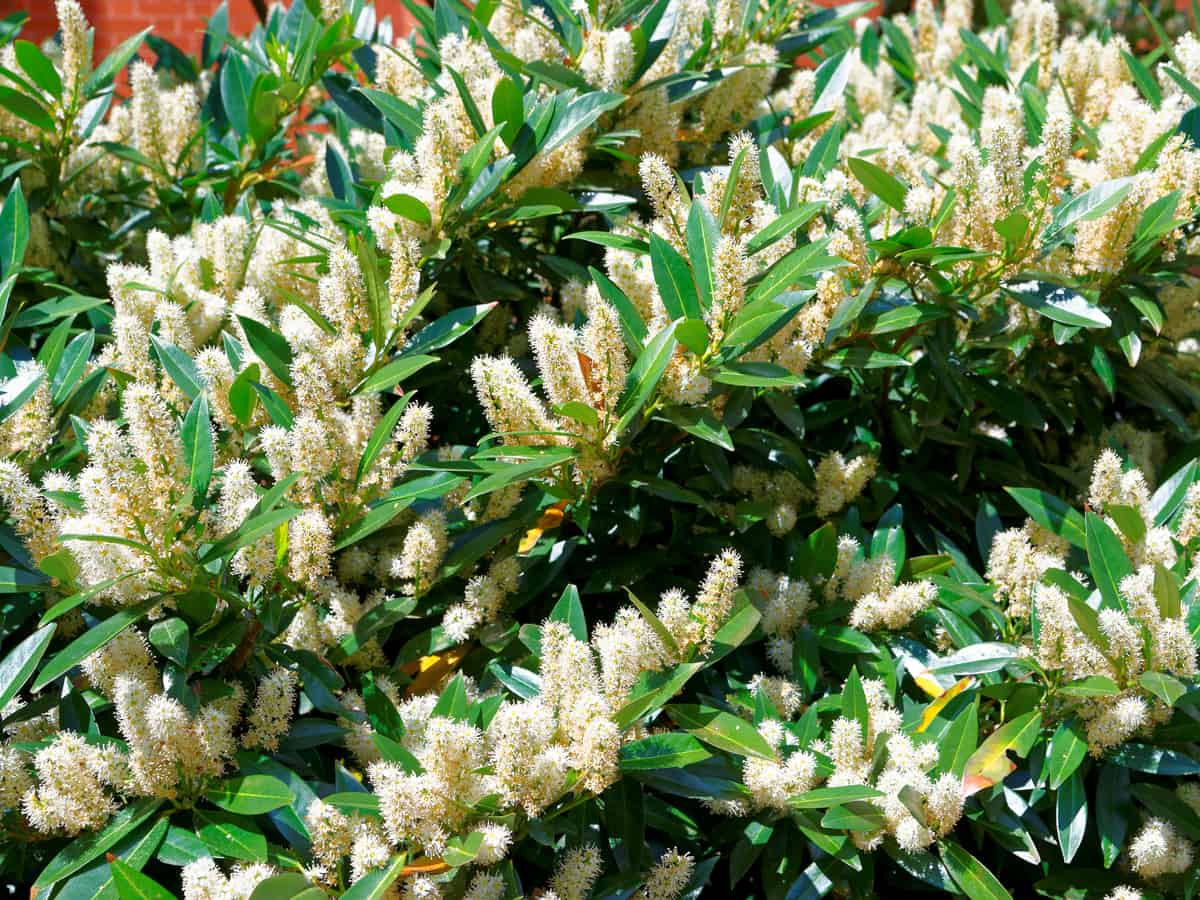 Folks who prefer a wide color variety but can't take the time to prune or maintain their plants regularly would do well with the Little Henry shrub. The Little Henry enjoys both part shade and full sunlight, and its tidy appearance rarely, if ever, requires pruning shears.
In the wild, you'll find the Little Henry in marshy soil, but you can plant it in drier conditions and expect it to thrive. And, that's not the best part, either. Every autumn, the Little Henry also bursts into a spectrum of flowers in vivid yellow, white, and orange.
Haaga Rhododendron (Rhododendron x 'Haaga')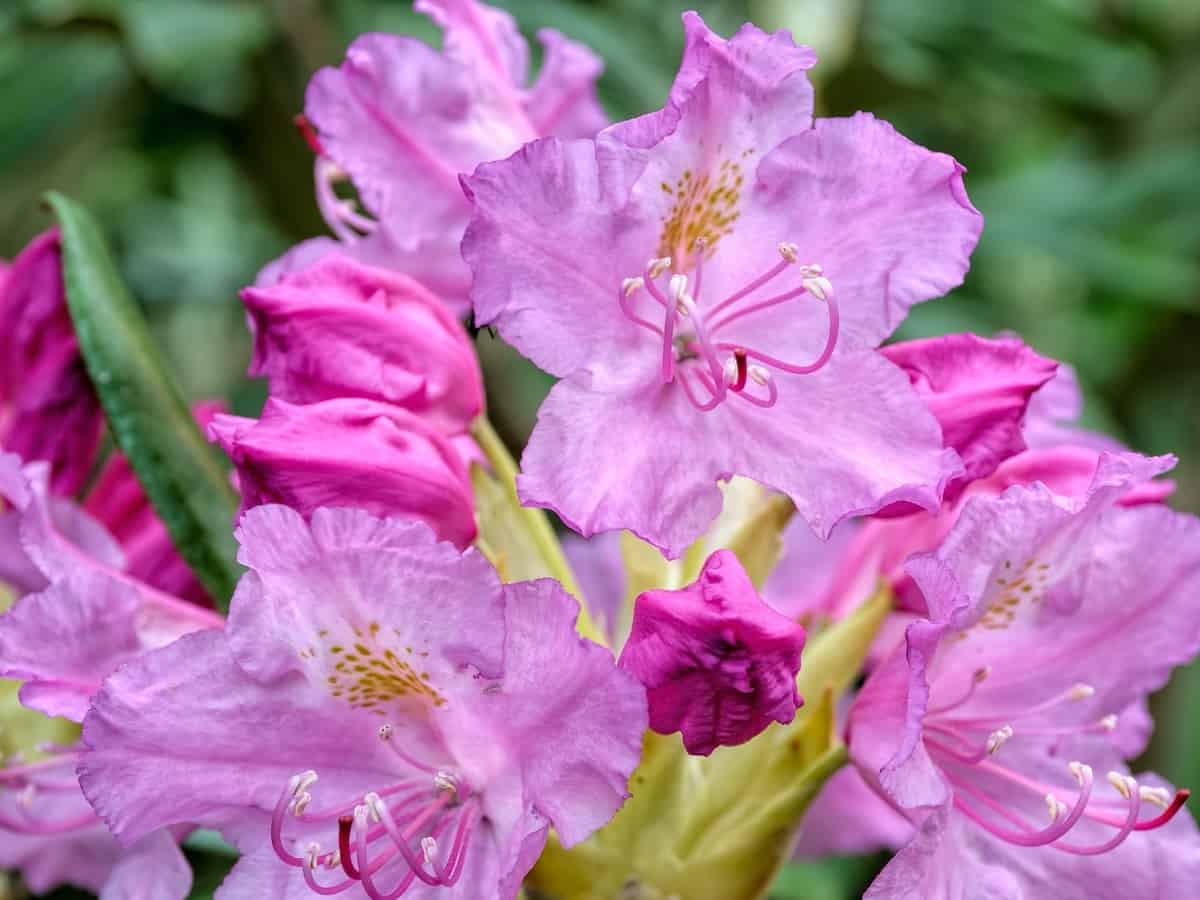 For those of us who like evergreens that can fit into pint-sized backyards while still enhancing a home's beauty, there is the Haaga rhododendron. The Haaga fits anywhere you need a little more green, and it looks fantastic.
The Haaga's dark green leaves look incredible against its big pink flowers, and it loves the sun. So, if you have a bare sunny patch that could use a little more color, plant a Haaga there. The Haaga likes moderate temperatures, so check on your plant regularly during hot months. You'll be amazed at how much better your home looks when it has a few Haagas in the ground!
Seaside Serenade Bar Harbor Hydrangea (Hydrangea arborescens) – Easy to Maintain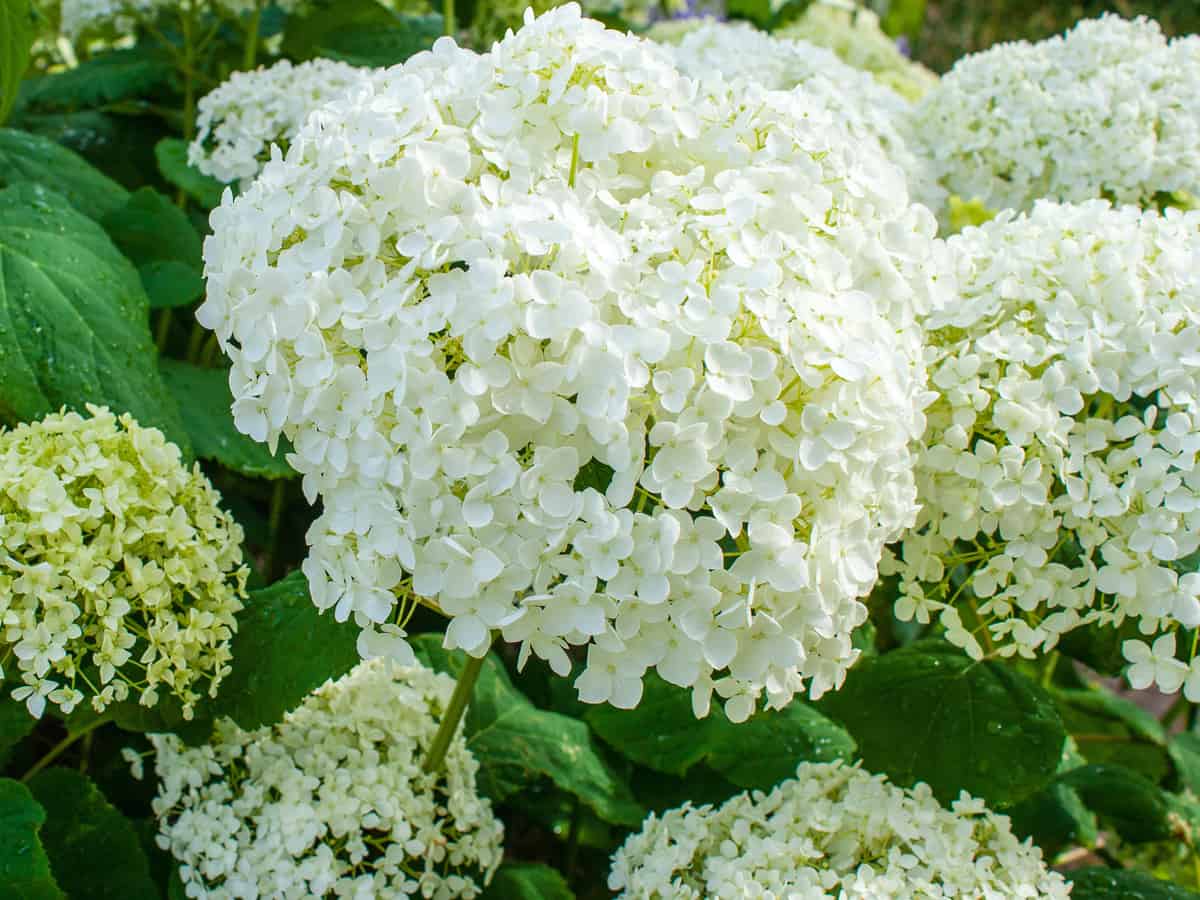 There are many famous hydrangea varieties, including the beautiful and sweet-smelling Annabelle. The trouble is, the Annabelle is a good-sized plant that won't fit in many yards. It is well-suited, though, as one of the best seaside shrubs if you live on the coast.
That's where the Seaside Serenade Bar Harbor hydrangea comes in. The Seaside Serenade has all the charm of the larger plant while staying low-profile for small gardens and yards.
You'll love how well the Seaside Serenade works as a landscaping plant. Its small profile and low maintenance needs make it the perfect shrub for your backyard. This shrub loves water when the weather starts heating up, so keep an eye on your soil moisture.
Crimson Kisses Weigela (Weigela 'slingco 1')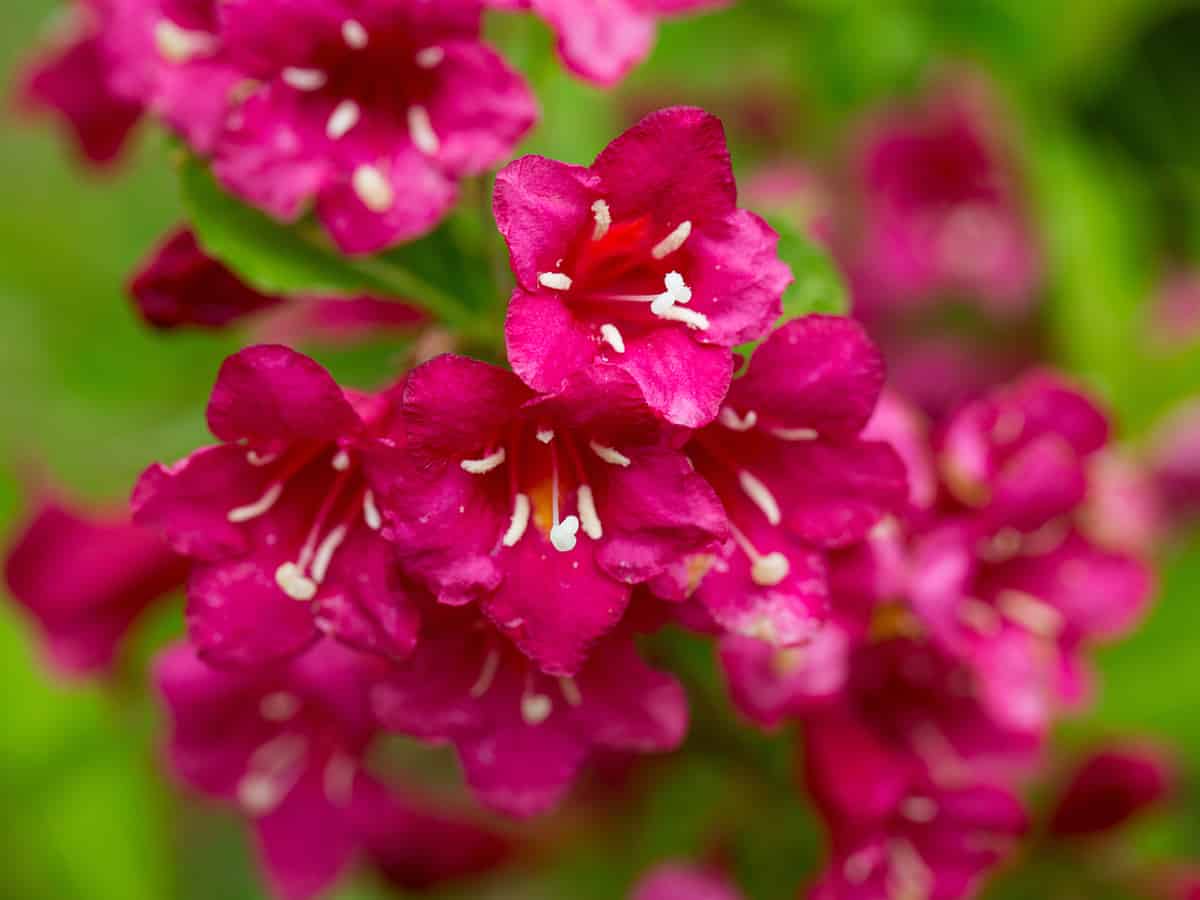 The Crimson Kisses Weigela is a fantastic choice for folks who need low maintenance ground cover plants, and it does a good a job as a foundation planting, too. The Crimson Kiss has extraordinary flowers of stunning white blooms with red centers, and its re-blooming nature means you'll see those blossoms all season long.
Prune your Crimson Kisses Weigela occasionally. Once it achieves full growth, though, the shrub becomes mostly maintenance-free. Plant it in sunny areas, and make sure that it stays weeded and watered to give it a chance to grow and thrive. You won't believe your eyes!
Ozark Witch Hazel (Hamamelis vernalis)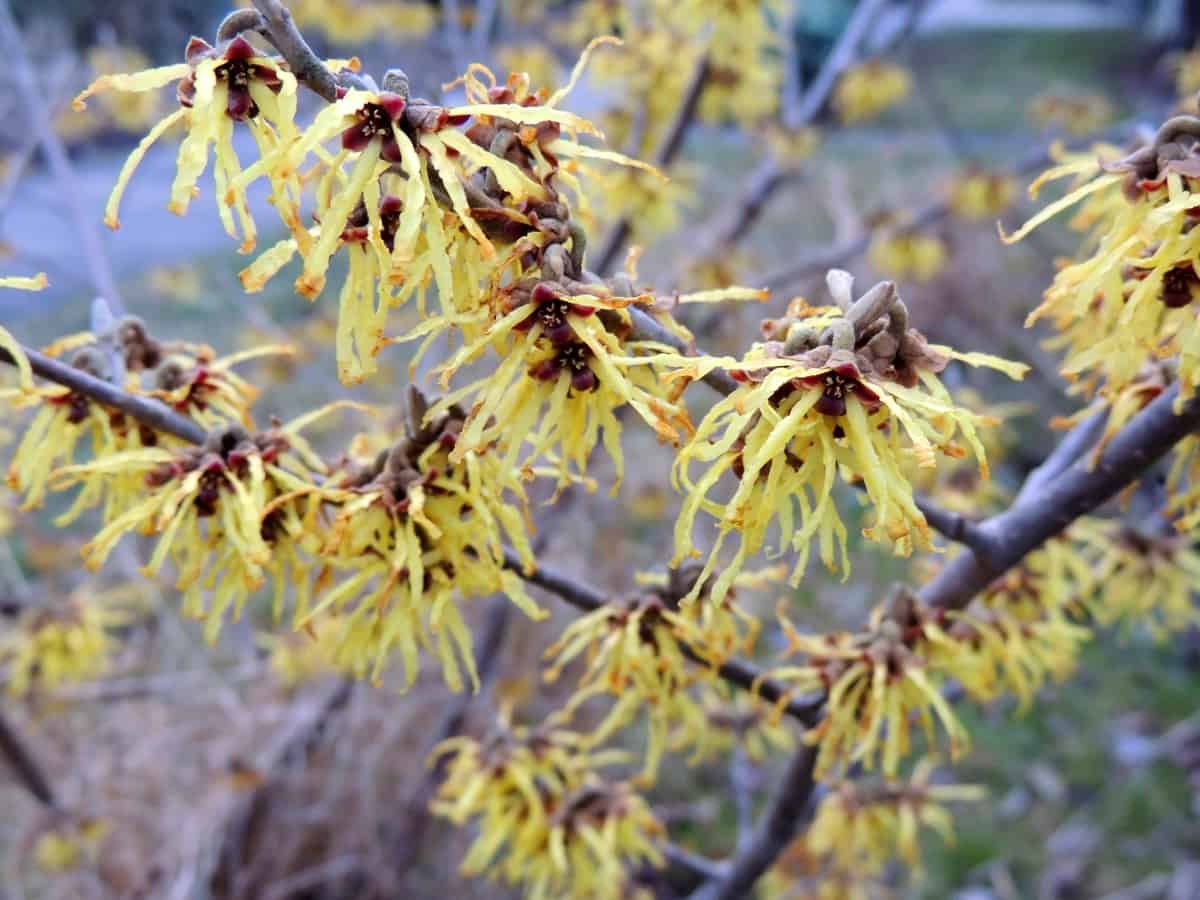 The Ozark witch hazel shrub is a deciduous plant that will grace your garden with lovely, sweet-scented flowers. The plant is fast growing and will reach upwards of twenty feet if left unattended, and its blossoms bring a citrus scent to the darkest late winter day. It's one of the prettiest shrubs with winter interest you can grow.
The plant is famed for its medicinal values, and many additional witch hazel uses, as well.
The Ozark witch hazel does best in moderate climates, so you'll need to protect it during hot summer days. Keep on top of the pruning with this plant, too; a few missed trimmings could result in a lot of overgrowth.
We hope you enjoyed this guide to low maintenance shrubs. When you want a beautiful home for little money, low-growing shrubs are just what you need. With our guidance and tips, you'll be spending your days outside, looking at your beautiful low maintenance shrubs and smiling.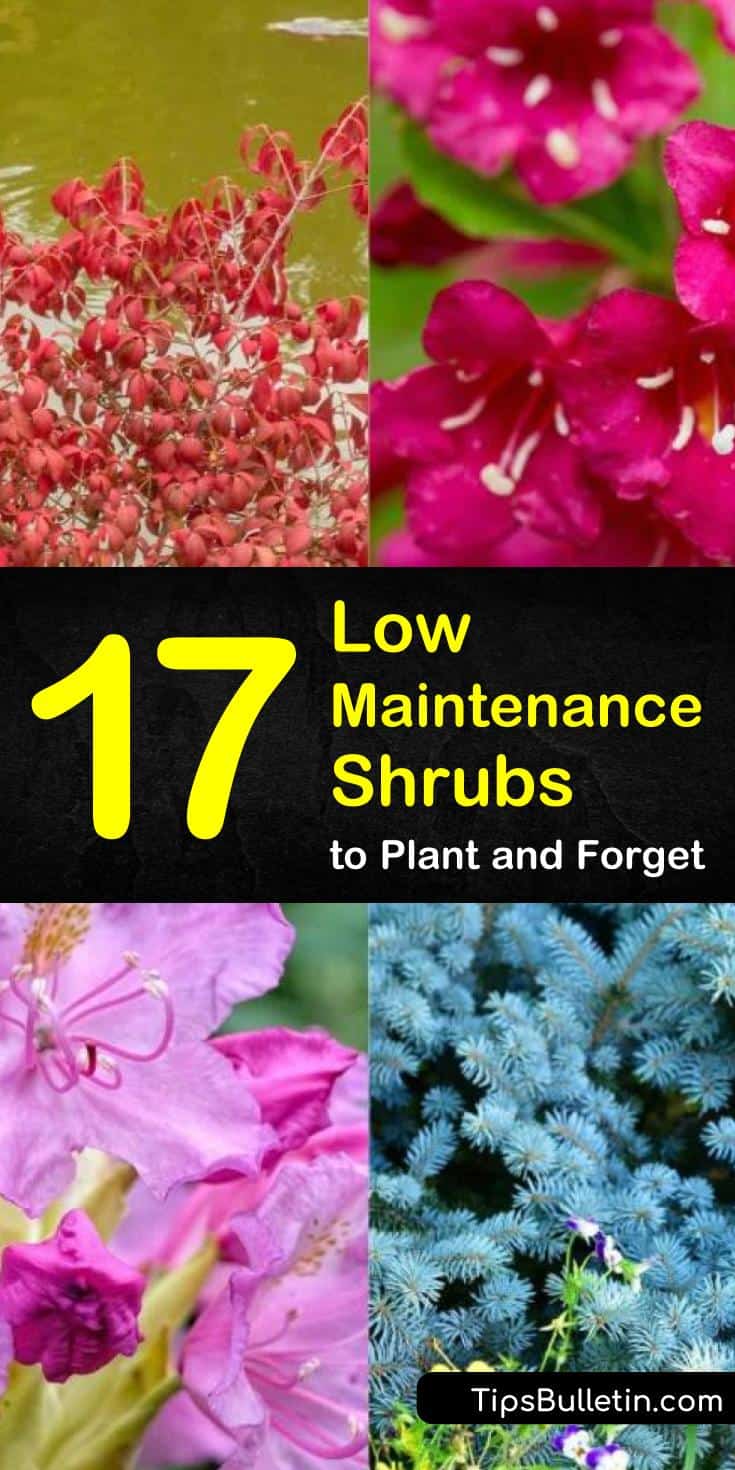 Thanks for reading this guide to low maintenance shrubs. If you found this low-growing shrub guide useful, please share our shrub tips with friends and family on Facebook and Pinterest.