We all know that mold is only unsightly but that it can also pose a real danger to our health. When mold grows in our washing machines, it creates even more problems. If you've ever pulled your load of laundry out of the machine just for your clothes to come out smelling even worse than they did when you put them in, then it's time to learn how to get rid of mold in washing machine.
Even if there is no smell causing an issue, it is essential to check your washer for mildew and to clean it regularly to prevent mold spores and build up. In this article, we take you through the step by step process of cleaning your washing machine of mold and mildew.
We also reveal the easy tips and tricks to preventing mold from coming back, so your clothes come out smelling fresh every time. With the right tools, recipes, and a little bit of elbow grease, removing mold is easy!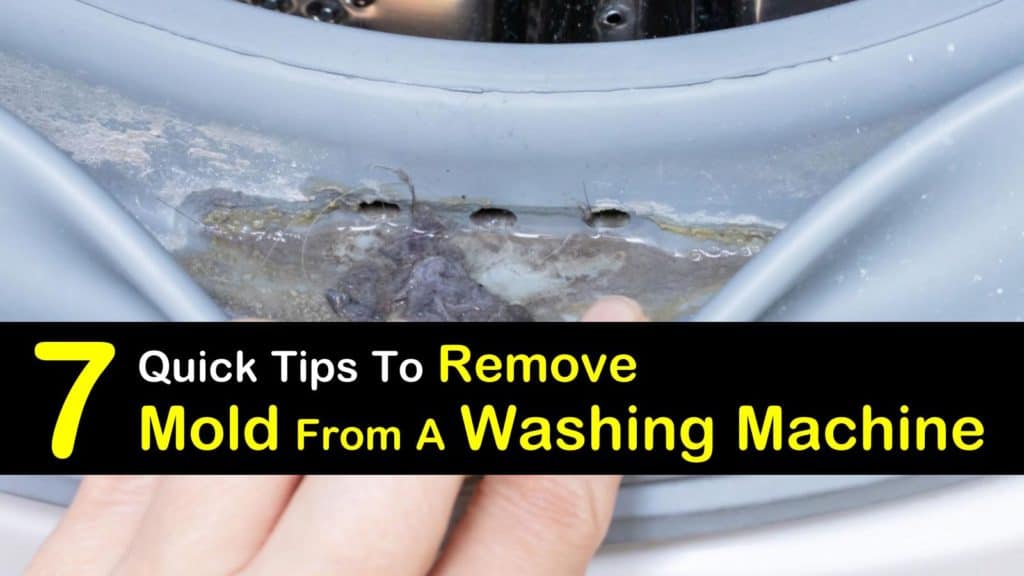 Simple Tips to Clean Mold from Your Washing Machine
It can be disconcerting to smell mold and mildew when you take clothes out of your washer or when you open the lid and are hit with a musty smell. After all, you run detergent through the machine every time you wash a load of laundry. Why should there be a moldy smell?
What can I do about it? What kills mold and mildew? Regular washing machine cleaning will remove mildew smell from the machine and ensure that your clothes come out smelling fresh every time. Follow these guidelines to thoroughly clean your washer.
There are a few differences when you compare mold to mildew. You will more likely find mildew in your laundry and the washing machine than mold. Drywall and floors that have been exposed to excessive moisture often accumulate mold.
Both substances can be harmful to your health, particularly for individuals with a compromised immune system, but mold is more dangerous. However, it is quite easy to take care of your mold or mildew problem with some simple ingredients and a little time.
Clean the Door Seal
To properly remove mold growth from your washing machine, you need to clean every part of the washer where mold might grow. Start with the gasket that seals the door, as this is an area that is often forgotten and tends to attract a lot of mold growth.
A front-loading washing machine will have a very pronounced door gasket, so it's essential to scrub all around it to remove black mold and get into every nook and cranny to ensure that you are getting rid of mold in the crevices here.
You should also clean the outside of the washer door after you remove mold from rubber seal on washing machine. Grab a towel or rag and dip it in hot, soapy water and scrub away.
You can also use non toxic bathroom cleaner to get rid of mold and mildew or take advantage of hydrogen peroxide as an excellent choice for mold removal, too. If your top-loading machine doesn't have rubber gaskets, carefully wipe down the top lid and door rim to get at hidden areas of mold that you might not otherwise see.
Cleaning the door gasket of a front loader requires more care, as you have to pull back the rubber seal and make sure to get underneath. If there are some persistent spots of black mold, you may need to use a spray bottle and toothbrush to spot clean.
Clean the Detergent Dispenser
Another fast and simple way to remove the musty smell from a washing machine is to remove the soap and fabric softener dispenser and wash them in the sink. Old laundry detergent residue can cause a mold problem, so make sure you get every spot. Dry the containers thoroughly.
If you can't remove the detergent trays, clean them with a cloth or toothbrush. If you can remove the dispensers, give the interior and opening a thorough scrub before replacing them.
Run a Cleaning Cycle
Flushing out dirt and mildew in a washing machine is similar to the way to clean a coffee maker. Let the washer run through its routine.
To remove molds and flush out fungus, run an empty load on the cleaning cycle. Not all washing machines have a cleaning cycle, so run it on the hottest water setting for the longest amount of time.
The hot water kills toxic mold and helps flush it all out through the washing system. However, running the cleaning cycle alone is not enough to get rid of the musty smell, and you will have to run another load with some added cleaning supplies.
Clean Mold from Front Load Washer with Vinegar
Vinegar is ideal to take care of your stinky washer. Hard water leads to mineral deposits forming all through your washing machine, so to learn how to clean mold from front load washer, use something that can break down the minerals. Adding two cups of vinegar or lemon juice can help. Virtually everyone has one or the other in the pantry.
If you don't have these ingredients, you can also use regular bleach or oxygenated bleach. However, vinegar should do the trick on its own, as it is a powerful cleaning detergent. Vinegar is even suitable as an effective vinyl siding cleaner.
Put the vinegar, lemon juice, or a cup of bleach directly into the wash tub and run a wash cycle. Again, put it on the hottest, longest setting. This technique works well with front loading machines and will also work with your top loader and high efficiency washer to eliminate mold and mildew and leave your washer ready for its next load of laundry.
Use Enzyme Detergent to Remove Mold in Top Loading Washing Machine
If your top loading washing machine is in particularly bad shape, use some stronger detergents for mold removal. To remove mold in top loading washing machine, put a ½ cup of a powdered enzyme dishwasher detergent into the wash tub and run a cycle on the hottest setting.
If you don't have enzyme detergent, you can also make a natural washing machine cleaner in two steps.
This recipe works because it attacks mold on two fronts. The vinegar first disinfects the machine before the baking soda cleans off soap scum and leaves your washer smelling fresh.
Turn the dial on your washer to the hottest setting and allow the water to fill the tub. Do not use cold water, as the heat helps kill germs, as well. Add the white vinegar and allow it to settle in the water for about one minute, leaving the lid open.
Add in the baking soda and allow it to mix with the water and vinegar for about a minute. Cut off the water and let the cleaner sit for about half an hour to an hour.
Grab a rag and clean the interior of the machine with the sitting water. Once you're satisfied with your scrubbing, start the cycle again and let the cleaning solution do its work.
Prevent Mold in Washing Machine with Bleach Cycle
Just as having a bathroom cleaning schedule can help make cleaning easier in the long run, so can having a cleaning routine for your washing machine. The best way to remove mold from a washing machine is to prevent spores from forming in the first place with regular cleaning.
The best way to keep your high-efficiency front-loading washer free from mold is to give it regular cleanings. Proper upkeep is essential for your machine whether you have a top loader or front loader.
To prevent mildew or mold from becoming a problem, run a cleaning cycle with a cup of bleach at least twice a month. This will help break down mold and mildew buildup and make sure your clothes are always getting an adequate clean.
Use Prevention Methods with Every Wash
Aside from the cleaning methods outlined in this article, there are also a few actions you can take after every load of laundry that will prevent mold from forming. The biggest tip is not to let your wet clothes sit in the machine for long periods. Set the end of cycle signal to alert you when the clothes are done to prevent this from happening.
It is also necessary to let your top loading and front load washing machine dry out after use. After you switch your clothes to the dryer and put in your dryer sheets, leave the door or lid of your machine open.
If you have a front loader, pull out the detergent drawer as well to allow it to air out. This will help prevent that musty smell from developing and will leave your laundry room fresh.
If you don't take proper care in cleaning your washing machine, it can lead to many problems. From musty smelling clothes to toxic mold in your washer, the risks of ignoring the necessity of cleaning are not harmless.
If you follow the get-rid-of-mold tips on our list, then you don't have to worry! Whether you have a HE washer, a top loader, or a front loading machine, these tips will help you get rid of mold in washing machines.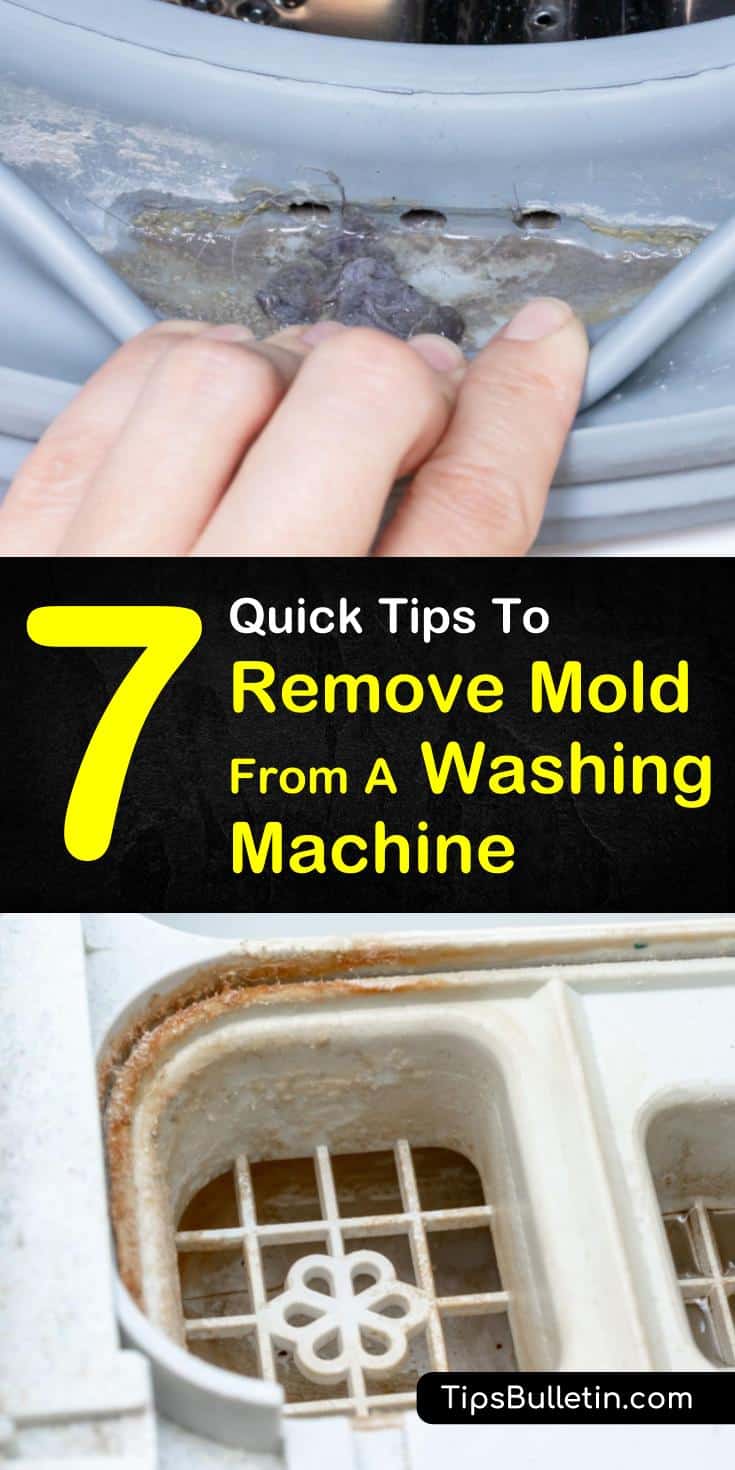 If you found these mold removal tips helpful, then share this washing machine cleaning article with your friends on Facebook!