Mold and mildew smells are common in areas of America with higher than average humidity levels. Mold growth is tough to prevent and even tougher to treat once it's taken hold of a dark, damp corner. Bring your bathroom back from the brink; discover how to get rid of that moldy smell in the bathroom with a few everyday pantry items and some ingenuity.
Mold and mildew are terms often used to refer to the same thing; a moldy smell in a damp basement or bathroom. While mold and mildew are common fungal infestations similar to downy mildew or powdery mildew found in plants, they differ in how they negatively impact your home.
Mold spores and mold exposure affect air quality and pose a serious risk to your health and wellness. Mildew is typically just smelly, whereas mold develops after structural water damage and is more closely associated with severe respiratory irritation. There's no time to waste; jump into these tips for getting mold smell out of the bathroom.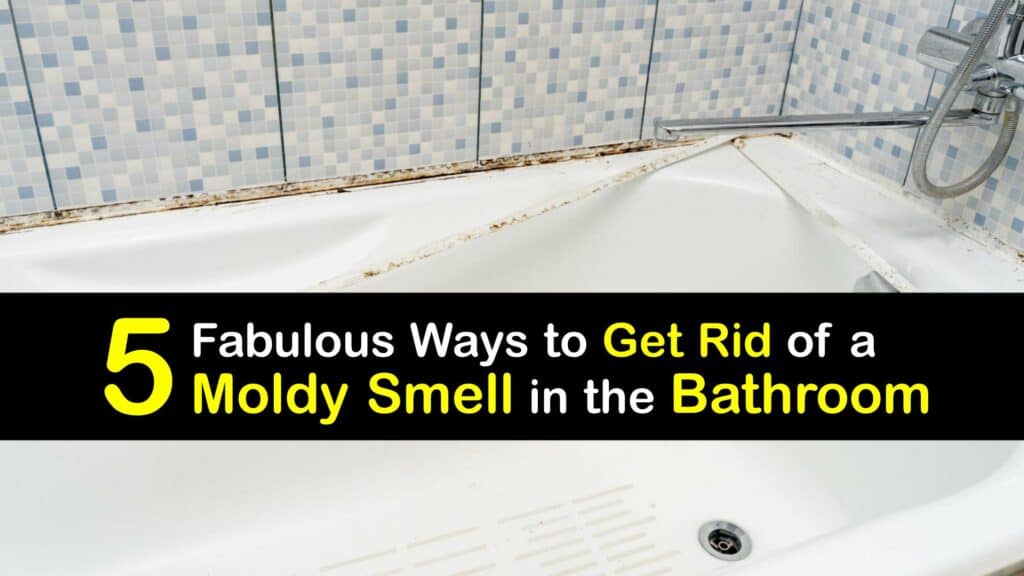 The Best Tips for Getting a Mold Smell Out of the Bathroom
If your bathroom smells like mold, try our bona fide mold and mildew killers in your bathroom. Find helpful hints for how to get a mold smell out of the bathroom with step-by-step information.
Locate the Source of That Moldy Smell in the Bathroom
Effective mold management means cutting the fungus off at the source. To get rid of the mold smell in a bathroom, it's essential to locate the origin of the infestation. Mold and mildew are good at hiding, and it often takes a bit of detective work, but a little elbow grease and a good eye go a long way.
First, strip the bathroom of toiletries, shower curtains, bath mats, and any hiding place that mold might enjoy. Look along the grout lines, inside cabinets, behind baseboards, and on the ceiling. Be on the lookout for a concentrated area where a dark mass of mold or mildew growth seems to be expanding.
Once you finally locate the source of your bathroom odors, take steps toward removing the mold smell from your bathroom for good. Be sure to clean the shower drain and scrub the drain cover. Shine a flashlight down the drain pipe and do a sniff test to ensure no mildew smell. We've got some guaranteed fungus-killers coming up.
Vinegar Spray for Antifungal Fighting Power
A musty odor often signifies a bigger mold or mildew problem. A strong antifungal is essential for getting a mold smell out of the bathroom – learn how quick and economical it is to mix a DIY spray from a simple kitchen ingredient.
Distilled white vinegar has a strong pH that effectively disrupts and destroys fungi growth and mildew odor, whether you need to clean mold off the bathroom ceiling or another area. Regular household vinegar contains about 8% acetic acid, and laboratory studies show that it kills several common household mold and mildew varieties.
Pour two cups of undiluted vinegar into a spray bottle, then coat the mold or mildew growth generously. The best way to remove mold from your shower or another bathroom spot is to leave the undiluted white vinegar to sit for at least one hour. Go over the area with a stiff scrub brush and hot water; don't stop until every speck of mold is gone.
Always use proper safety gear like gloves and a dust mask when dealing with mold and mildew to avoid breathing unhealthy particles or mold spores. Dispose of the gloves and brush after to prevent cross-contamination to other areas of your home.
How to Get Mold and Mildew Out of Bathroom Fabrics
You can't overlook fabrics when getting a mold smell out of the bathroom. Think towels, mats, and every face cloth. Did you know shower curtains are machine washable?
For anything that smells musty, your best bet is a color-safe bleach like Oxy Bleach. In the worst case, throw it out and start over; the small expense is sometimes worth it over facing a stubborn mold infestation.
How to Get a Mold Smell Out of the Bathroom With Bleach
Removing the mold smell from your bathroom often requires a deep clean with powerful ingredients. Bring out the big guns with a bit of chlorine bleach for stubborn stains and spaces that smell musty.
Get rid of any moldy smell in the bathroom; scrub it with diluted chlorine bleach. Put your safety gear on, get a bucket, and add one part chlorine bleach to four parts warm water.
Scrub the mold or mildew vigorously; don't stop until it completely disappears. Sponge or wipe down the surface and dispose of gloves, mask, and scrub brush.
Always ensure proper ventilation when cleaning with chlorine bleach – open a window or turn on a fan to circulate fresh air. It's also essential never to mix chlorine bleach with other cleaning products like hydrogen peroxide or vinegar.
The most potent ingredient in chlorine bleach is sodium hypochlorite, which reacts with acid and ammonia to create toxic gasses. However, adding a bit of baking soda to the mix is safe if you need an extra boost.
Prevent Unsightly Mold and Mildew From Taking Over
Some parts of America are incredibly humid and require a little extra attention to prevent water damage and mildew takeover. Most fungi thrive in damp conditions with plenty of moisture and sometimes even appear overnight after a rainy period.
If you don't want to deal with complicated questions about how to get a mold smell out of the bathroom, think of strategies to prevent mold. Find ways to increase airflow and air quality in your bathroom.
Get a ceiling fan or a dehumidifier, and crack the window occasionally. Stay on top of your water heater maintenance; leaking water also produces mildew. Learn the difference between mildew and sewer smell; call professional plumbing services if you detect sewer gas.
Make musty smell a thing of the past; use these fantastic tips to end that moldy smell in the bathroom. Find the source of your bathroom mold infestation, and destroy it with vinegar spray. If vinegar is an unpleasant odor, consider adding an antifungal essential oil like cedarwood to boost the fungus-fighting power. It will help with keeping your bathroom smelling fresh and clean whenever someone needs to use it.
Always take safety precautions when dealing with mold and mildew by wearing disposable gloves and a face mask. Don't forget about bathroom fabrics like towels, mats, and face cloths; use color-safe Oxy Bleach, and don't be afraid to toss soiled materials. For extra-stubborn odor, use a diluted solution of chlorine bleach.
If you liked learning how to get rid of that moldy smell in the bathroom with these helpful hints, please share this article with friends on Pinterest or Facebook who are always looking for fungus-fighting tips.