There are so many types of berries, from strawberries, blueberries, and raspberries to cranberries, mulberries, and blackberries. Some grow on trees while others grow from shrubs, and they all have varying times of the year when they are in season. Learn the differences and similarities of mulberry vs blackberry plants and fruits, their health benefits, and ways to store and use them in a recipe.
There are many reasons to grow your own berries at home, whether you enjoy eating them straight from the plant, bake them in a pie, or preserve them by making jam and jelly. However, some berries are sweet while others have a tart flavor, and understanding their differences is key to using them in the right recipe. So, what is the difference between mulberries and blackberries?
These berries resemble each other in appearance with their small clustered fruits. They are soft and succulent with just the right amount of juiciness, and they are interchangeable in various dishes. Their flavor varies slightly, they have different growing habits, and they are in season at different times of the year.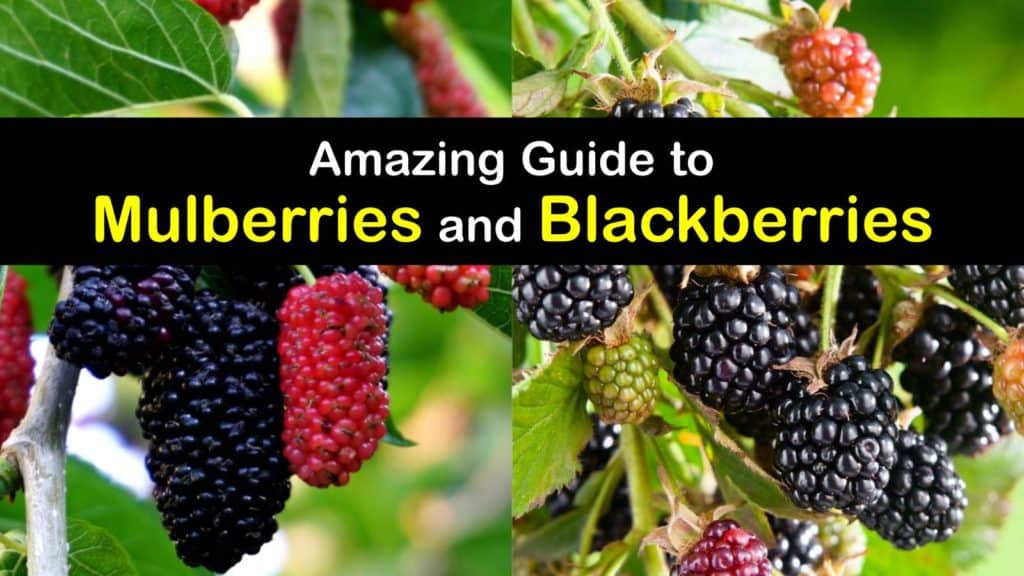 Blackberry vs Mulberry Fruits and Plants
While a strawberry does not look like a blackberry, some berries look so similar they are hard to tell apart.
Are mulberries the same as blackberries? No, these two come from different plants, and their edible fruit does not taste quite the same. They also grow in varying parts of the world with different growing conditions.
It's easy to mistake a mulberry for a blackberry since the fruit looks similar after harvesting, but seeing them in their natural growing habitat is enough to know that they are not the same.
Learn about the difference between mulberry and blackberry plants and their nutritional value to choose the right one for your garden or recipe.
Are Mulberries the Same as Blackberries?
There are many varieties of berries, whether they grow wild or you plant them yourself, and some of them look nearly identical.
However, they grow on everything from a berry bramble to a tree, and some are ripe earlier than others. So, are mulberries the same as blackberries?
Blackberries vs Mulberries
What are mulberries, and how do they differ from blackberries? Mulberry fruits start off looking like long raspberries when they are unripe and begin to resemble elongated blackberry fruit when they are ripe, but they are not as shiny.
There are many mulberry cultivars, including red mulberry and black mulberry. There are also white mulberries that are fast growers with high sugar content. They are juicy and sweet with a hint of tartness that resembles a grapefruit.
The best way to tell mulberries from blackberries is to squish them between your fingers. If you end up with stained fingers, it's more than likely a mulberry fruit.
Blackberries are not true berries but rather aggregate fruits that start with a slightly tart flavor and sweeten as they ripen. Unlike raspberries, they have a solid core with a slightly woody taste.
While the center is edible, it is a little chewier than a traditional berry. Blackberry fruits are somewhat larger and shinier than other berries, and there are different types, including erect thorny, erect thornless, and trailing thornless.
Difference Between Mulberry and Blackberry Plants
Thinking that all berries grow on shrubs is a common mistake, as some types grow in trees.
It's essential to understand the plant before growing your own berries at home. Discover the difference between mulberry and blackberry plants, their growing habits, and their mature size.
Blackberry fruits grow on a shrub or bush, and they come from the Rosaceae family that includes the raspberry, rose, and dewberry. They are native to North America, with some species growing in South America.
The best way to grow blackberries is in full sun where they grow tall canes and green stems that eventually flop over, touching the ground and creating new bushes. Their rambling growth is why we call them brambles, and each bush grows three to four feet tall and wide.
Mulberries (Morus genus) are from the Moraceae family, are one of the few berries that grow on a deciduous tree rather than a shrub, and are more closely related to fig or jackfruit than a blackberry. Try growing trees in pots if you don't have room in the yard.
They are native to Asia and grow mulberries on trees up to 50 feet tall if left unchecked. They are fast growers, produce a decent crop after only a few years, and are the main food source of silkworms.
Nutritional Value of Mulberry vs Blackberry
There are many health benefits to consuming berries, whether you eat them daily or occasionally.
While we often think of them as good antioxidants, they actually contain many other vitamins and minerals. Explore the nutritional values of blackberries vs mulberries and which ones are better for your diet.
Both berries are low in calories, but mulberries contain more vitamin C than blackberries, a necessary antioxidant for boosting your immune system. They also have more iron and calcium, but blackberries are high in vitamin K.
Both berries contain vitamin E, vitamin A, phosphorus, potassium, magnesium, and dietary fiber. They are a rich source of anthocyanins, useful as an anti-inflammatory and for lowering cholesterol levels and blood sugar.
Harvesting and Storing Mulberries and Blackberries
If you're fortunate enough to have a mulberry tree, a blackberry bush, or both, then it's a good idea to understand when they are ripe so they don't go to waste.
Know when to harvest both blackberry and mulberry fruits and the best way to store your fresh berries short and long term.
The leaves and berries of both mulberry and blackberry plants are edible and useful for harvesting. Blackberry fruits usually begin to ripen in July or August unless you are growing blackberries in containers or the garden of an early ripening variety.
Wait until they are dark purple or black and plump and pluck them off by hand. Gather blackberry leaves when they are young before they flower and avoid the thorns while clipping them.
Mulberry fruit harvesting begins in mid-June when they are large and deep purple or black. The leaves are ready for picking when they are mature and are useful for herbal teas and tinctures.
While the berries are easy to remove by hand, the easiest way to harvest them is to lay a large tarp beneath the tree and shake the branches lightly. To store both types of berries, keep them in the refrigerator for up to two days.
Place blackberries in a shallow storage container and put mulberries on a paper plate covered with a sheet of paper towel to prevent staining your containers. Cover them both with plastic wrap and set them in the fridge.
A great way to store these berries if you cannot eat them fast enough is to freeze them. Wash them gently under cool water and pat them dry with a paper towel.
Spread them in a single layer on a baking sheet and flash freeze them for a couple of hours. Pour the frozen berries into a freezer-safe container or bag and freeze them for up to six months. Add the berries straight from the freezer to smoothies or baked goods.
Combining the Flavor of Mulberries and Blackberries in a Recipe
Both mulberries and blackberries contain varying amounts of vitamins, antioxidants, and dietary fiber, and their flavors work well together, so why not combine them both to create a delicious wild berry pie?
This pie recipe is a great way to use up ripe berries, and the result is delicious.
Before preparing the pie filling, preheat the oven to 400°F. Rinse the berries beneath cool water and pour them into a large bowl. Add the flour and sugar and mix them gently.
Place one of the pre-made crusts into the bottom of a pie pan and scoop the berry filling over the top. Dot the top with butter and position the second pie crust over the filling.
Crimp the edges together around the pie, cut a couple of slits into the top crust, and brush it lightly with milk before chilling it in the fridge for half an hour.
Set the pie in the preheated oven for 15 minutes and lower the temperature to 350°F. Bake it an additional 30-minutes and set it on a wire rack to cool before serving pie slices.
There is nothing like picking fresh berries from a shrub or tree in your backyard, and understanding how mulberry and blackberry fruits differ goes a long way to growing the ideal plant for your area.
Knowing the right way to store berries maintains their nutritional value, so you get to create tasty berry recipes.
Now that you understand the differences between a mulberry vs blackberry plant and ways to store and use the berries, why not share our mulberry and blackberry guide with the berry-lovers in your life on Facebook and Pinterest?