You rarely go to a summer gathering where there aren't bowls of fruit salads containing muskmelon and cantaloupe. These fruits are a poolside and barbeque favorite, but most people don't often think of them as two different plants. Comparing muskmelon vs cantaloupe sometimes leaves you more confused than when you started.
Some are orange inside, and others are green. Either way, they both have a sweet, refreshing taste and look similar to one another. While many people use these interchangeably, they don't know the real difference between cantaloupe and muskmelon.
Are muskmelon and cantaloupe the same thing? If they aren't, why are they similar in so many different ways? After reading through this article, you won't have any problem understanding what a true cantaloupe is.
You'll also have the confidence to correct your friends and family when they use it in the wrong context. Let's settle this fruity debate once and for all and start learning the differences between honeydew melon, Persian melon, watermelon, and other cantaloupe melons.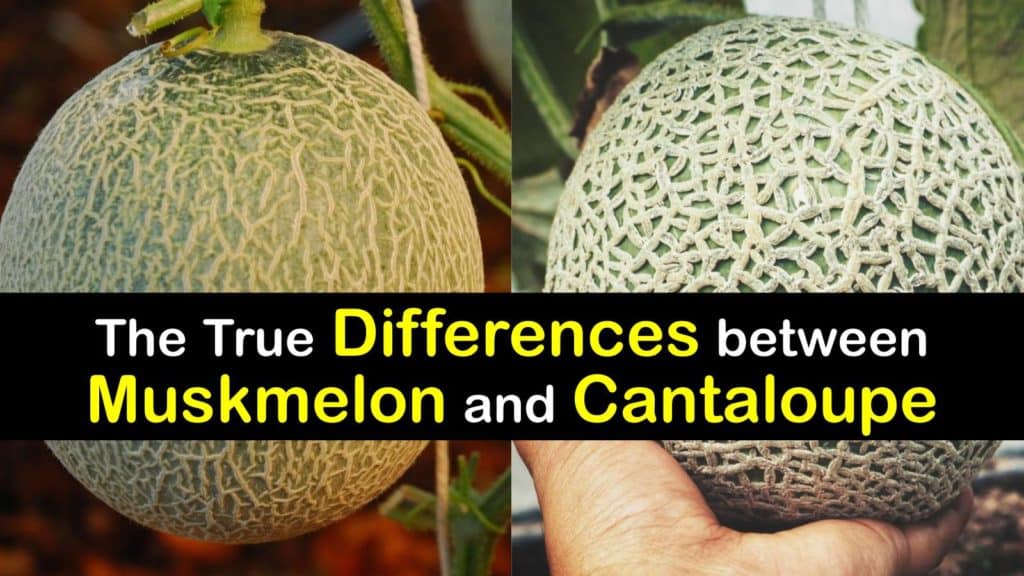 Are Muskmelon and Cantaloupe the Same Thing?
It's easier for people to chunk together two similar fruits instead of learning the actual differences. If you understand how muskmelon vs cantaloupe compare, you'll be more knowledgeable about working with these fruits in your garden beds and kitchen.
The University of Illinois says that all cantaloupes are muskmelons, but not all muskmelons are cantaloupes. Muskmelon is an overarching term used to describe many melons with a sweet flavor and fragrance.
Before you discover the true difference between cantaloupe and muskmelon, take some time to understand some basic information about these fruits.
Melons come from the Cucurbitaceae family and are closely related to a gourd. If you live in the United States, you probably aren't eating a true cantaloupe.
Fresh cantaloupe that you know and love is called Cucumis melo reticulatus, while a European cantaloupe is called Cucumis melo cantalupensis.
Other countries refer to these crops as Cantalupo or rockmelon. Despite the differences, let's set the record straight and figure out how these melons vary once and for all.
The Difference between Cantaloupe and Muskmelon
With names like muskmelon, honeydew, and cantaloupe, it is hard to know how these fruits compare. Keep reading to figure out the real meaning of these melon names.
Muskmelon vs Cantaloupe
Are muskmelon and cantaloupe the same? No. Muskmelons are sweet fruits known for their net-like patterns on the rind. Muskmelons are often found in grocery stores under the name of cantaloupe, yet they are commercially grown and not true cantaloupes.
Muskmelons are large in size and have a high water content with loads of health benefits. They contain vitamin A and beta-carotene that help improve your vision. They also have lots of vitamin C to help fight colds.
Fresh cantaloupe is hard to come by in America. These melons are native to Iran or Persia, and the rind lacks the distinct netting that you find on muskmelons. The rind on these is much harder in texture.
It's challenging to grow a cantaloupe. They have a more subtle melon flavor than the melons that you're used to eating. However, they still have many of the same health benefits.
Nutritional Value of Muskmelon and Cantaloupe
Even though these two fruits aren't the same, they are closely related and contain similar nutritional benefits. One cup of diced melon contains about 53 calories, 13 grams of carbs, and 2 grams of dietary fiber.
They also have 9 percent potassium and 5 percent magnesium of the daily recommended intake. The sugar content on these fruits is fairly high, which gives them their signature sweet taste.
Thankfully, these fruits are rich in antioxidants, and the sweet orange flesh is perfect for fighting heart disease, supporting a healthy immune system, and promoting weight loss.
Appearance of Melons
You already know that one of these fruits has a netted rind and another doesn't. Are there any other visual differences? Muskmelon's skin is tan and ribbed, while cantaloupes have green skin and a central seed cavity.
Their flesh is more salmon-hued than vibrant orange, though many people have difficulty seeing the difference.
The Smell of Melons
There is no way to tell the difference between cantaloupe and muskmelon based on smell. Both fruits have a fresh, musky aroma. This similarity is yet another reason why people have a hard time telling the two apart.
Flavor Differences
The soft, musky taste it has on your tongue gives muskmelon its name. In comparison, cantaloupe is smooth, sweet, and juicy with less of a musky flavor.
In addition, muskmelon contains a little more sugar, and cantaloupe includes a bit more water. To find a nice happy medium between the two, the Crenshaw cultivar is an excellent fruit choice to add to your garden beds this growing season.
Culinary Uses between Muskmelon and Cantaloupe
Most home cooks resort to using both of these melons in sweet dishes like ice cream and smoothies. It makes sense why you'd want to go this route. After all, why not use the sugar content to your advantage.
Don't be afraid to use these melons for more savory dishes as well. Have you heard of the infamous pairing of melon and prosciutto? Sweet and savory is a perfect combo. Until you try the two, you won't know what you're missing.
Remember to store unripe melons at room temperature. It is only after they ripen that you may put them directly into the refrigerator to slow the ripening process until you're ready to eat them.
Heat your home oven to 425°F. Set a single sheet of parchment paper on a baking tray. Dice the cantaloupe and cut the cherry tomatoes in half. Spread both the melon and tomatoes out on the parchment paper.
Bake the fruits and veggies for 25 minutes or until your cantaloupe is soft. Remove the tray from the oven and let cool for five minutes.
Fill a large salad bowl with your choice of green, and sprinkle the cantaloupe and tomatoes over the top. Drizzle the salad with the accumulated liquid from the baking sheet as a salad dressing. Season with salt and pepper to taste.
Growing Muskmelons
Now that you know more about these fruits, you might be intrigued about growing them in your own garden. Muskmelons are annual summer fruits and hardy in USDA hardiness zones four through ten.
They grow on a trailing vine, and many gardeners use a trellis to train them and save space. Most varieties take 65 to 90 days to mature and produce fruits. Each melon weighs three or four pounds.
Start muskmelons outdoors or indoors. It's often faster to plant watermelon seeds indoors first, like with muskmelons, to get a head start on growing them. In northern growing zones, these plants are ideal as a summer crop. In southern states, it's fine to grow them earlier in the spring or fall.
To propagate from seed, sow seeds indoors about four weeks before the last frost date. For sowing them outdoors, wait until the danger of all frost is gone.
Always perform a soil test before sowing seeds outdoors. They enjoy mildly acidic soil with a pH range between 6.0 and 6.5.
If the weather is between 95°F in 100°F they may drop their flowers. Protect the plants during heat waves by using straw around the roots to help keep them cool.
Keep muskmelons well-watered with one to two inches of water every week. Try to avoid getting the leaves wet to stop the spread of diseases. Reduce watering to half an inch per week as the melons get closer to maturation.
Muskmelon Cultivars
There is quite a selection of melons, and it becomes overwhelming if you've never worked with these crops before. Heart of Gold is an excellent cultivar for beginners. They grow well in zones three through ten and mature in about 80 days.
A sweet, fleshy cultivar is Honey Rock. This plant grows large melons and has won awards for its juicy flesh.
If you are concerned about living in colder growing zones, try planting the Minnesota Midget cultivar. This one matures in about 65 days and has smaller, four-inch fruits that are easier to manage. Unlike other varieties, these plants only spread three feet.
Pests and Diseases
Cantaloupes aren't highly susceptible to many pests and diseases; however, there are still a few risks of growing these plants. Aphids are the biggest problem. Thankfully they are easy to spray off with a steady stream of hose water.
The most prominent disease is leaf blight. This fungus is more common in hot and humid areas. Leaf blight leaves yellow and brown spots on the oldest leaves, which eventually spread to new growth. Avoid overwatering your crops to prevent this fungus.
Are muskmelon and cantaloupe the same thing? Even though they are two different plants, it is understandable that many people confuse the two. Hopefully, you can now differentiate between these two fruits and spread this knowledge to those who aren't aware.
If comparing muskmelon vs cantaloupe helped open your eyes to the differences between these fruits, share this article explaining how muskmelons and cantaloupes compare on Facebook and Pinterest.